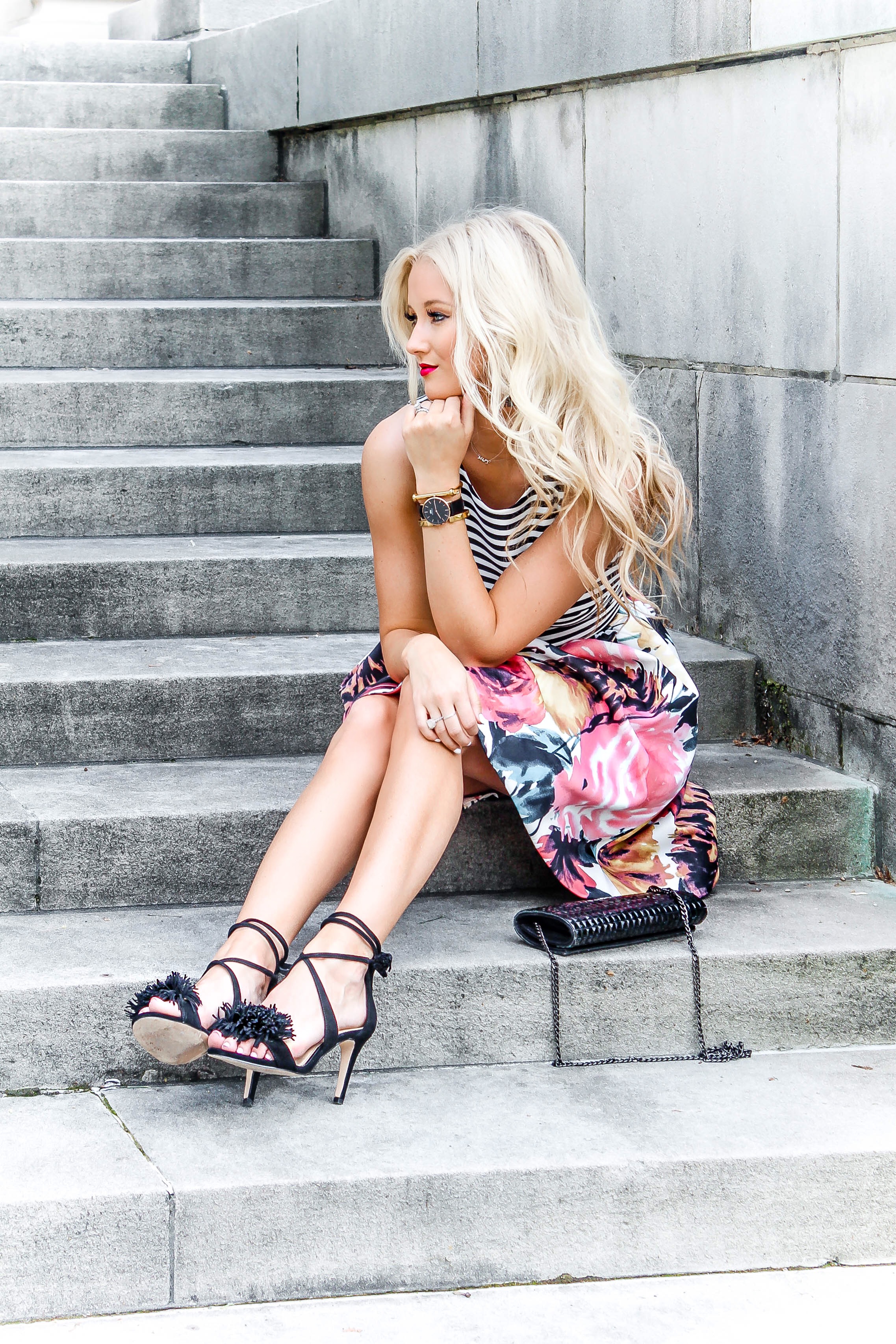 Wedding season has officially begun you guys! I can't help but get excited over this because I'm a sucker for love and fairytale endings. 🙂
Teej and I attended our first wedding of the year this past weekend, and it was magical – to say the least. I wore this adorable dress (it's actually from last year, so I linked similars below.) I absolutely looove mixing prints, and I found Teej the perfect black and white striped tie to match! I typically wear BCBG dresses to weddings, but I found this stripe and floral one and instantly knew I had to wear it for a wedding!
Our good friends KT and Ashley tied the knot at the beautiful Howe Farms, and their special day couldn't have been any more gorgeous! Thankfully, the rain held off until after their ceremony, but sheesh the rain has been SO insane here in Tennessee (and yes, we needed it, but it's to the point now where everything is flooding … I pray it stops soon and everything gets back to normal.) Anyways, Ash is truly a princess and her & KT's big day felt like a real life fairytale! Ashley is actually one of my fashion blogger besties, so if you haven't already, be sure to check out her blog!
So, with wedding season coming in hot, I wanted to share a few tips on wedding guest attire with you all and share a few of my favorite dresses to wear as a wedding guest!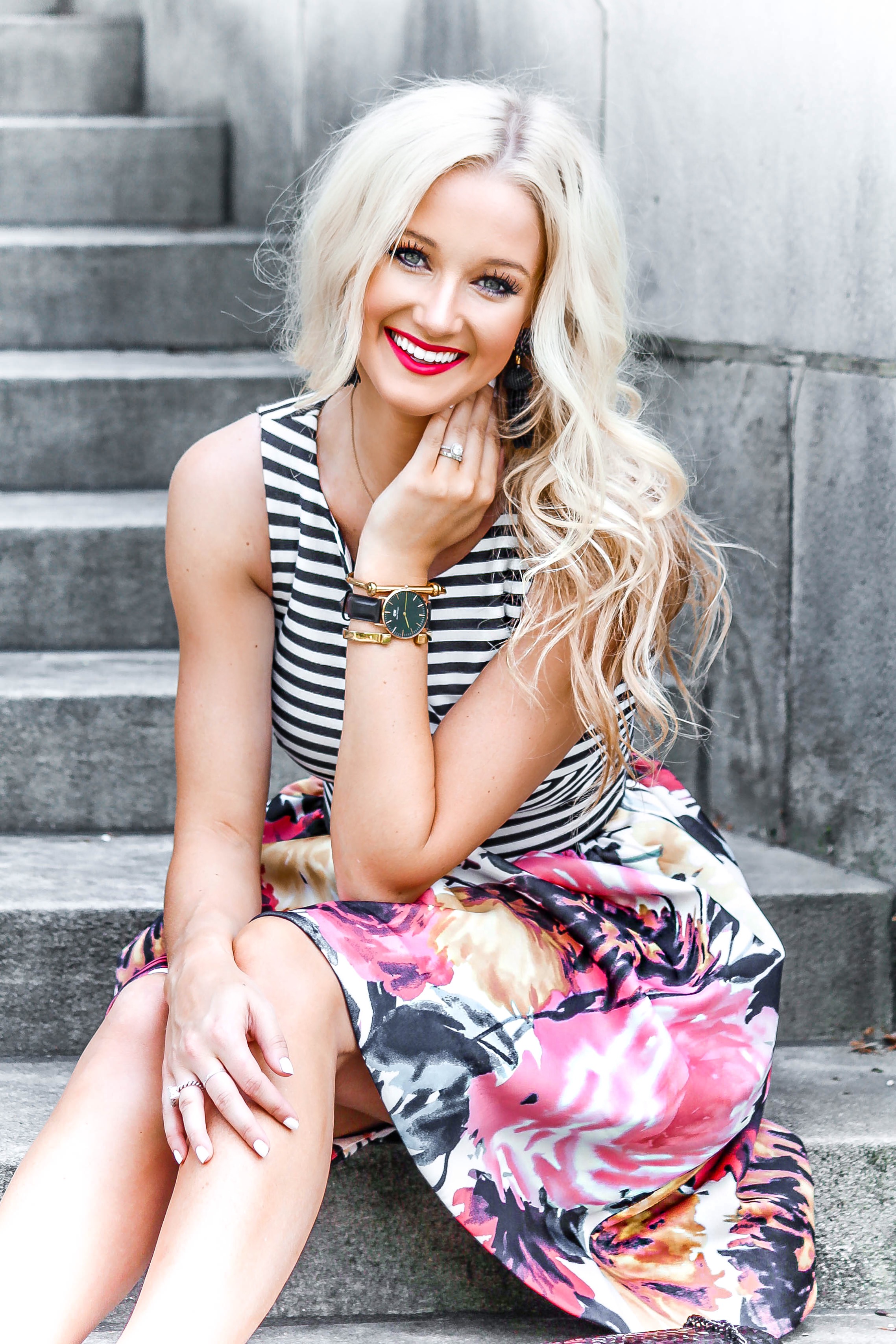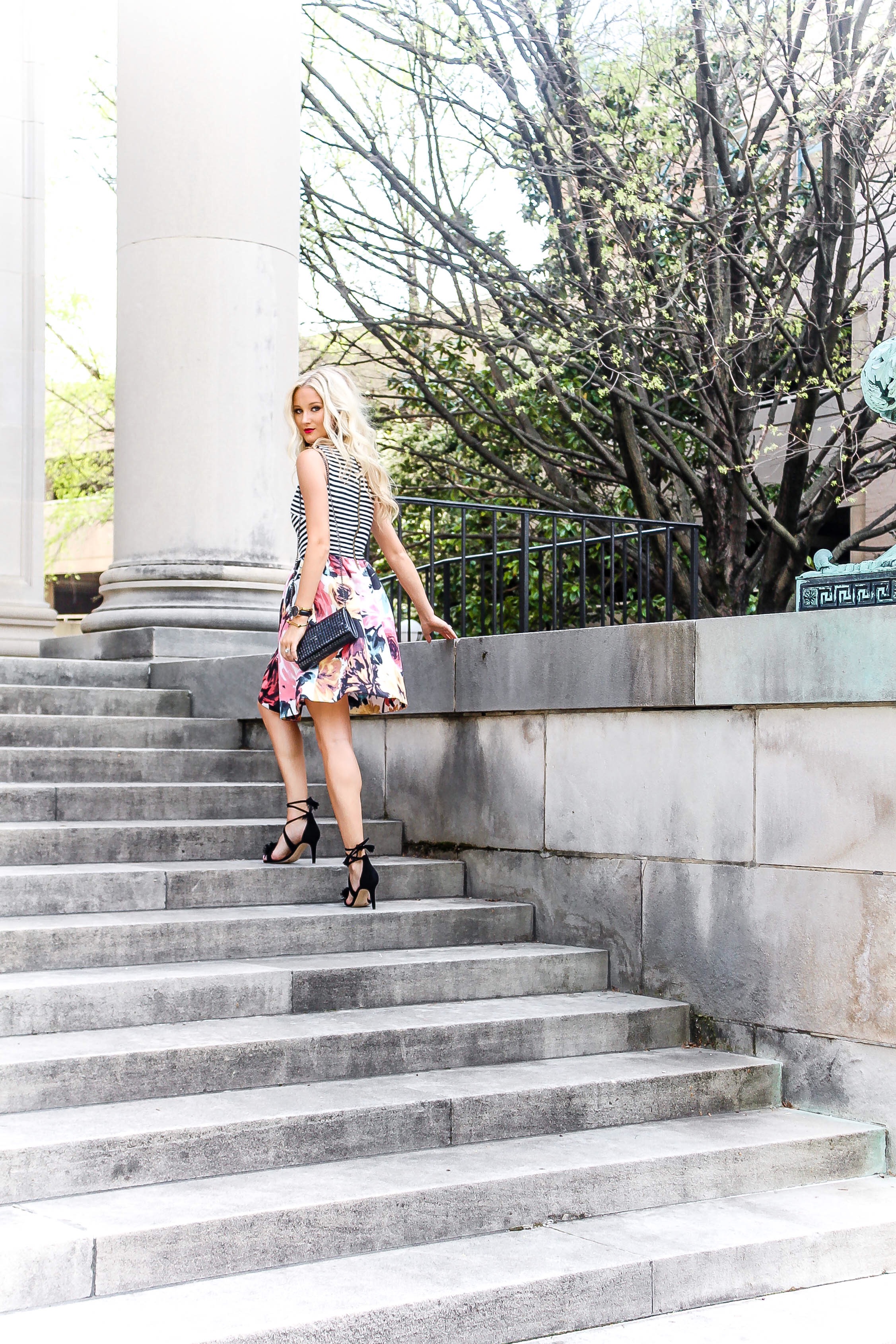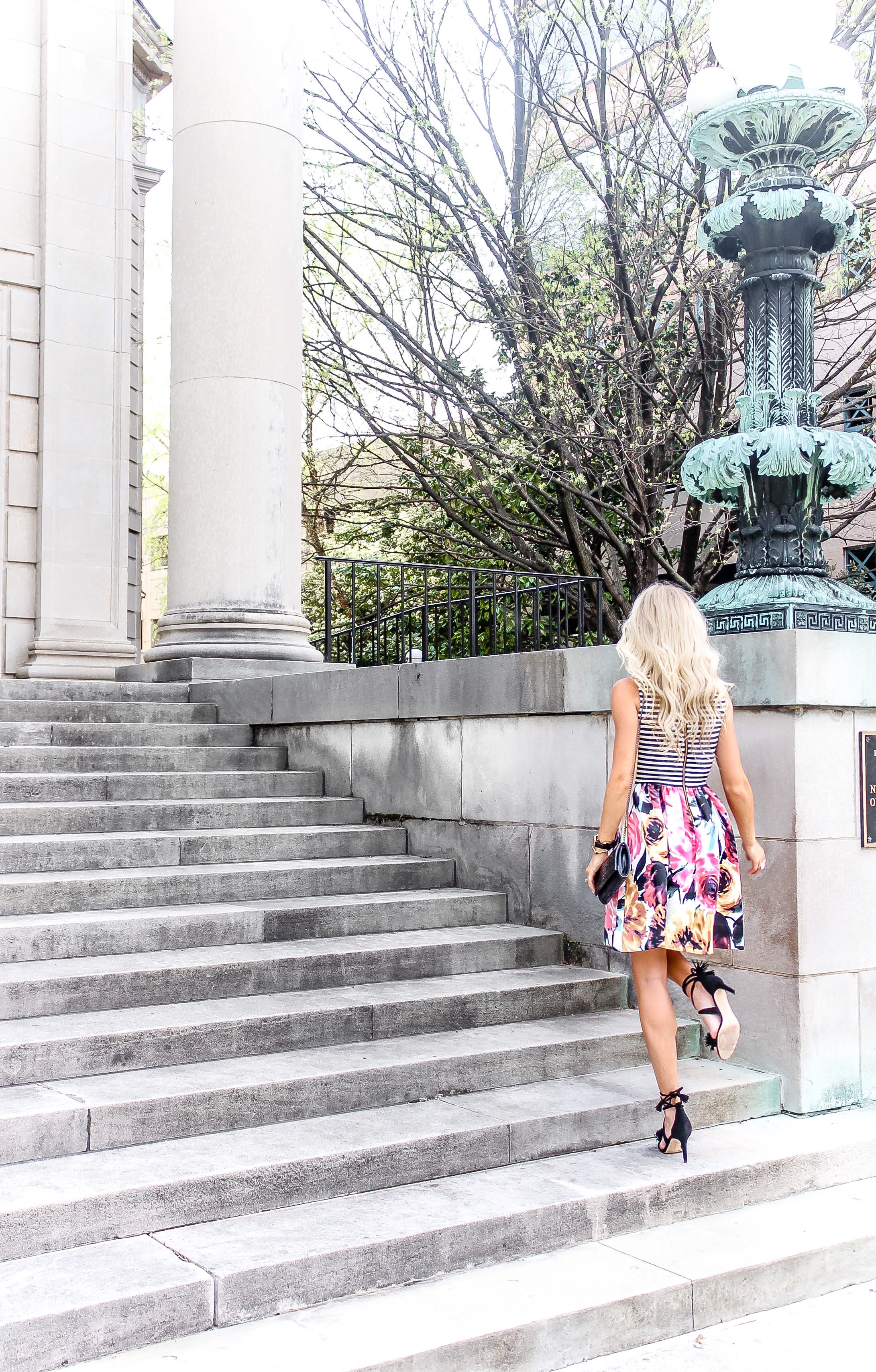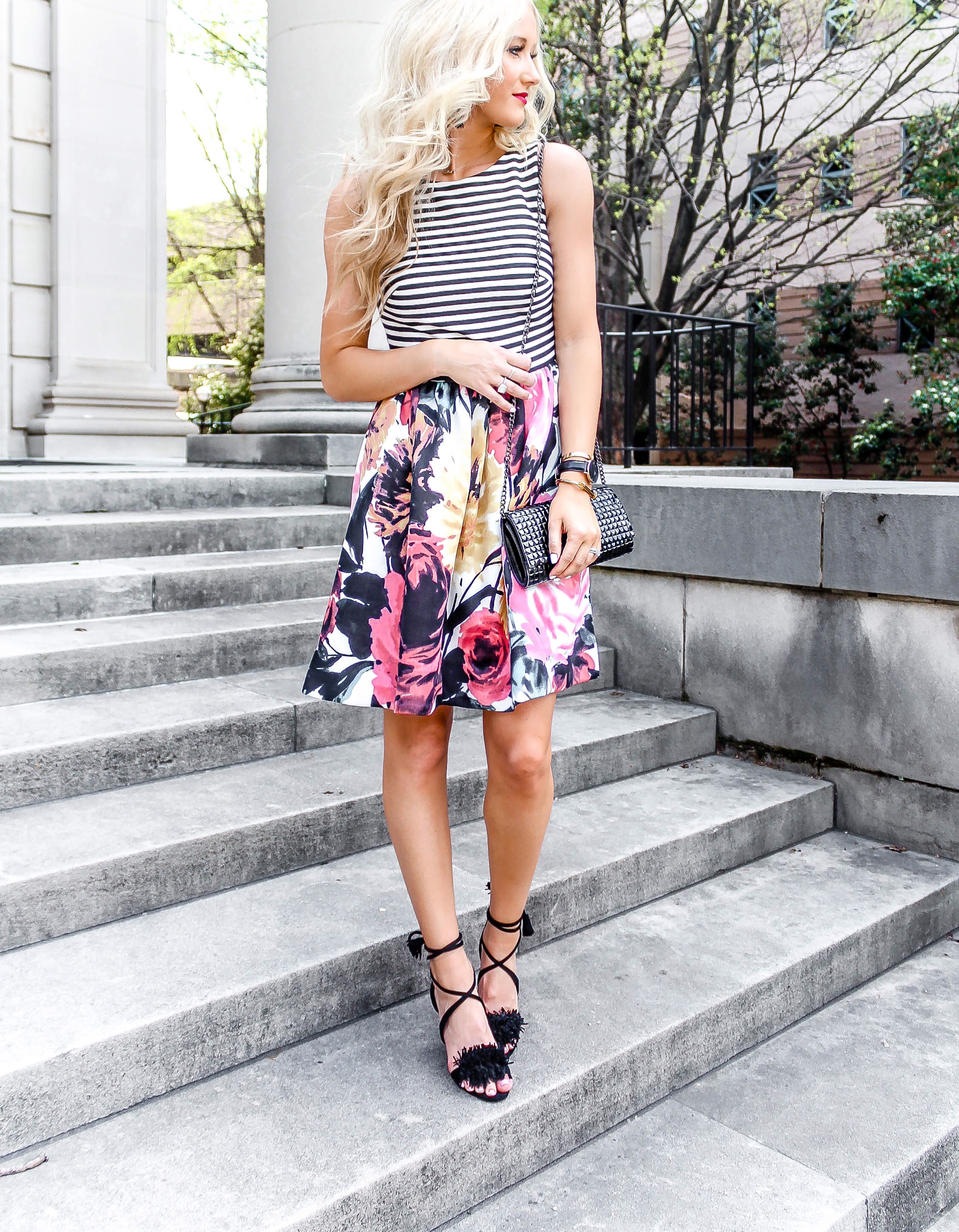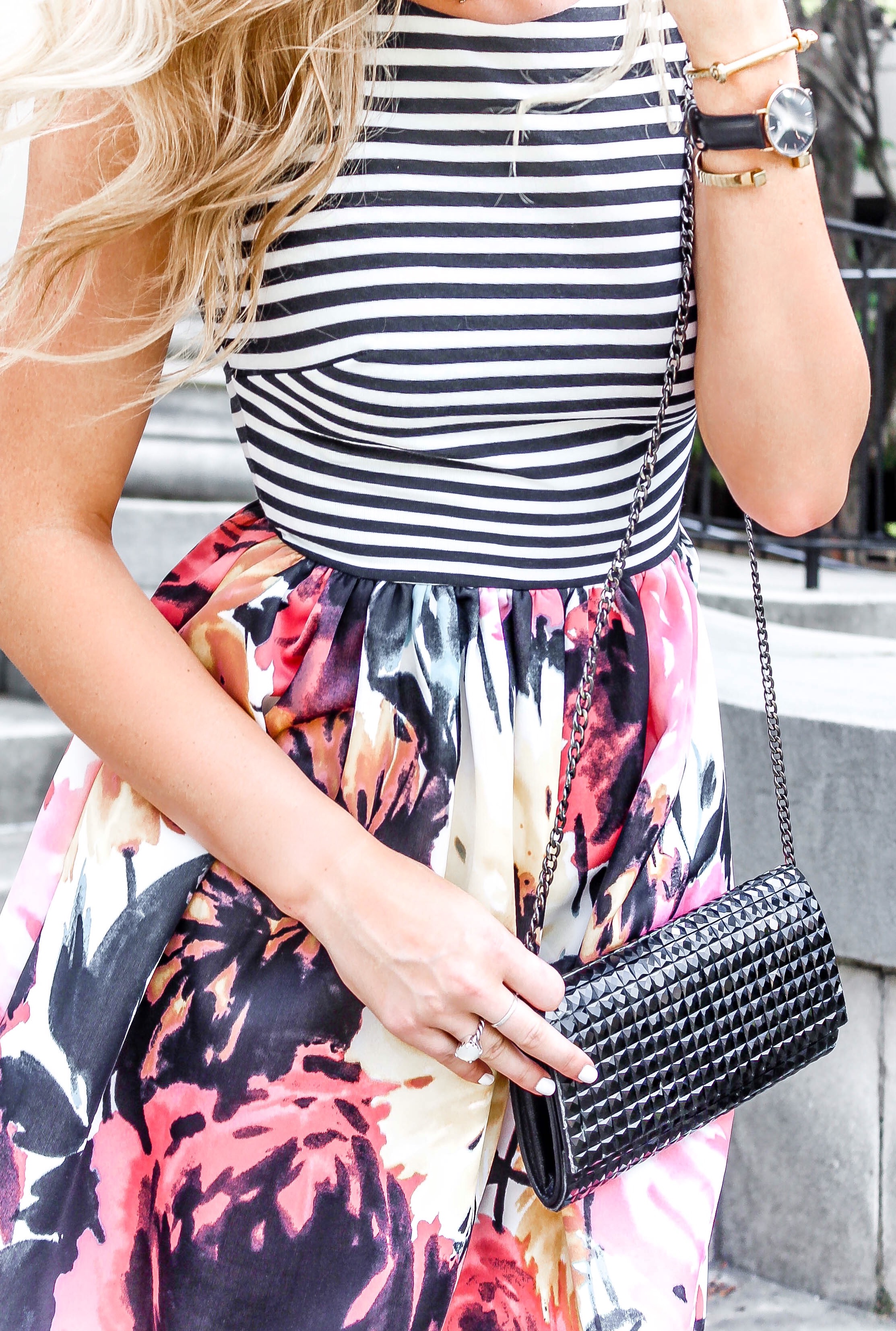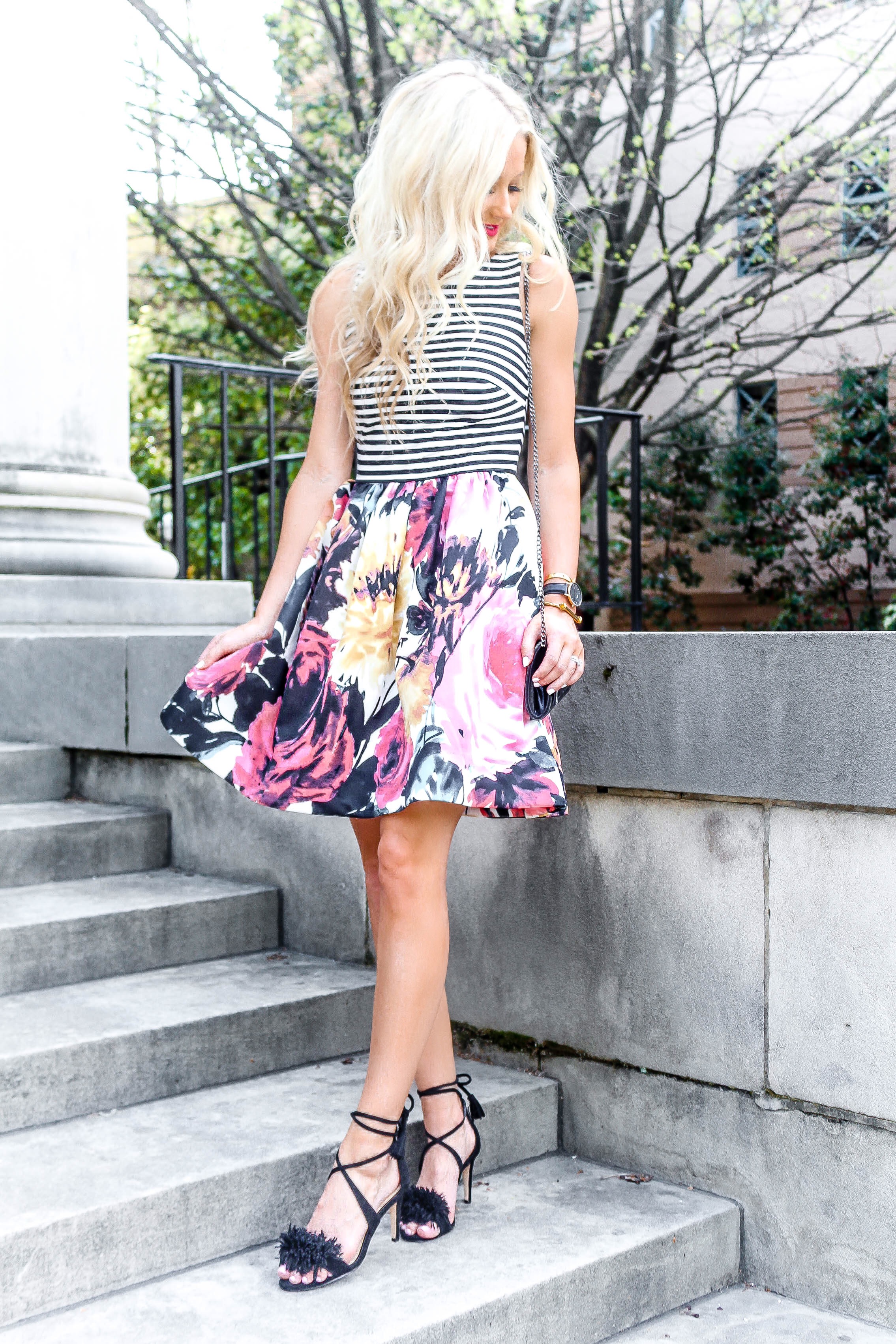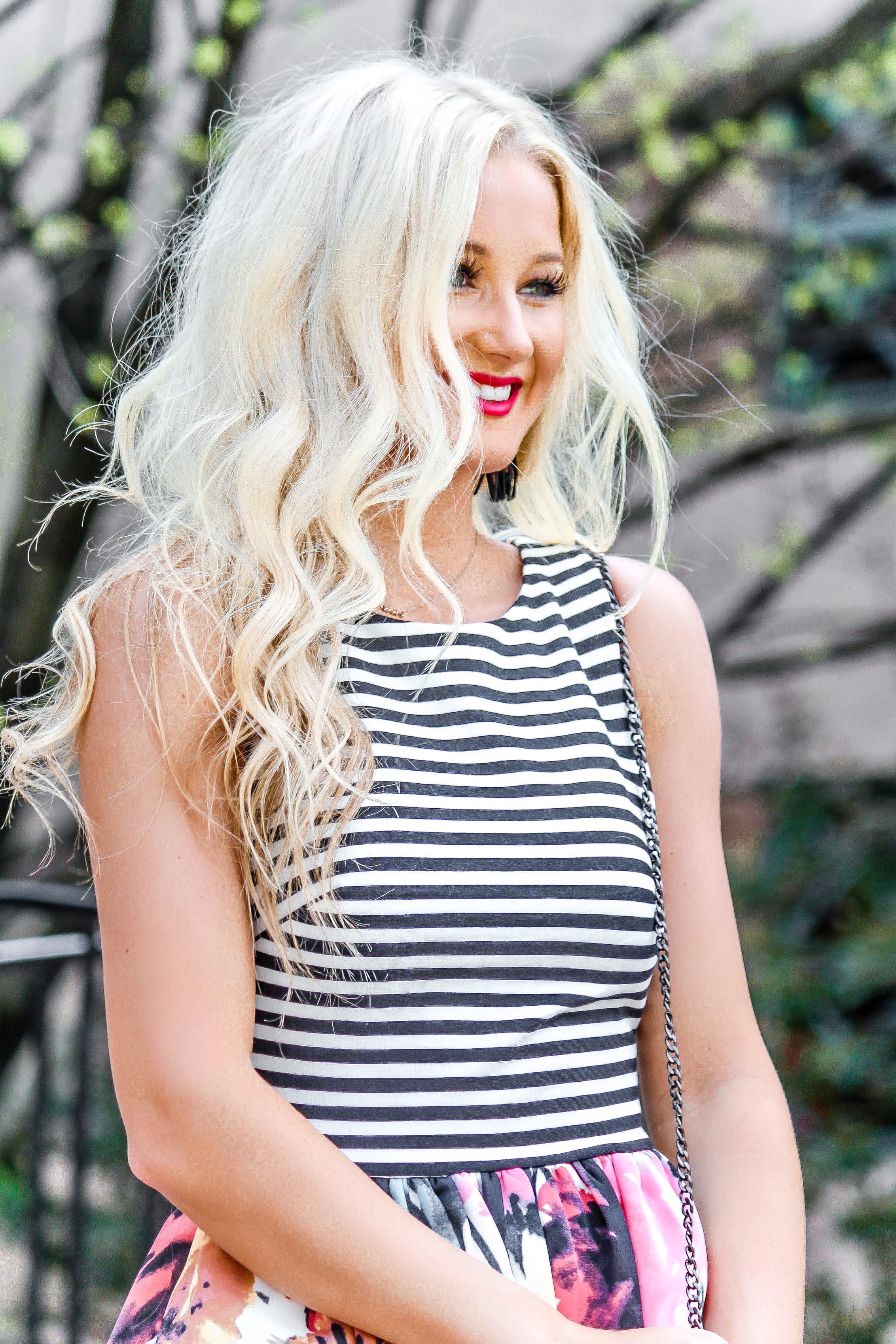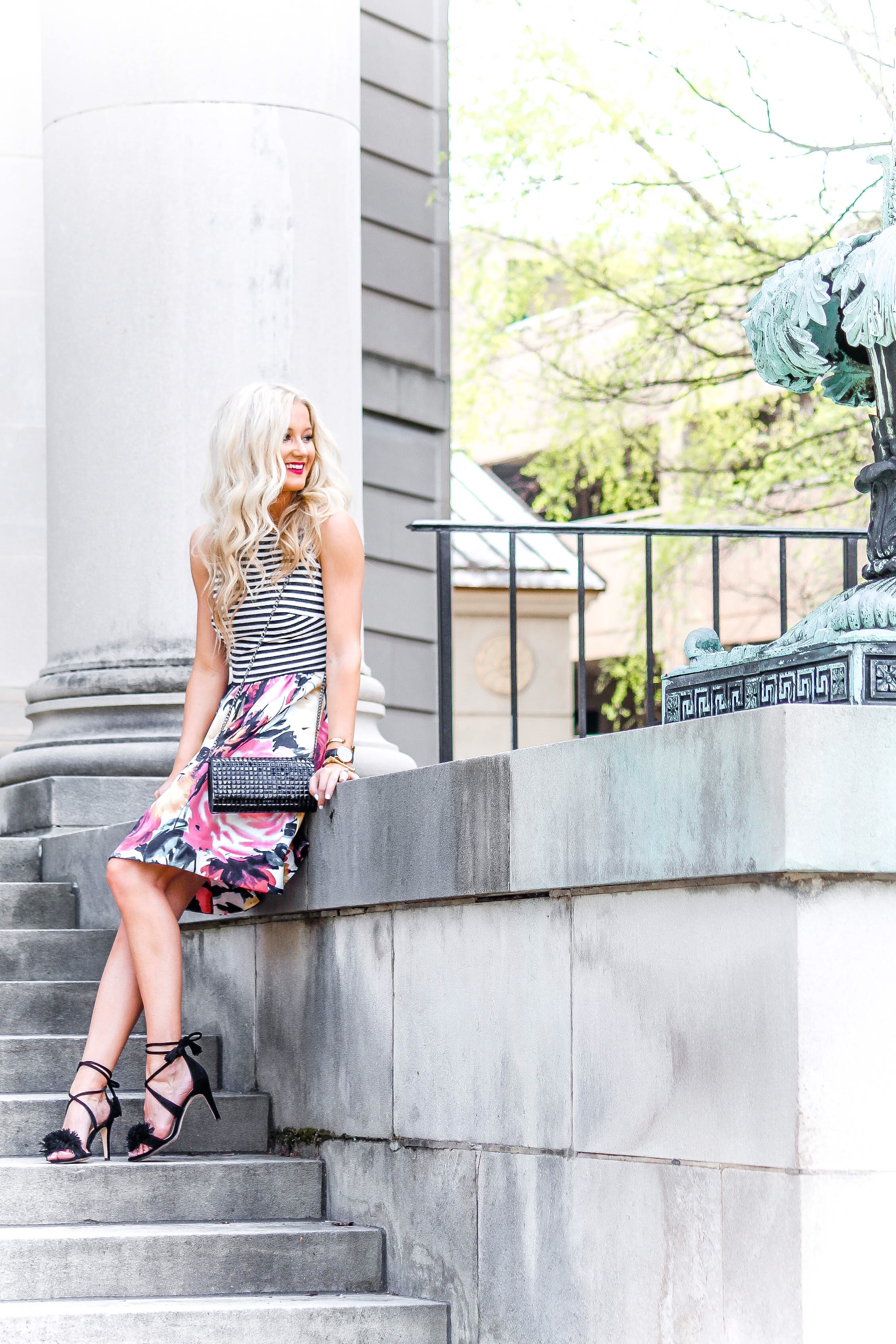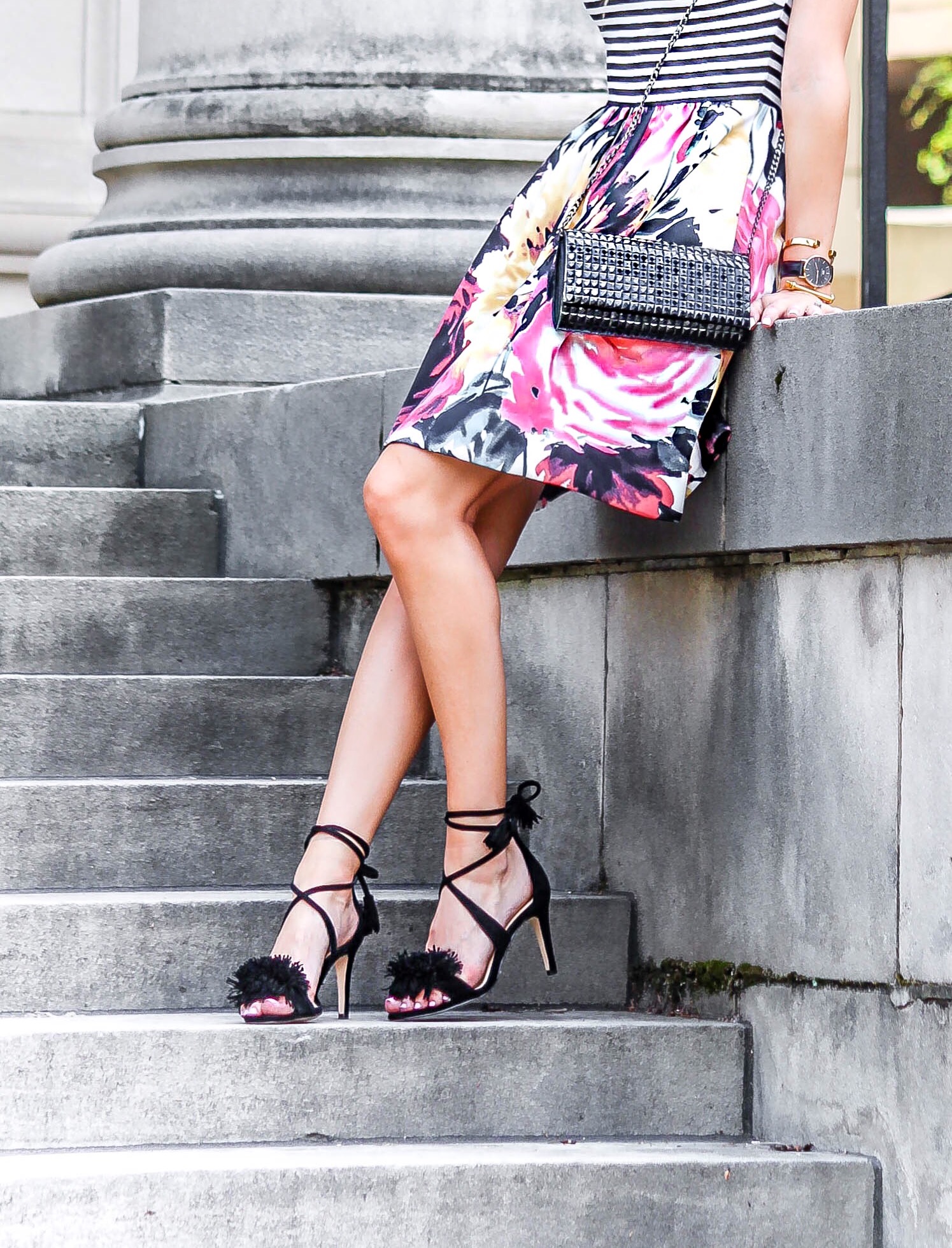 Shop My Look:
floral and stripe dress (similar) | fringe, lace up heels | black and rose gold watch | gold stack bracelets here & here | similar black crossbody | black tassel earrings

I was a bride about a year ago, and ever since then, I've been wanting to post some tips on appropriate wedding guest attire. Over the years, some rules have changed (and in many areas of the world, there's no such thing as traditional rules any longer). However, I am still cautious of a few things when I attend a wedding as a guest, especially when it comes to my attire. And being a former (and recent) bride, I feel like these tips are something that many brides-to-be want everyone to be aware of (even though they may not come out and say it directly to your face).
1. First and foremost, do NOT wear white, ivory, cream, or anything that is even remotely close to those colors. This should go without saying, but I'll say it just incase. Trust me, you don't want to be that girl. Some modern-style brides may not care at all if you wear white, but most brides still enjoy being the only person in white on that day (or the only person in whatever color they choose to wear). Since you may not know the bride's opinions on this matter, it's always best to play it safe and choose to wear a color vs. wearing a white/ivory/cream. You may disagree with this, but if anything, just pay attention to this tip out of respect for the friend's big day. You will one day have your chance to have a wedding YOUR own way, and then you get to make the rules. 😉
2. Wear your dancing shoes (or at least bring a pair to change into if your glass slippers start hurting toward the end of the night). My sister actually provided flip flops for her guests as their 'dancing shoes for the night', but you can't rely on this at every wedding you attend. I am alllll about 'no pain, no gain' – trust me. But a wedding is a place to have fun, let loose and dance the night away with your friends! Don't be stuck in a corner because your feet are on fire. I've done this one too many times because 'the shoes were just too cute', but I've finally learned my lesson. A lot of guests assume that you will be able to take off your shoes on the dance floor (and many times, this is true), but sometimes the venue has a strict rule of guests wearing shoes at all times in case a glass breaks (which actually happened at our wedding multiple times LOL too much dancing!). Just be aware and either wear a reliable heel for the night or bring a back up shoe just incase!
3. Pay attention to the dress code that is requested by the couple on their invite/wedding website. It's on there for a reason, so as a wedding guest, we should all respect the couples' wishes. If the invite/wedding website does not specify, you can typically infer on how dressy the wedding will be based on the time of the ceremony and the wedding venue. (Country clubs/ballrooms/indoor weddings that start later in the evening — more formal; Barns/beaches/lakes/outdoor weddings (or if they begin earlier in the day) — more casual). For the more casual weddings, a pretty sundress and wedges is always a good option, but for a more formal event, stick to a semiformal or cocktail dress with heels. For a 'black or white tie' dress code, it's always best to wear a full length formal gown. If you are confused on what you should wear, I recommend always playing it safe by dressing a little more on the formal side. Being overdressed is actually way better than being underdressed for this type of event. (If you would like more info on what guys and girls should wear for each of these dress codes, DM me on Instagram and I'll work on a blog post for it!)
4. Don't wear anything too sexy or revealing. There's no need for a wardrobe malfunction at a wedding. Obviously, this is a huge celebration of love, so definitely feel free to wear something romantic and sweet – and of course something that you want to show off to your date 🙂 But most weddings are family friendly, and a wedding is not a place where you want to feel uncomfortable (or make anyone else feel uncomfortable). Feel free to keep it fun and flirty, but also keep it classy and appropriate!
5. Bring a small purse or clutch. Typically in a ceremony or reception, there won't be room for your oversized LV Neverfull, plus you won't want to keep up with that big of a bag all night. Grab your shade of lipstick for the night, some powder (& if you're like me, mascara), your phone, your ID & a hair tie .. throw it in a small crossbody or clutch and you are set for the wedding and for whatever else the night brings!
I've done some shopping for you all and gathered my top picks of dresses for you all to wear to your next wedding:

Happy shopping & happy season of love, ladies!
xo, P