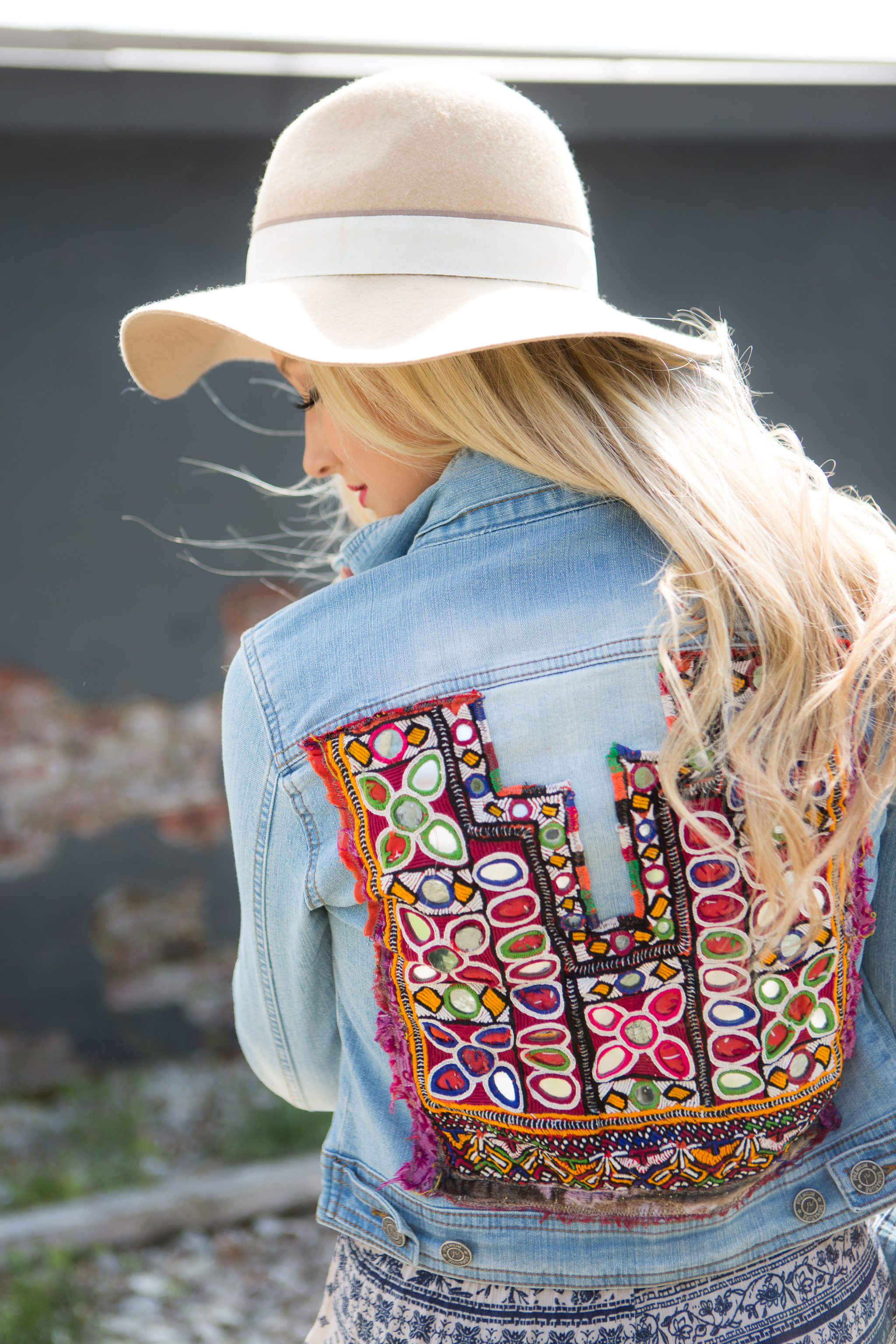 Denim jackets are a hot commodity for the upcoming season (and really they always have been in my opinion). There of course was a time a few years ago when denim jackets were so popular that if you didn't have one, I don't think you were even human LOL. But then (just like everything else), the trend died down for awhile. Now, denim jackets are a closet staple that you probably consider a must-have in wardrobe … and if you haven't yet found the perfect one, I can help you! Trust me, this closet staple is now better than ever before!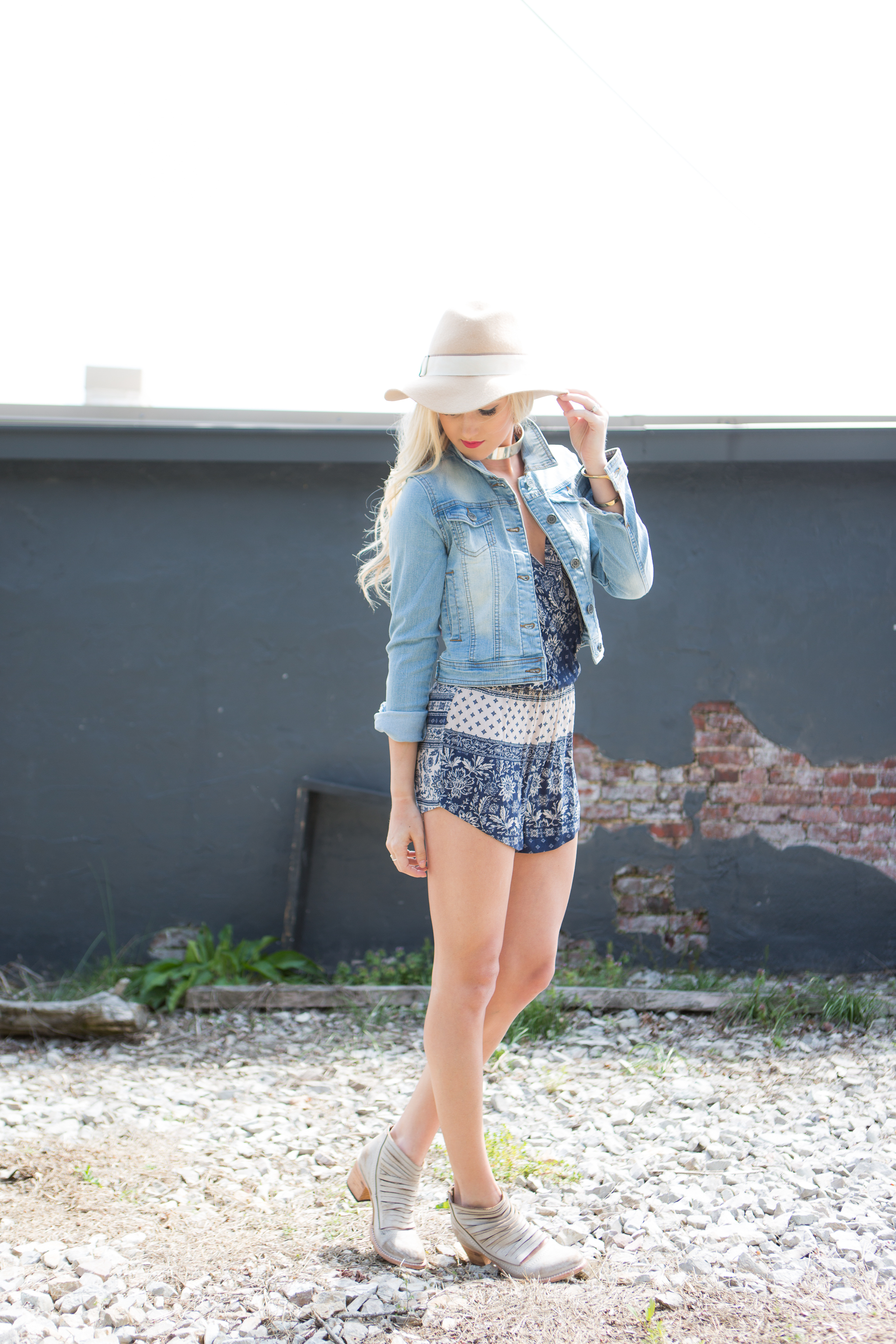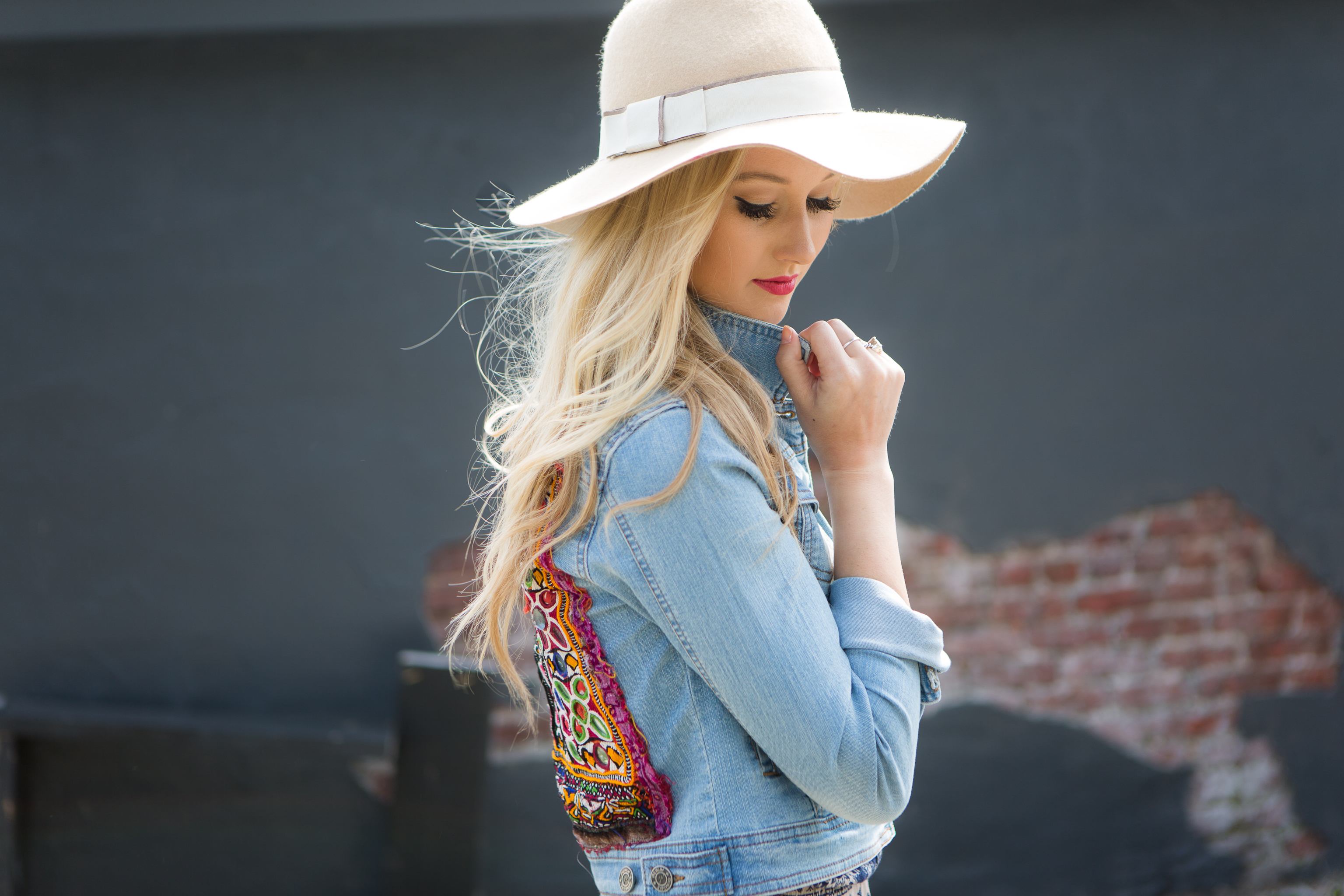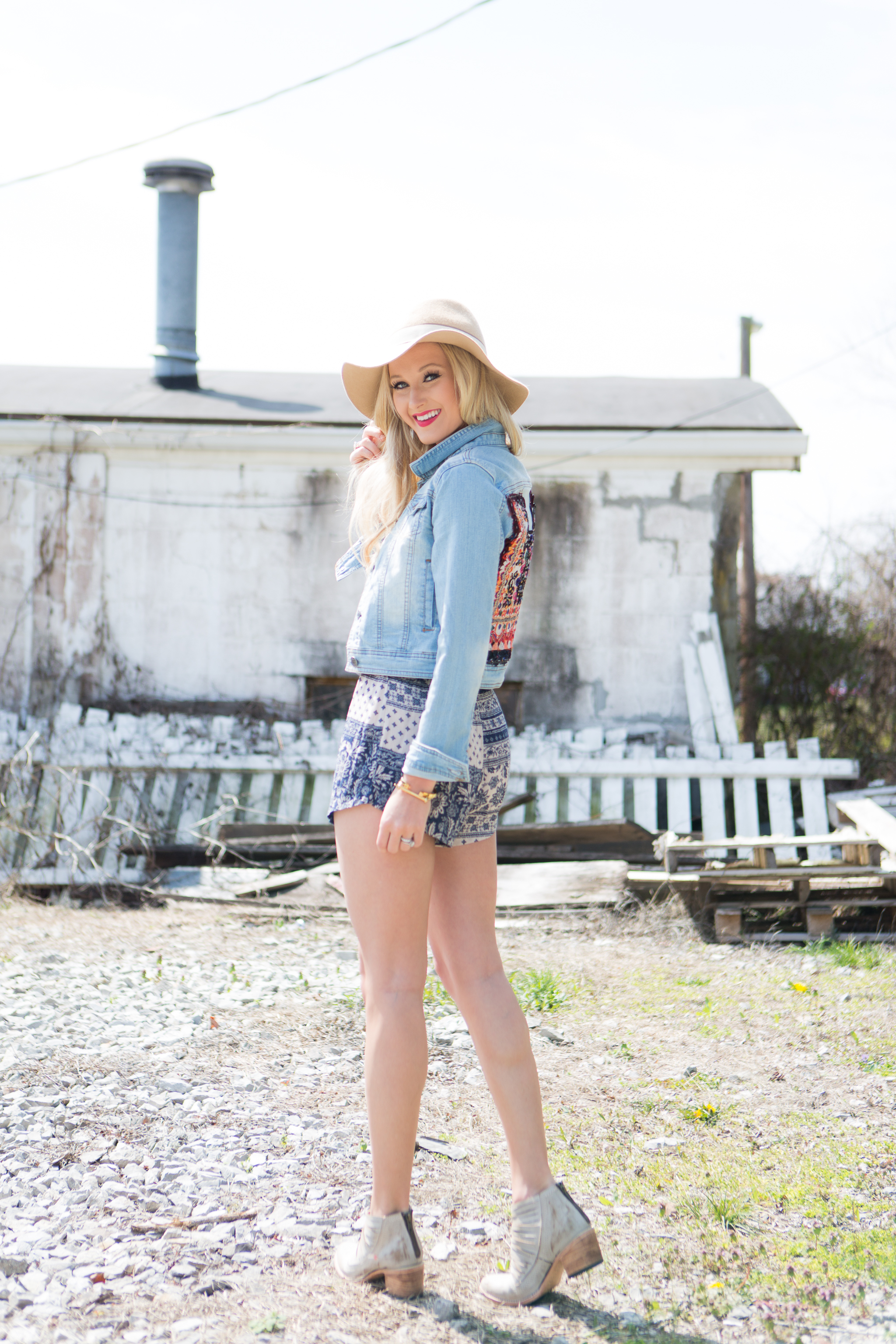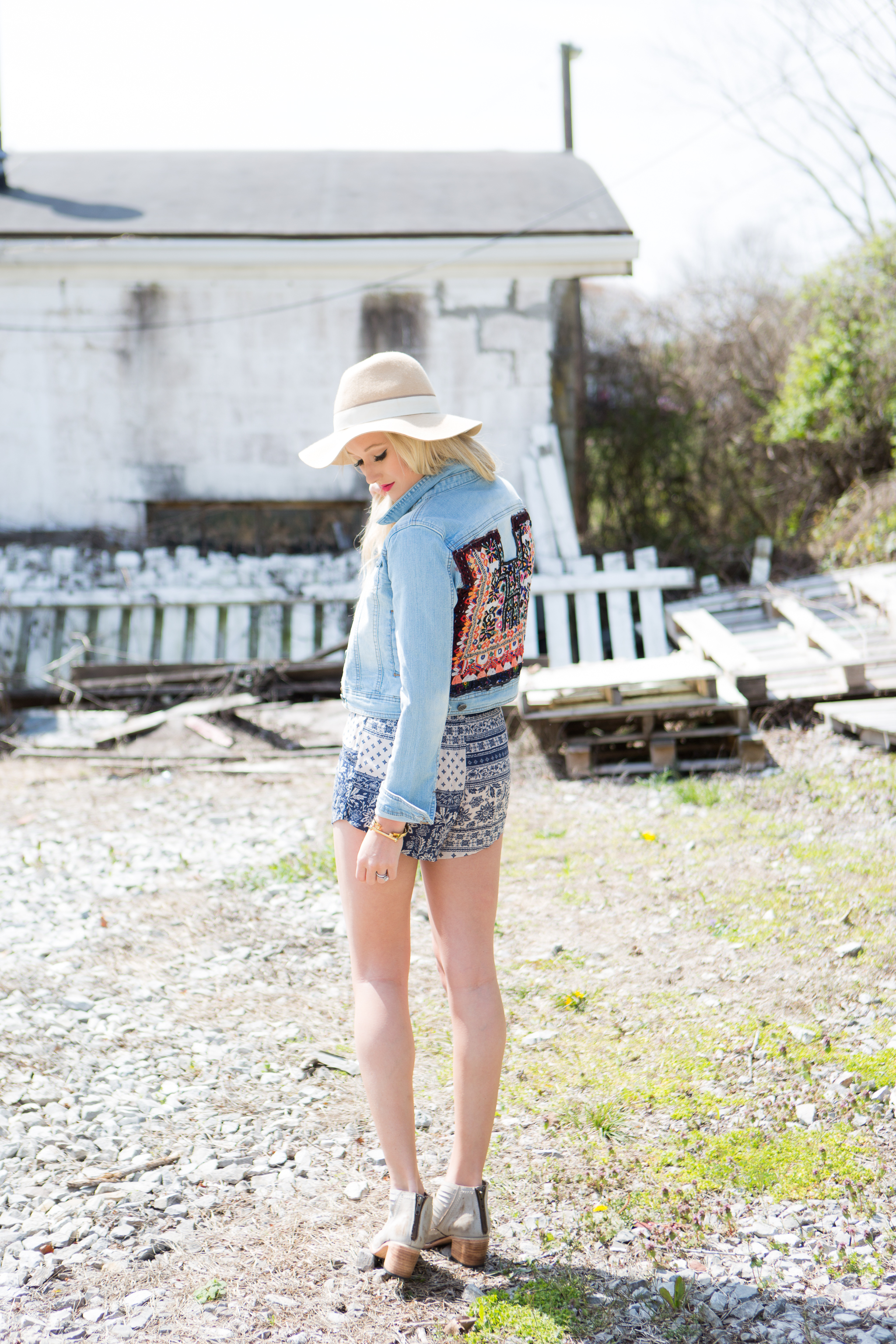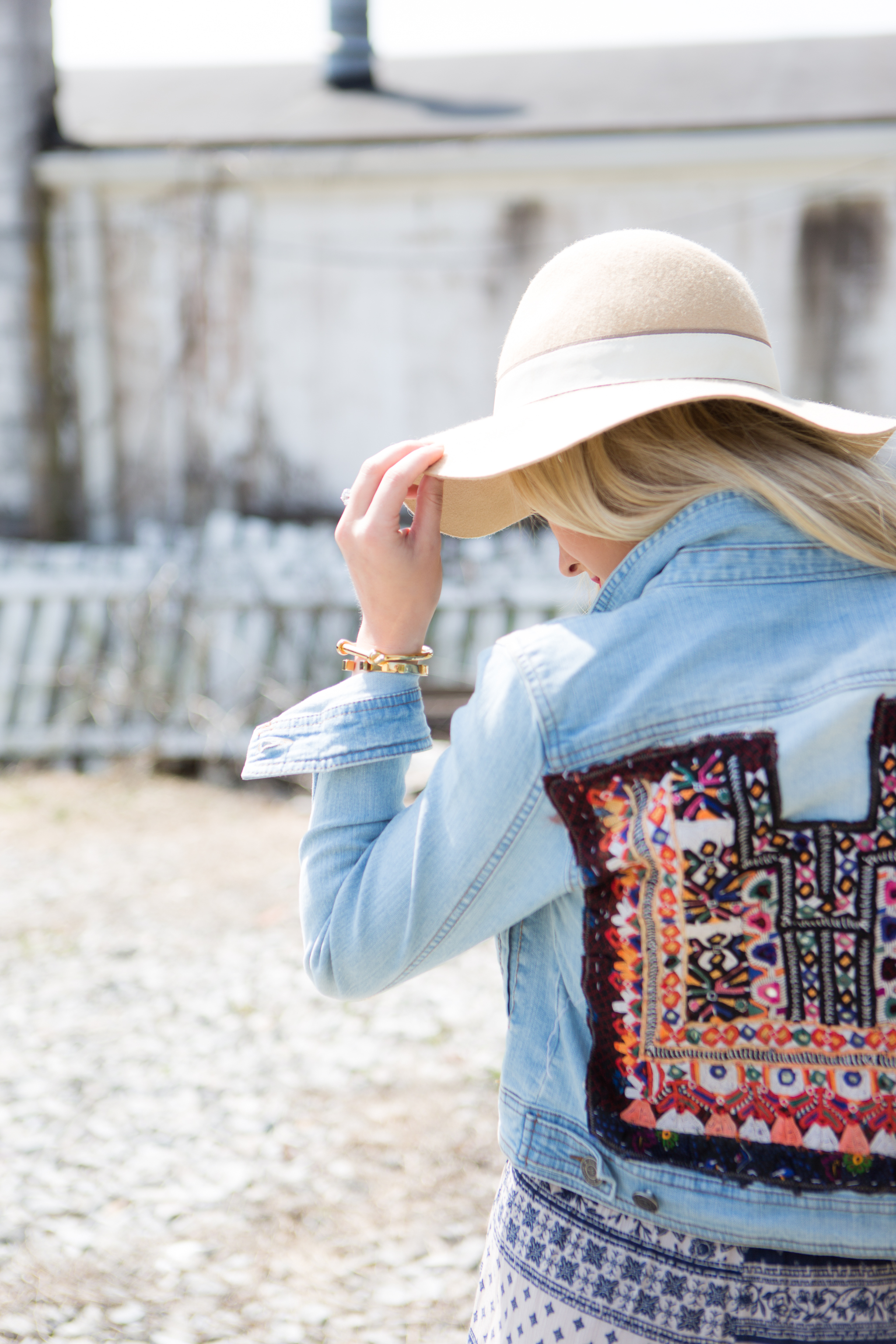 Shop My Look:
vintage embroidered denim jacket | similar boho romper | cutout booties | stack bracelets here and here | similar hat

Eliza Dean & their new sister store, Inali, are both brands that I have grown to absolutely love because their pieces are so unique and give off some really cool and edgy vibes. The owner, Leah, is one of the sweetest and most rad girls you will ever meet — she's actually in Tennessee too, so that just makes me want to support her companies even more. Shopping local is something so special to me personally, and I absolutely love it 100x more whenever I am able to share these brands with you all via their websites!
Eliza Dean & Inali both have amazing bohemian chic pieces (& even some southern flair) that will keep you on-trend at all times and help take your personal style from just 'cute' to fashion-forward. Of course, the main item that I've fallen in love with is this vintage embroidered denim jacket. I mean … please insert all the heart eyes here!! Denim jackets are now better than ever before because these brands are beginning to transform this typical closet staple into a more fashion-forward style and statement piece. These jackets are now becoming the main focus of many outfits versus just an extra, basic layer. What can I say? I'm officially hooked … line and sinker. If you are still on the lookout for the perfect denim jacket (or maybe you just want to try out the new embroidery trend), then you should definitely check these out (seriously so comfy too, which is always a plus)!
Like I previously mentioned, the owner and designer – Leah – is a Tennessee girl like myself, so I wanted to share with y'all that she will actually be here in Knoxville this Friday (April 28th) for a fun pop-up shop event, which will include Eliza Dean's one-of-a-kind pieces & Inali's new, first time pieces. Not only can you shop some amazing clothes, but you will also get a first-hand look at a brand new line of art prints shot by the amazing, Sarah McAffry (a favorite Tennessee photographer)! If you are local to the Knoxville area and you would like to attend, shop and hang out (which you should, just sayin' 😉 ), then head over to Bliss in Market Square from 6-9pm this Friday!
If you find anything amazing at Eliza Dean online or at the pop-up shop on Friday, tag me in a pic on Instagram so I can see your new wardrobe additions!!
xo, P
Photography by Sarah McAffry Inc.
Thank you to Eliza Dean & Inali for sponsoring today's post!