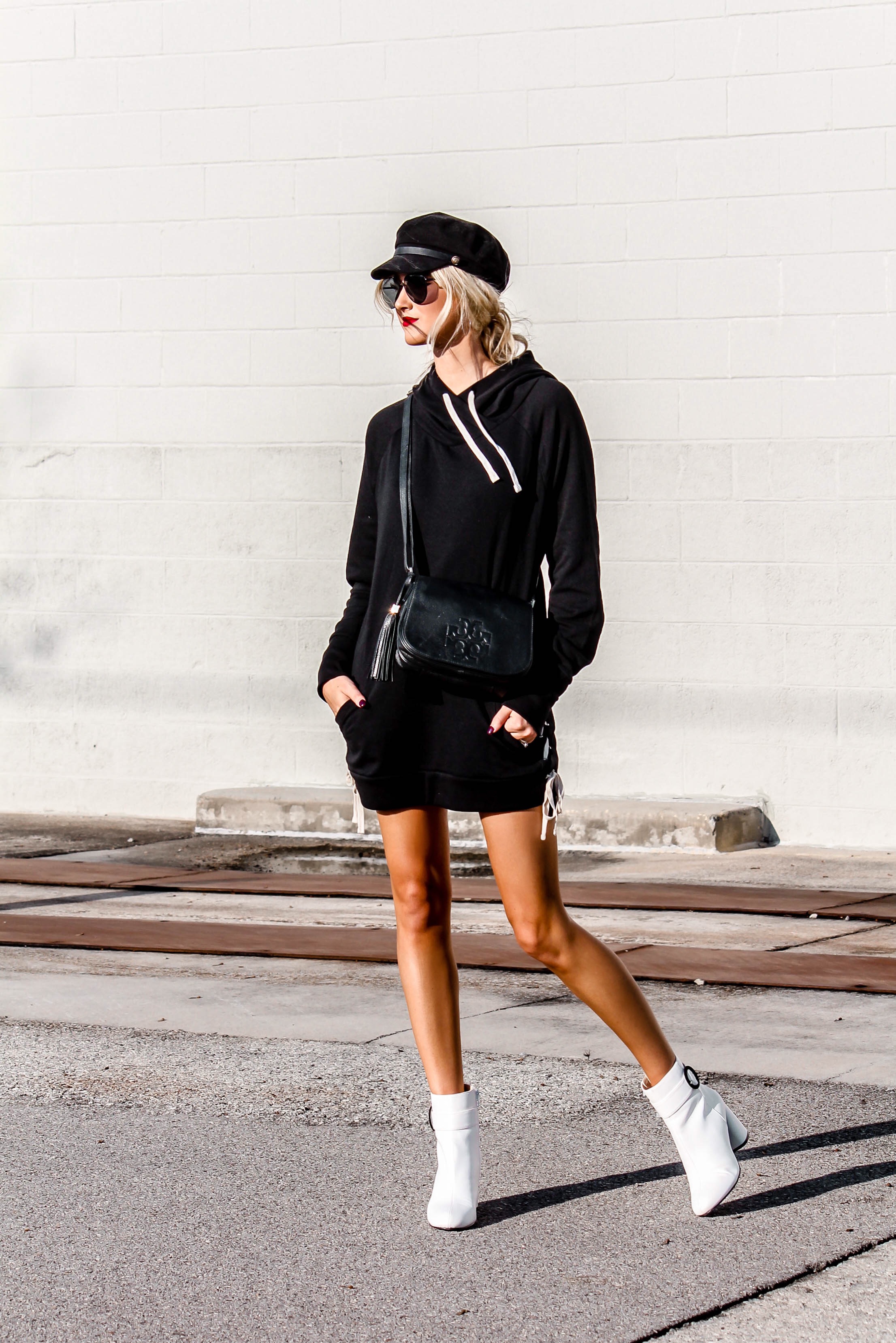 In case you haven't noticed, I've been wearing 2 particular pieces over and over for the past month or so, & I don't plan on stopping anytime soon. I wear a cabby hat at least a couple times per week (y'all know I'm a huge hat person as it is, but this style takes it to a whole new level) and then the white bootie trend? I'm all about it!
If you just scroll through my blog or my Instagram feed, you'll probably notice several looks where I've styled these two must-haves many different ways. And that's what I love most about them — you can change up the look of each with different outfits!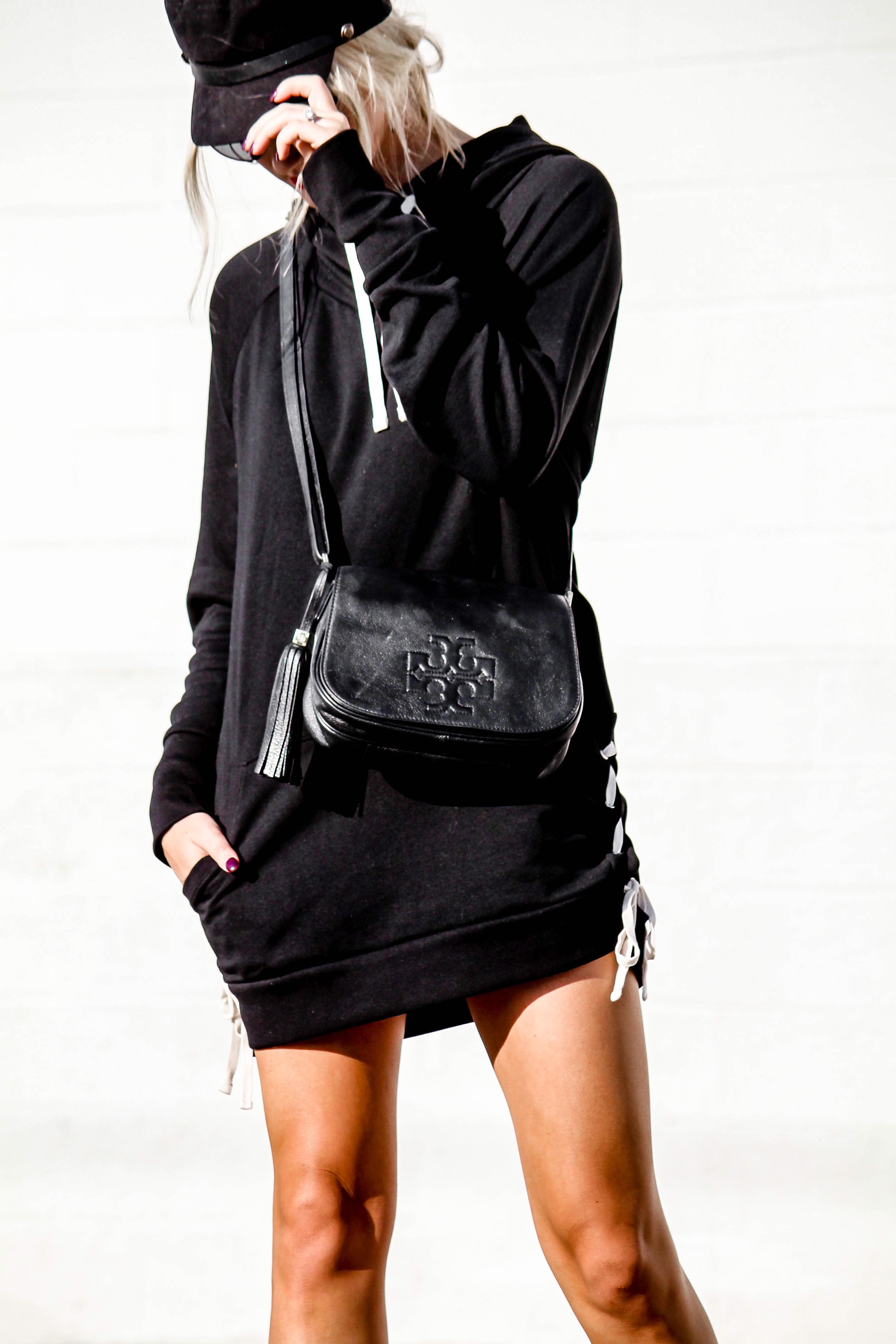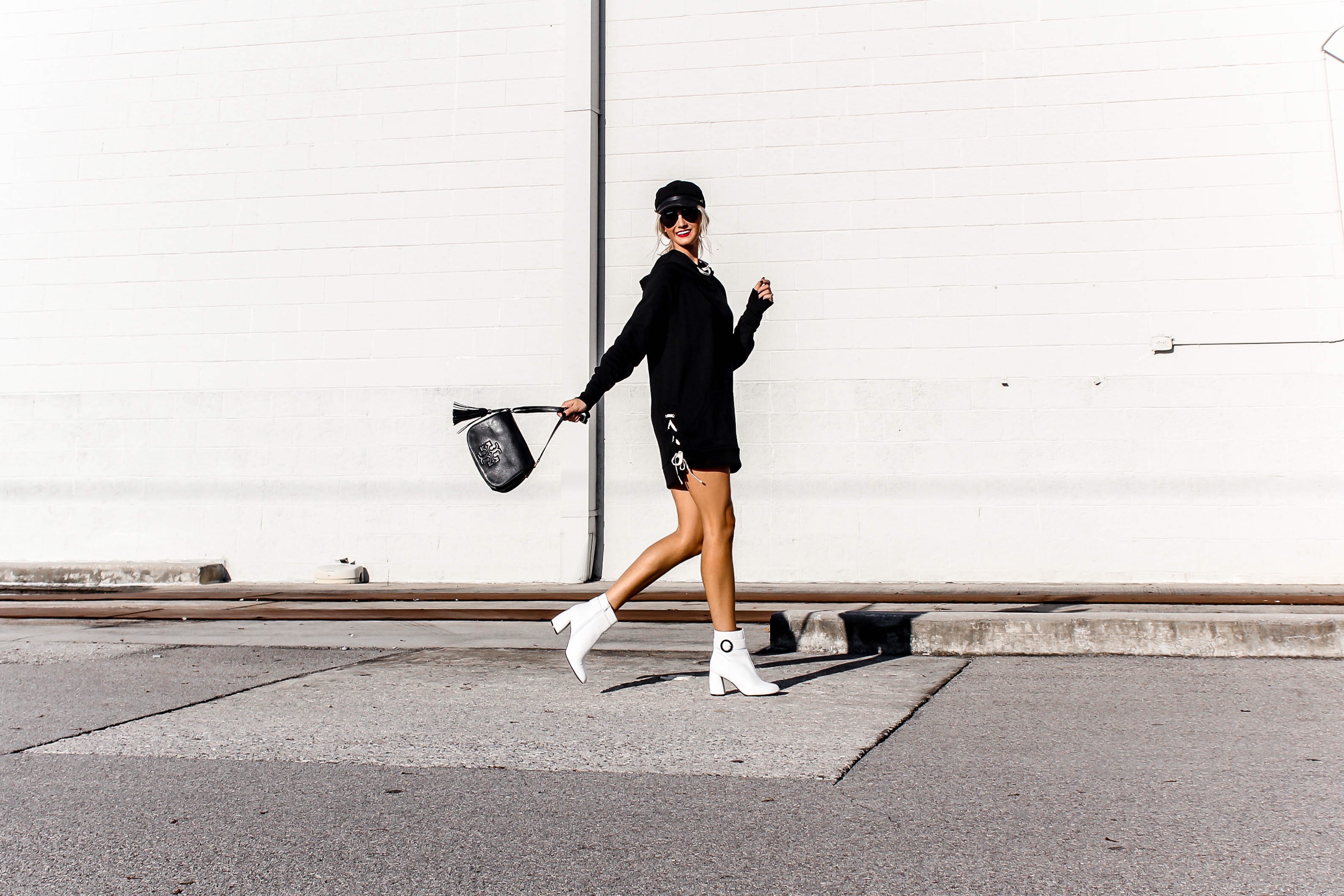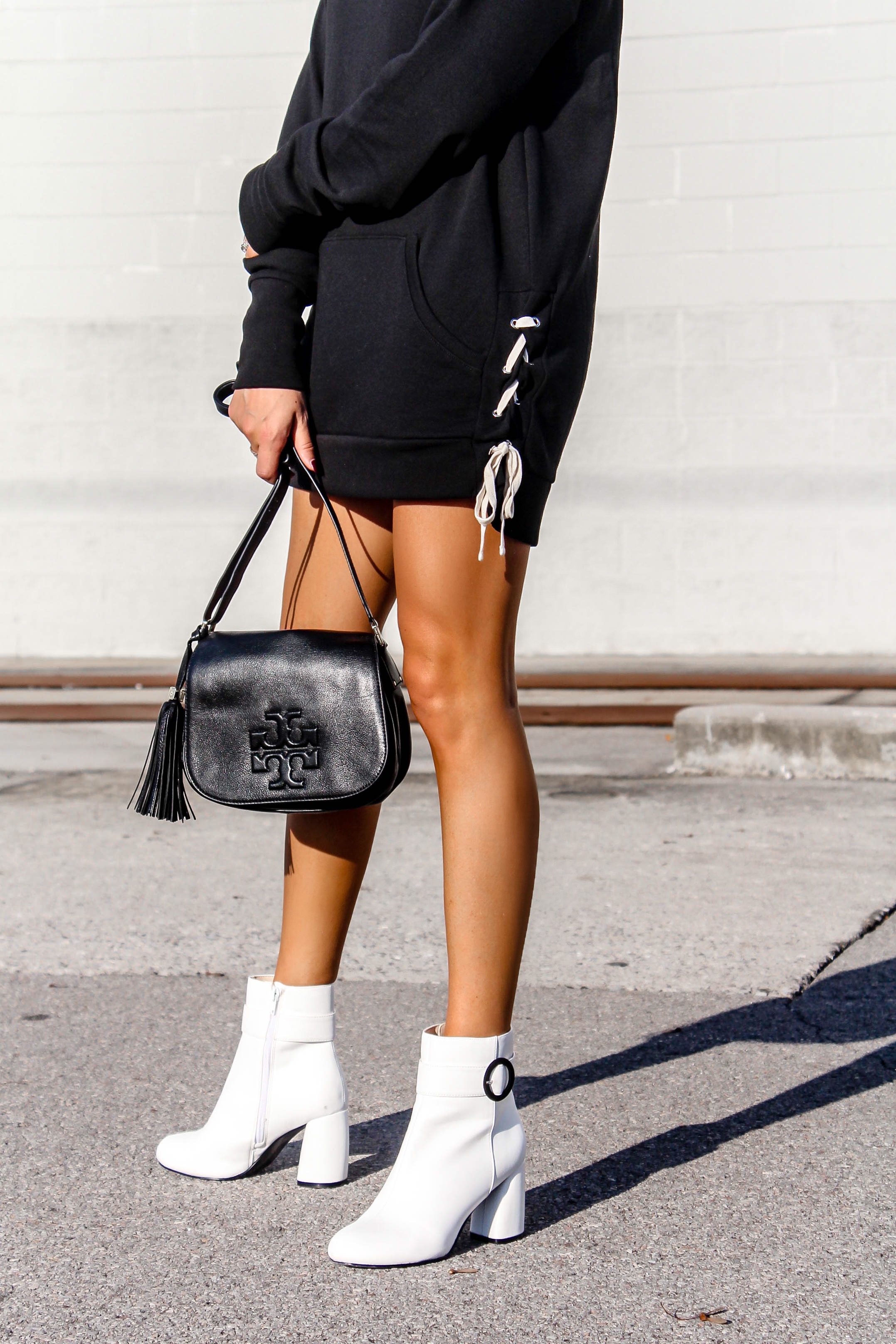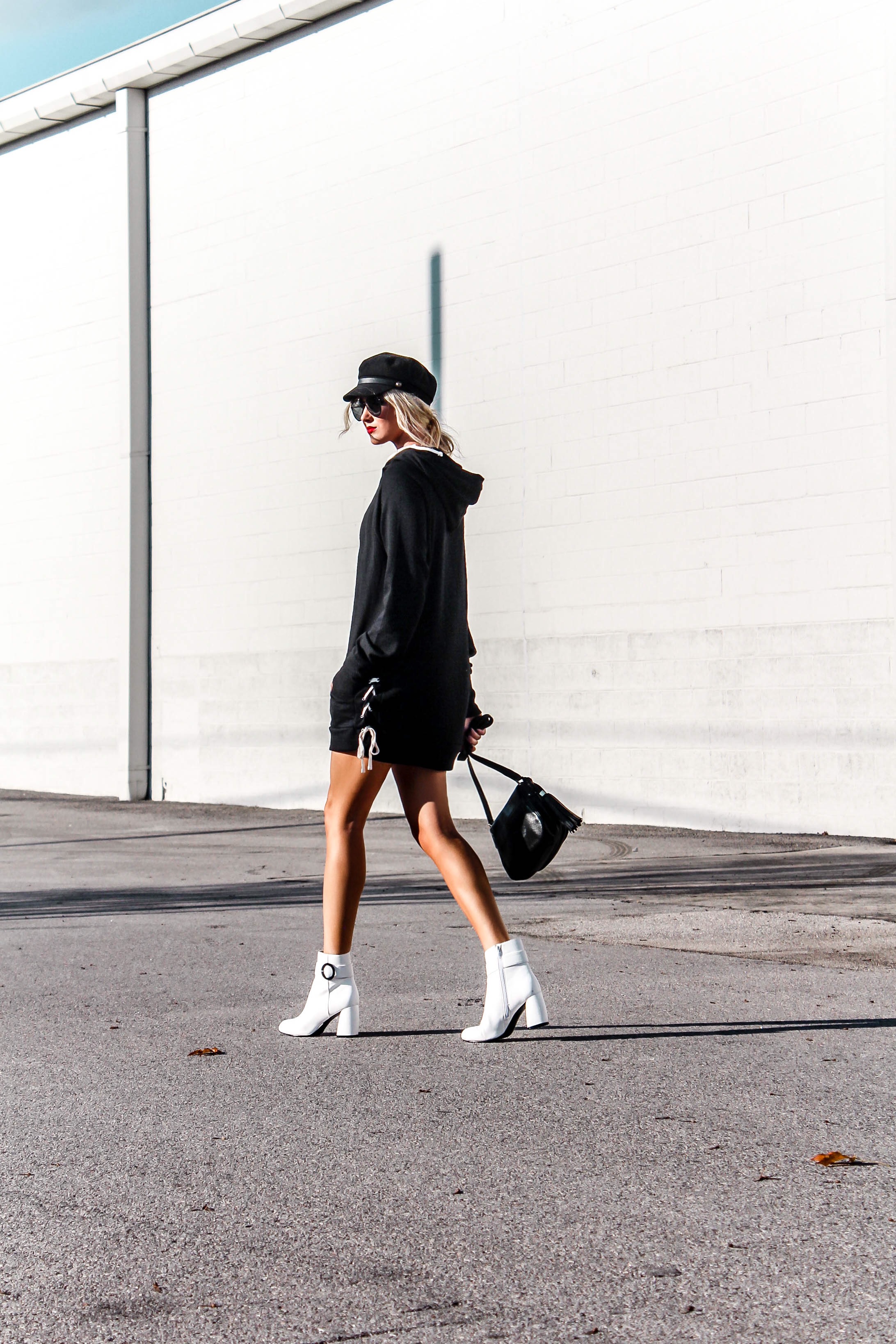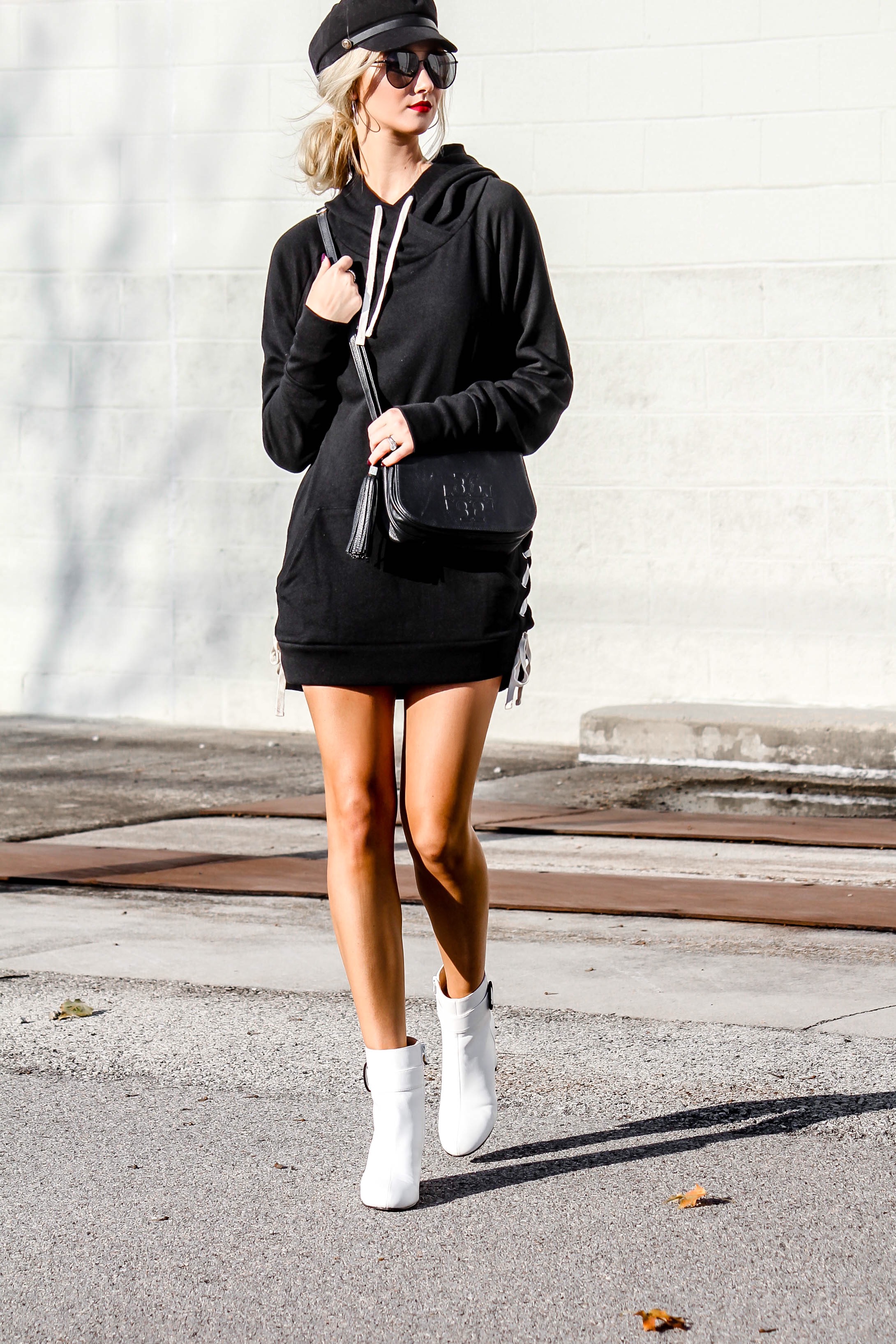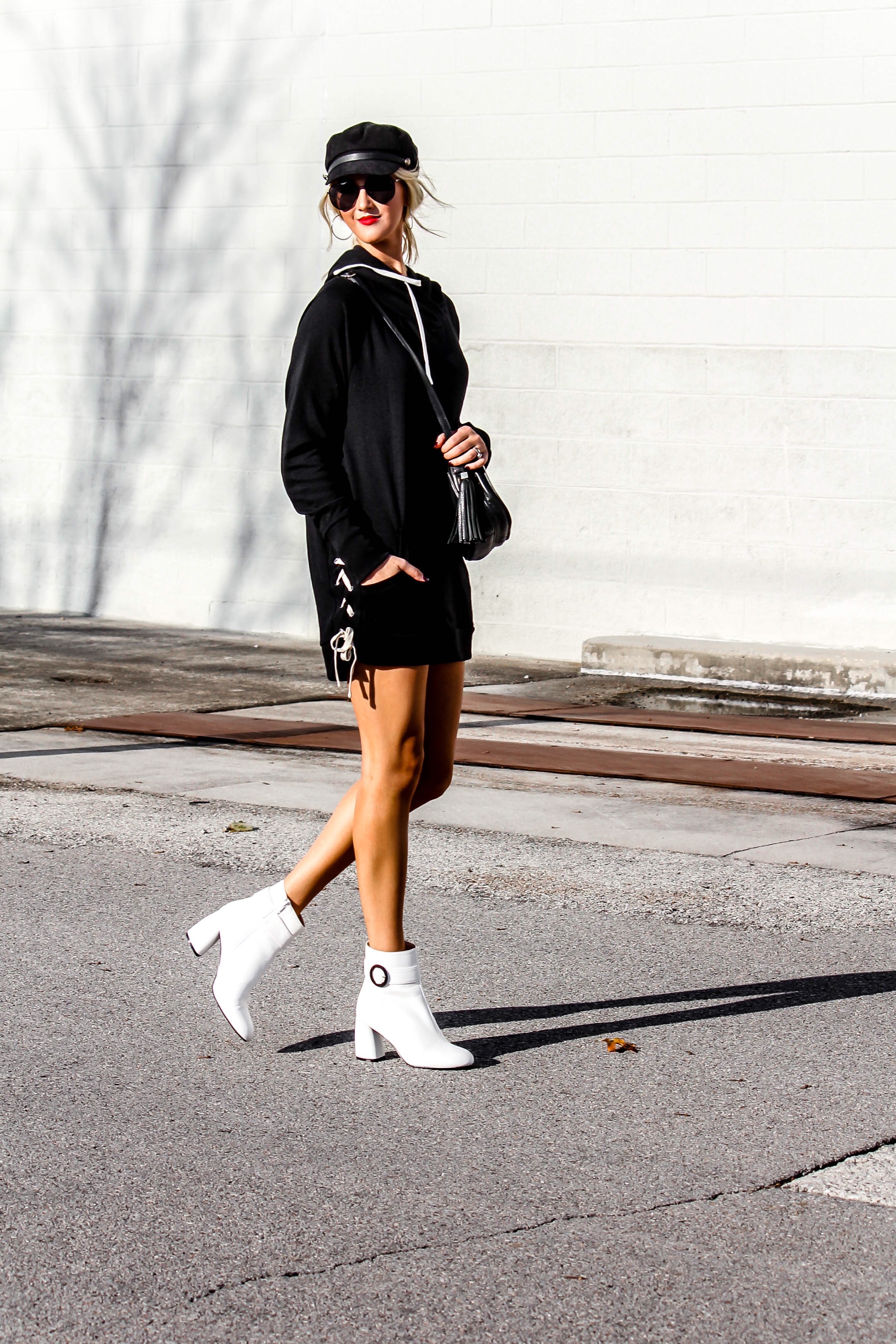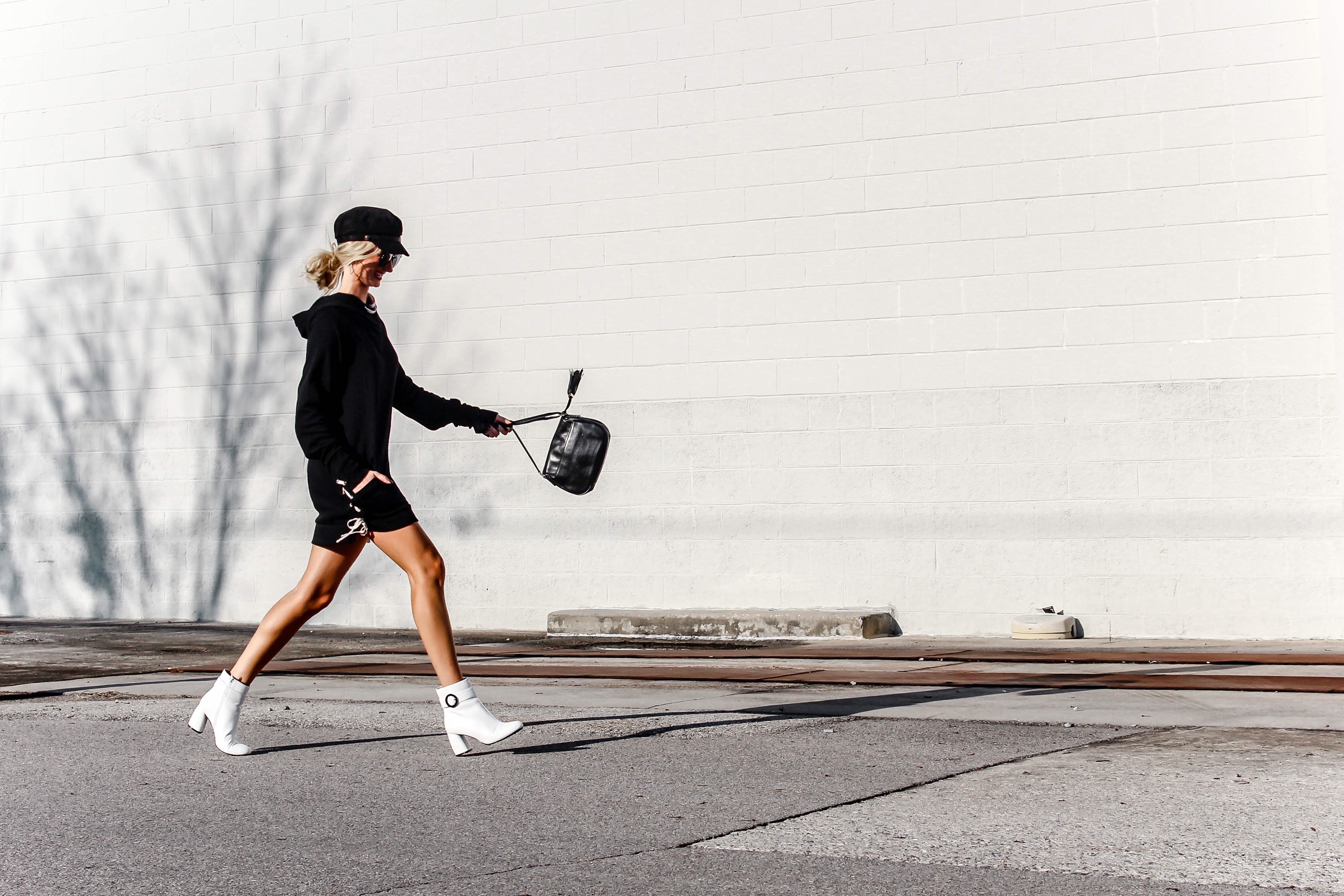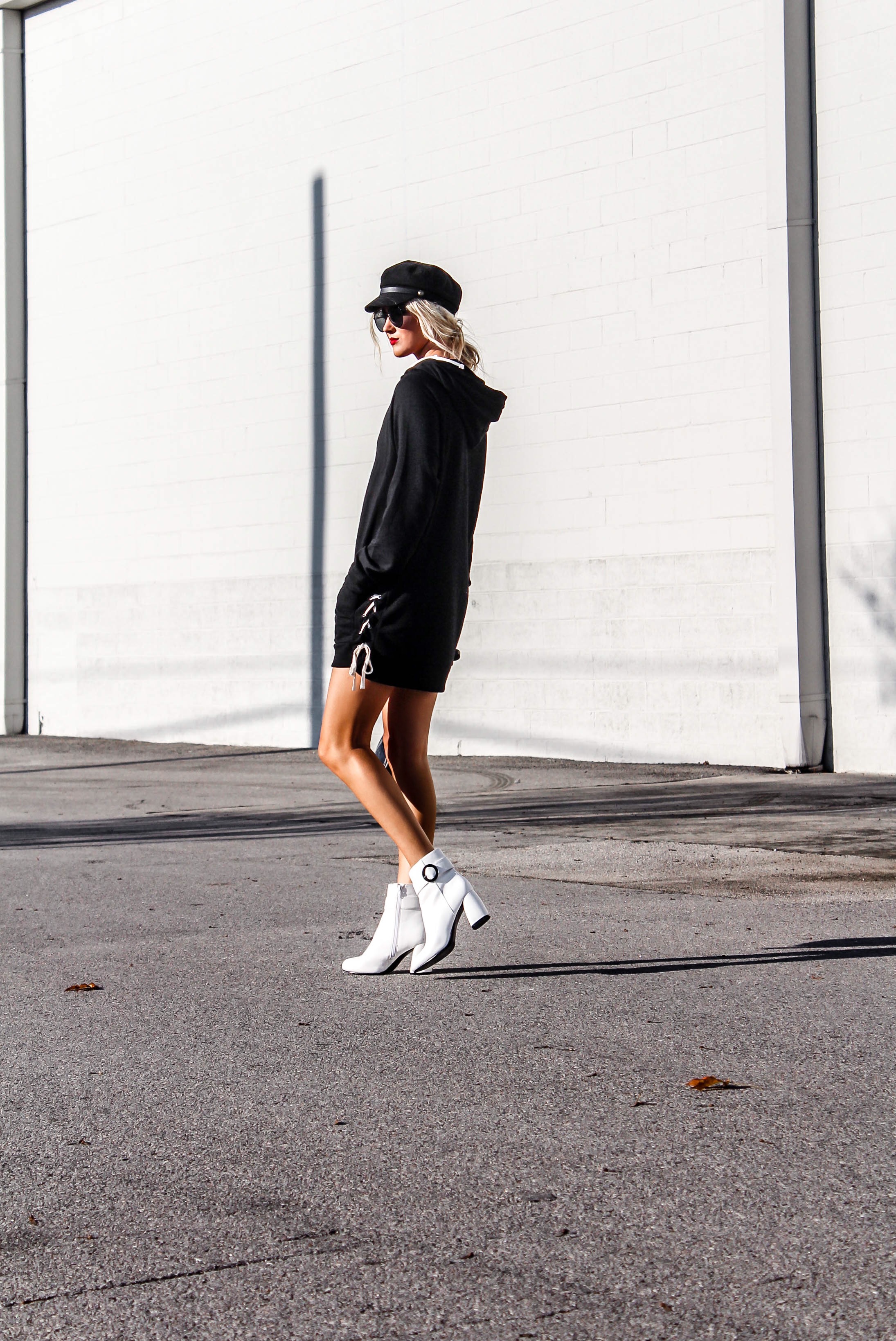 outfit details:
black oversized hoodie (Wearing a size M tall) | similar white booties | similar black cabby hat (& here – I want this one!) | similar Tory Burch crossbody | black aviators (use my code PEYTONDIFF for 25% off)
There's no such thing as the 'no white after Labor Day' rule anymore so feel free to wear out some cute, white booties to stay on-trend this fall & winter. I wear mine with dresses, shorts/skirts and even jeans or leather pants! The options are truly endless. They can dress any outfit up or add a fun bit of edge to your normal, everyday sweatshirt dress like I've done here! Speaking of this sweatshirt dress, I've been wearing it nonstop as well, simply because it is SO comfortable. For reference, I bought mine in a size medium, tall so that it would be large and long enough for me to wear both as a hoodie on top of leggings and as a dress if I want to dress it up a bit! It's under $55 and also comes in a heathered grey and pretty cream version. I'm so obsessed with the lace up detailing on the side!!
And of course, I had to finish this look with a hat – a cabby hat. Like I said earlier, you all surely know by now that I'd wear a hat every day if I had that option. So, when I saw that the cabby (or baker boy) hats were on-trend for fall and winter this year, I was so excited. It's such a trendy, edgy, yet European-ish type of style, and I'm absolutely in love with it. I honestly wear mine too much (and have my eye on a few more to add to the collection), but it's just so perfect for when you're having a bad hair day or you just need that one perfect accessory to finish off the whole look. I also love that you can find these hats from places like Forever 21, Asos, etc. — ya know, the fast fashion places that won't cost you an arm and a leg!
While we're chatting about how to stay on-trend, I wanted to point out my crossbody bag — I got mine a few years ago but it's a classic that I can't let go of, you guys! (I linked a few similar options above in the outfit details.) But, I want to point out that I'm wearing it much higher than you would normally wear your crossbody handbags. This is because it's the new THING y'all! If you look around at the world's most popular models and IT girls or refer back to NY / Paris Fashion Week photos or even look around at the most luxurious brands right now, you'll notice this trend happening all around. Wearing bags higher on your body (around your mid section) or even a small bag attached to your belt is the new thing to do! So, everyone may not be on board yet, but I wanted to share this style with you guys before it hits every market out there so that you can stay ahead of the trend and make a statement! Who says girls like us can't be 'it' girls too??? 😉
---
Thanks so much for stopping by, ladies! You all are so fab, & I hope you enjoyed reading about some of my favorite trends (+ how you can stay ahead of the trends) this season.
I'd LOVE to hear about your favorite trendy pieces at the moment – comment below with your faves!!
xo, P