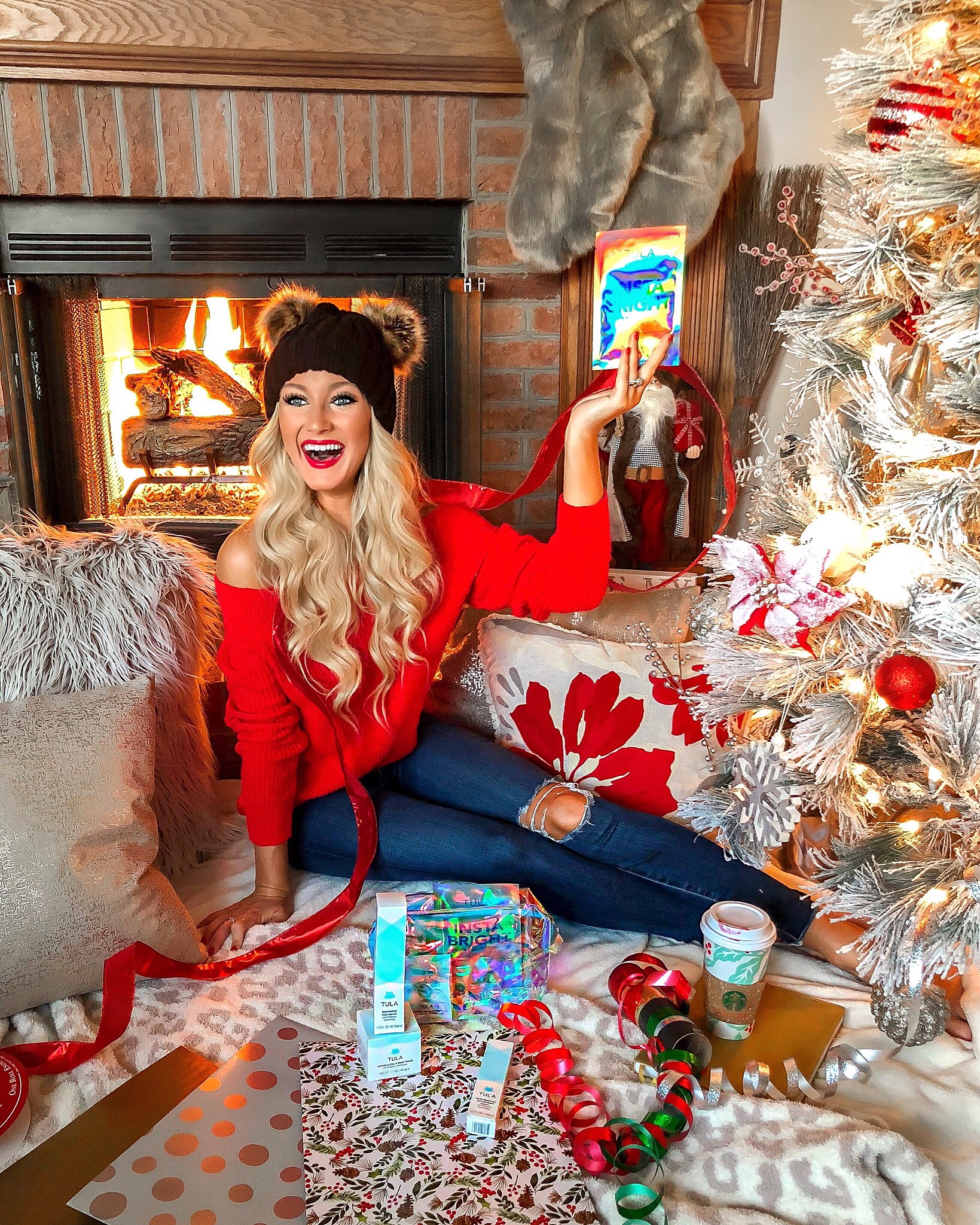 Don't leave me alone with the presents … especially when Tula is involved!!! It's my weakness! If you have been following along with me for awhile, then you probably already know this. Tula's skincare line is full of the best skincare products that I've ever gotten my hands on. Prior to Tula, I had a nightly regimen, but I hardly ever used it because instead of looking forward to washing my face and using the products, I actually pretty much dreaded it. Ever since I started using Tula about a year ago, I have genuinely started looking forward to washing my face morning and night. Something about their products is just so quick, straight-forward, easy, and leaves your skin feeling better than ever. I honestly love EVERY single product that I've tried so far, and I think that is saying a lot since I'm really picky when it comes to beauty and skincare.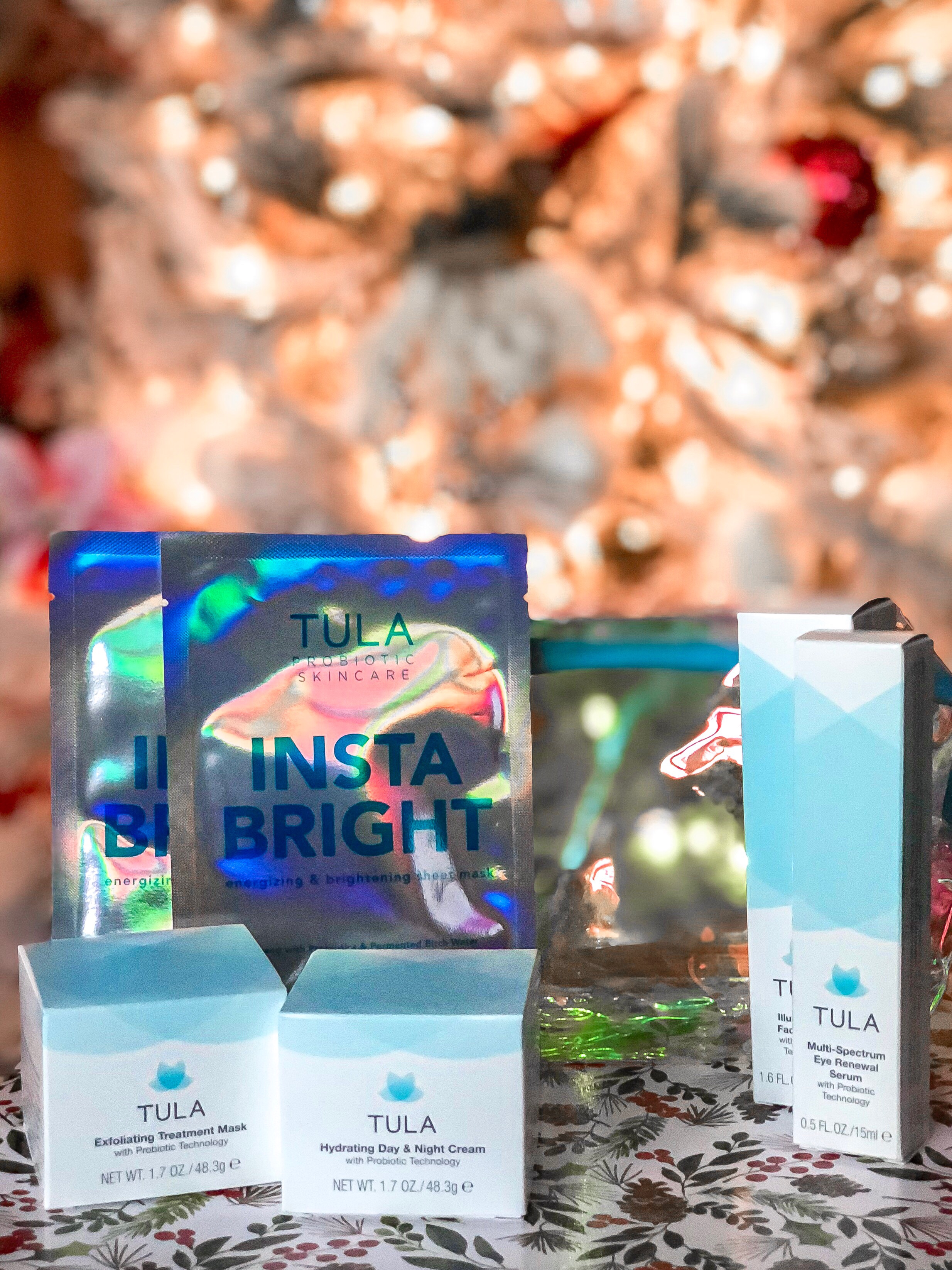 I recently got one of Tula's new, holiday gift sets to try out because I thought they may be the perfect gift options this Christmas, and YALL! These holiday kits are the BOMB. They are such a great DEAL! Anyone in your family would be thrilled to receive one of these as a gift (men & women both). There are even a few lower price point kits that would make for great stocking stuffers!
I got the "Ultimate Self Care" kit to try for myself, and I couldn't be more pleased. It has 6 full size products in it plus a large cosmetic bag all under $120 total when you use my discount code: PEYTON at checkout! I was SO excited that the Multi-Spectrum Eye Renewal Serum came in this kit because that is one product of Tula's that I hadn't gotten to try yet, and I absolutely LOVE it so far. I use it morning and night. Since I've been so busy lately, I've lost quite a bit of sleep (like only sleeping on average 5-6 hours on a "good" night), but with that said, I have noticed a dramatic difference around my eyes since I started using this eye serum. No more puffiness or dark circles!! I'm convinced that stuff has magic powers in the ingredients. 😉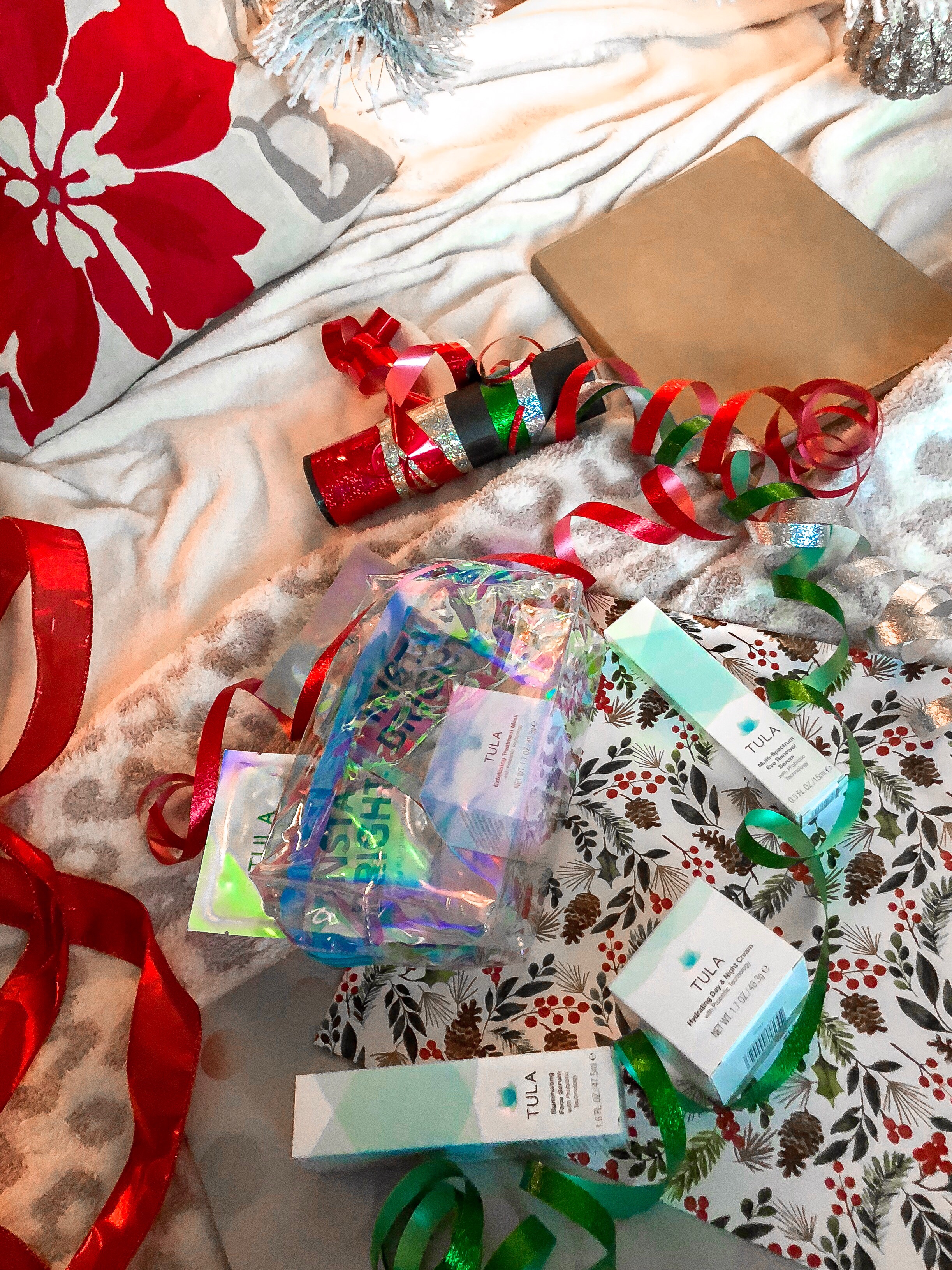 The "Ultimate Self Care" kit also has so many of my other favorites in it, like the Hydrating Day & Night Cream and the Exfoliating Treatment Mask! Your skin will thank you for this combination of products! However, if this kit doesn't sound right for you or for the person you'll be gifting to, there are plenty of other kits and products to choose from. I'll link my top recommendations below, and you can simply click on the photo to read more about that specific holiday kit and/or product.

---
Give the gift of healthy skin this season, and don't forget to use my discount code: PEYTON at checkout so that you can get a 20% discount!
You can always find my links to the top Tula products on this tab of my blog! I update it frequently, so check back often. 🙂
As always, please let me know if you have any questions at all — I'm happy to help you in any way that I can! Thank you so much for stopping by today! Cheers to clear, healthy skin!!!
*OH! Ps — I'm so excited to announce that @chelsey_alexandria wins the November beauty box + charity donation giveaway! THANK YOU so much to all who entered! Love y'all!
xo, P
Thank you to Tula for sponsoring today's post! As always, all opinions are my own.