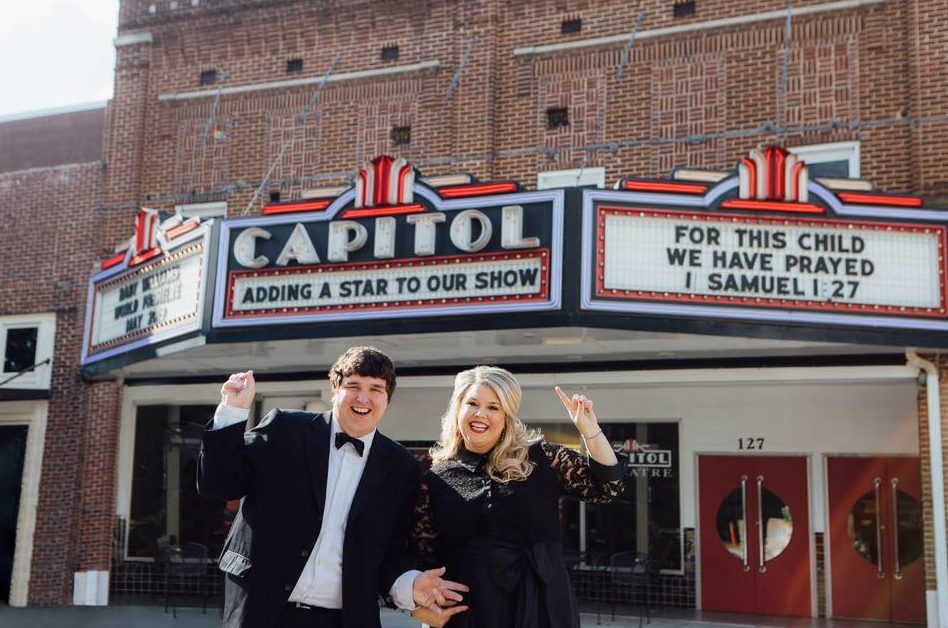 The big news is out!! My sweet sister, Brittany, and brother-in-law, Josh, are expecting a precious baby boy come May 2019! Macrae Daely Williams! 🙂 Words can't describe how thrilled I am to become an aunt to this most amazing blessing! It has been anything but easy for them getting to this point — with multiple ups and downs along their journey to have a baby — but they never once lost hope, and they've always had faith that God would provide when the timing was right. I'm SO overjoyed to say that it's finally their right time, and our family couldn't be happier for this incredible blessing in our lives. We've all (already) fallen head over heels for Macrae, and he's absolutely stolen our hearts!!!! We can't wait to meet him and give him all the love that we possibly can!
If you've been following along with me for awhile, you know that I'm extremely close with my sister, Brittany. She is my best friend in the world, and our bond is unlike any other. I absolutely cannot wait to watch her become a Mommy! When she asked me to help her plan a gender reveal alongside our mom, I was so excited and honored to be a helping hand in this very special time! We threw around lots of ideas and venues and decided that the Capitol Theatre (where Sis and Josh were married) would be the perfect place to host such an exciting celebration. They became husband and wife in this very special place, so it only made sense to celebrate becoming a family of three in the exact same spot where it all began! Ahh, *cue the tears* 🙂
We were so excited to work alongside the wonderful staff at the Capitol to make this the most special, love-filled celebration for the new parents-to-be, and I can't even begin to say how perfectly everything turned out and how amazing the Capitol Theatre was for this event. I could go on for days about this incredible venue and the generous, helpful staff, but I'll let all of that come from someone who has literally gone through all of life's major events with the Capitol by her side …
I'm so excited to introduce you all to my sister, @thebritwilliams, as she takes us on a trip down memory lane. From her wedding day almost 8 years ago, to this very day celebrating Baby Williams at her favorite venue, the Capitol Theatre has simply become part of who her family is. Keep reading to take a look inside her special wedding day and recent gender reveal!
---
Hey y'all, Brittany here!
A wedding day at the Capitol Theatre in Maryville, TN is an absolute dream come true!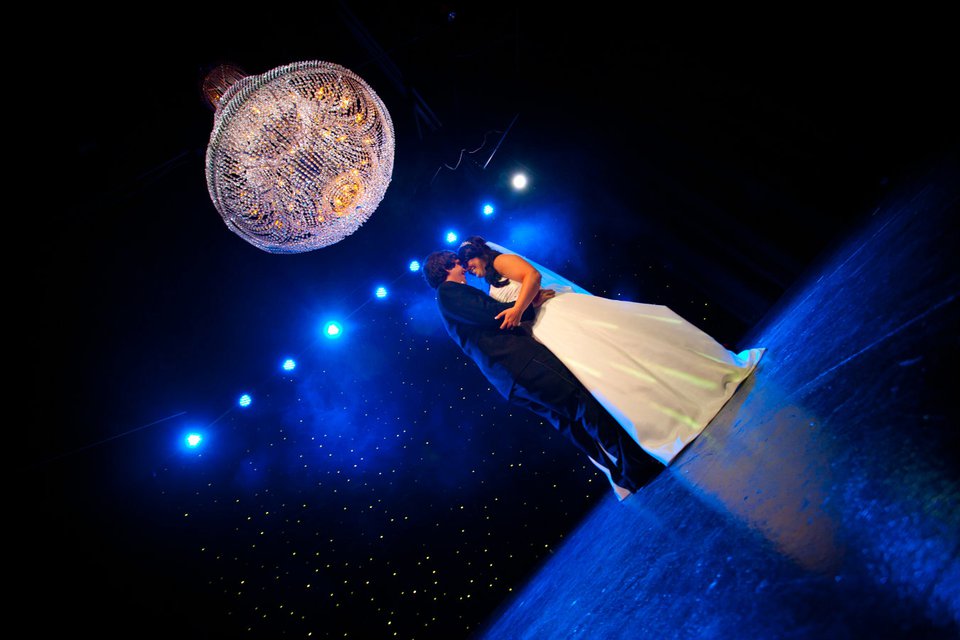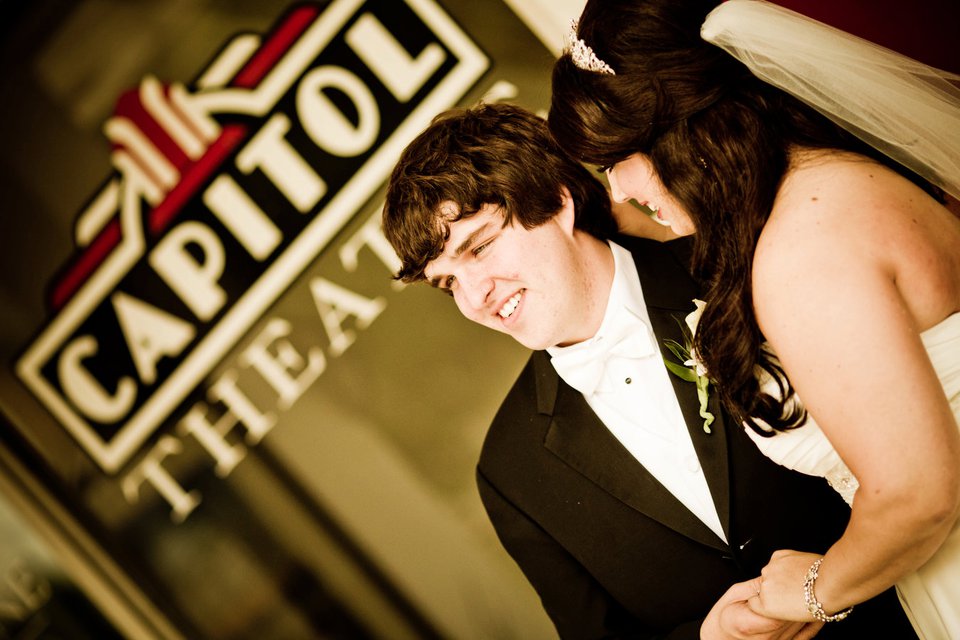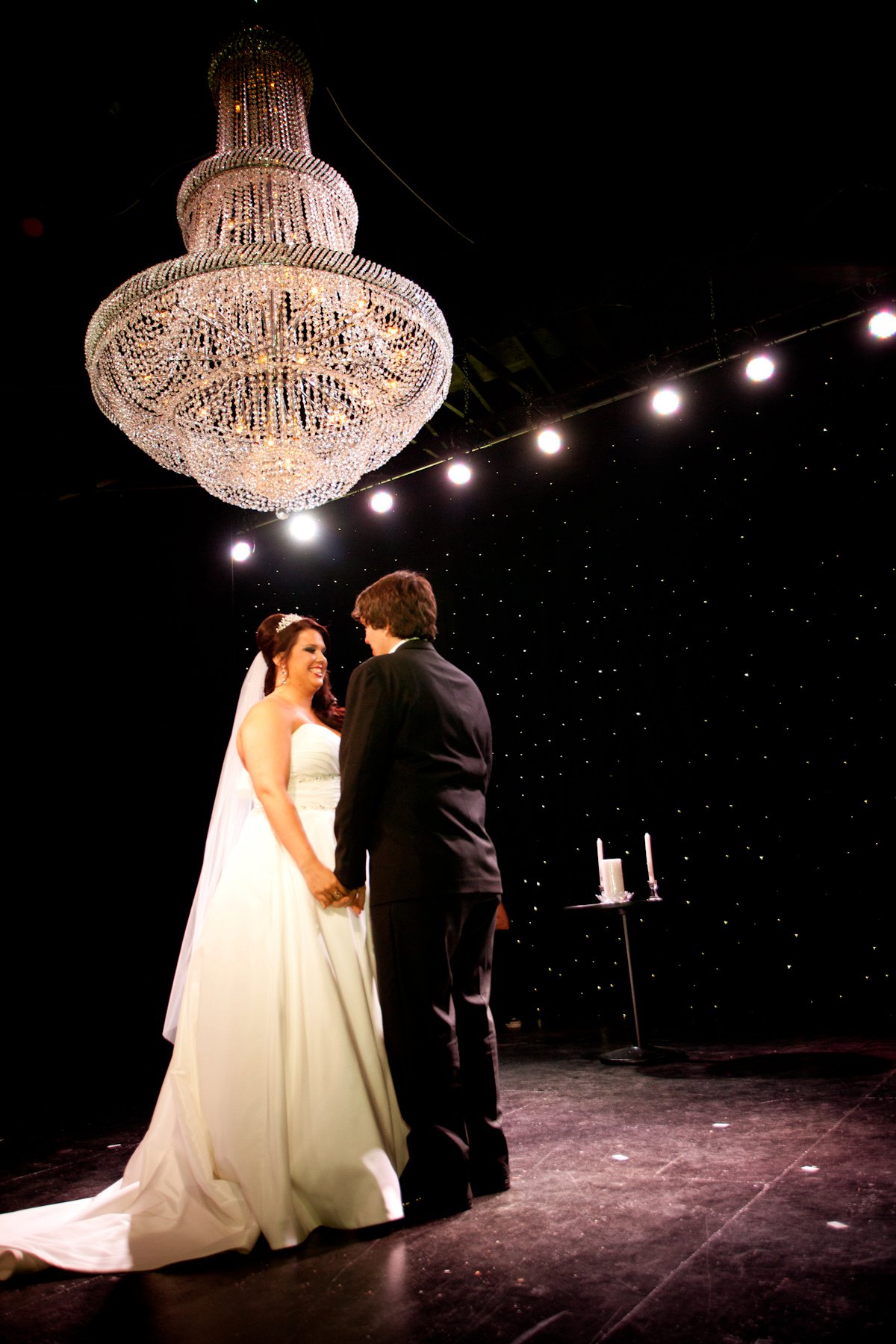 From the moment you arrive to the lit up marquee outside with the iconic red doors and the red carpet, the nostalgia sets in. As you walk inside, it is like taking a trip back in time to when places were just a little more fancy and the overall feel and decor took your breath away. From the dropped down chandelier on center stage to the center pieces of our choice of crystals or feathers, the feelings of being in a old school New York night club or theatre just takes over. You can't help but fall in love with this place over and over each time you walk in.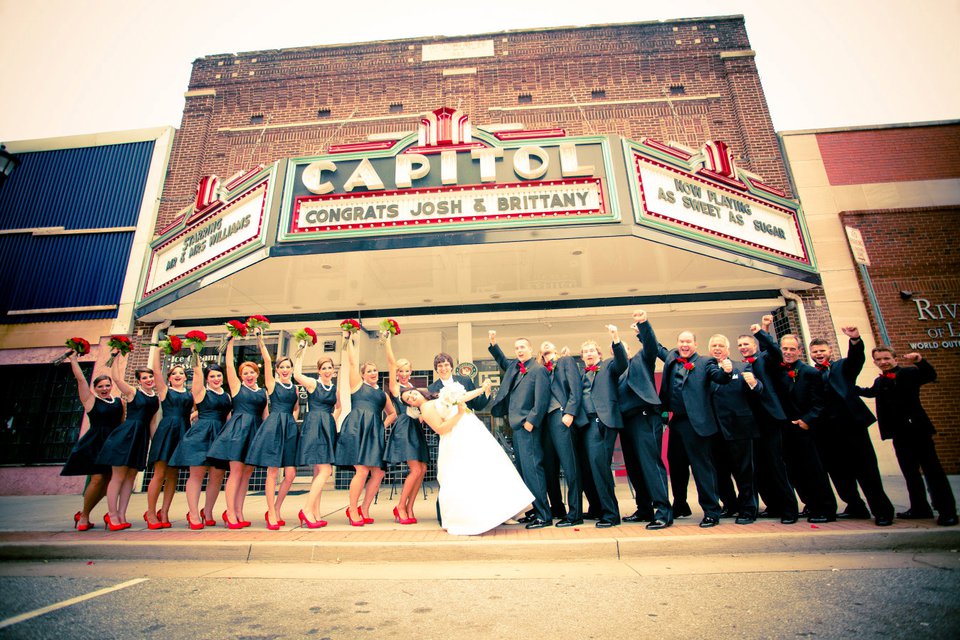 Of course the decor and over all feel is just one of the amazing parts about having your wedding at the Capitol. At most venues, that's where the ah-ha moments stop and you have to get to work, but not at the Capitol. It is truly a full-service venue form beginning to end. I was planning my wedding from out of town and still … not one detail was missed, nor did I or anyone in my wedding party or family have to work the day of our wedding. From food setup to center pieces to room setup to every last detail with all of my vendors, the Capitol handled it ALL! In theory, it sounds OK having to do a little work here or there on your wedding day, but trust me – do not commit yourself to that. Your only priority on your wedding day is looking good and getting to your person at the end of that aisle – and thanks to the amazing staff at the Capitol .. that was all I had to do on my big day.
Every detail is thought through for you – so all you have to do is show up. The Bridal Suite upstairs is a stunning silver and white color palette that just screams, "I am a Bride!" And the guys' room downstairs fulfills every guy's man cave dreams with poker tables, pool tables and slot machines. There is plenty of space to get ready, hang out and enjoy every moment of your big day!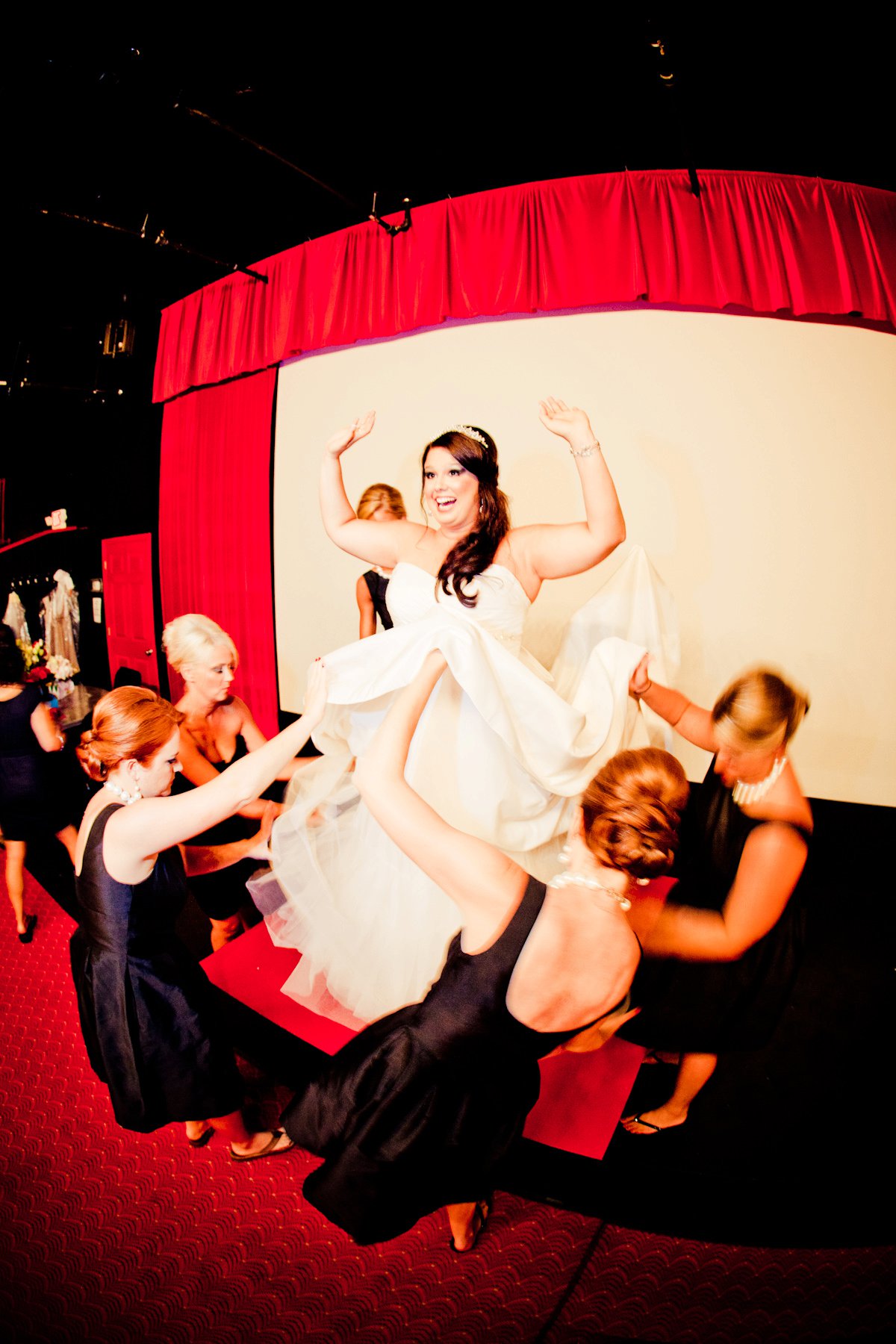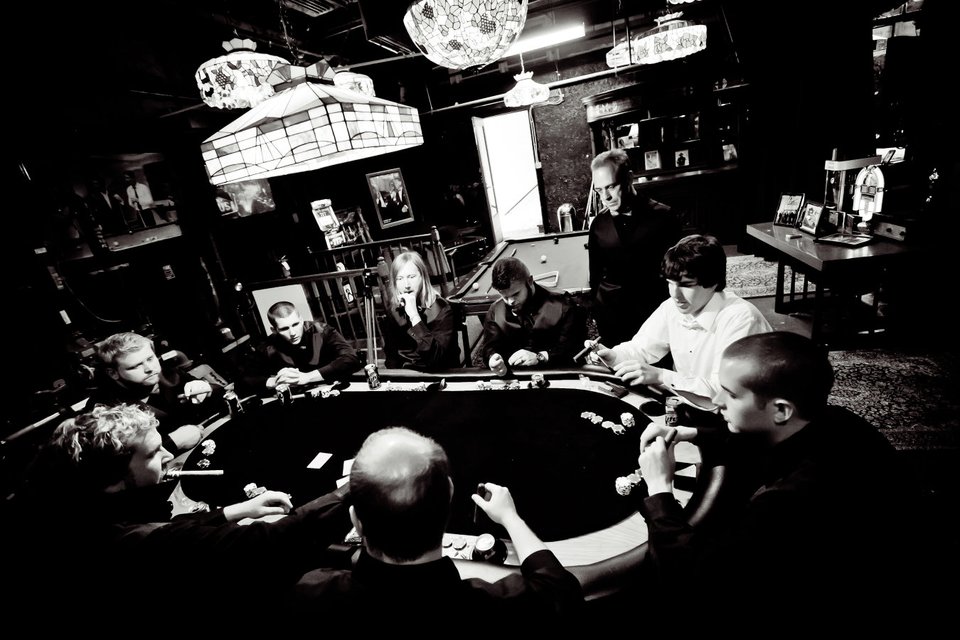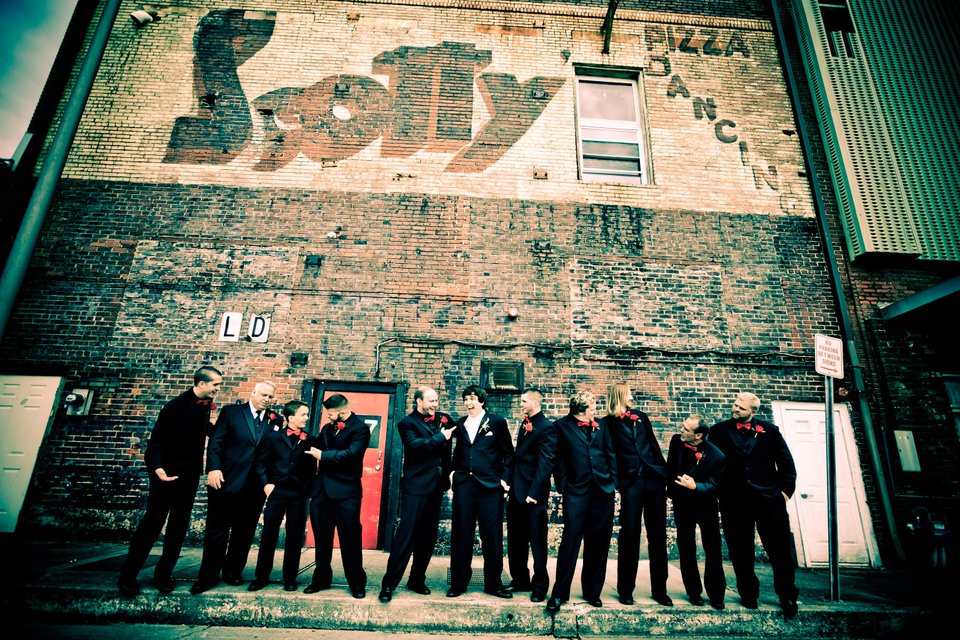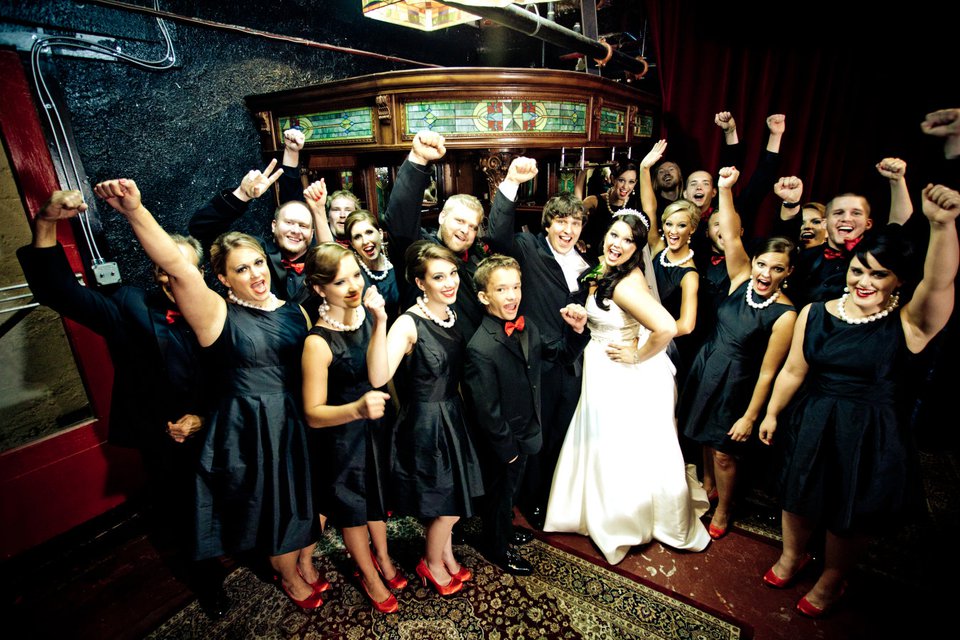 Once it is go time, you get to truly experience everything that is the Capitol Theatre. On our day, we hired a trumpeter that sounded as the beautiful white doors opened for me to walk down the aisle. I looked out over the theatre of all of our favorite people as my daddy walked me down the aisle. The chandelier was sparkling, the music sounded perfect on the theatre acoustics and the stage was set just perfect as I walked toward my man, my future, my best friend. Yes – getting married on stage was a prerequisite for our wedding venue. Can you say diva?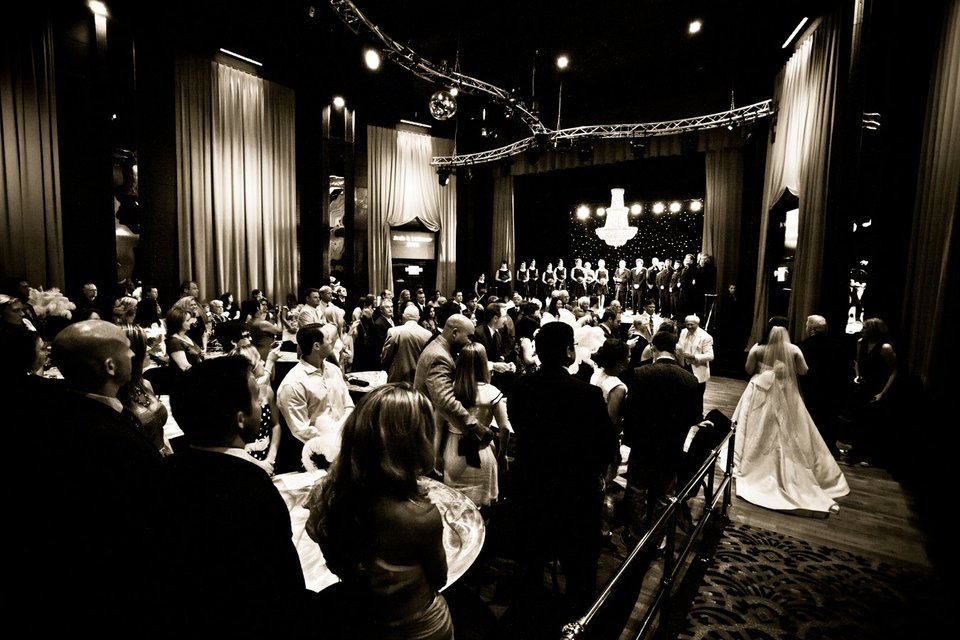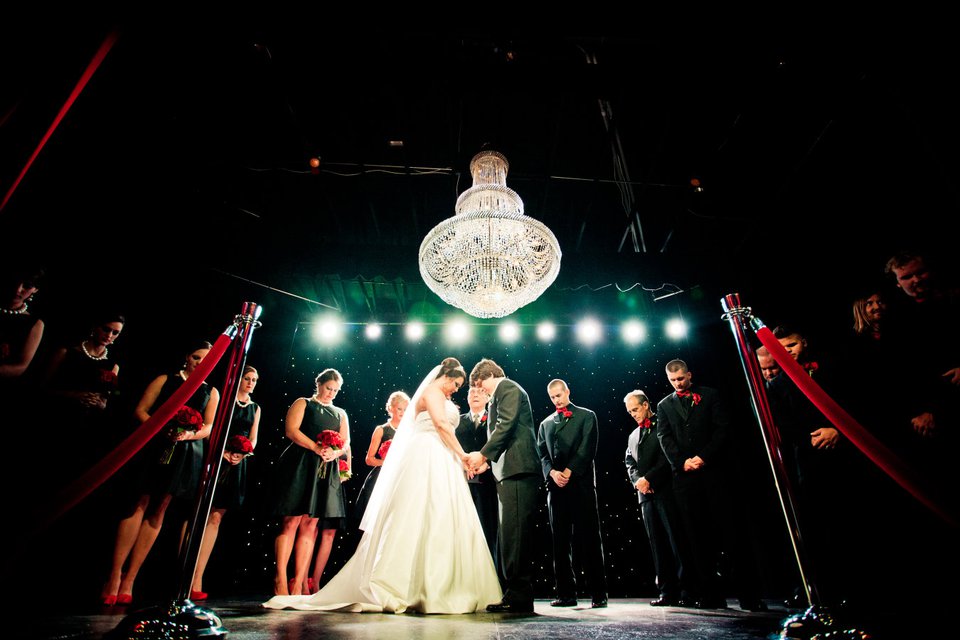 After the ceremony that was magical, it was time for the party to start. And what a party it was, indeed!! A reception at the Capitol is not a normal reception … you are transported to an old school big city night club as the big screen drops down and the music video of each song that is rocking your dance floor plays for your entertainment. This is, of course, after the first dance on stage that is accompanied by billowing smoke around you and your new spouse with your chosen colored lights lighting up your stage as your first dance as a married couple. As the dance floor gets packed and the videos are playing along with your rockin' jams, the light show of colored lasers is in full effect creating the perfect party atmosphere. No one wanted to leave our dance floor. It was packed from beginning to end!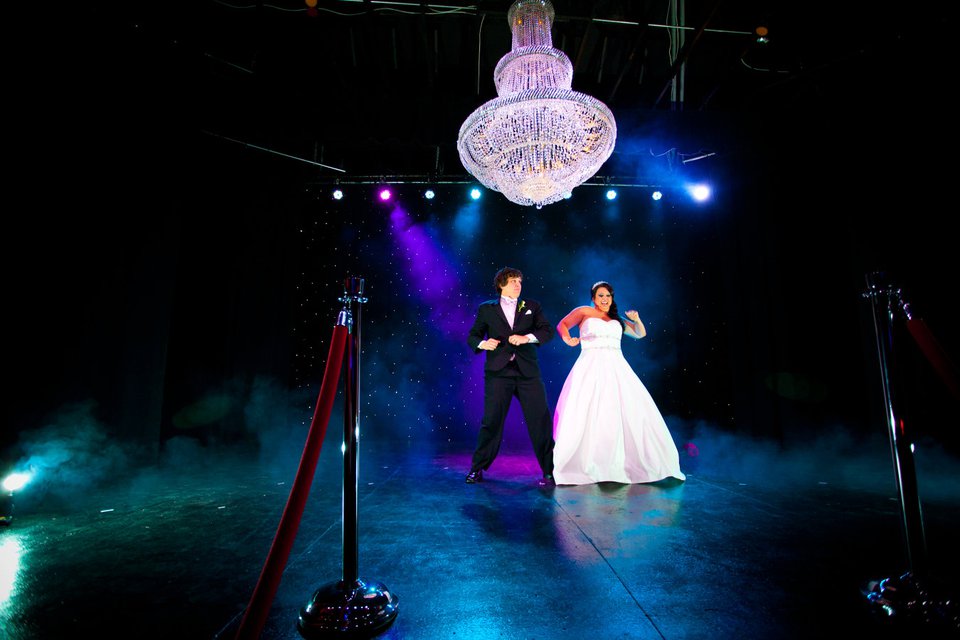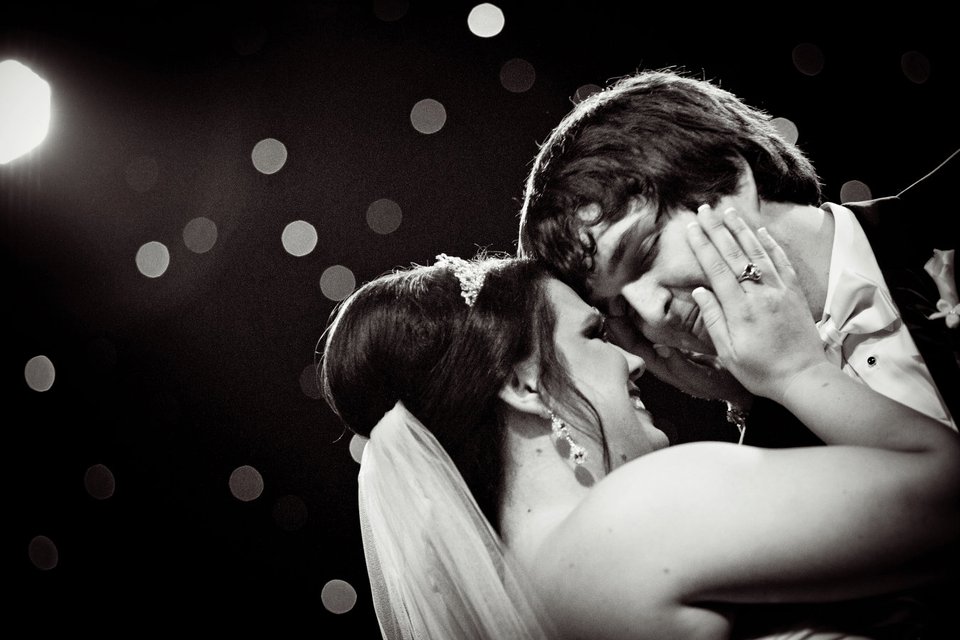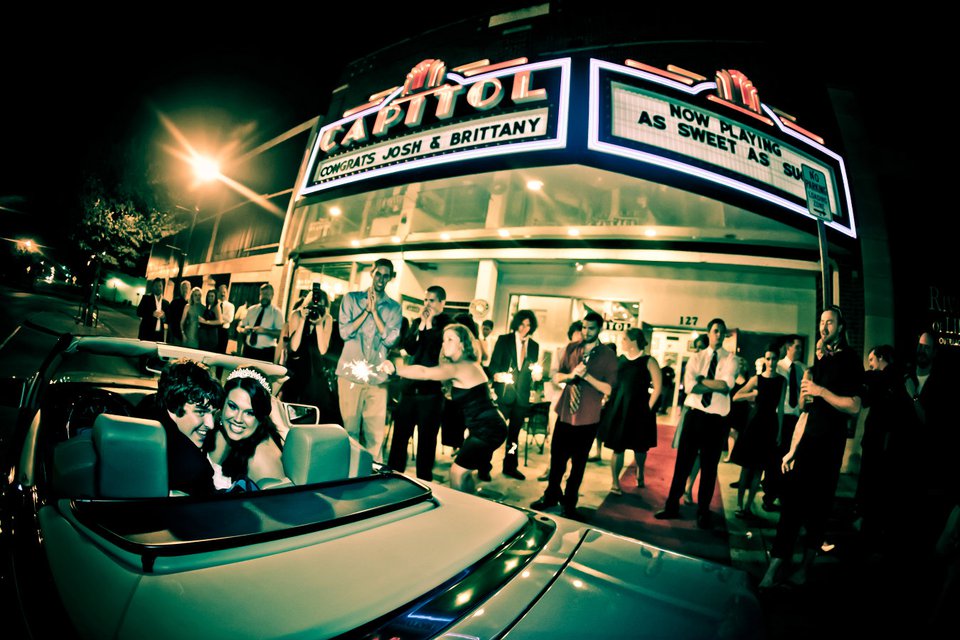 As the night came to a close, all I could do was to be thankful for the day and night and know I was present through it all. I enjoyed all of our big day and I couldn't have dreamed it to be any more perfect that it was … and a lot of that was to credit to the Capitol and their process and offerings and amazing staff. I didn't have to ask anyone to work all day. I didn't have to work all day. They did they work, and we did the celebrating.
If I had it to do all over again, I wouldn't change a thing. The Capitol made all of my little girl wedding dreams come true and I couldn't possibly encourage brides enough to choose the Capitol experience. It is an experience that will truly last a lifetime.
Not only did we get married at the Capitol, but we have truly become a lifetime "Capitol Couple." We eat at Sullivan's – the most yummy restaurant next door where we had our rehearsal dinner and who catered our wedding food – for our anniversaries and take pictures in front of the Capitol for each anniversary. On our fifth anniversary, I even surprised my amazing groom by setting it up for us to relive our first dance on the Capitol stage after dinner that evening.
And then … many years later that perfect wedding day and after three years of the ups and downs of trying to have a baby, we announced to the world that we are having a baby by having a photo shoot with our greatest message yet displayed proudly on the Capitol marquee, followed by an Oscar award show themed gender reveal in the very place that we became an official married couple. We found out that our precious little family of three will be welcoming a boy in the very room where we vowed to God and all of our friends and family to love one another forever and always.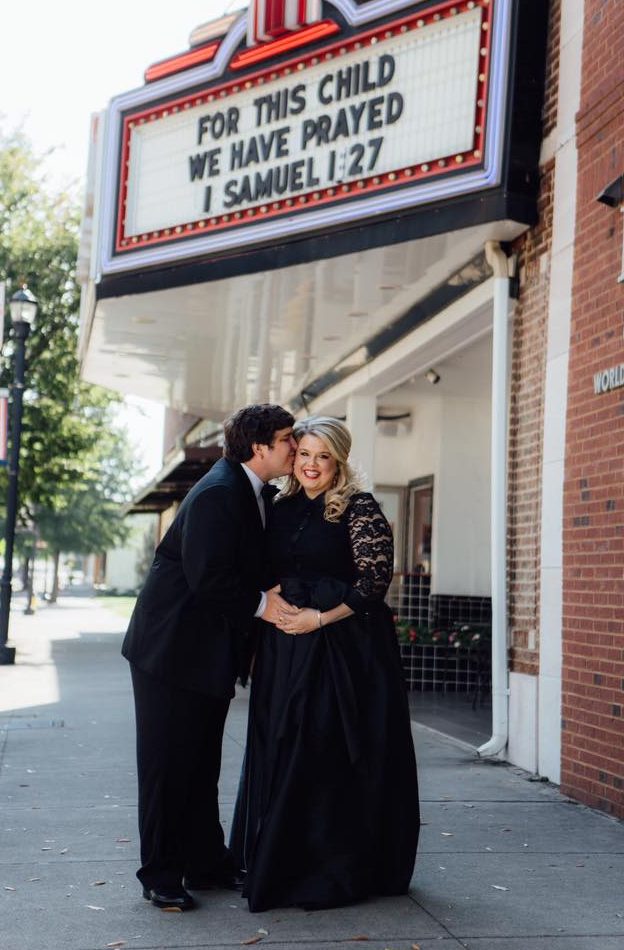 The Capitol isn't just a venue. One you are married in this magical place, this theatre becomes a part of you. There's just something in the air there that makes your heart beat a little faster and your smile a little bigger!
We are so thankful for all of our life changing events that have been made possible by the Capitol and their loving and caring staff. They love. They care. They are invested in you and your big days!
---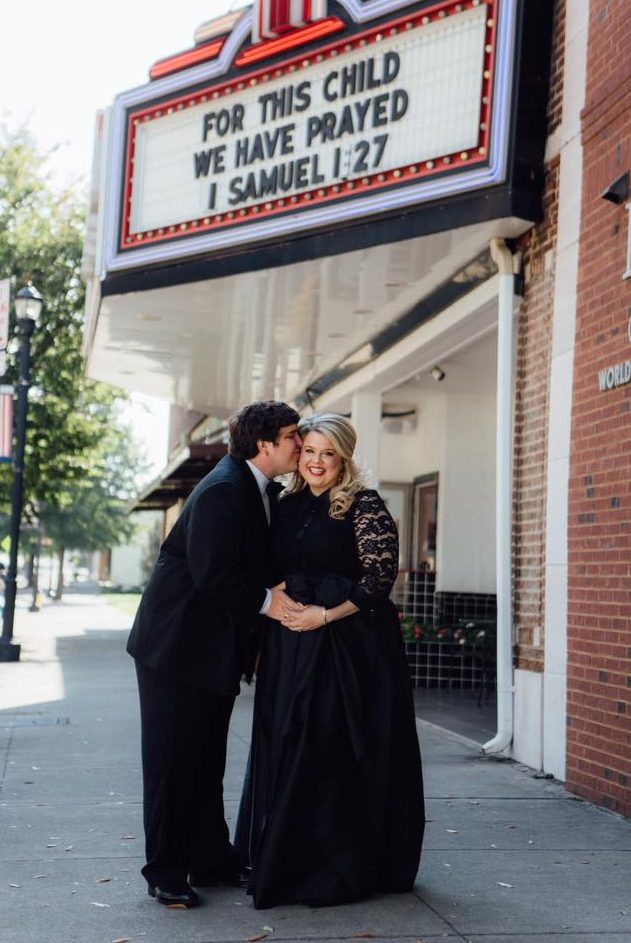 … and they lived happily ever after!  😉
(It's Peyton again!) But really, how sweet is their love story you guys?! I have to agree with Britt and say that the Capitol Theatre is definitely a top notch venue when it comes to weddings and special events. If you're local to the Knoxville / Maryville, TN areas, we highly recommend stopping by the theatre for a visit!
Thank you all SO much for your kind words, love and support throughout this very exciting time for our families! We are over the moon, and we're so thankful we get to share our family's journeys with you all.
"Now, without further ado … I present to you the award for Best ACTOR, Baby Boy Williams!"
Scroll through the photos below to see some of our fun details & sweetest memories from the recent Williams' Gender Reveal at the Capitol Theatre!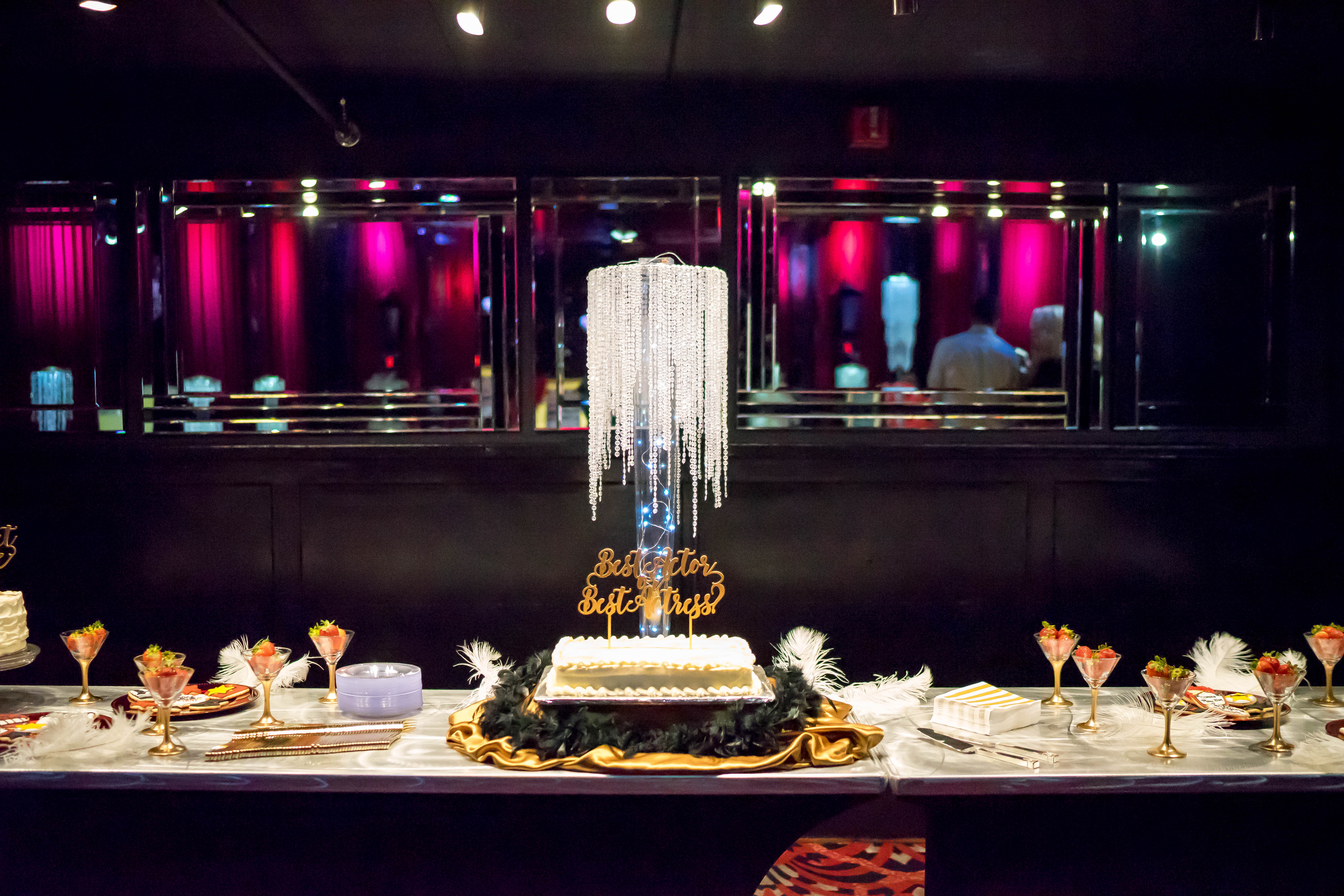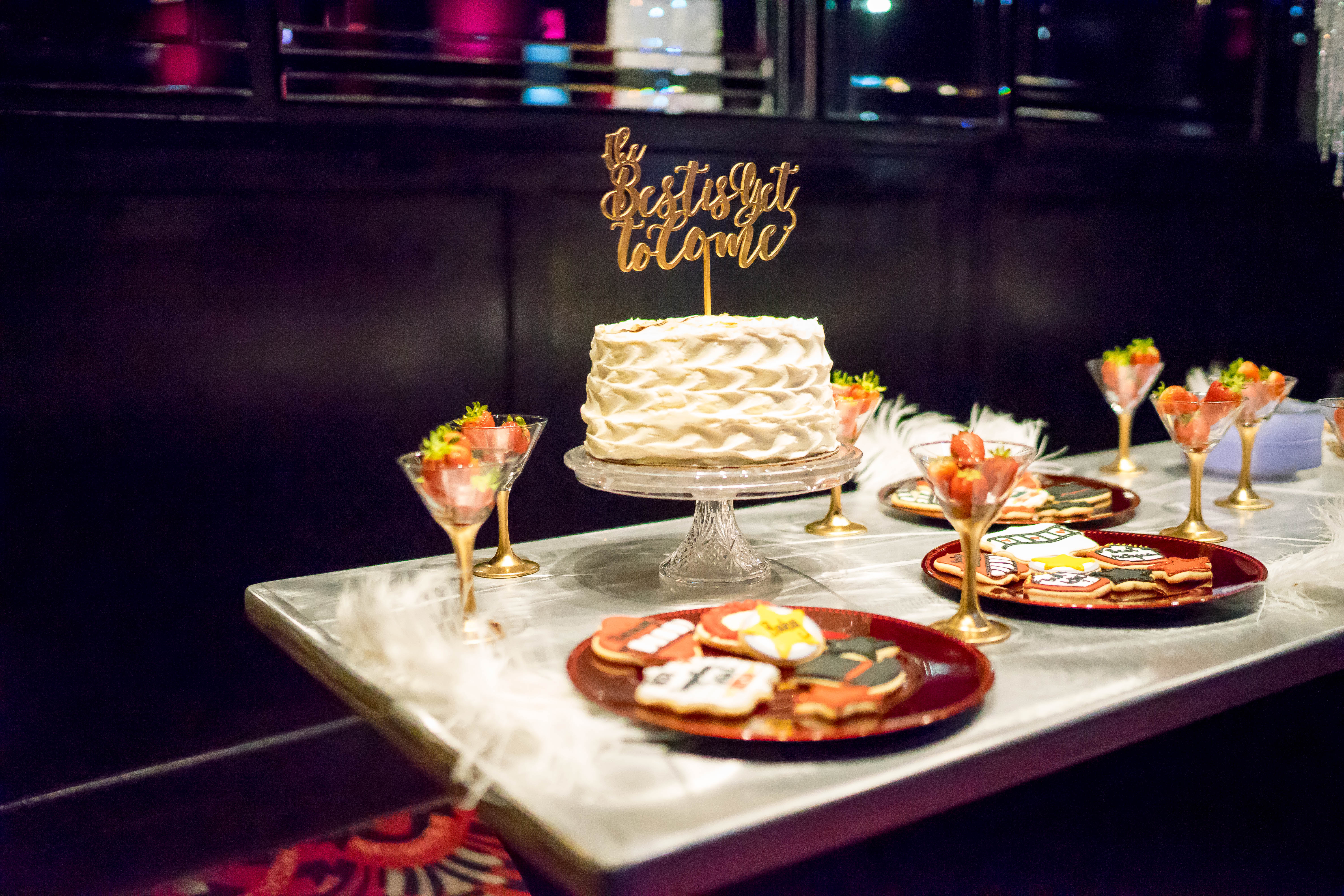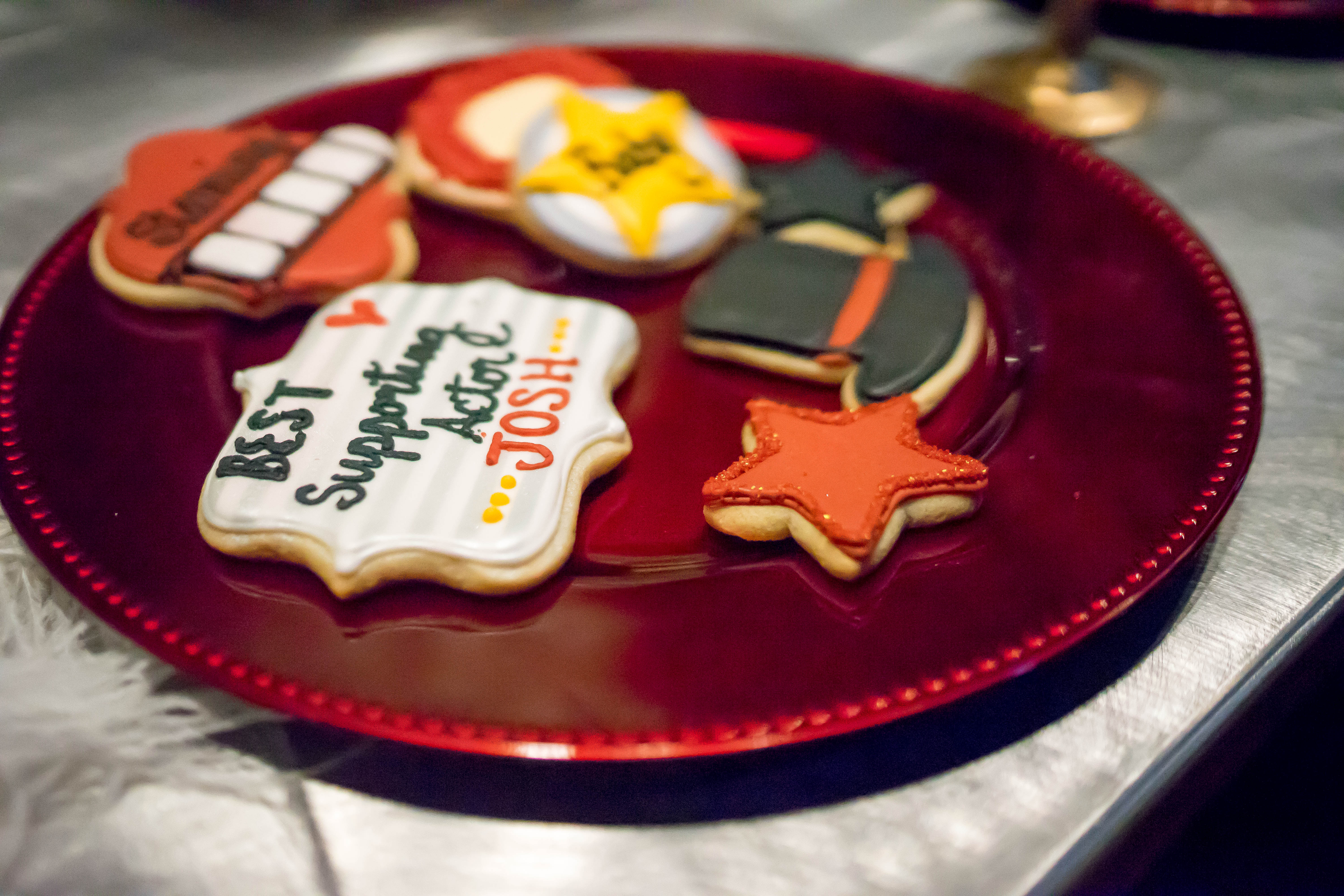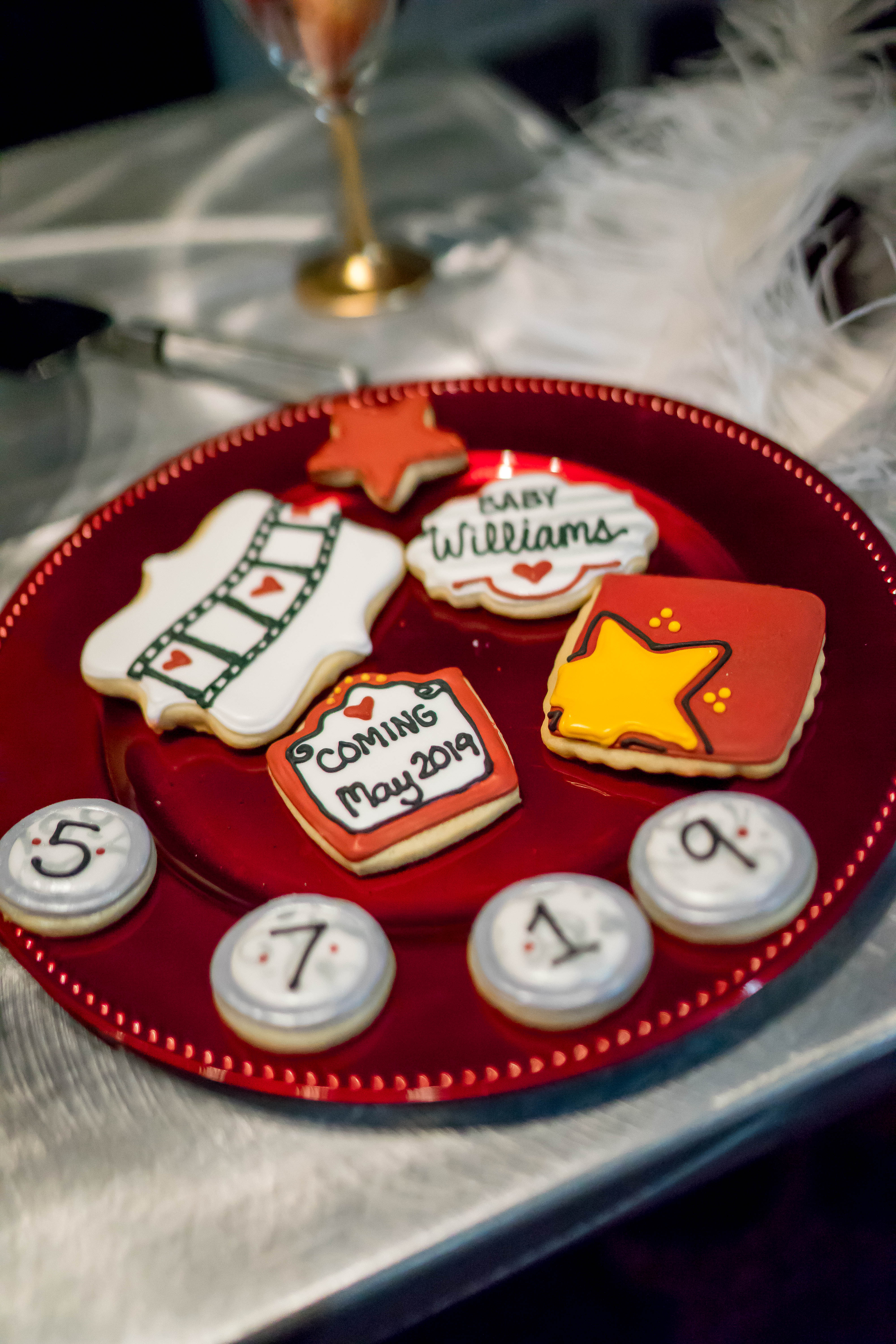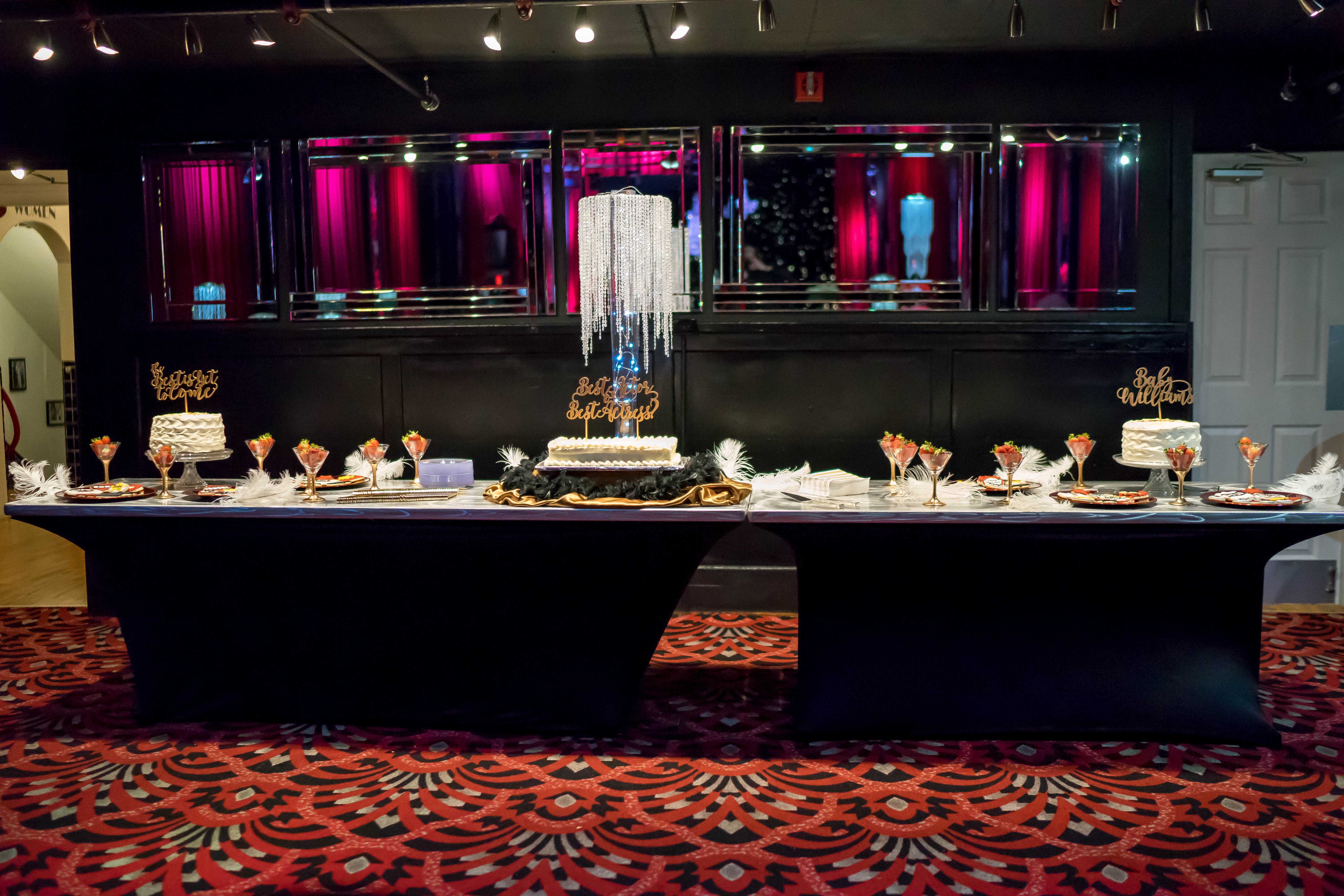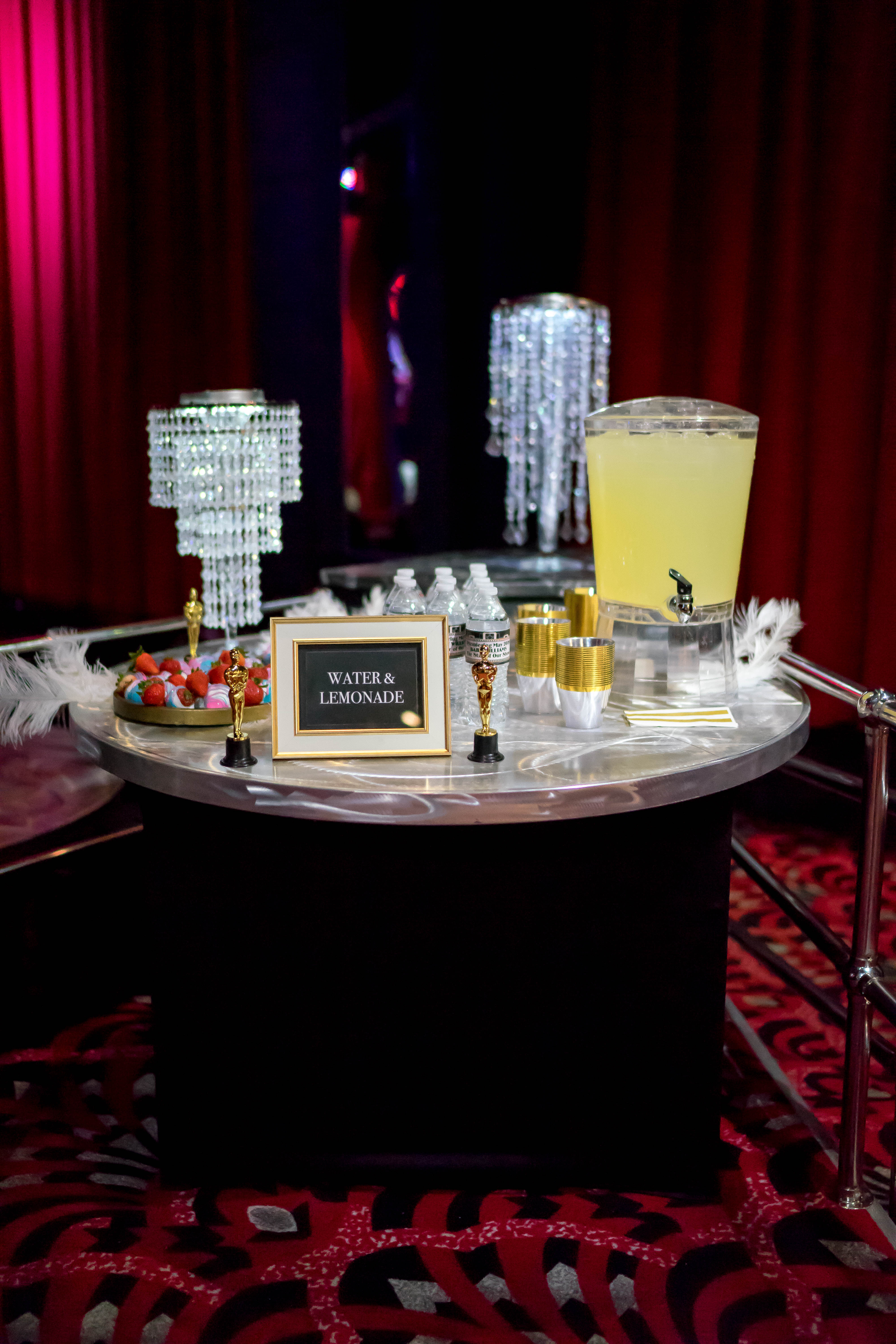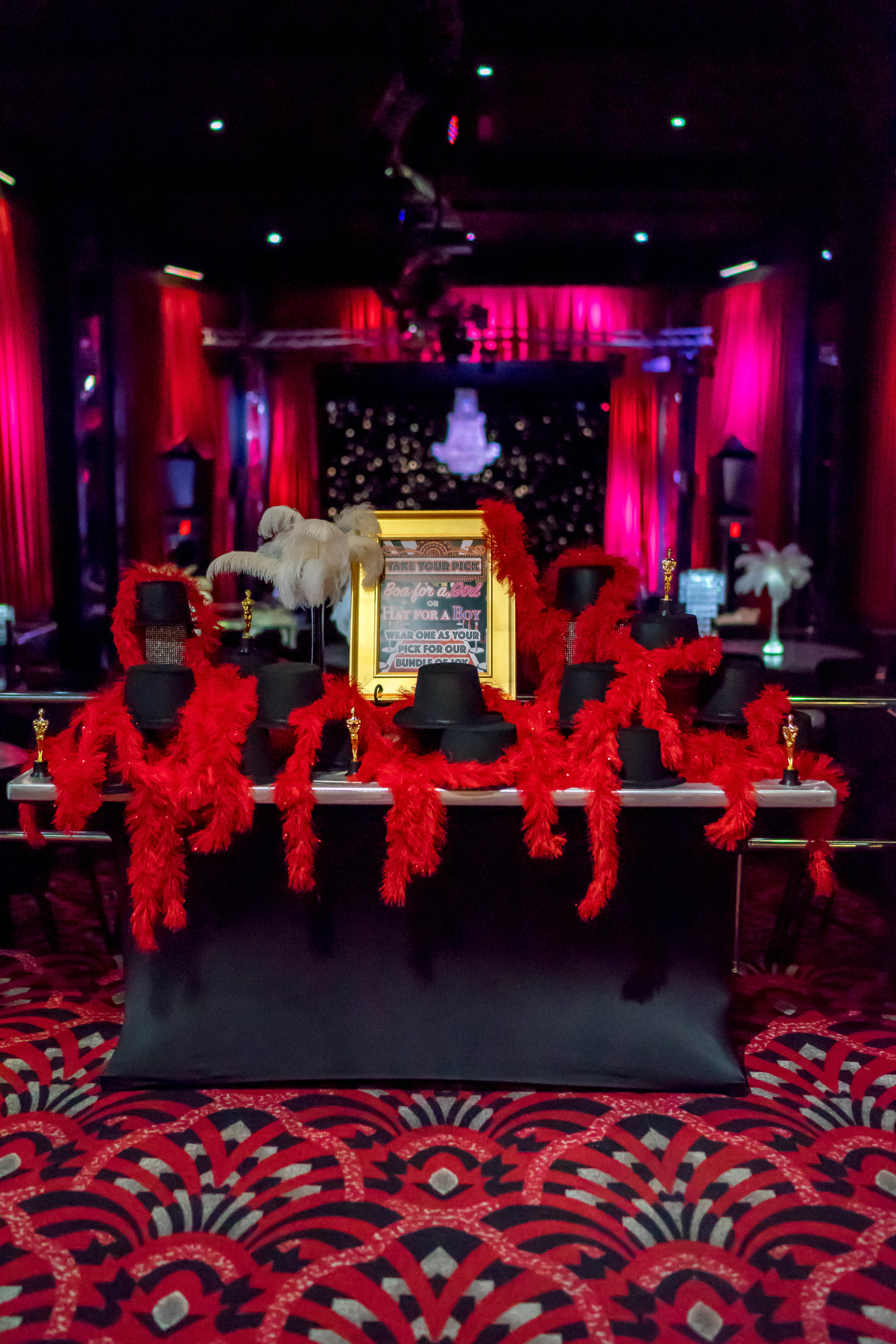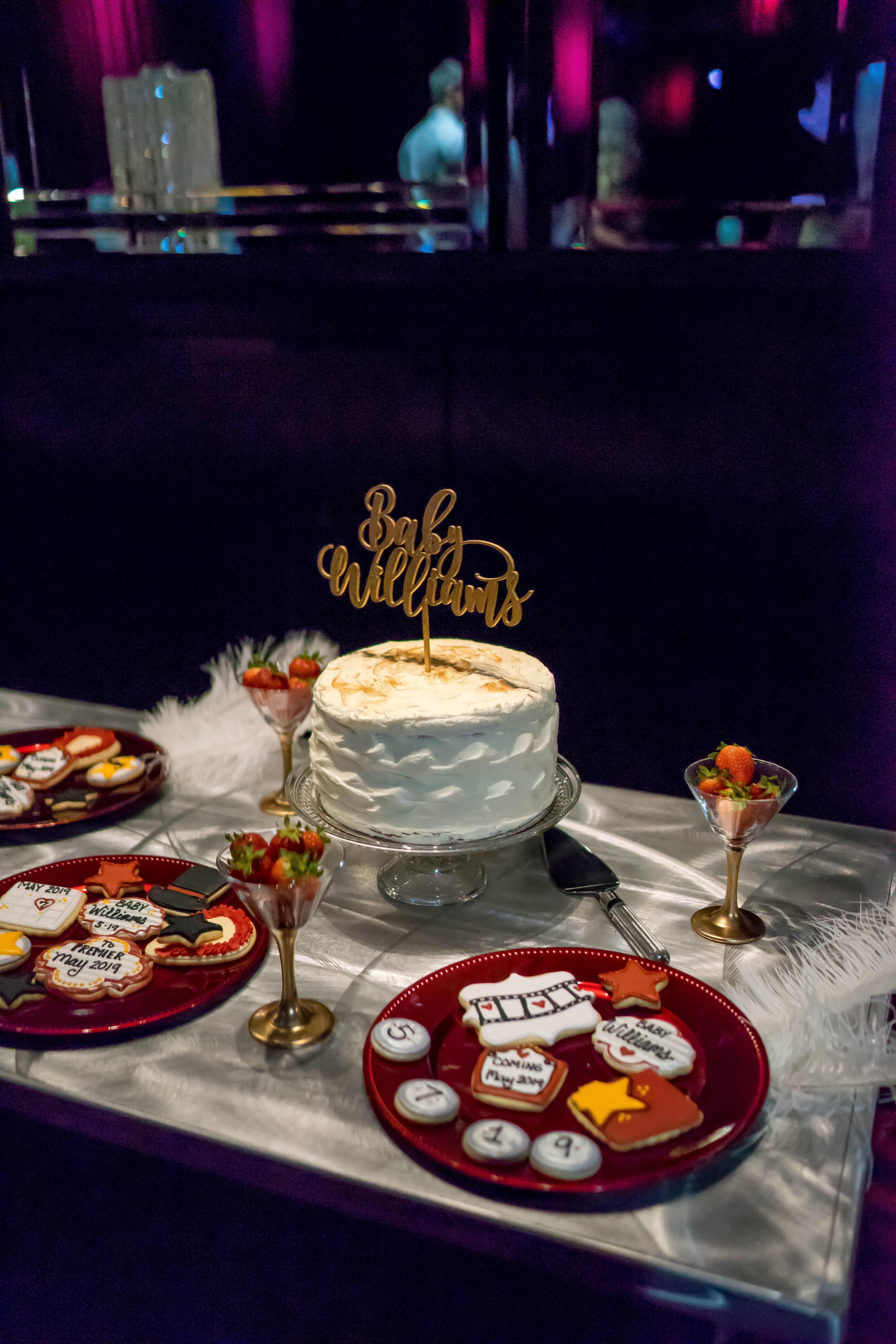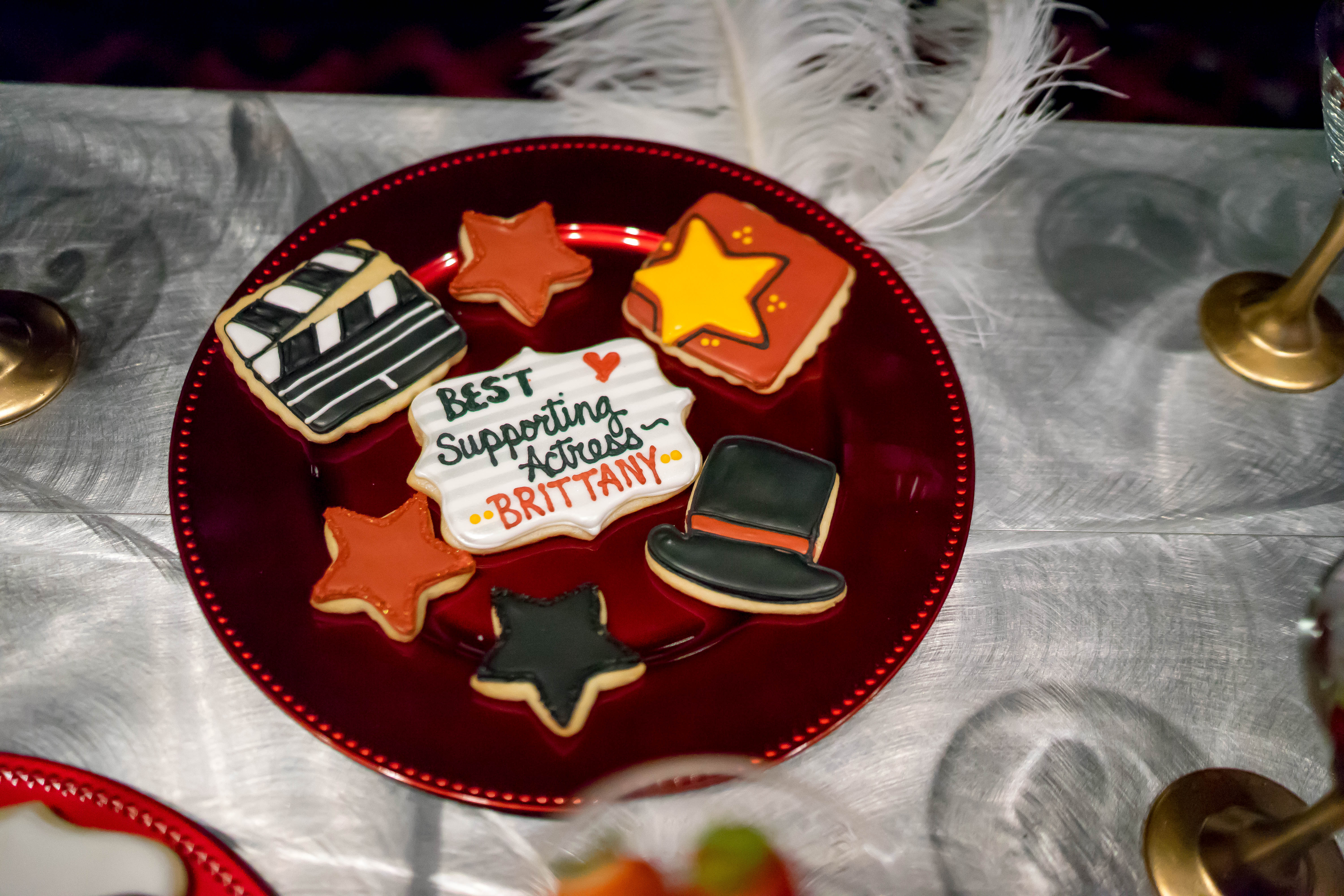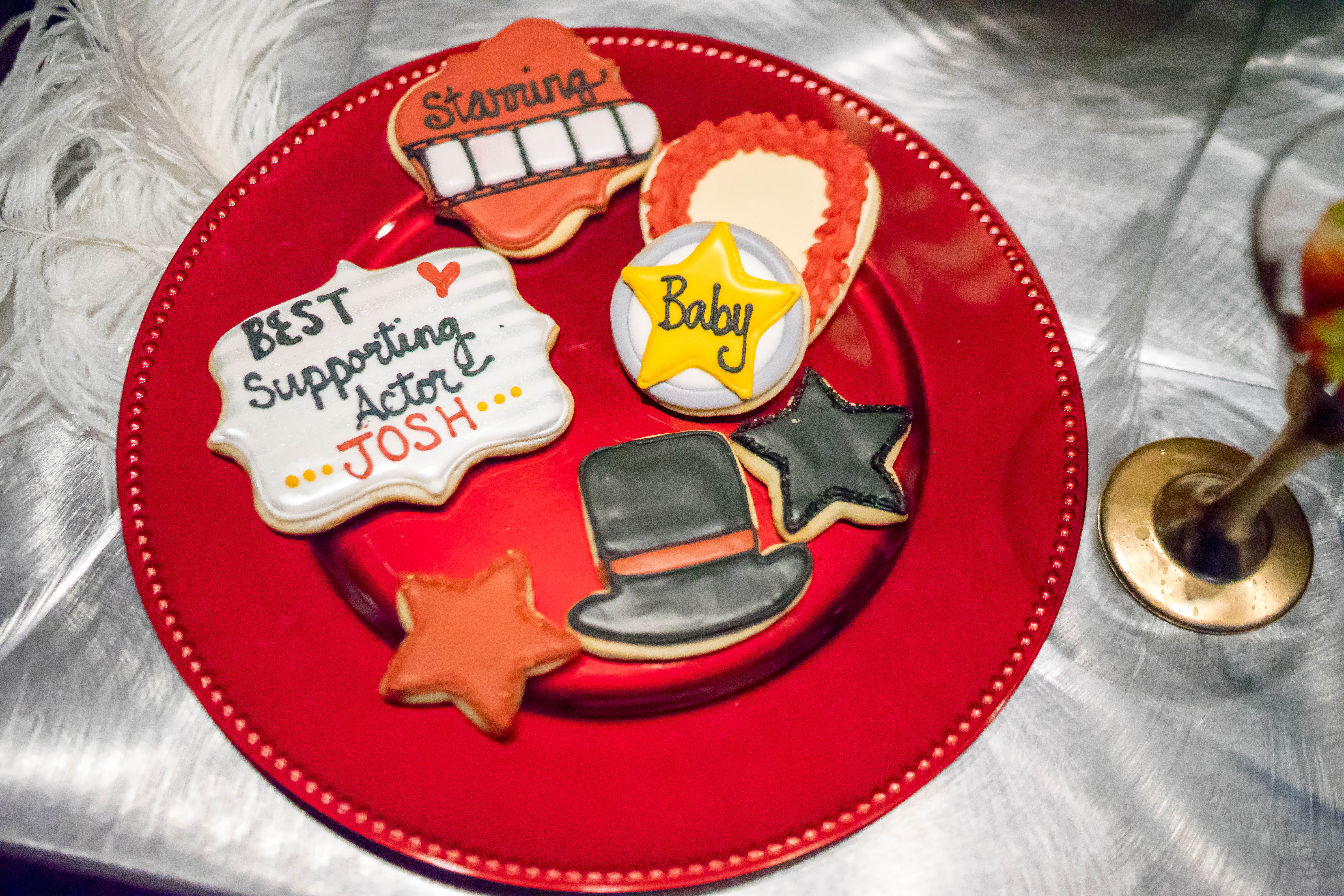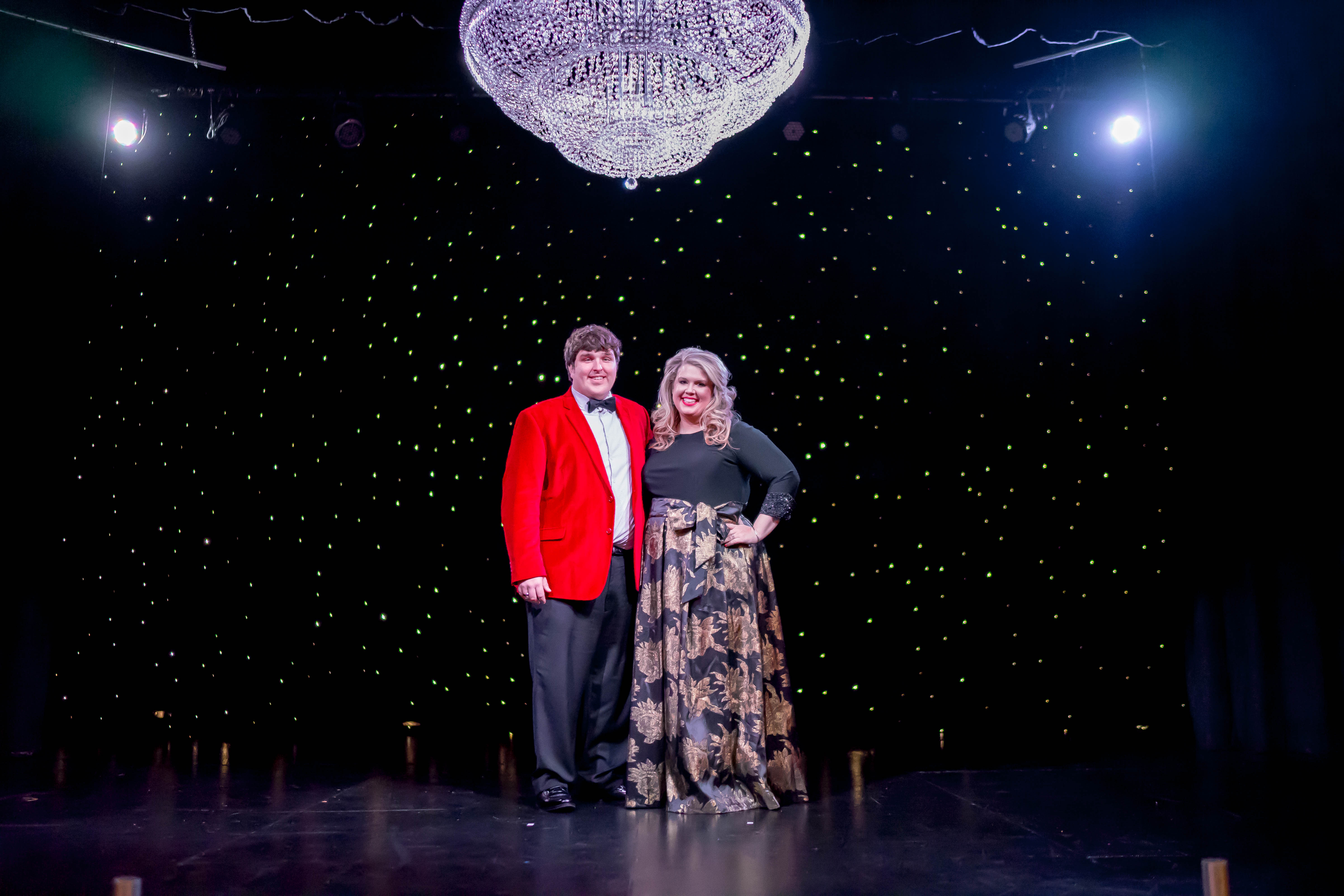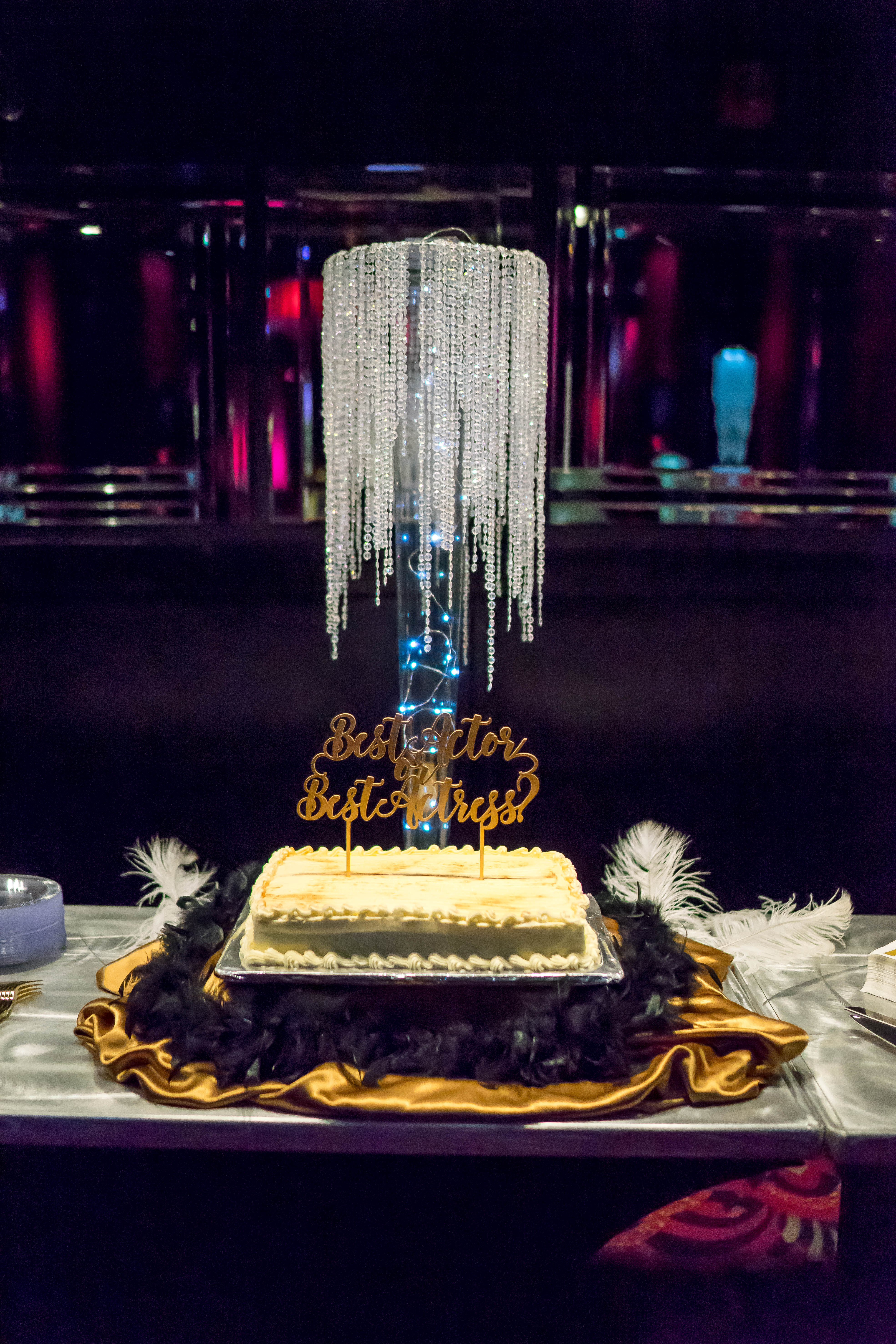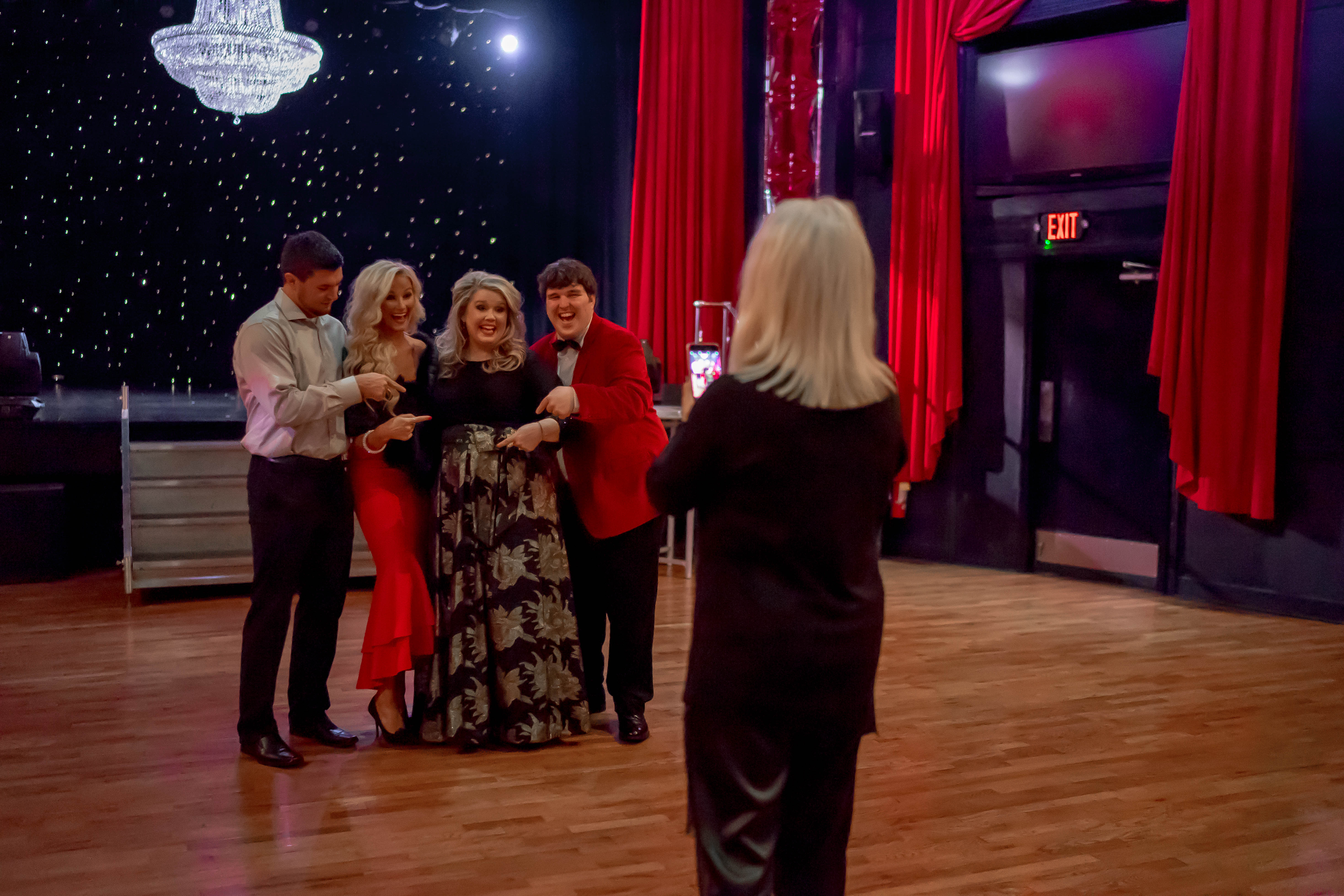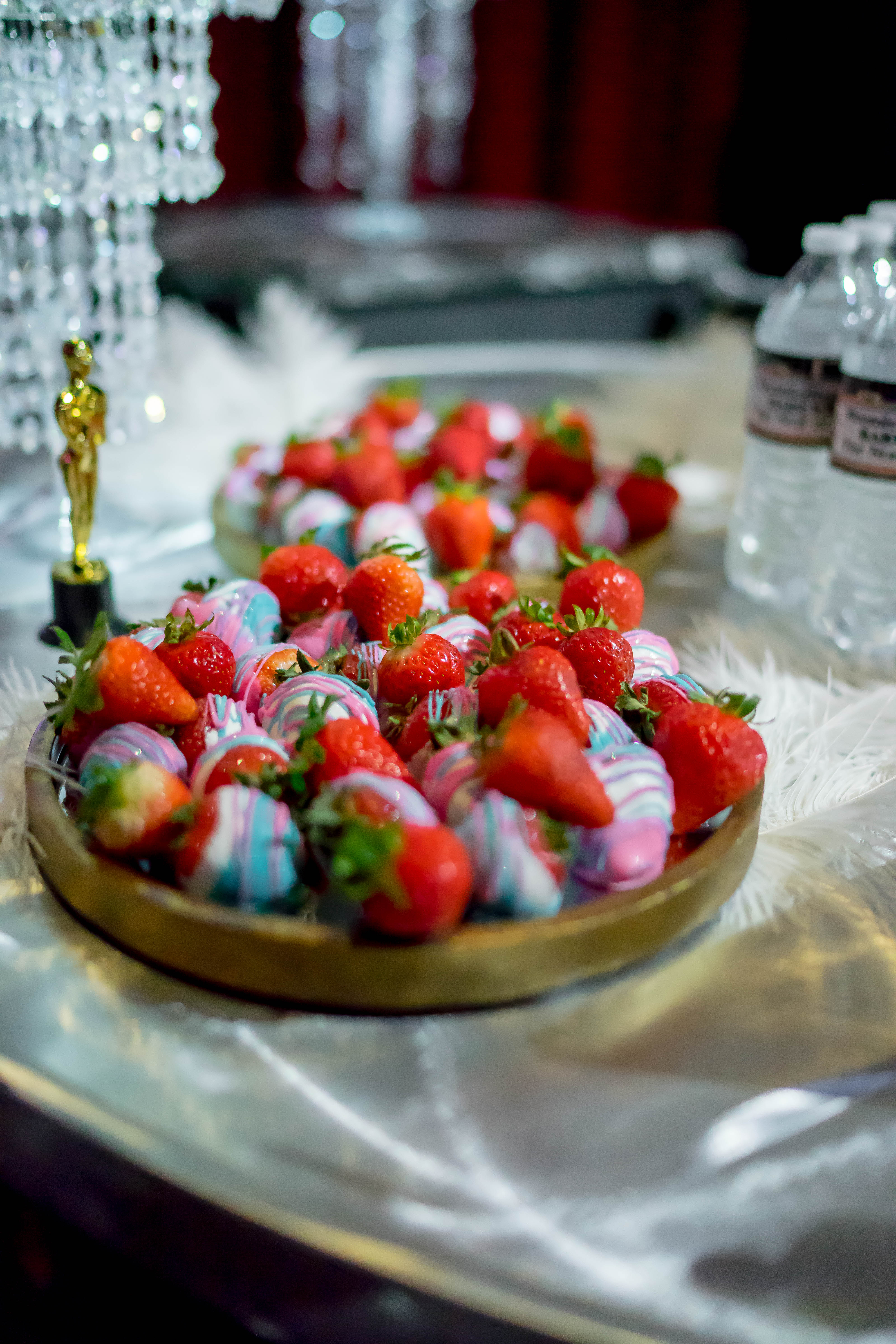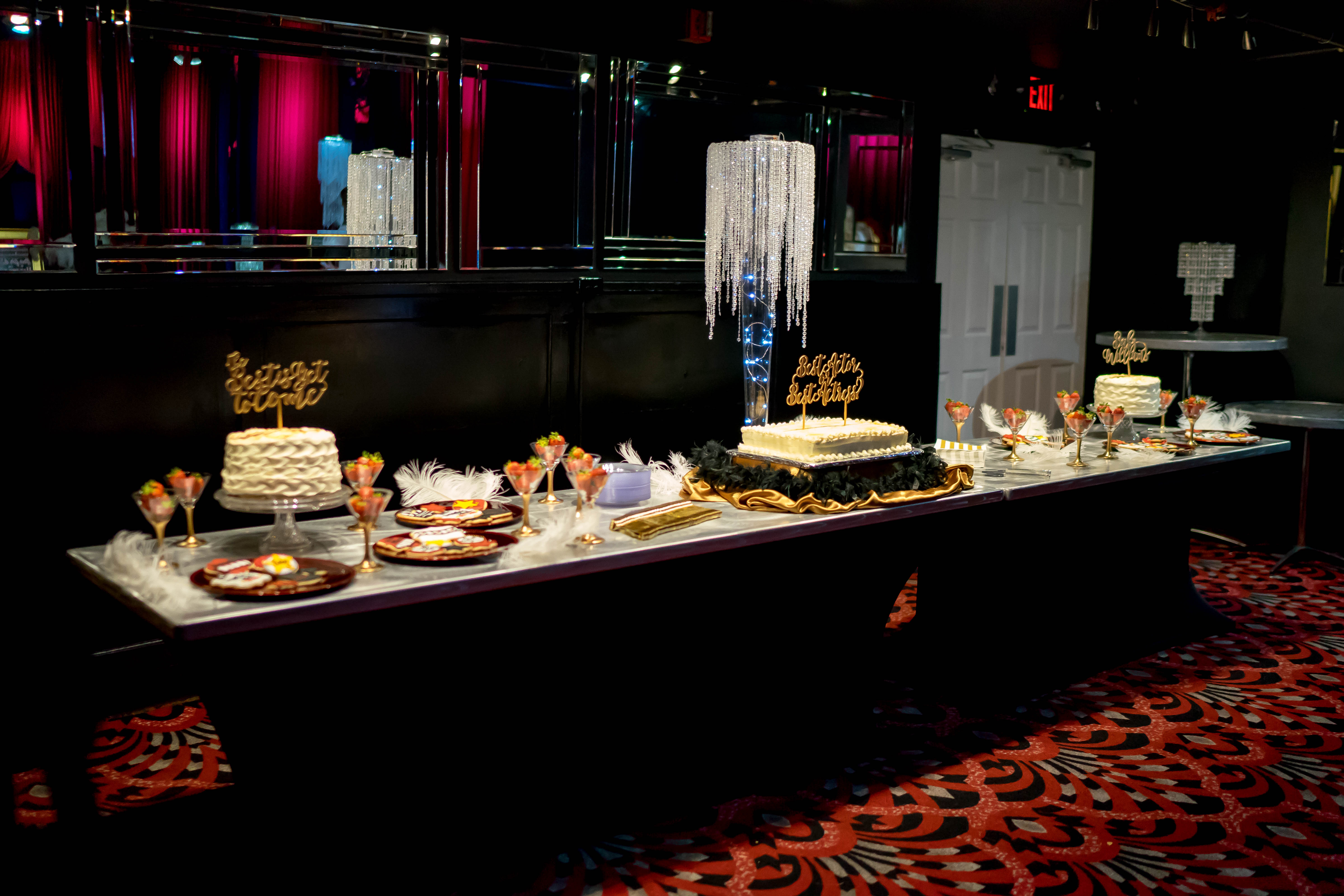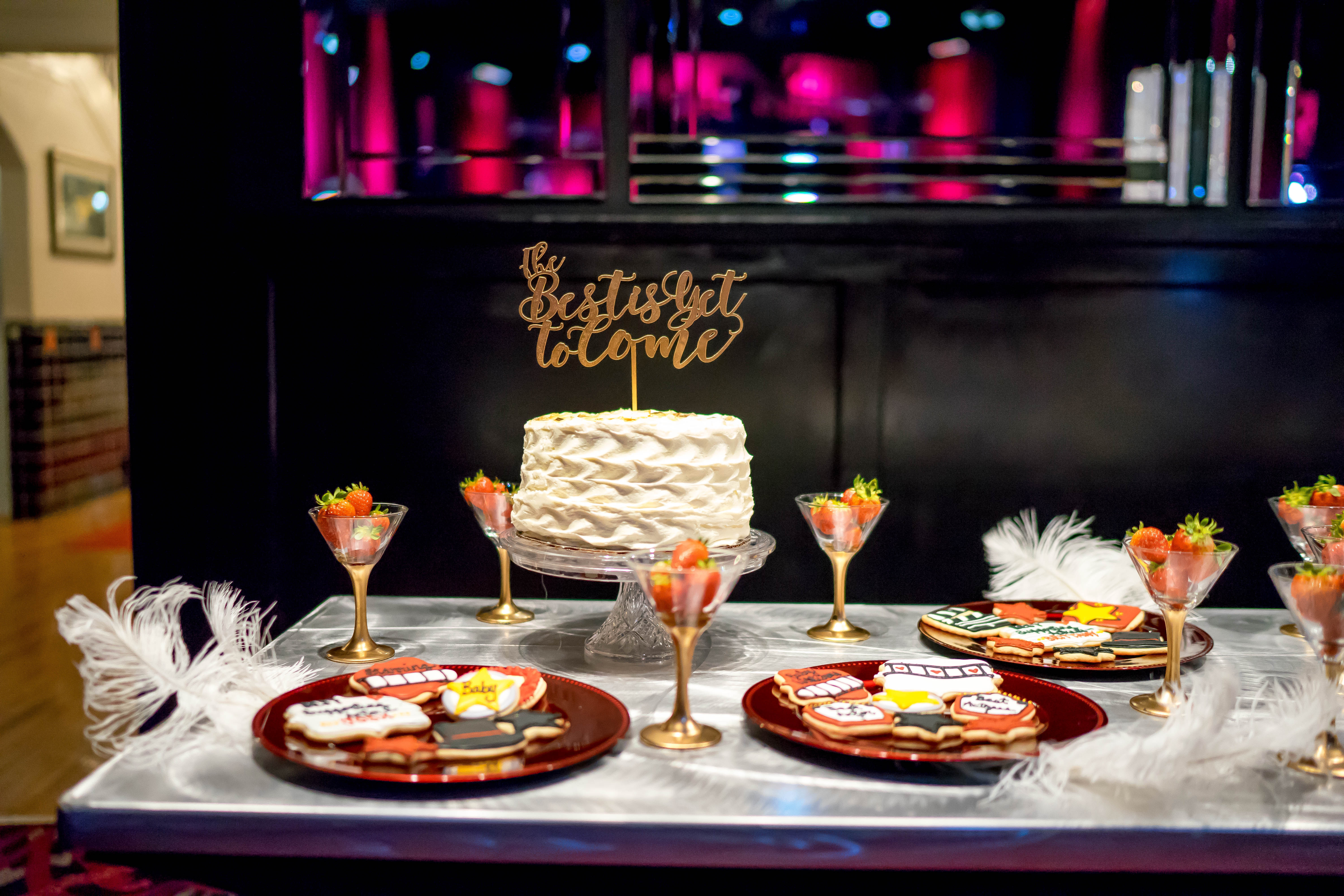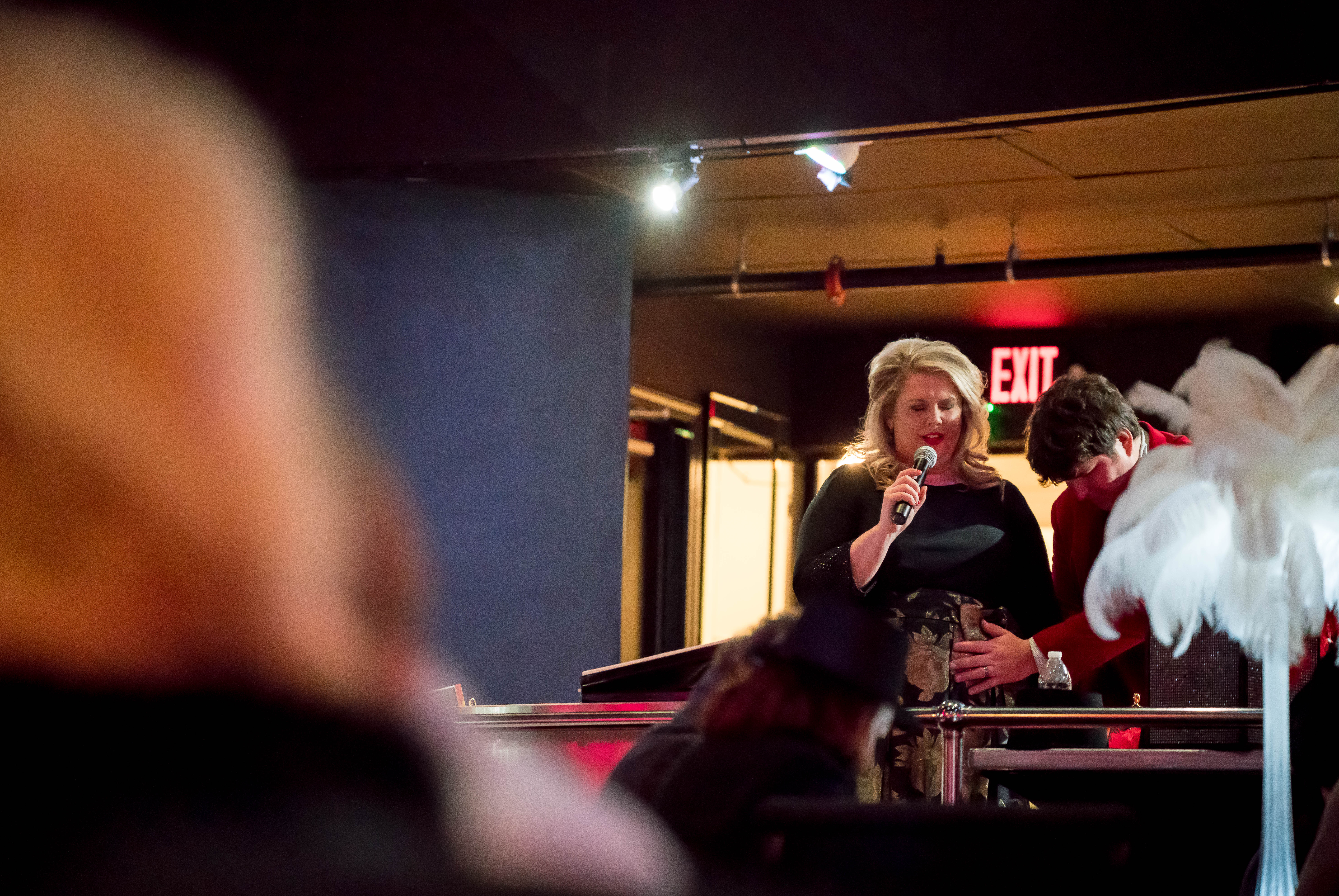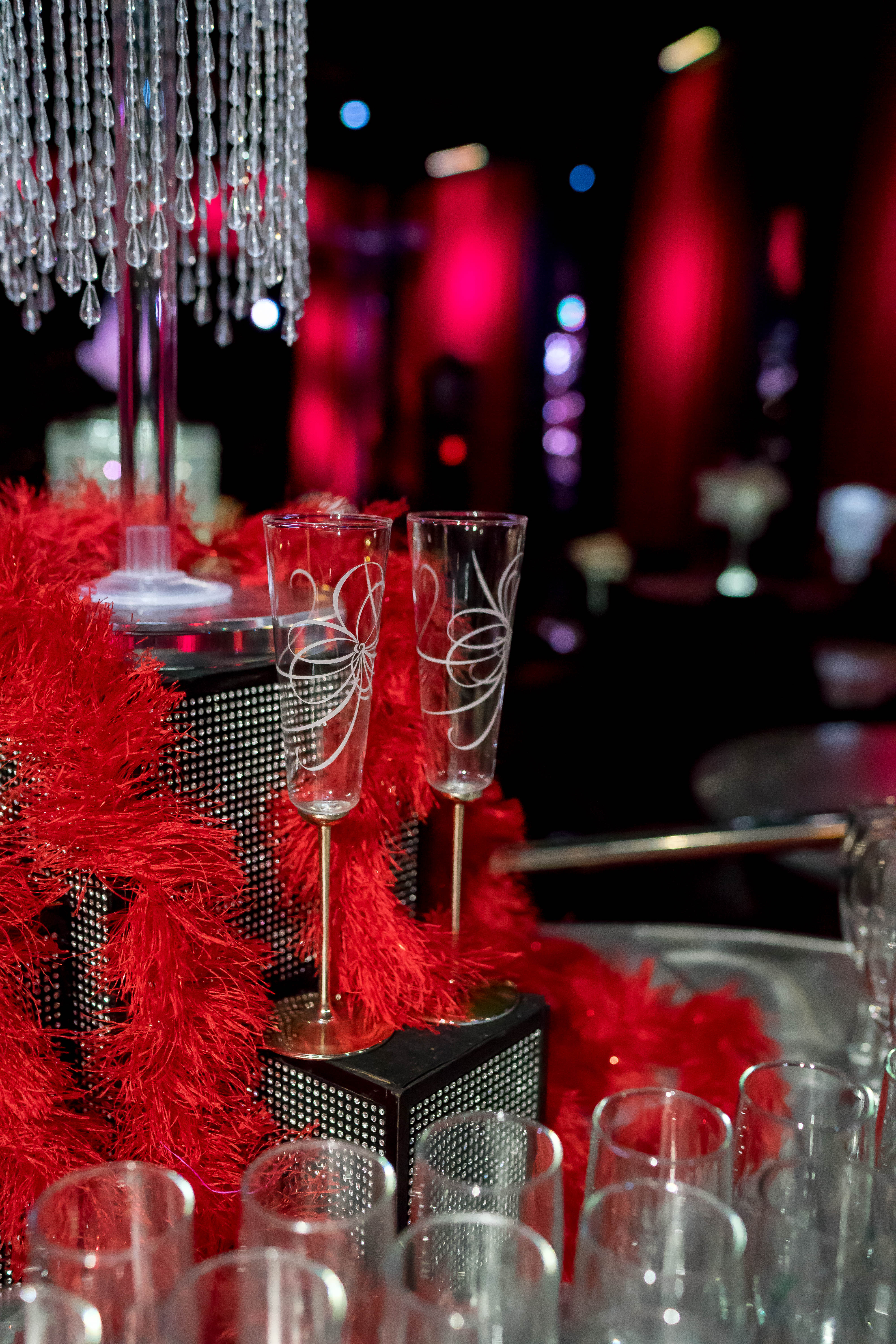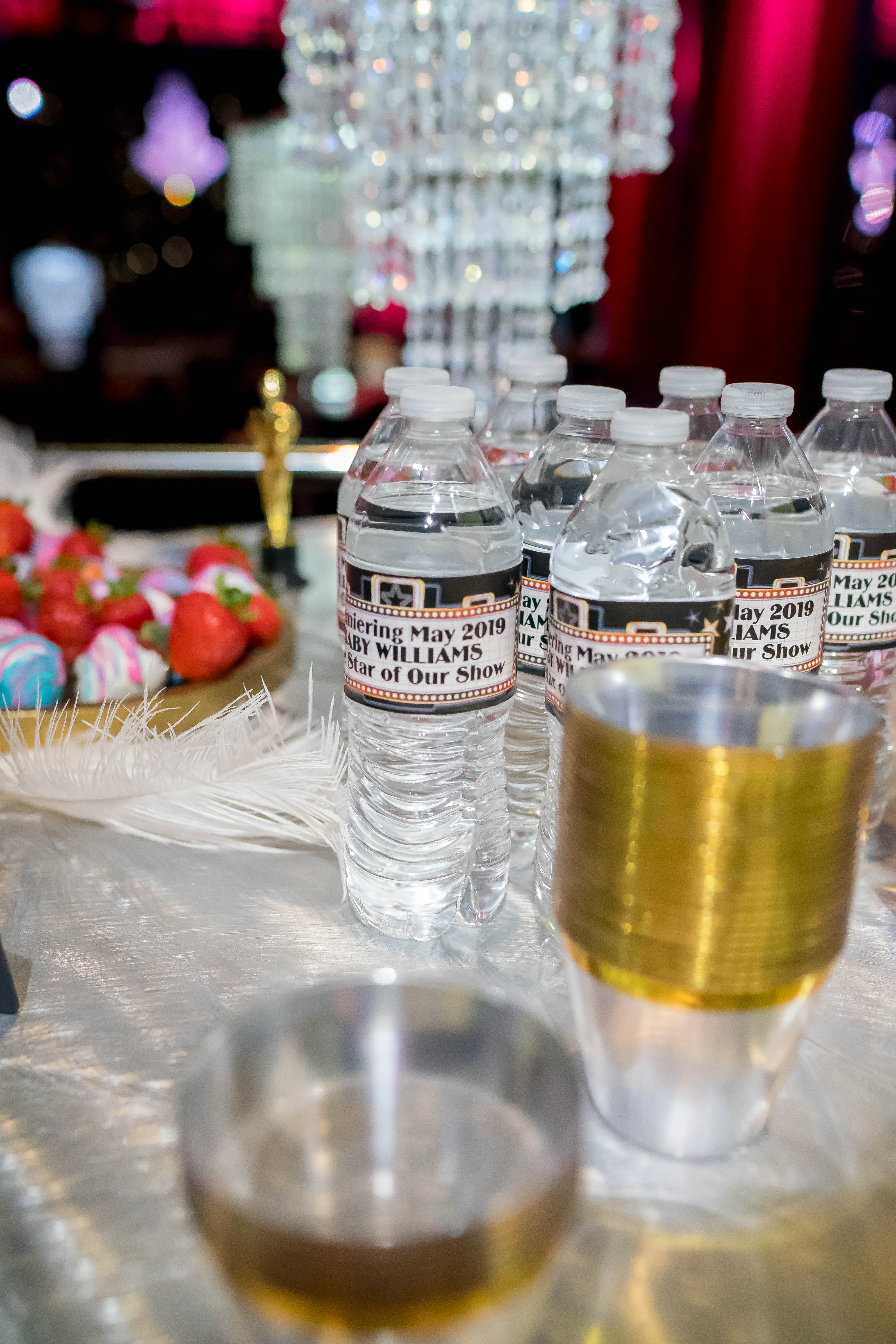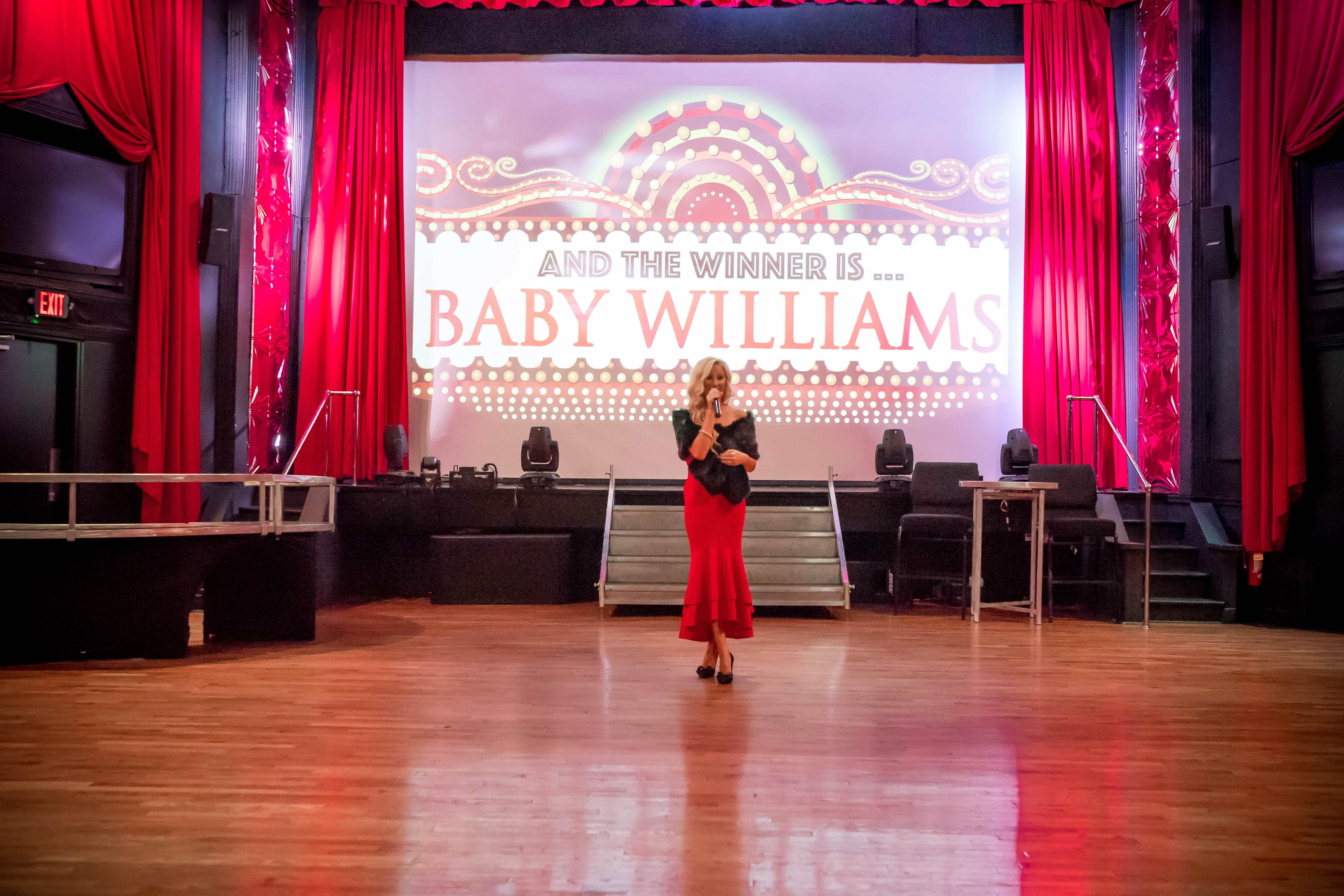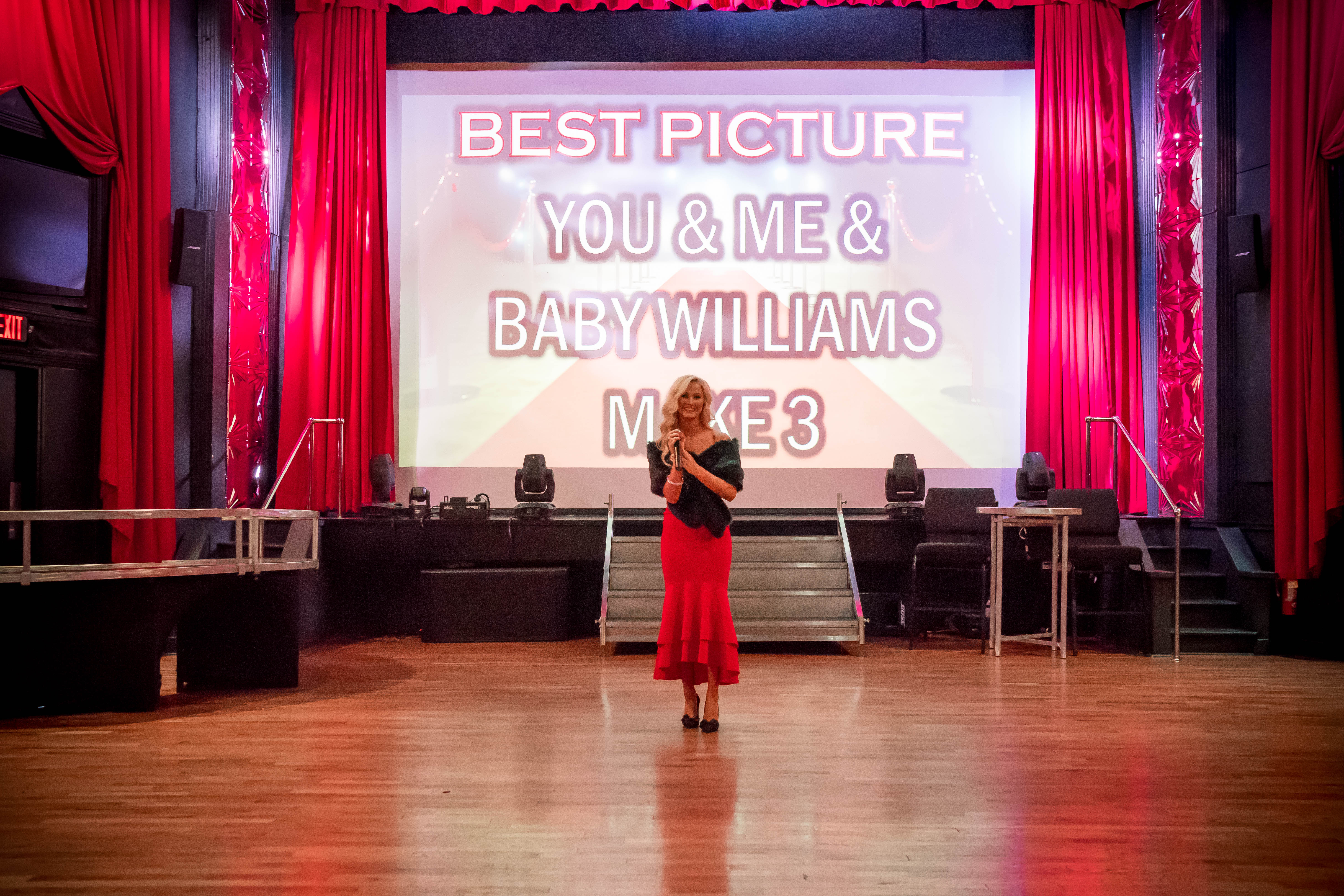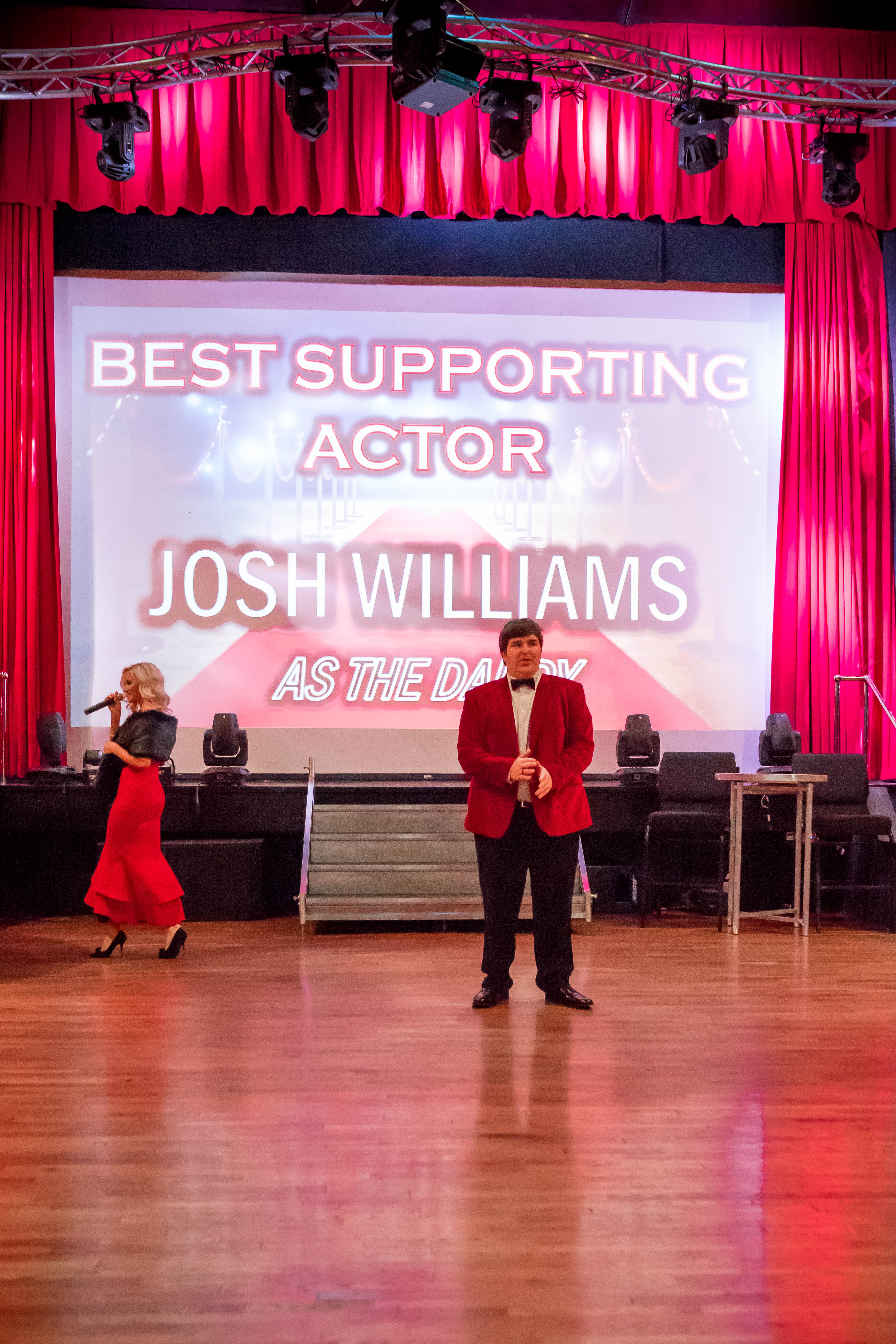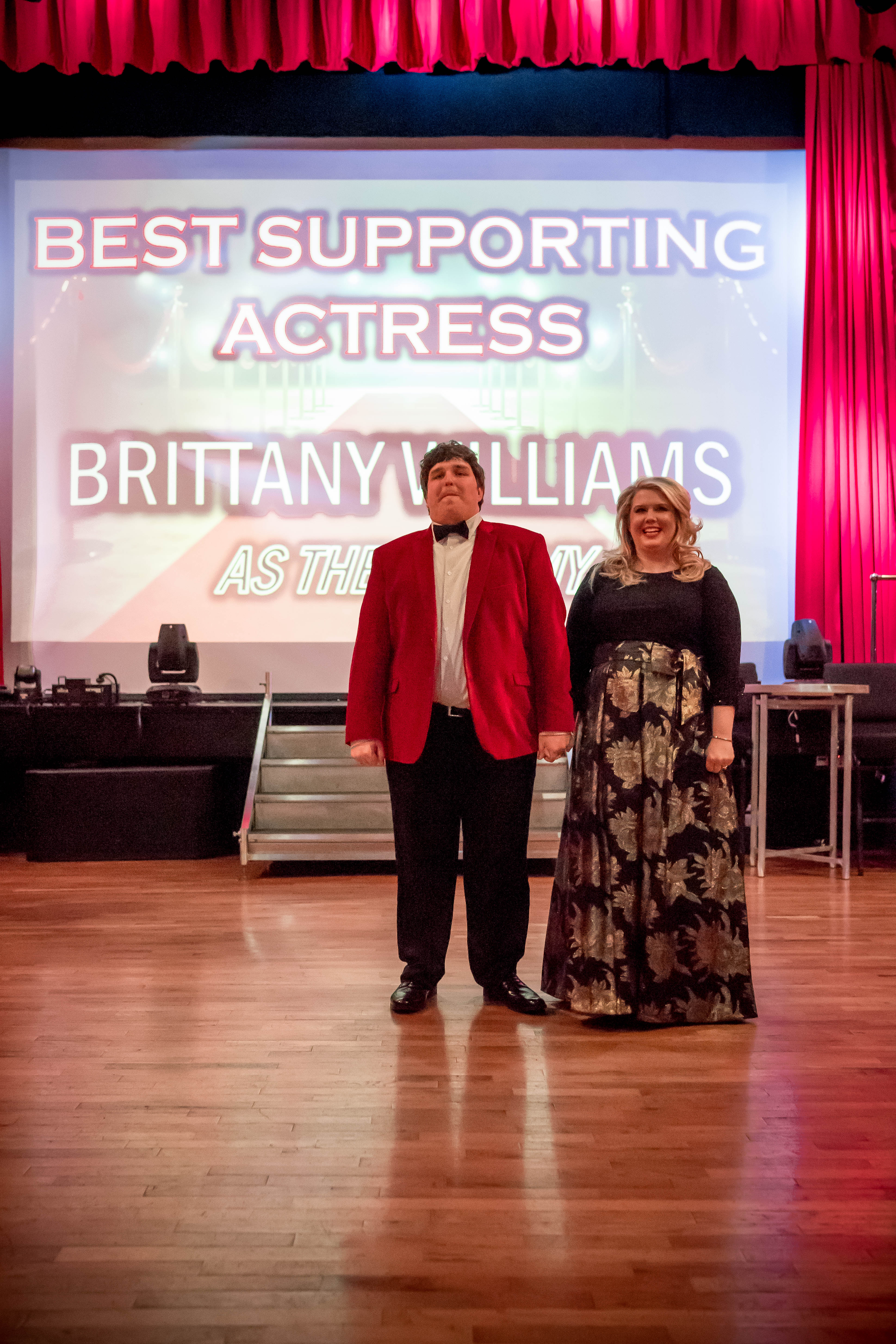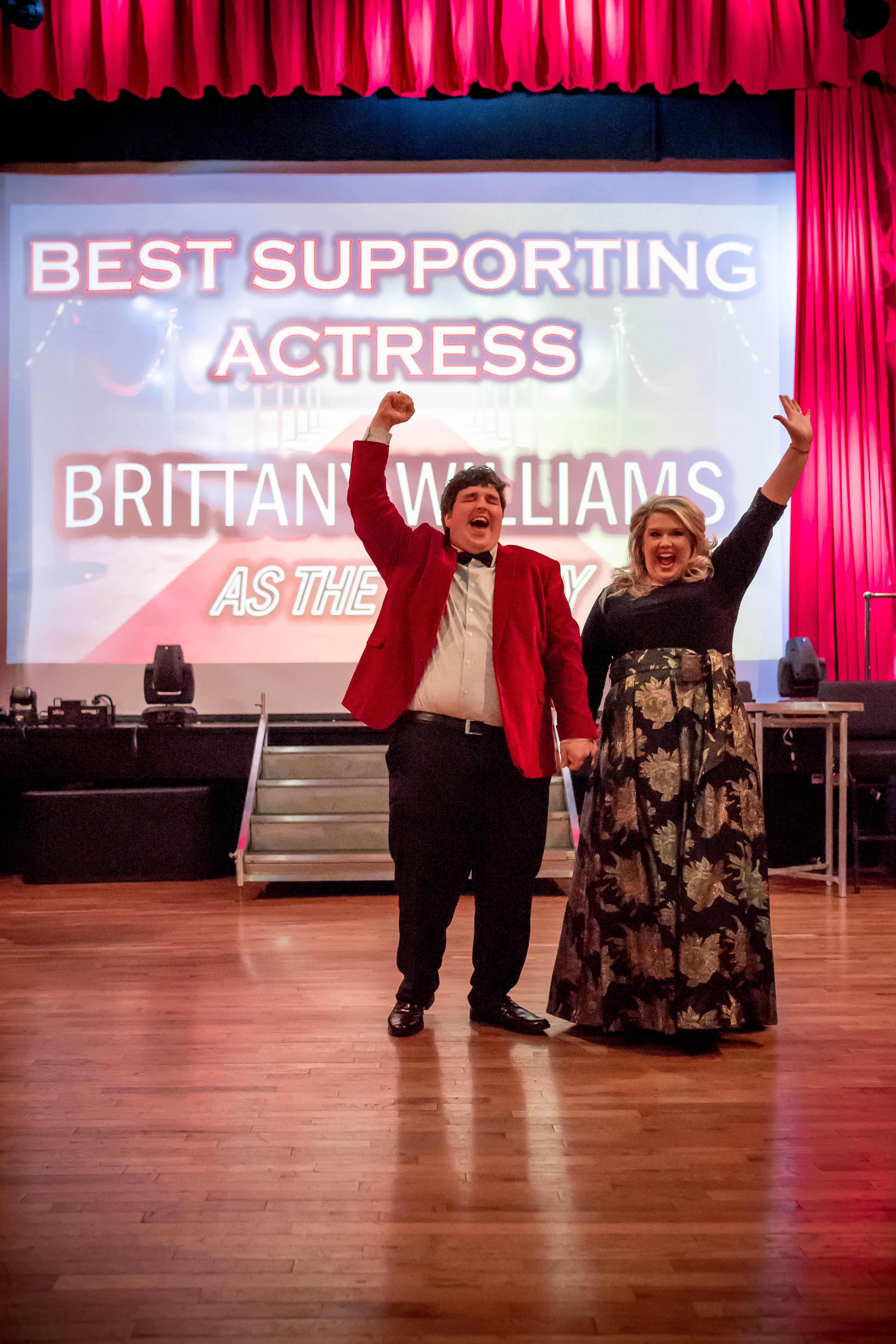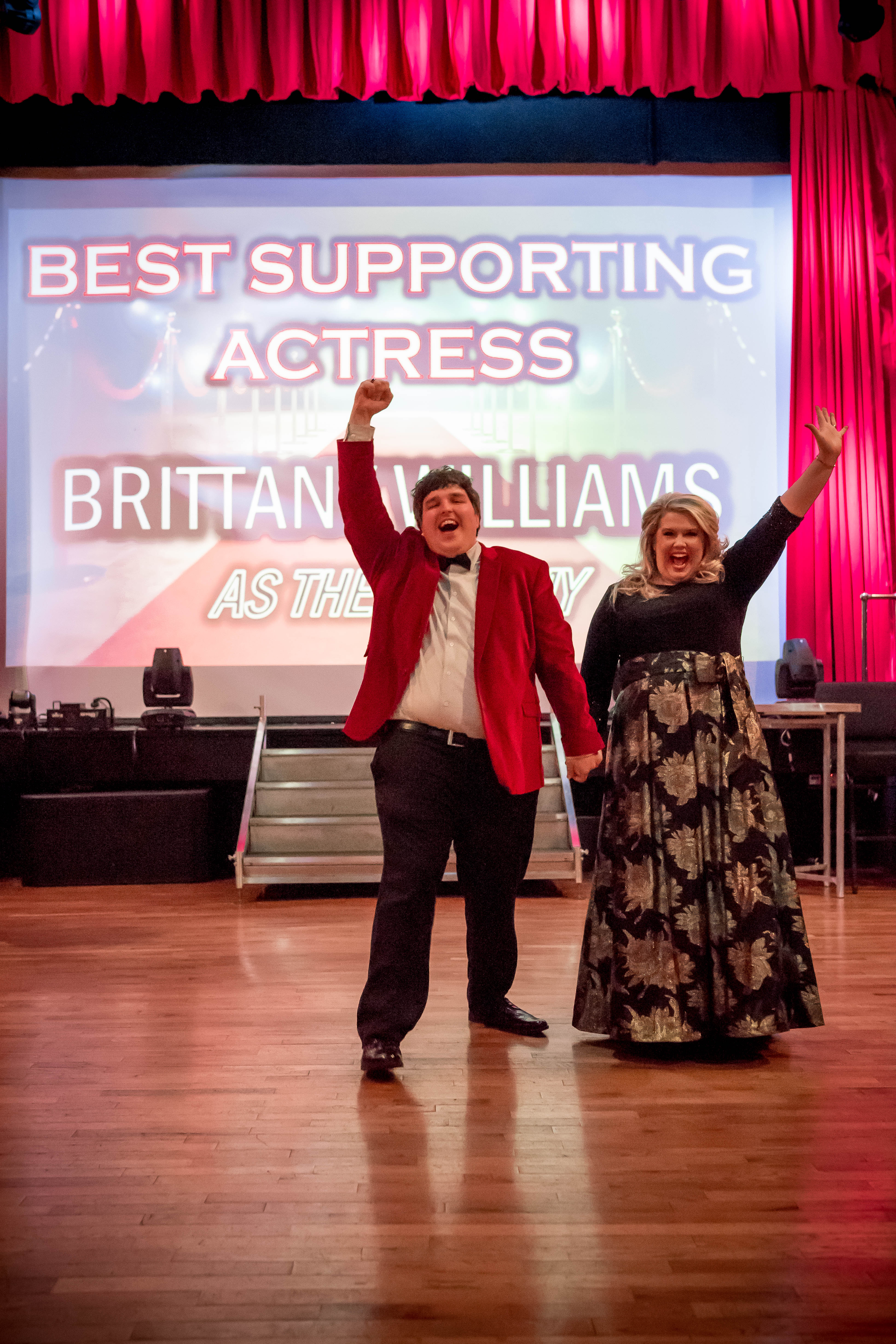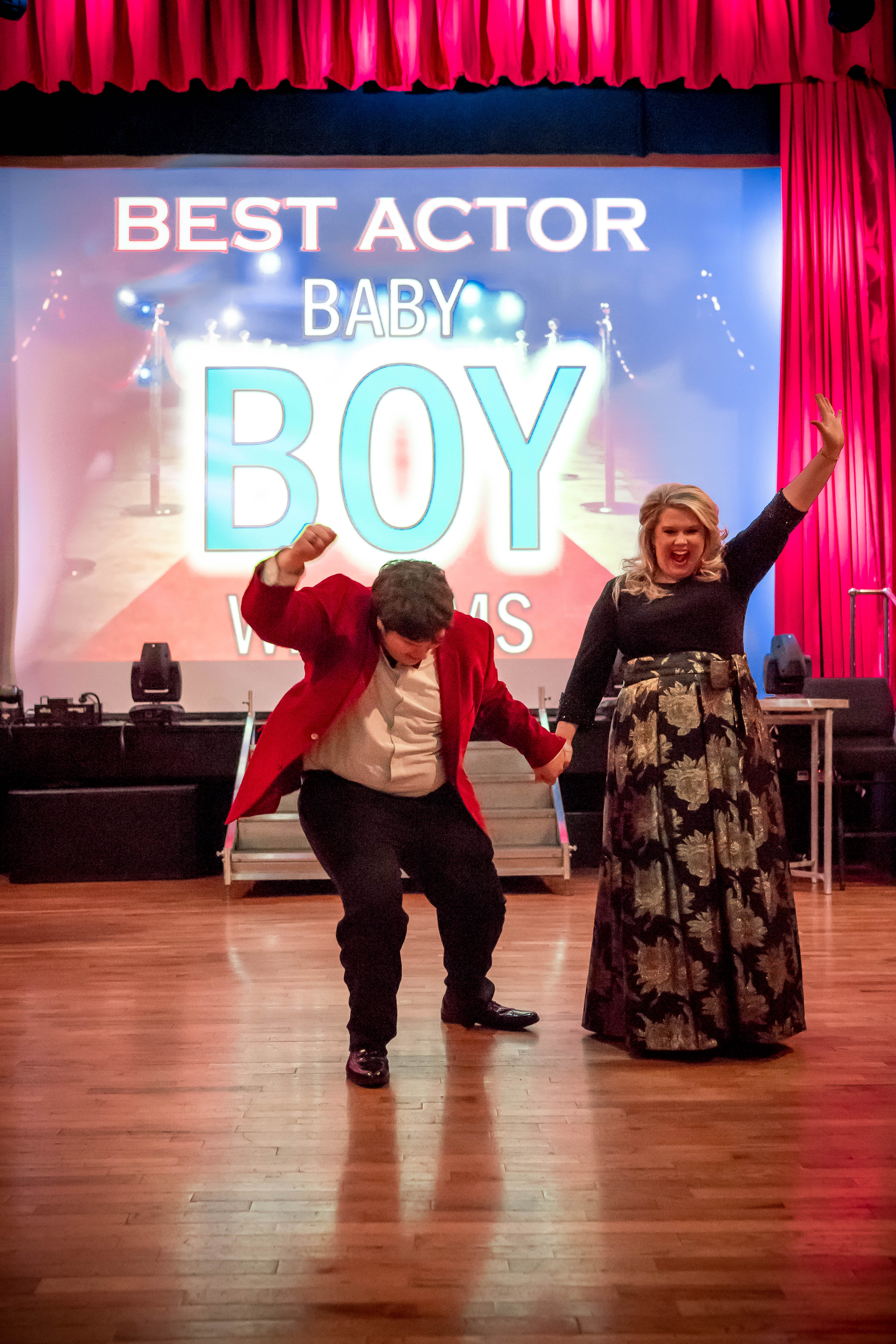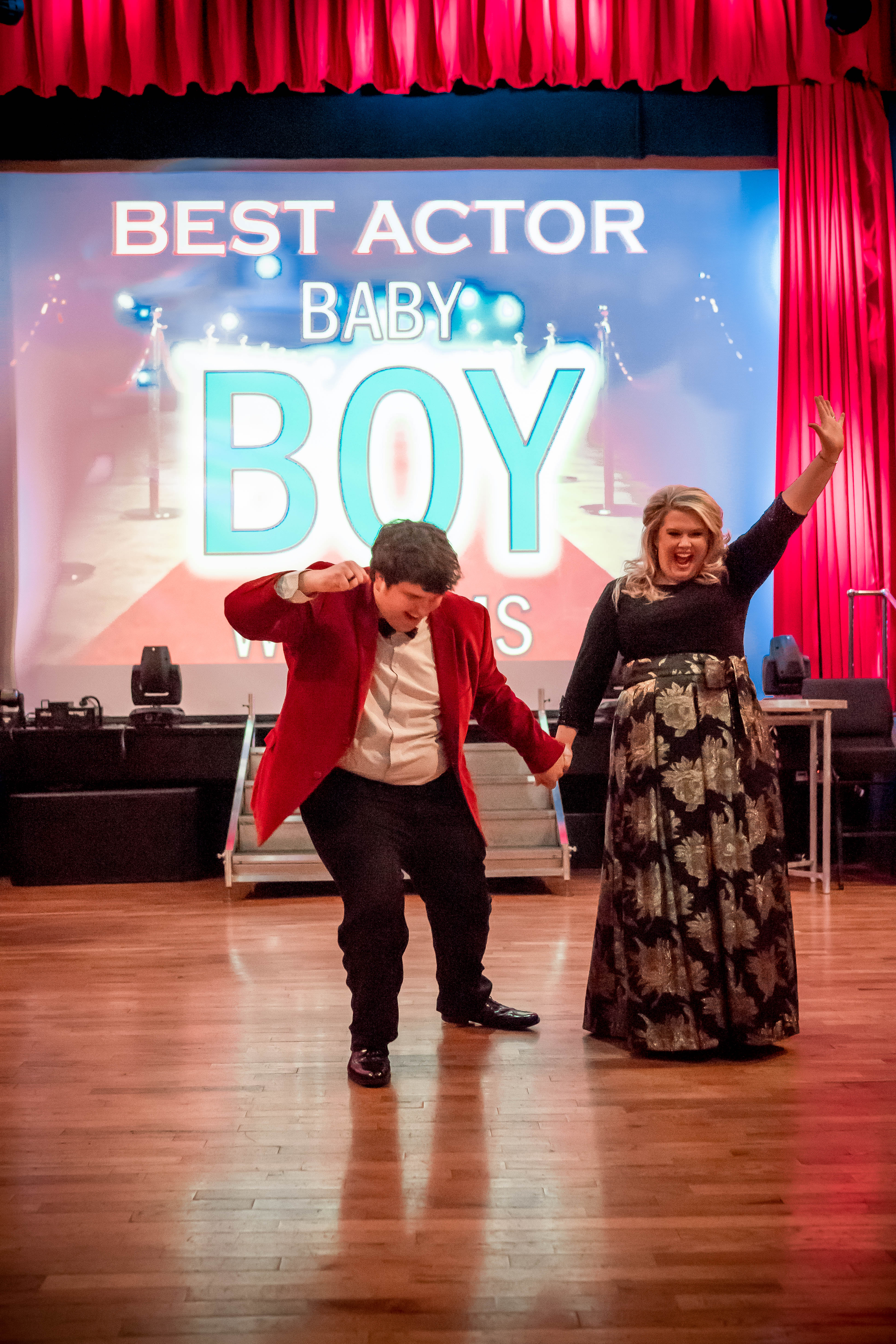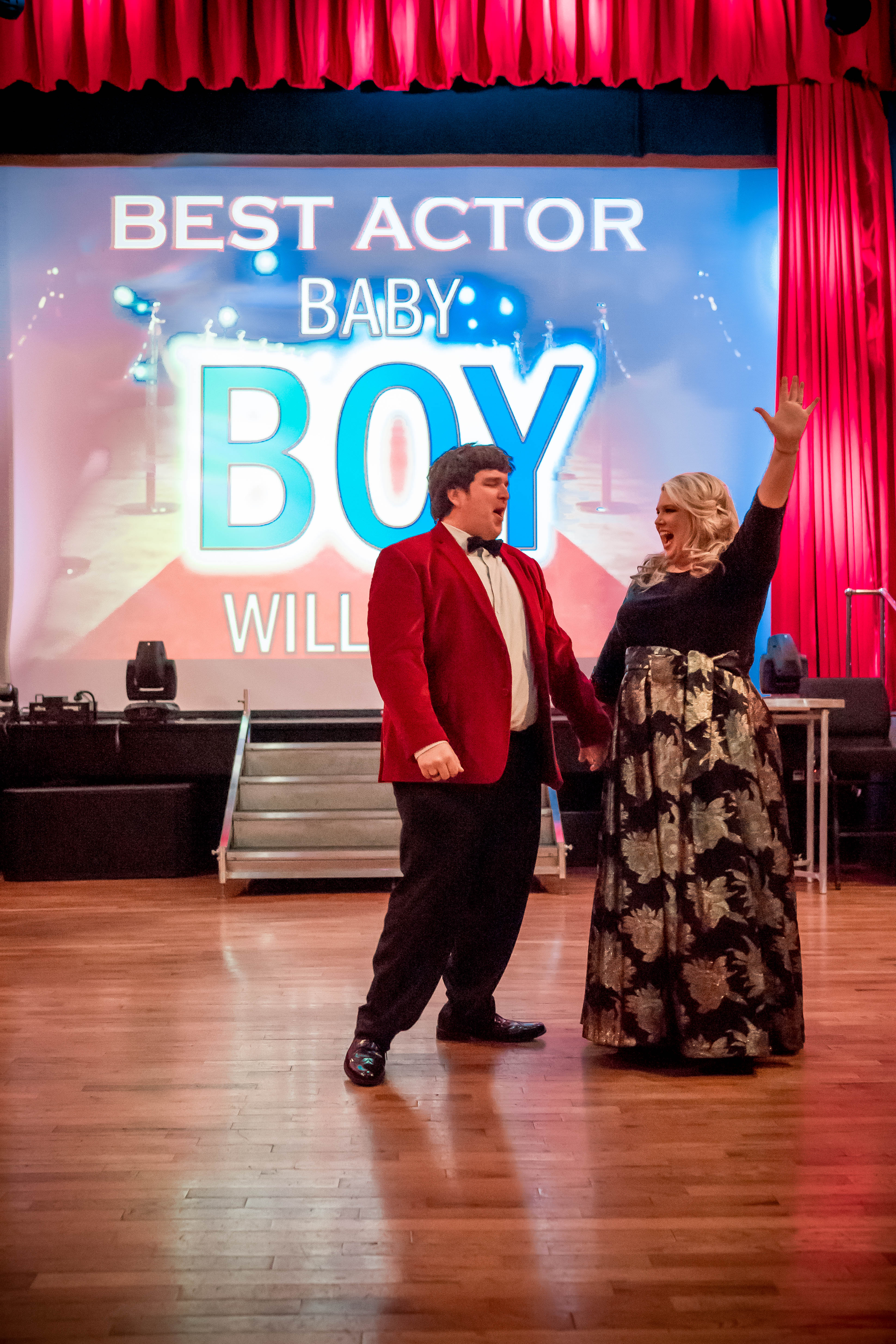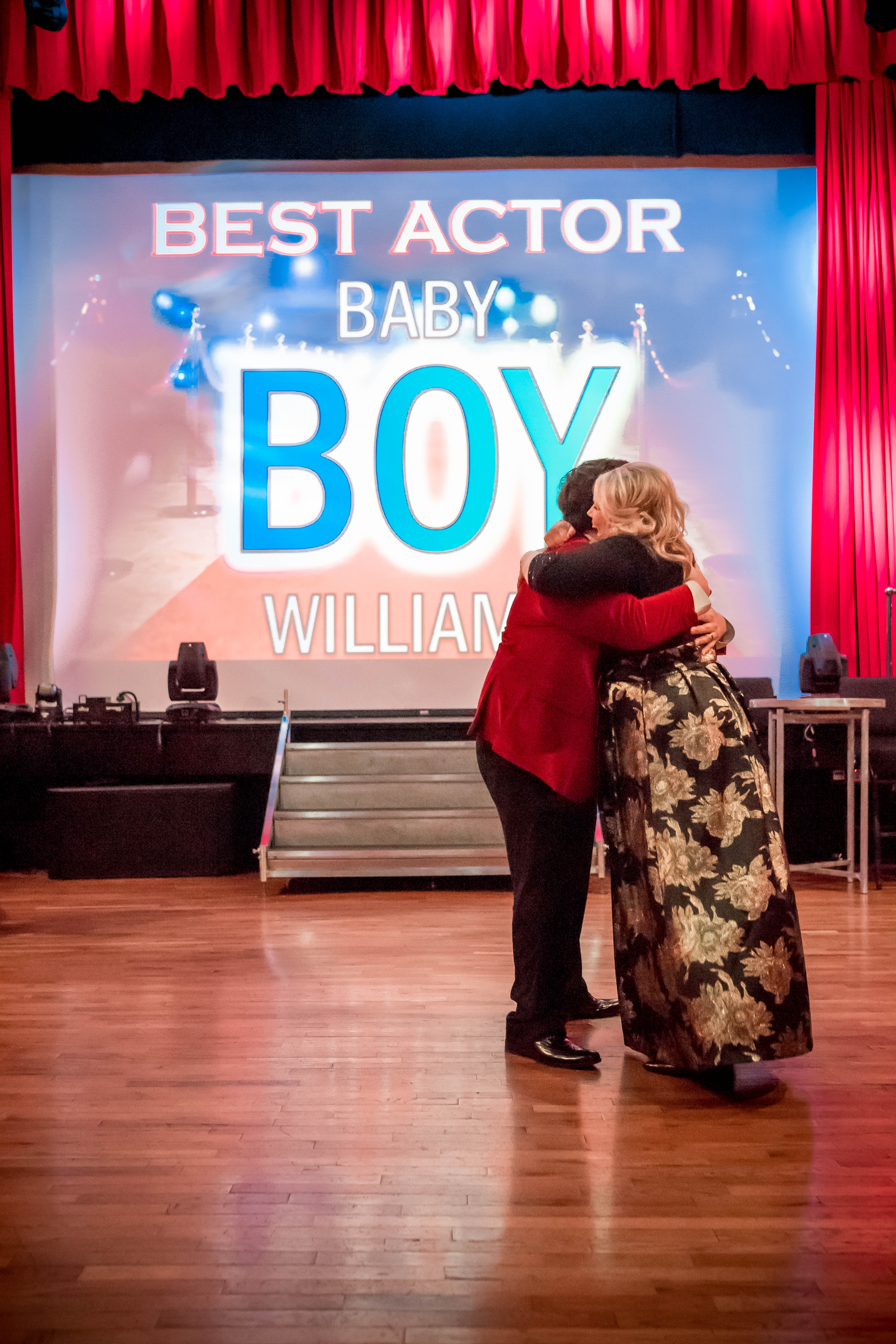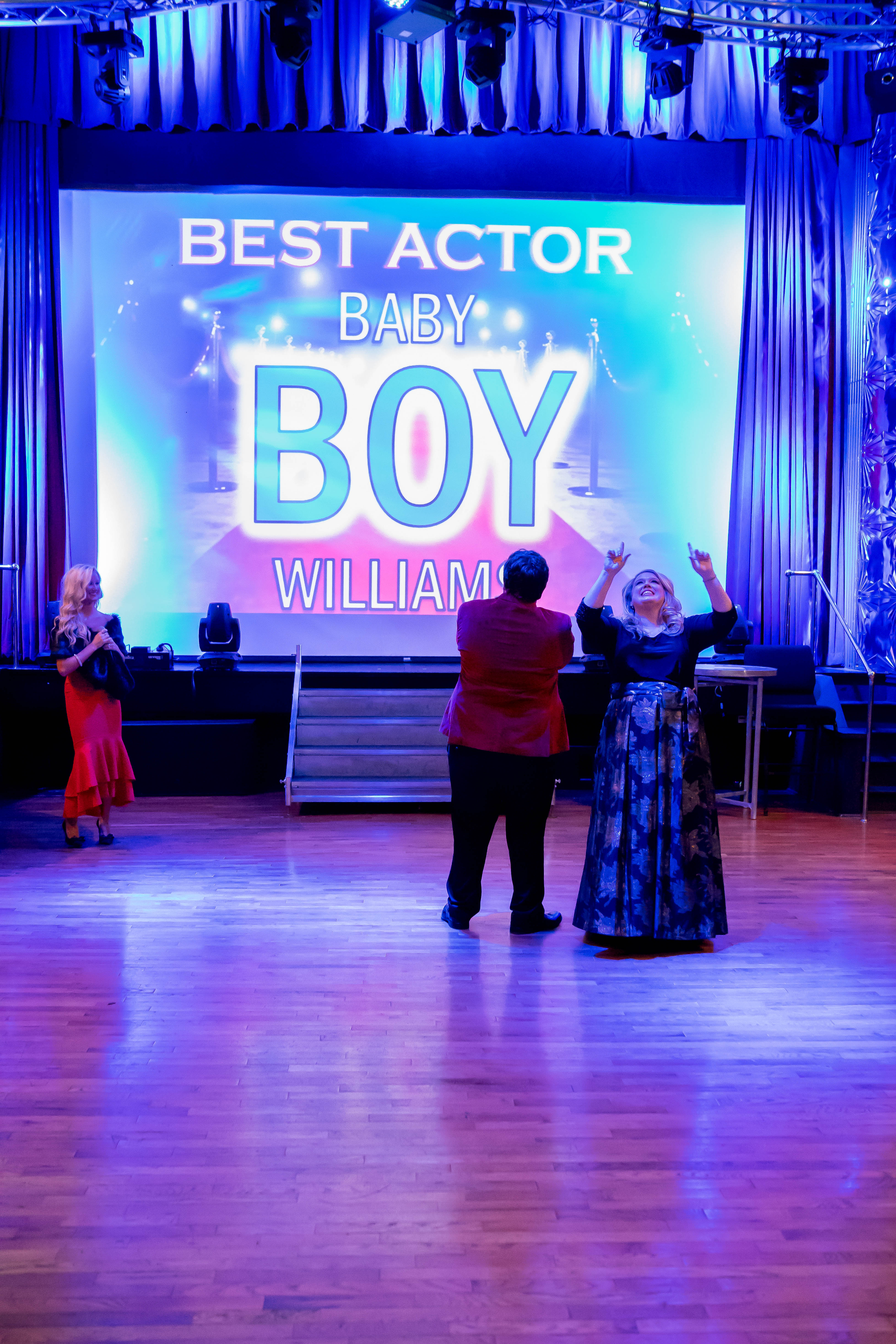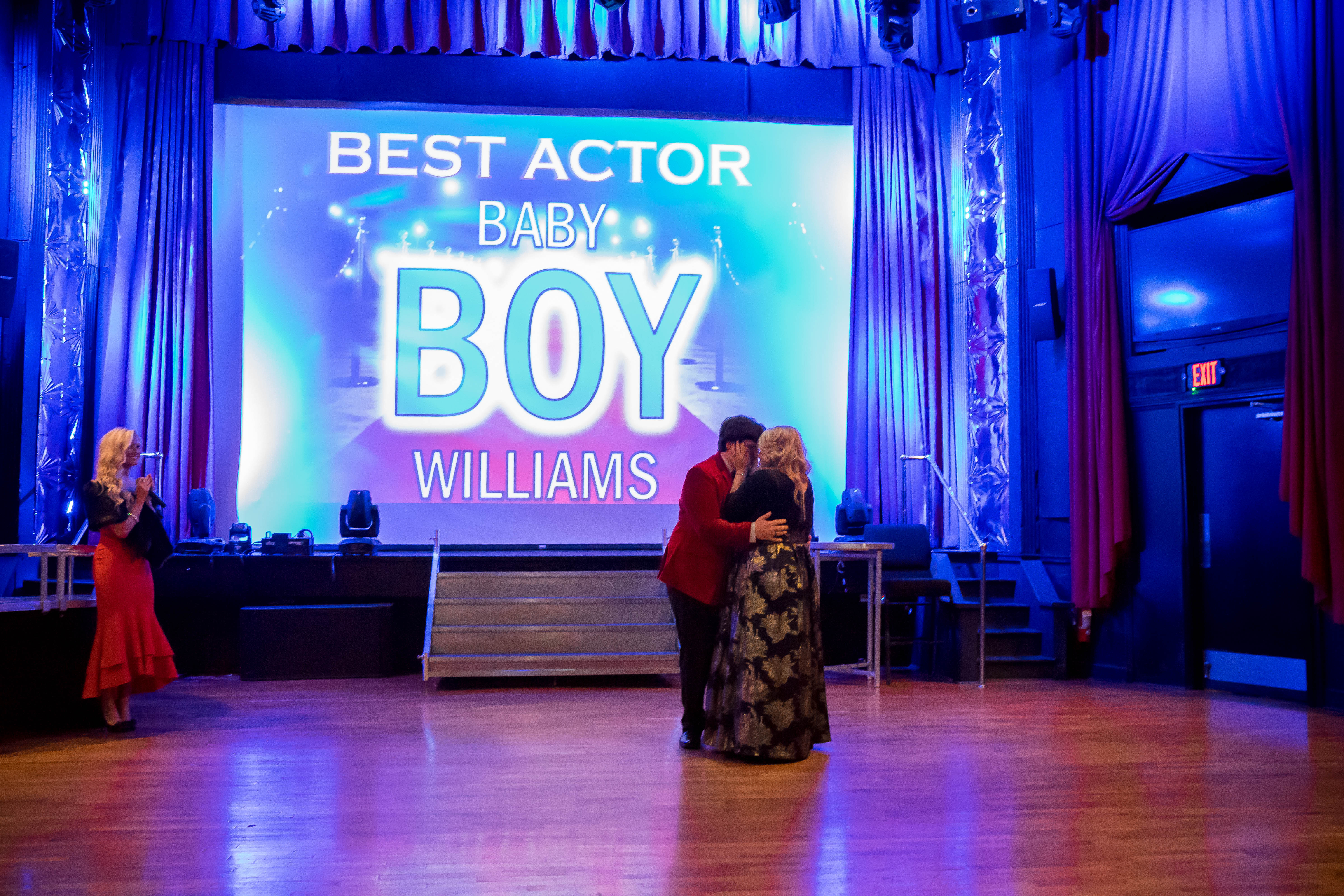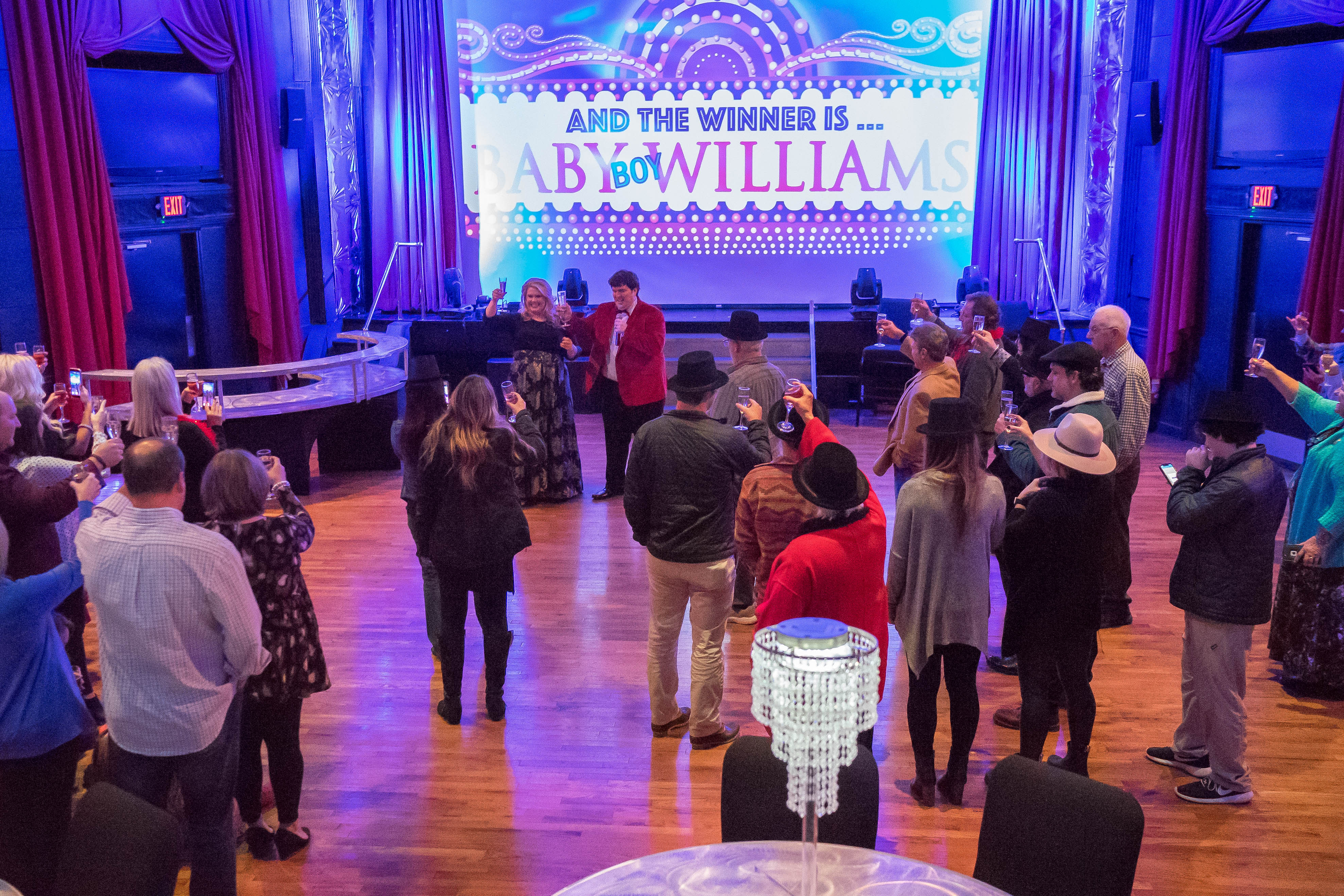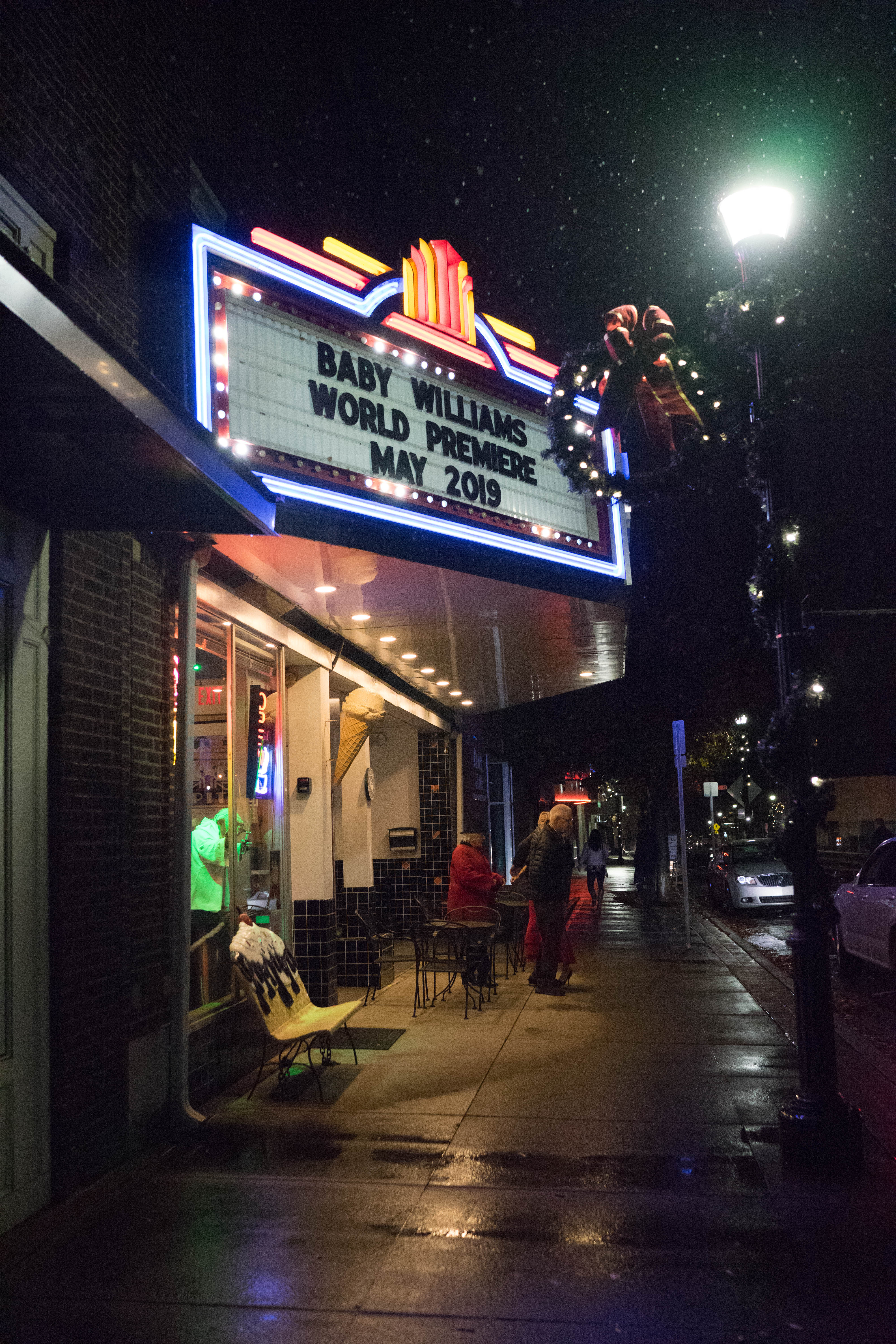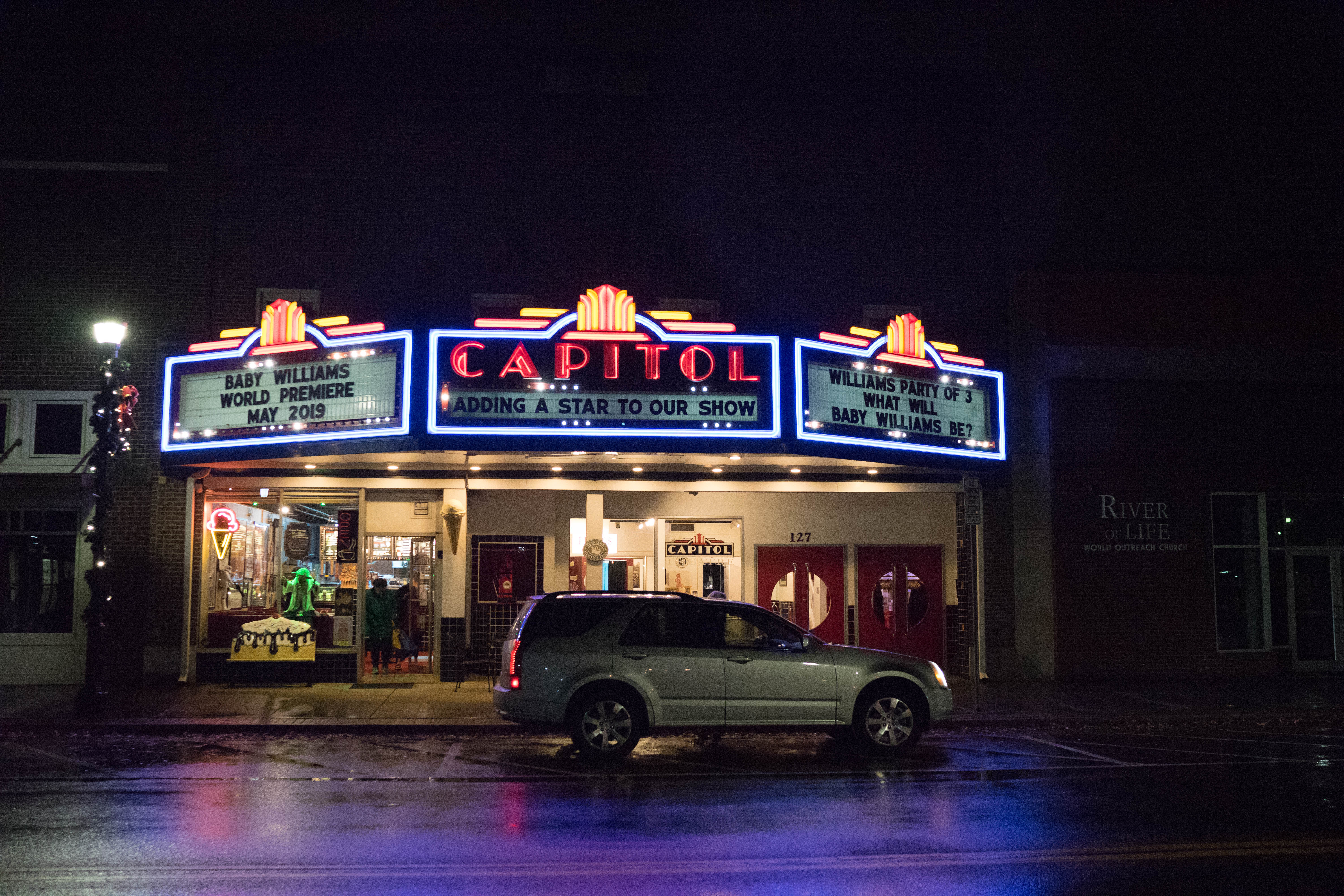 ---
A huge thank you to those who played a crucial part in this special celebration:
This post was in partner with the Capitol Theatre. As always, all opinions are our own.