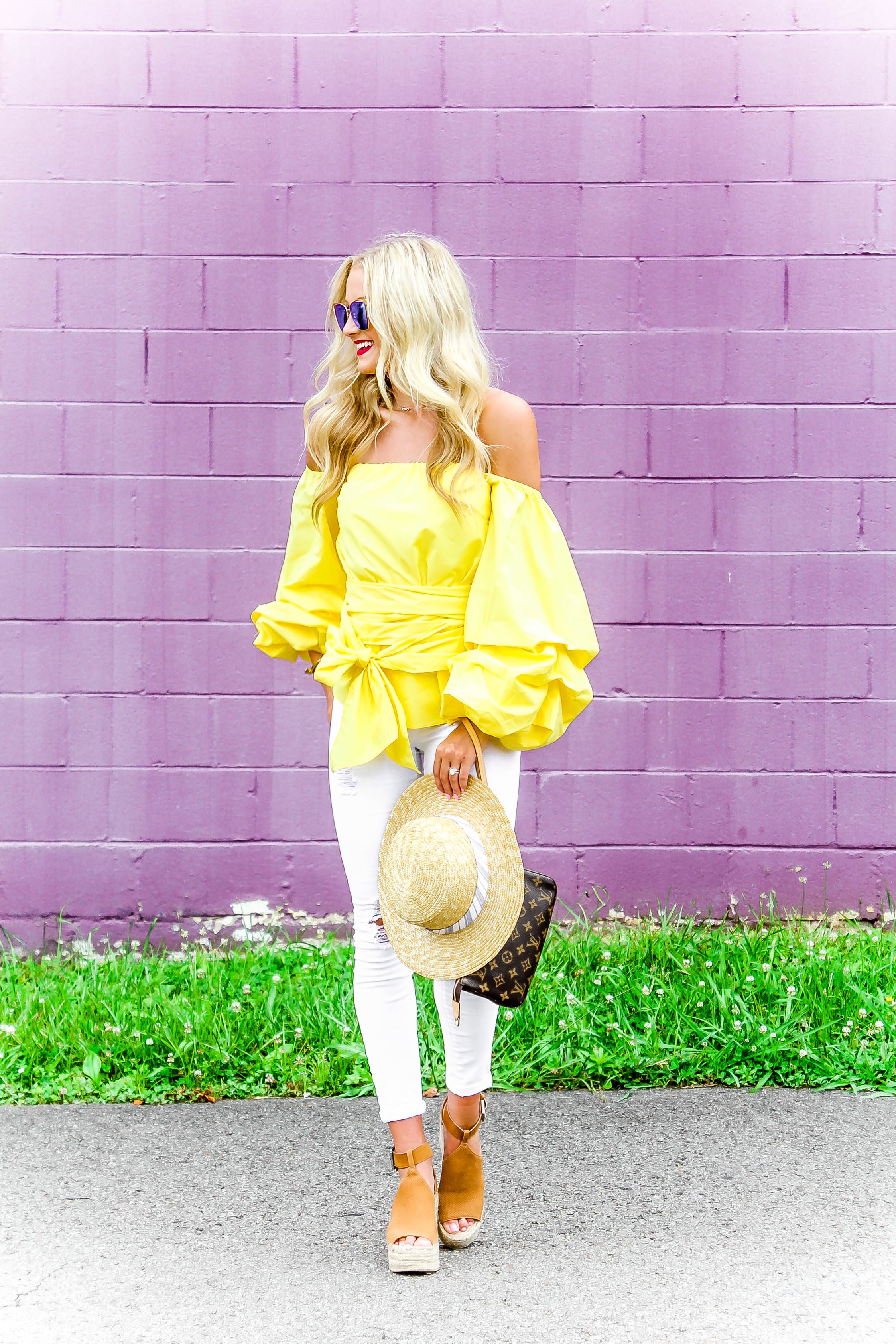 One thing I've been obsessing over for a few months now is the statement sleeve trend! You probably remember this post from back in February and this one from March … just goes to show that the trend of the big, fun, statement sleeve is here to stay for awhile! And you won't hear me complaining.
Today's post is the final post in my mini series featuring trending tops with Blush and Stone Boutique, so of course, I had to save my favorite trend for last! Blush and Stone has so many cute, affordable options for you to test out this statement style, and I know y'all have seen me raving about them on Instagram lately! B&S is currently one of my favorite online boutiques because their pieces are such high quality and so on-trend, but they don't break the bank. (Best of both worlds!) They were so sweet to email me this morning actually to share a coupon code with you guys to get some great deals on their website — you can use my code PEYTON25 on anything that you buy from B&S and get 25% OFF! I may even have to go buy a few things myself 😉 But, before you start shopping, here are a couple outfits to get you inspired!
This first top is amazingggg – seriously, how fun are these sleeves?! Like, I'm literally obsessed you guys. It's an off the shoulder blouse that wraps around & you can tie it either in the front or the back. It also comes in a blush color that is so pretty! This top runs pretty true to size because the way it wraps around allows for some 'wiggle room' – which also means that you can tie it and wear it so many different ways. I'm wearing a small/medium for reference!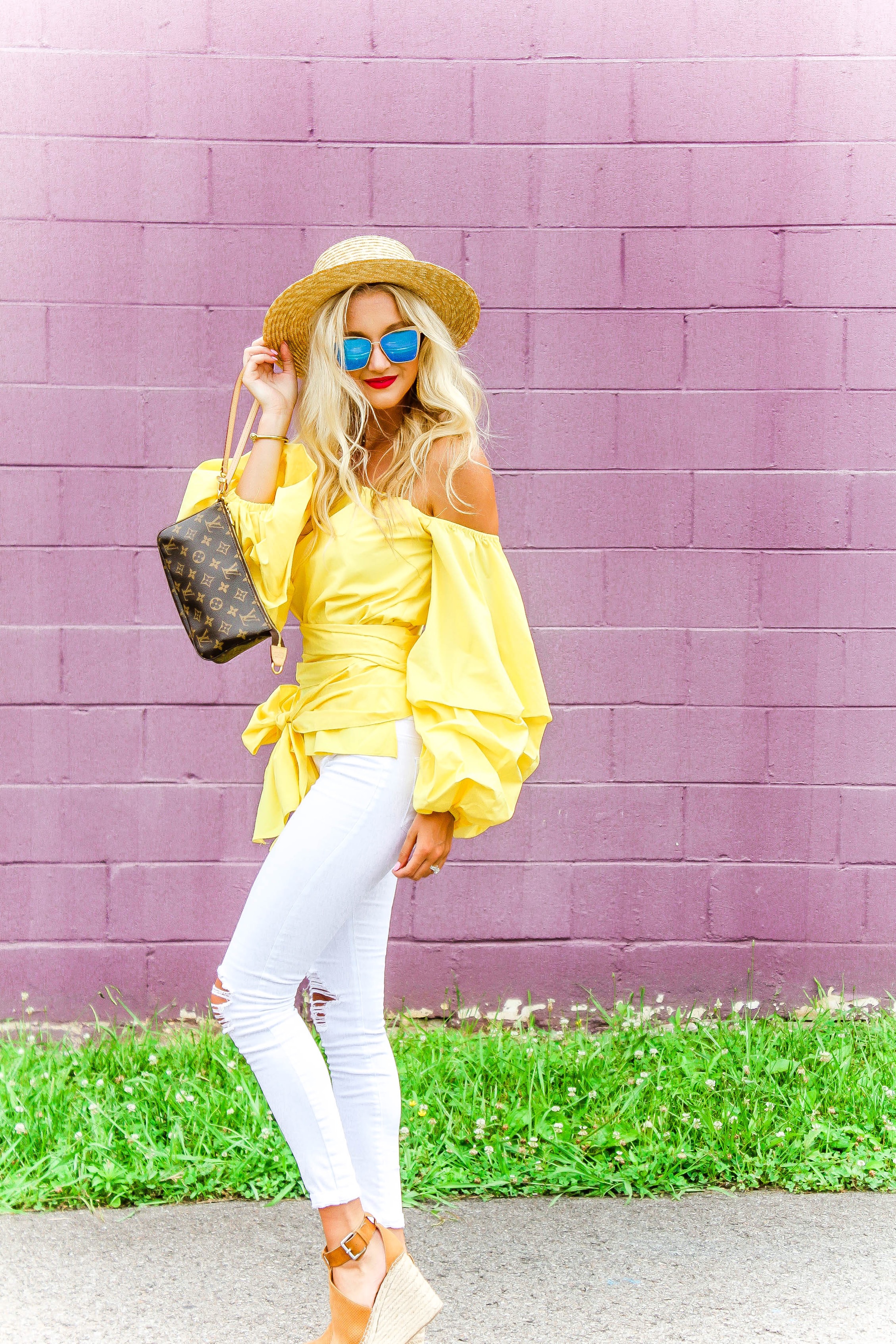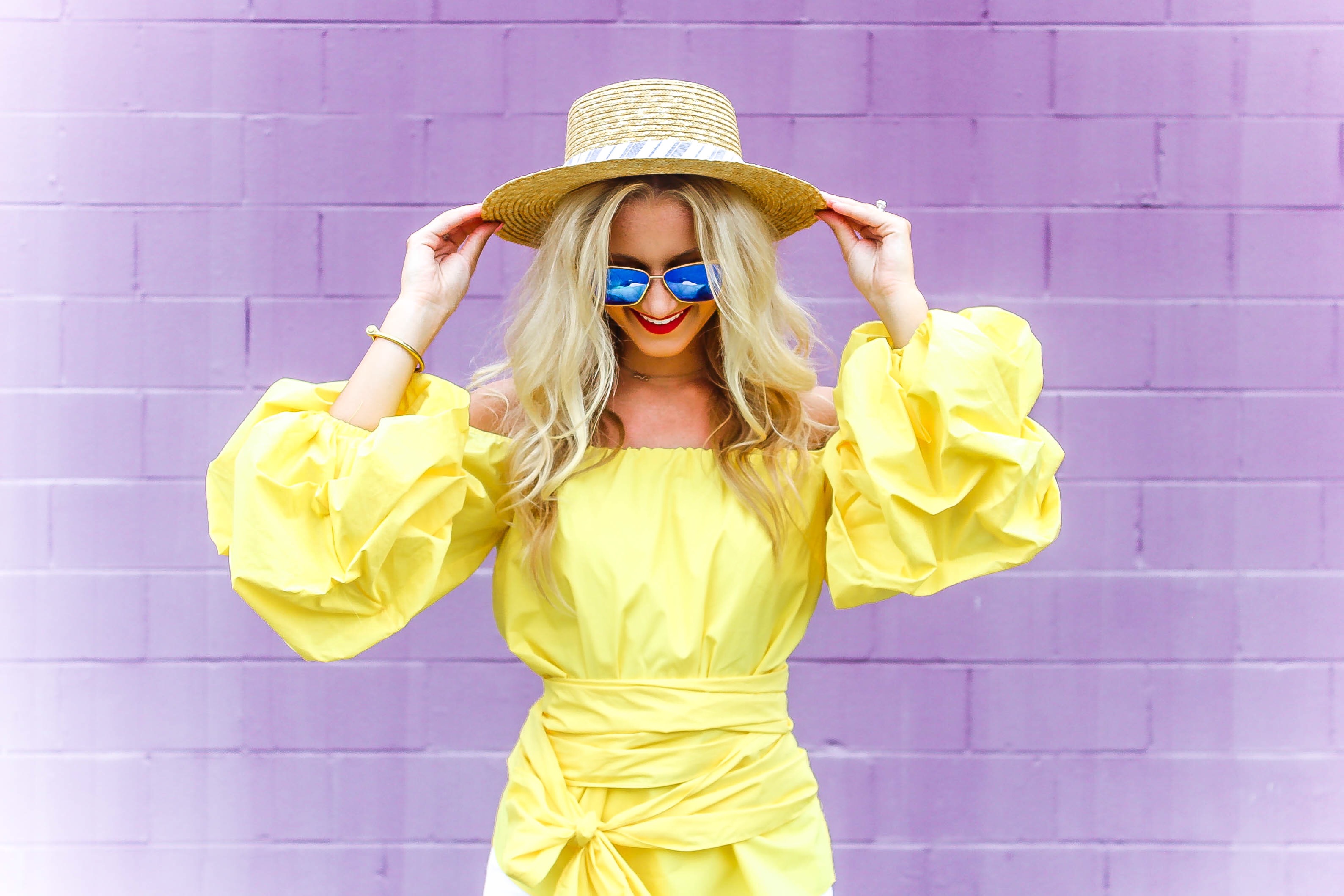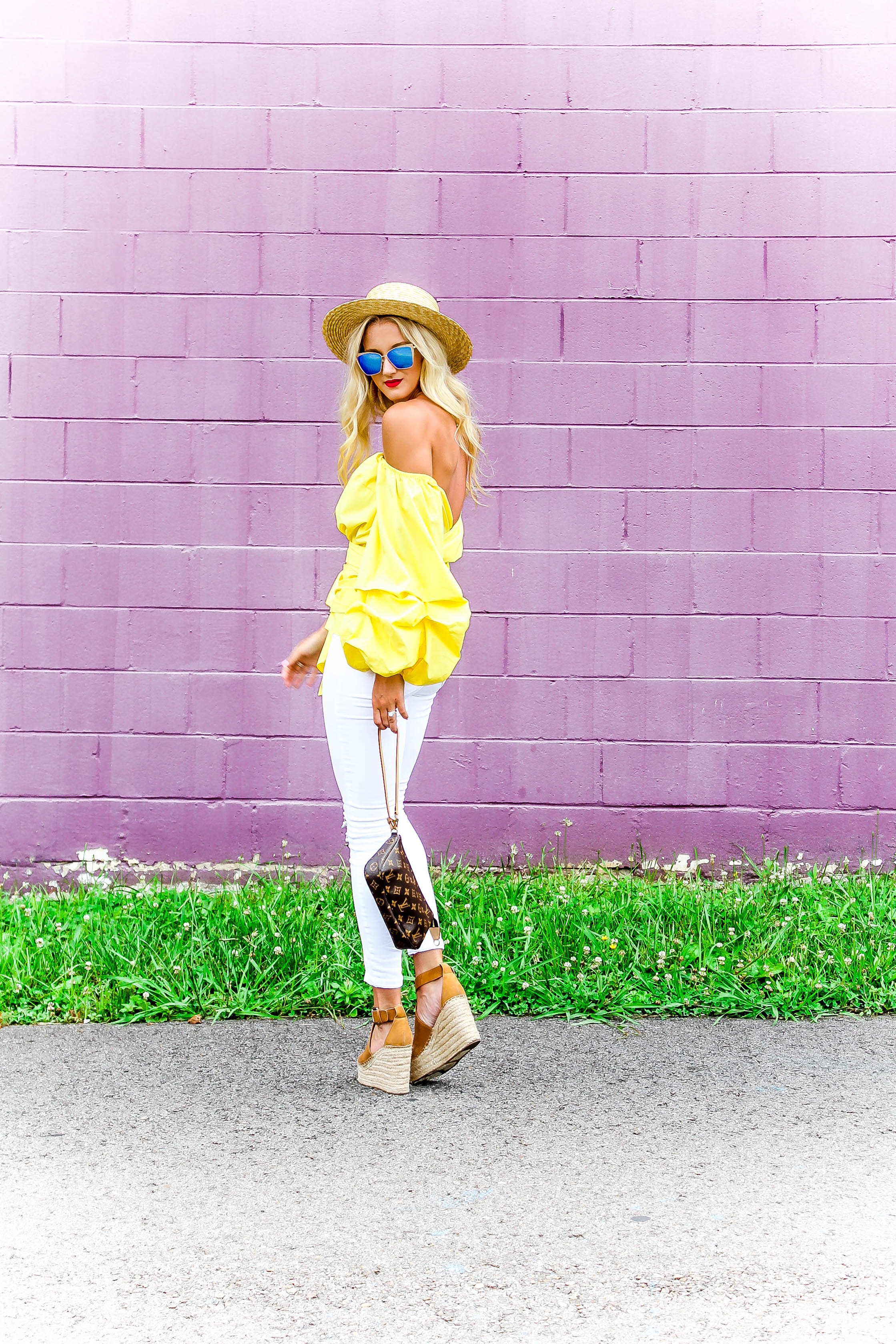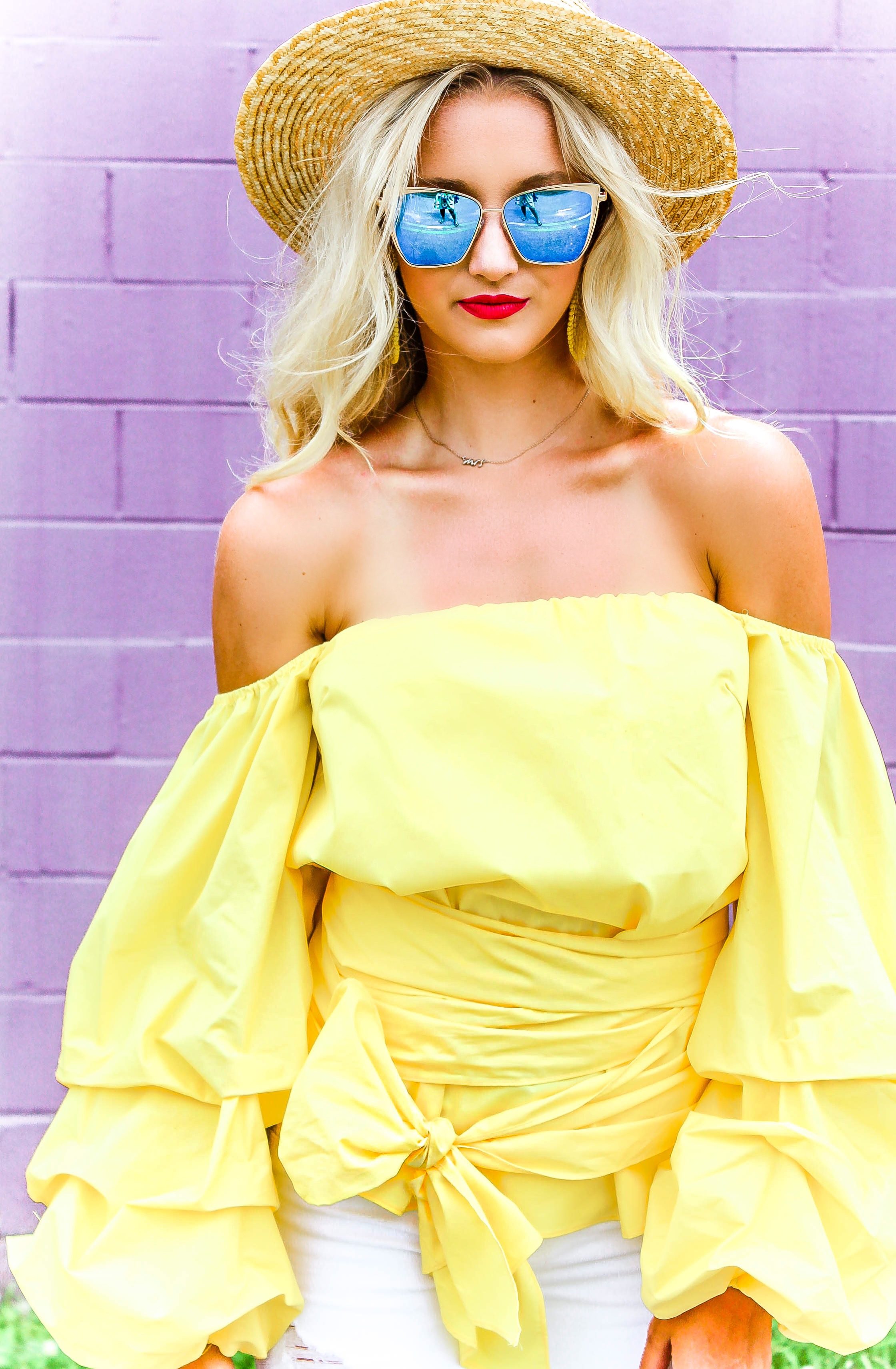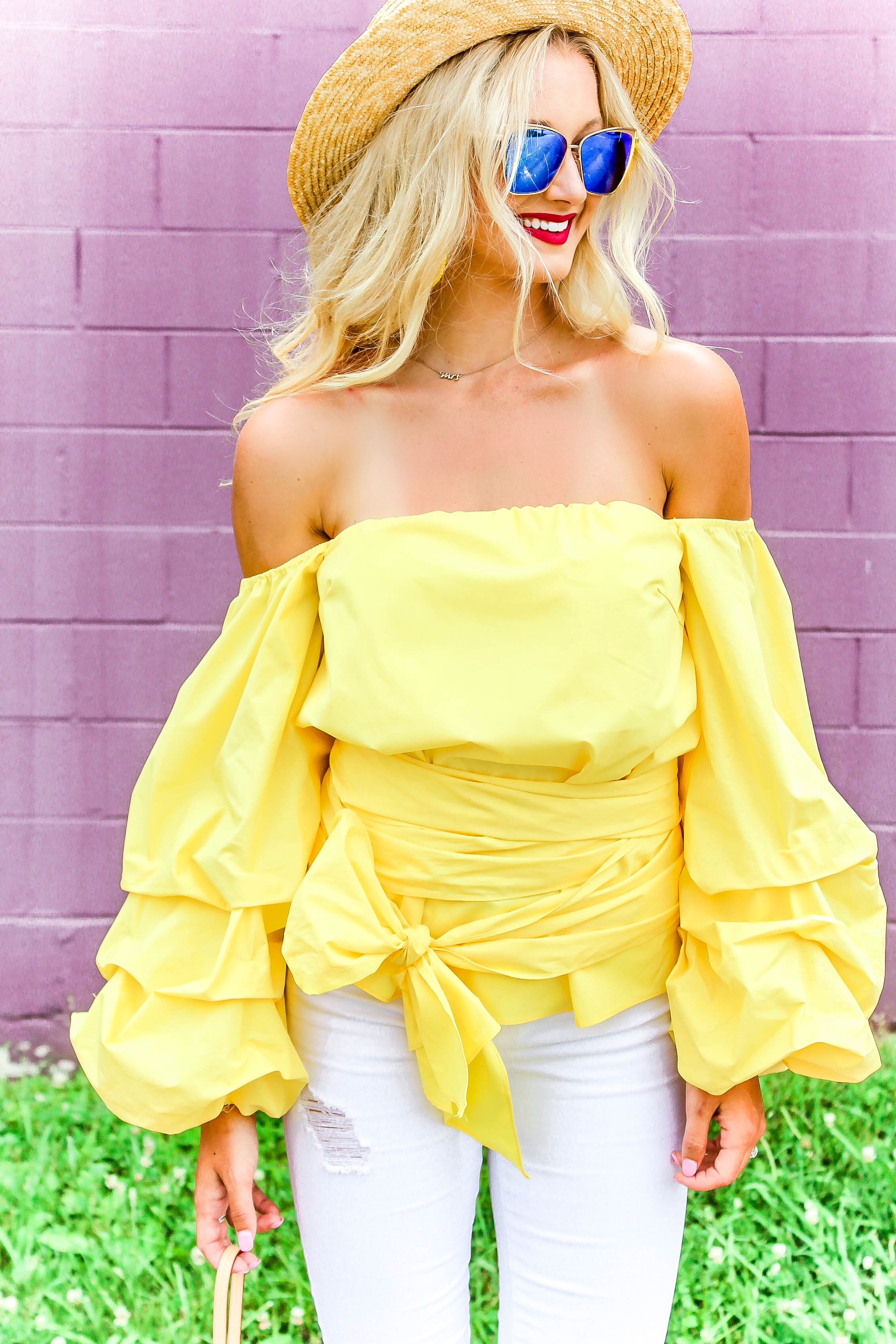 Shop this look:
Blush & Stone yellow statement sleeve blouse | distressed white denim jeans (I'm wearing a 5) | tan espadrille wedges | similar boater hat | blue reflective shades

---
The next top is pretty similar to the one above with that same, gorgeous sleeve detailing, but the way I styled this blue and white striped blouse gives off a fun, flirty, more casual vibe. Of course, I think it would also look great to dress it up too, but since I went a little dressier with the first blouse, I decided to keep the second look a little more carefree! I love the one shoulder style of this one, and I mean, who doesn't love stripes these days?? I'm wearing a small for reference.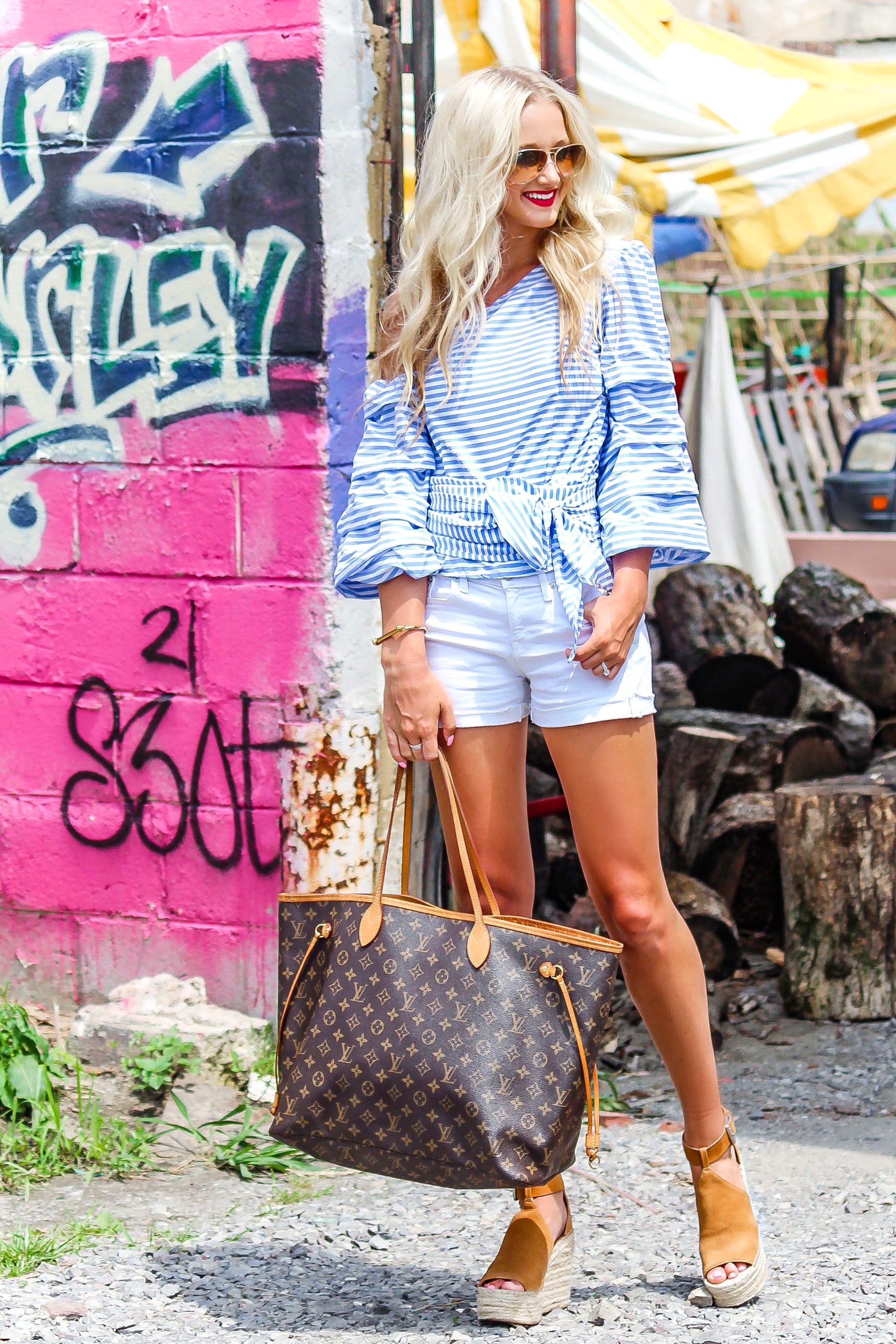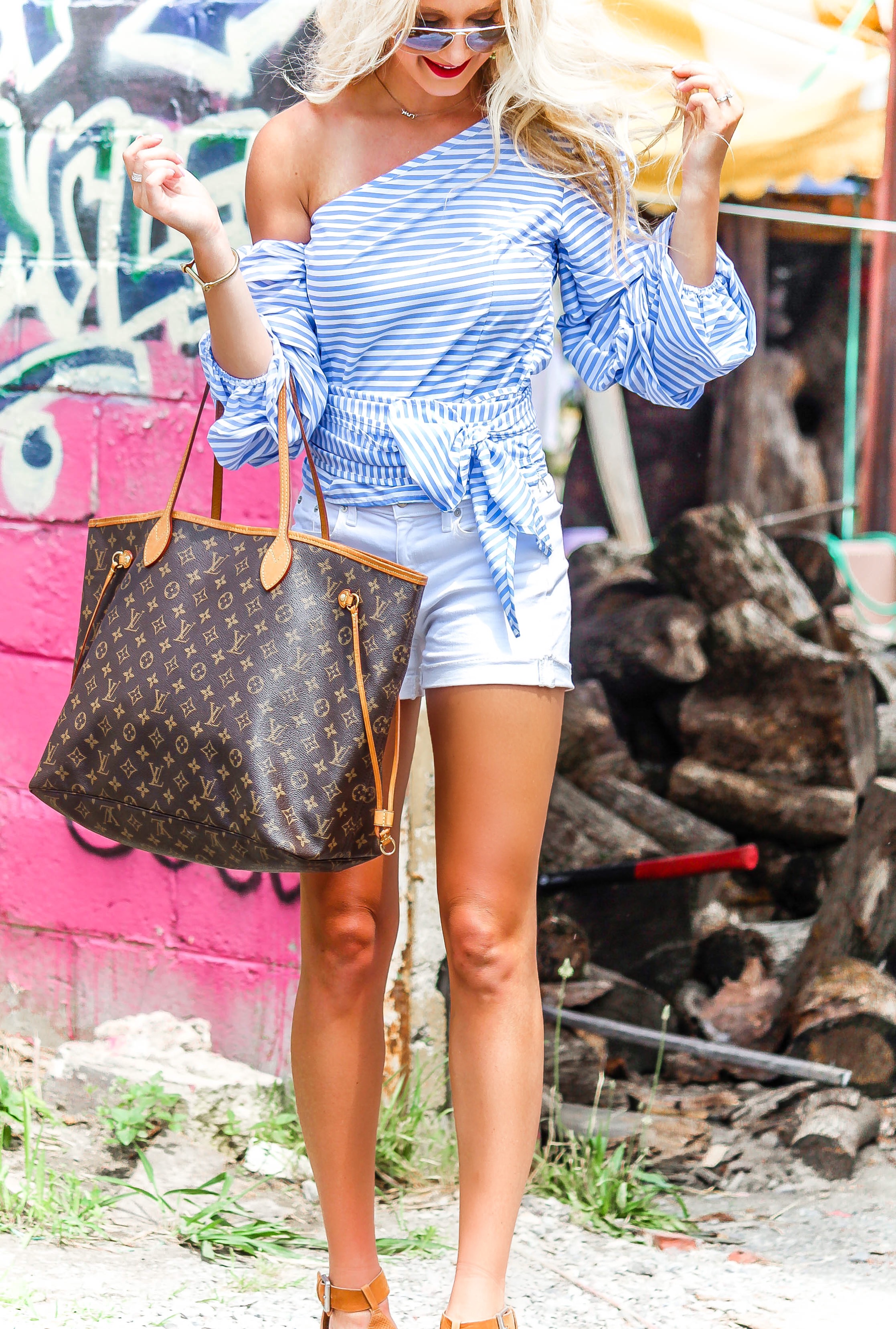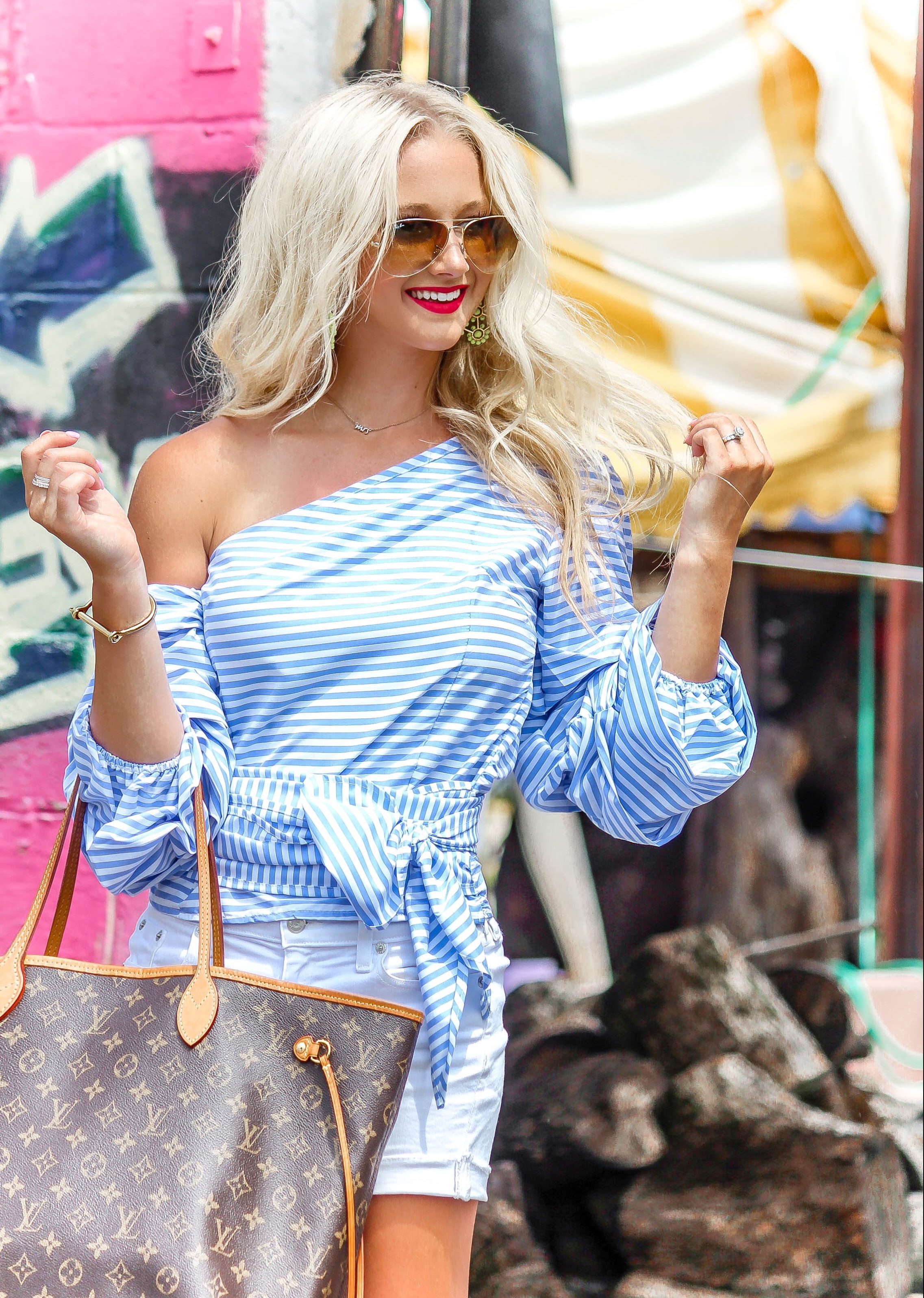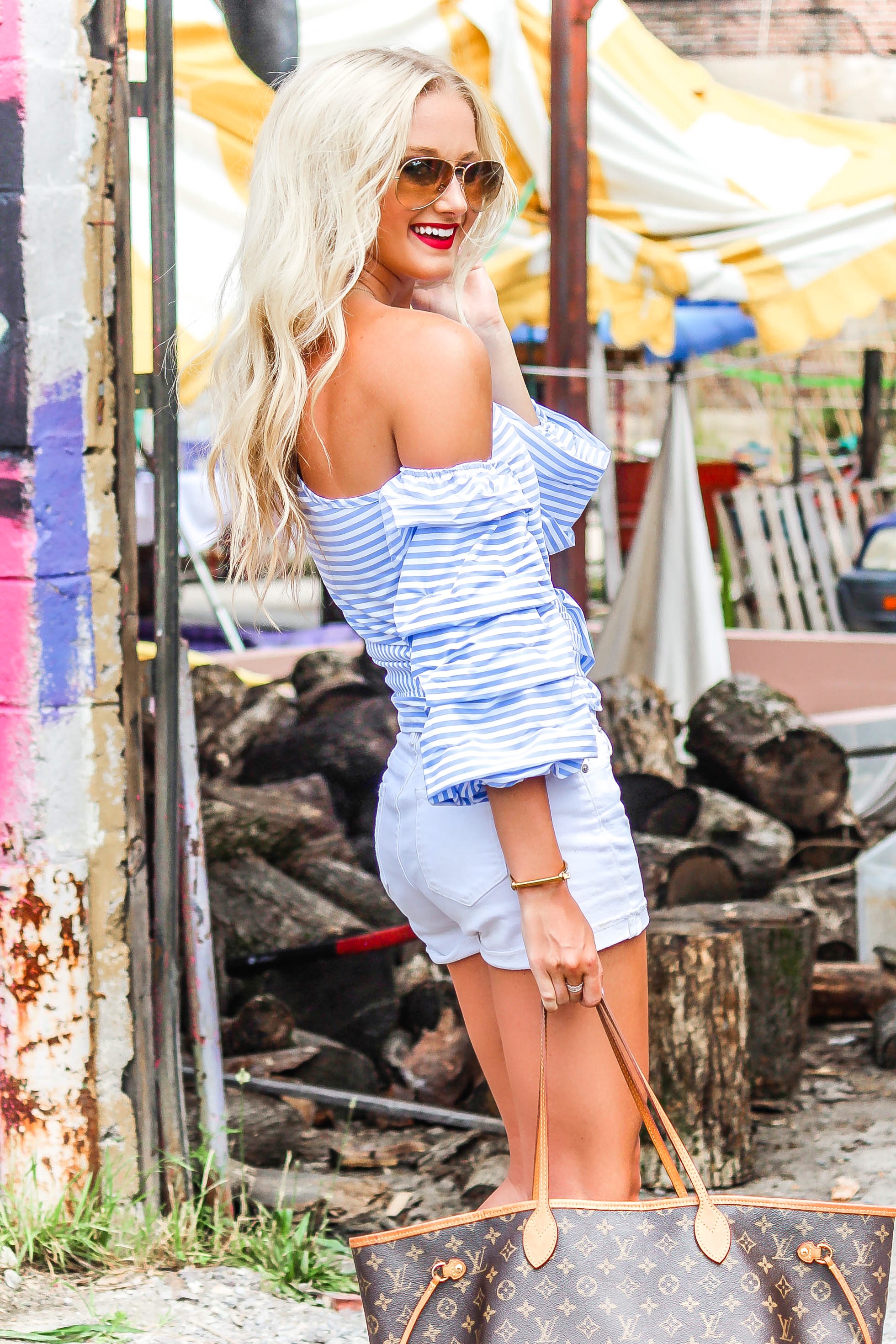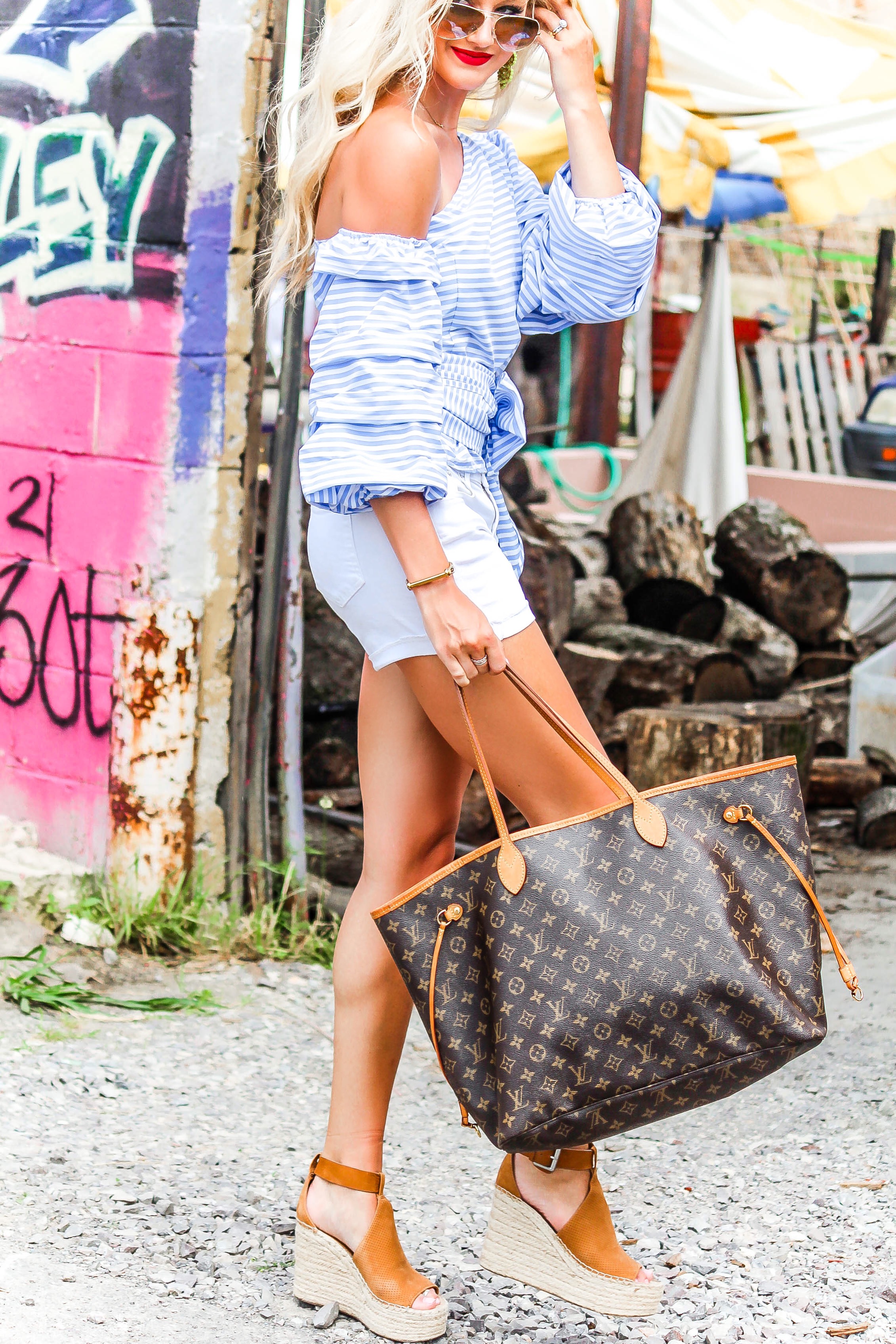 Shop this look:
Blush and Stone blue & white striped statement sleeve top | white denim shorts | tan espadrille wedges | gold aviators | green earrings

 If having too many statement sleeve tops is wrong, then I don't wanna be right! I'm hooked on them, y'all and I really hope that you'll try one too and end up liking it just as much as I do. It's definitely not one of those 'wear everyday' trends, but if you have an event, a resort vacay or even just a nice date planned, then you should take a step outside of the box and make a stunning statement in one of these blouses! If you try out this trend, post a picture of it on IG & either tag me or use the hashtag #LNLbabe so I can see!!
**PS – Don't forget to use my coupon code (PEYTON25) for 25% off your purchase at Blush and Stone!
As always, thank you guys so much for reading and for your amazing support! Now, I'm off to watch the next episode of House of Cards with the hubs … what's your fave Netflix show at the moment?
xo, P
Thank you to Blush and Stone Boutique for sponsoring today's post!