I love a dressy, fun outfit as much as (or maybe even more than?!) the next gal … but in the cold, winter months, there's just nothing better than being cozyyyy (and still looking cute of course). If I'm being honest, these are the types of outfits you'll catch me in on a daily basis just running around town.
This year, I've been on a huge Walmart kick for all things in our home … Britton's PJs, my holiday outfits, home decor, Christmas trees, toys and gifts, appliances and more. But what I've been most excited about is their multiple different styles that truly compare to high-end designers, but at a fraction of the price. One of my favorite things about Walmart Fashion is the versatility of dressing up or down from head to toe and always knowing it's high quality for affordable prices. I know I can get myself and my whole family outfitted (and not break the bank) while always looking trendy.
Here are five head to toe Walmart Fashion looks that will work for any "kind" of gal …
The Outdoorsy Gal
This one is on-trend yet functional for my girls who love being outdoors – complete with a perfectly oversized crewneck and affordable, designer-inspired boots that are perfect for on or off the trail. I can't recommend these boots enough – they are extremely comfortable and WARM!! I am usually a 7.5 in boots but I sized up to an 8 in these and they fit perfectly.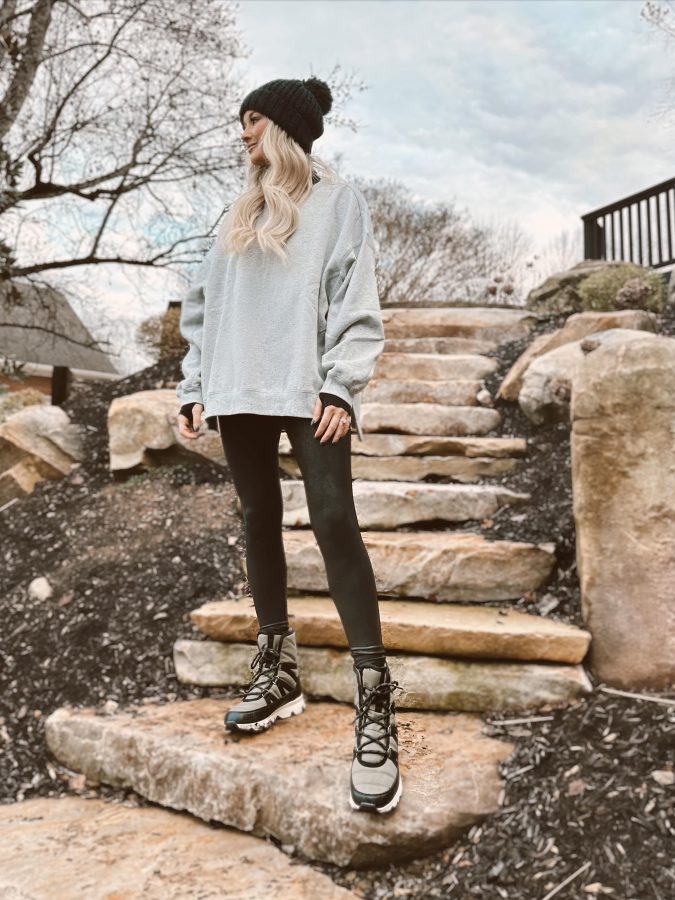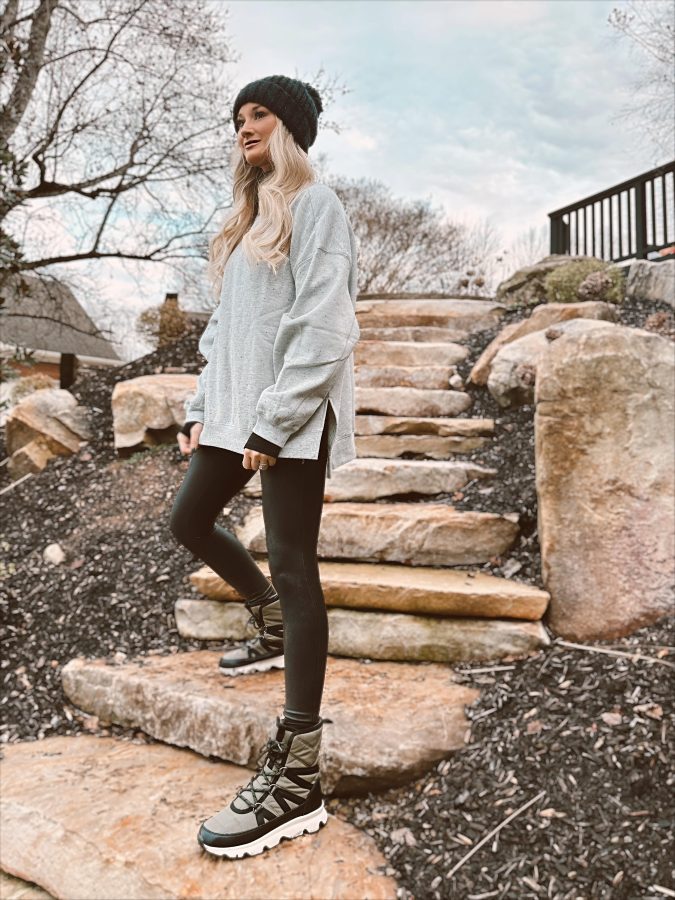 Click HERE to shop The Outdoorsy Gal outfit!
The Classic Gal
These green-sole boots paired with this green puffer vest and plaid scarf just screams "Classically Christmas!" I wholeheartedly believe there's no greater way to enhance an outfit than with a killer pair of shoes, and Walmart flat out delivered with these, y'all!! This outfit is complete with the softest ivory joggers that pull in the sherpa lining of this bag. Walmart Fashion is always coming through with the best accessories, shoes and clothes that are high quality and great silhouettes at the most affordable pricing!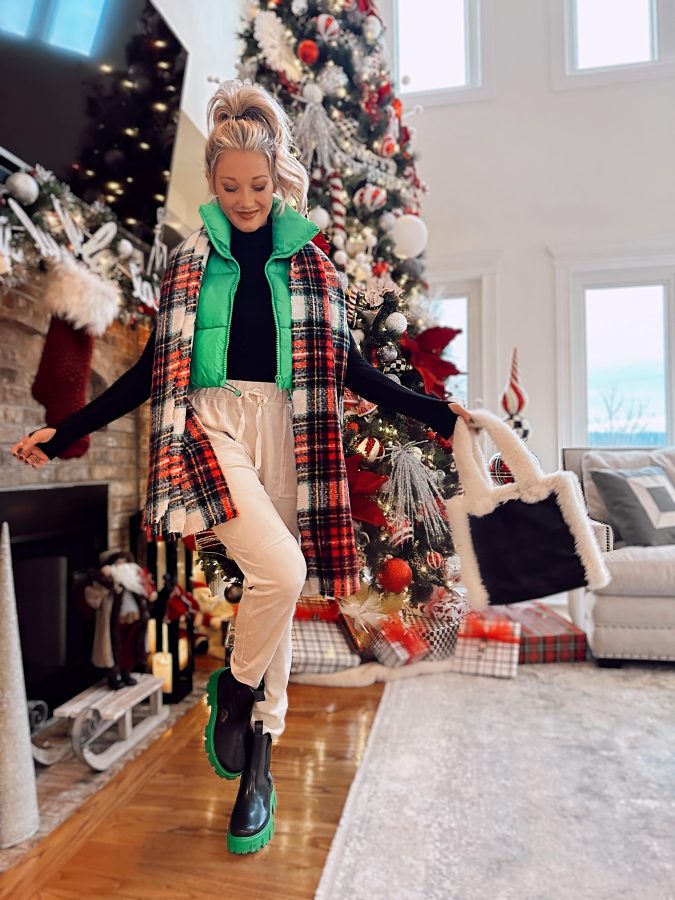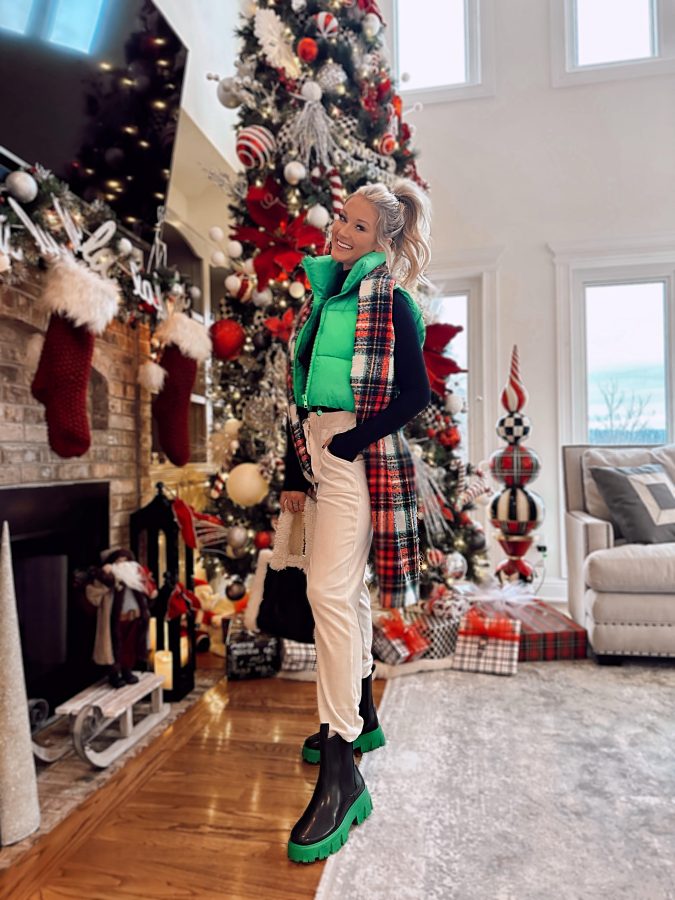 Click HERE to shop The Classic Gal outfit!
The Trendy Gal
Y'all know I'm not afraid of some bright colors, and I can always count on Walmart Fashion to help me embrace my little bit of "extraness". This red and pink shacket is super warm but also trendy, and this matching set is so good that this is actually my second color combo in it. I also have it in black because I love it that much! (Super soft material too!) This outfit will turn heads without emptying your bank account. Those are my kinda outfits!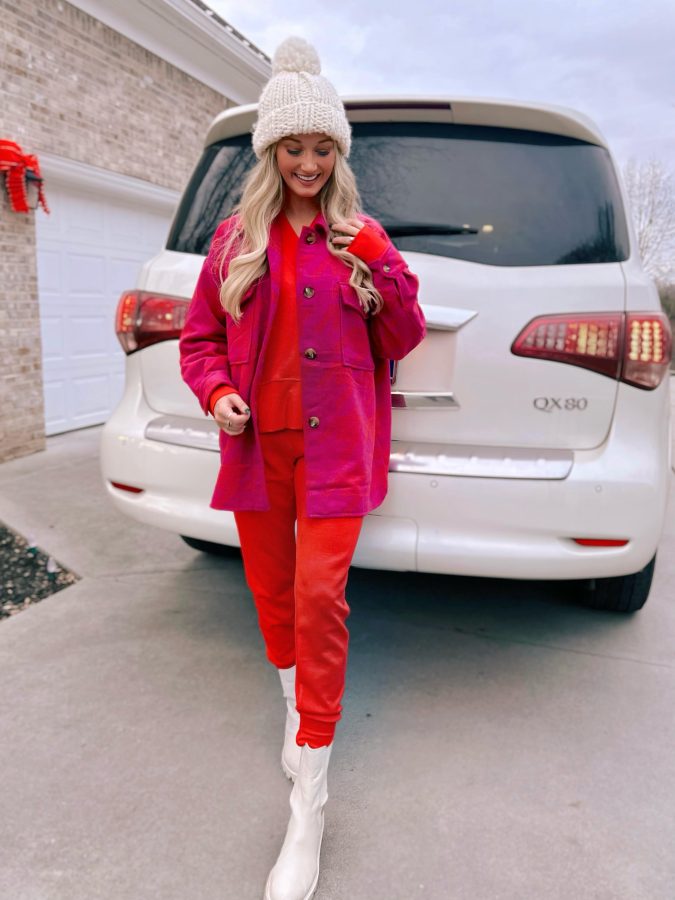 Click HERE to shop The Trendy Gal outfit!
The "Put Together" Gal
Some days, you wanna look like you have it together but need to get ready in a jiffy – this outfit will save you! It mixes 'comfort with cute' with these studded boots and fuzzy tote bag. I also love the pop of red for the holidays mixed with a light gray cardi on top for some added warmth. The details, extra layers, and pops of color bring it all together and will convince others that you didn't just get ready 15 minutes ago, eeeekk! 🙂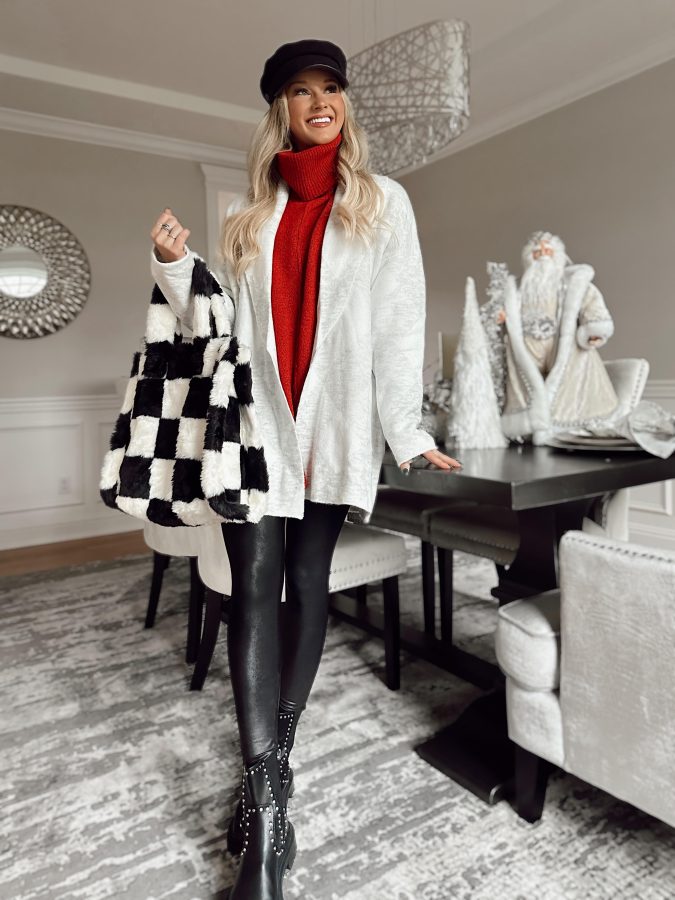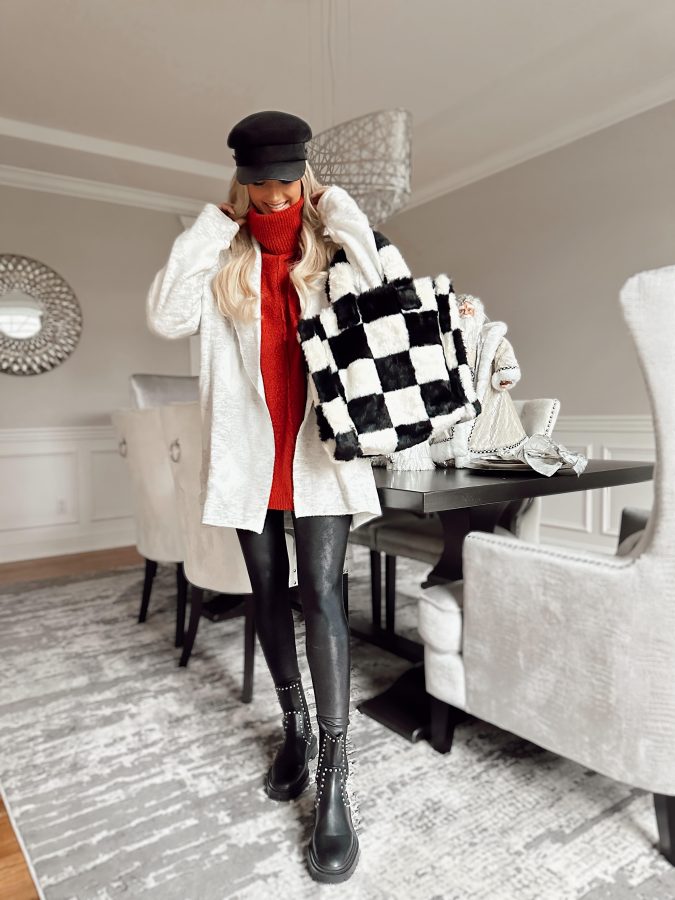 Click HERE to shop The "Put Together" Gal outfit!
The Cozy Gal
This ribbed set is perfect for the couch or browsing Walmart for all your holiday fixins' and then just throw on this fuzzy, faux fur jacket to stay warm all paired with the most adorable shearling boots. This whole look would be perfect for those colder days when you wanna look cute … but just need to be cozy.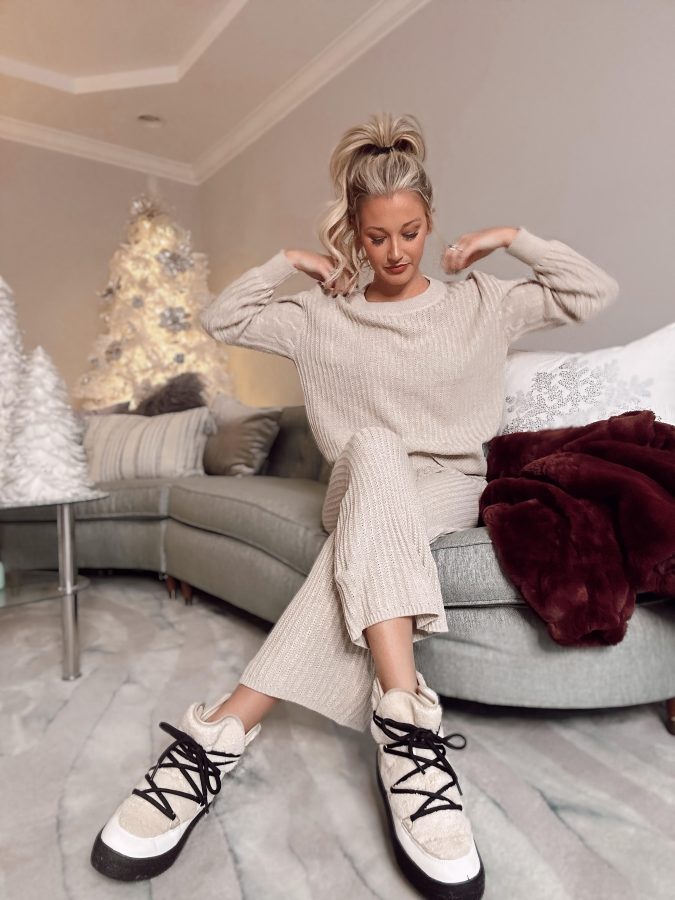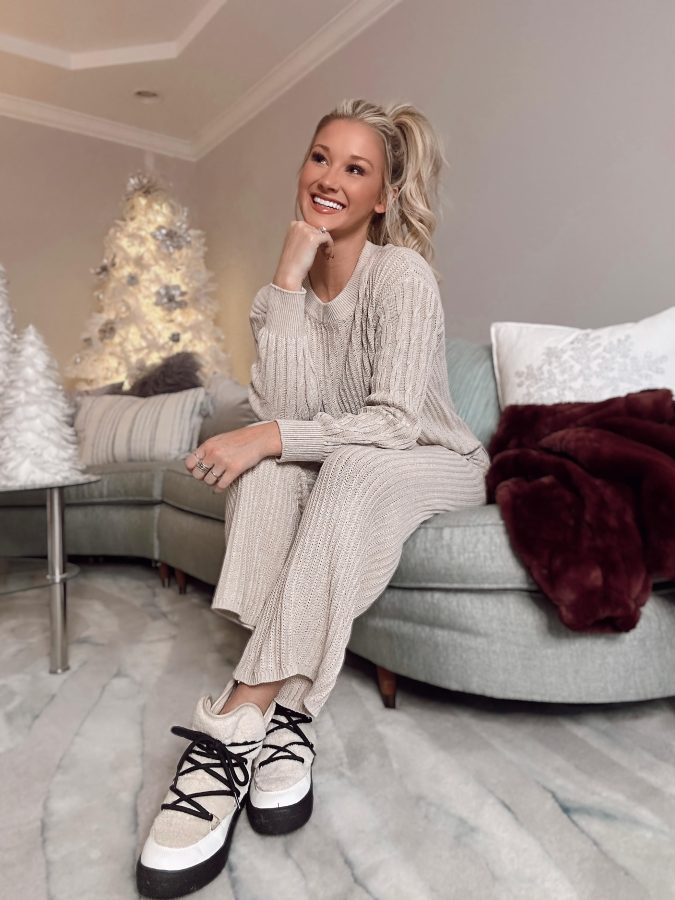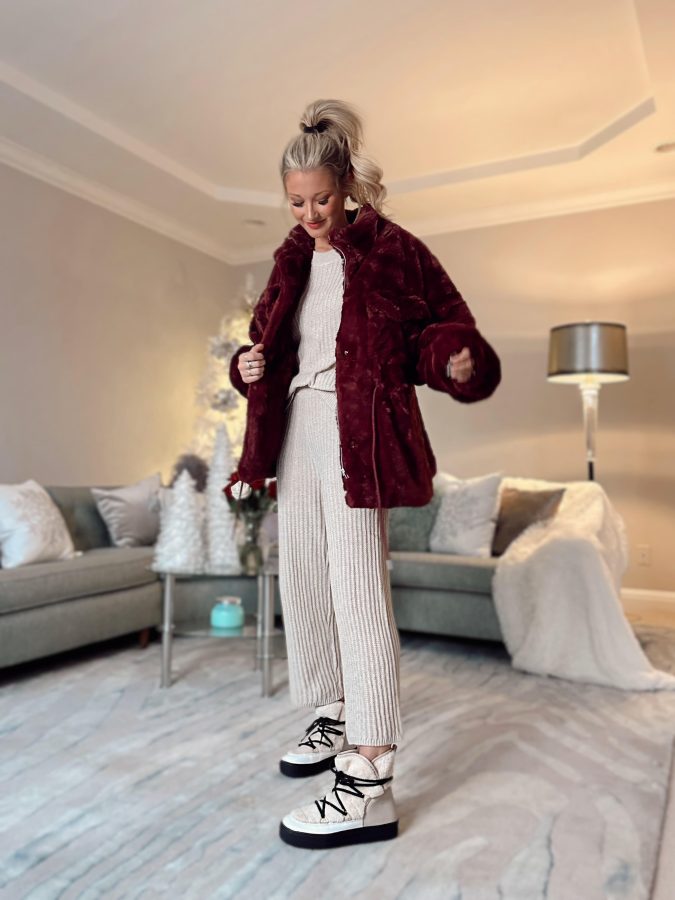 Click HERE to shop The Cozy Gal outfit!
---
As always, you can find links to every outfit I share on my blog and my social media on my page in the FREE LTK App – linked here! I always appreciate your all's support and love and could never thank y'all enough for being here!!
Can y'all believe NEXT WEEK is Christmas Eve?!! …. this elf is off to wrap some presents, ha!
xo, Peyton
*This post is sponsored by Walmart and Walmart Fashion. All thoughts and opinions are my own.