Blogging 101 is back in session!
One of the most common questions that I get when it comes to blogging and social media in general is, "How did you grow your following?" This is such a broad question, and there are so many ways that I could answer it, so I'm happy to be able to finally spill all the *secrets* in this blog post. However, there's really no secret to it — and I know that may be discouraging to hear — but there is no one way to organically grow your social media following overnight (I wish!). The only way that your followers can sky rocket overnight is to buy fake "followers", aka bots, who aren't even real and will not engage with your posts or buy the product you are promoting. I'm going to get into more detail about this later, but for now, I'll just say that you should never, ever, ever, ever under any circumstances BUY your following. Ever. I'll tell you why later, but I just want you to go into this post knowing how extremely wrong it is. With that said, there are ways that you can try to get your name out there in the social media world to organically grow an authentic following (OVER TIME), and I'll be sharing those with you today! One last thing to keep in mind while reading this post and while you are implementing these strategies is to know that Rome wasn't built in a day. You will most likely not grow your social media following from 0 to 20K in one day (or even one month, for that matter). Keep up the consistency and hard work, and you'll start to see steady, real growth.
So now that we have that bit of information out of the way, let's get right into it! First, I want to talk about managing social media platforms. Yes, platforms with an 's'. Plural. Most people think that bloggers only manage their Instagram page and maybe their own blog too. I know a lot of influencers who actually don't even own their own website and only depend on Instagram or an affiliate link for their career. Wouldn't it be nice to only have to manage one platform?!
If you're in this place right now, I don't want you to think I'm calling you out. Actually, I think it's smart as a brand new blogger to start out on Instagram (to see if it's the right path for you) before putting all the work into a blog + other social media channels. I'm not saying that you can't depend only on Instagram to make money, because that's what brand do want these days — advertising on Instagram. However, it's important to note that once you've established your brand on IG, you may want to start thinking about setting up your own website, along with other social media channels (aka Facebook pages, Pinterest, Twitter, Youtube). Think about it … MySpace was the Instagram of 2003-2008ish and now where is it?? Could you really depend on MySpace to help you achieve your monthly salary nowadays? No way. As bad as I hate to even think about it, Instagram could technically go away tomorrow or next week or next year. If you didn't have your own website or at least other social media channels to fall back on, then your brand is GONE. And if it's your full time job like it is mine, we're unemployed (unless you have your blog). You own your blog, and YOU are in charge of it (not some other company), so always be sure that you're driving your audience back to your site and to your other social media outlets to cross-promote.
Now, do I really think Instagram will go away anytime soon? No. And I sure hope not! But who am I to say yes or no to that question? I think Instagram is totally booming these days, so hopefully we don't have to dig its grave anytime soon.
Moving on … managing 5+ social media channels on top of managing your entire blog can be a huge weight on your shoulders at times, but it just comes along with the territory. It's part of the job if you want your blog to be as successful as possible (or if you plan to make a career out if it). Different brands that you'll collaborate with may be looking for an influencer who can offer them a dedicated blog post, an Instagram post/story, a tweet linking to their website, a photo on Pinterest, and a Facebook post. Well, what if you aren't active on one of those social media outlets? You're automatically a "no" in their eyes for that partnership. It's always best to have as many services/platforms to offer to a brand as you can — and not to mention, the more social media platforms you're on, the more people who will be seeing your brand and can become a part of your audience (= growth!!!).
For me personally when I first started this journey into the blogging world, I chose to focus mainly on my blog and on my Instagram page. Well, why? I just told you that you should be on all social media outlets … and that is true! You should be active on all of them (Pinterest, Twitter, Facebook, Instagram, Youtube, etc.) However, I was told by one of my mentors early on that you should, of course, utilize all the social media channels that you can and encourage your audience to follow along on each, but choose one (the fastest growing one) and put most of your focus on it and on your blog until you grow an established following. I've been doing that for the past year and a half and have seen pretty steady, successful, organic growth for both my Instagram and for lovenlabels.com. Now, I can cross-promote to my Facebook page or to my Pinterest boards (which I've been actively posting to a few times each week), in hopes that my established blog and Instagram audience will also follow along with me on those outlets as well.
Managing multiple social media pages on top of your website can be extremely exhausting and veryyyy, very (did I say VERY?) time consuming, so I highly recommend planning out your content for each platform at least a month in advance to make it easier on yourself and to keep everything consistent within your brand. You can read more about content planning HERE.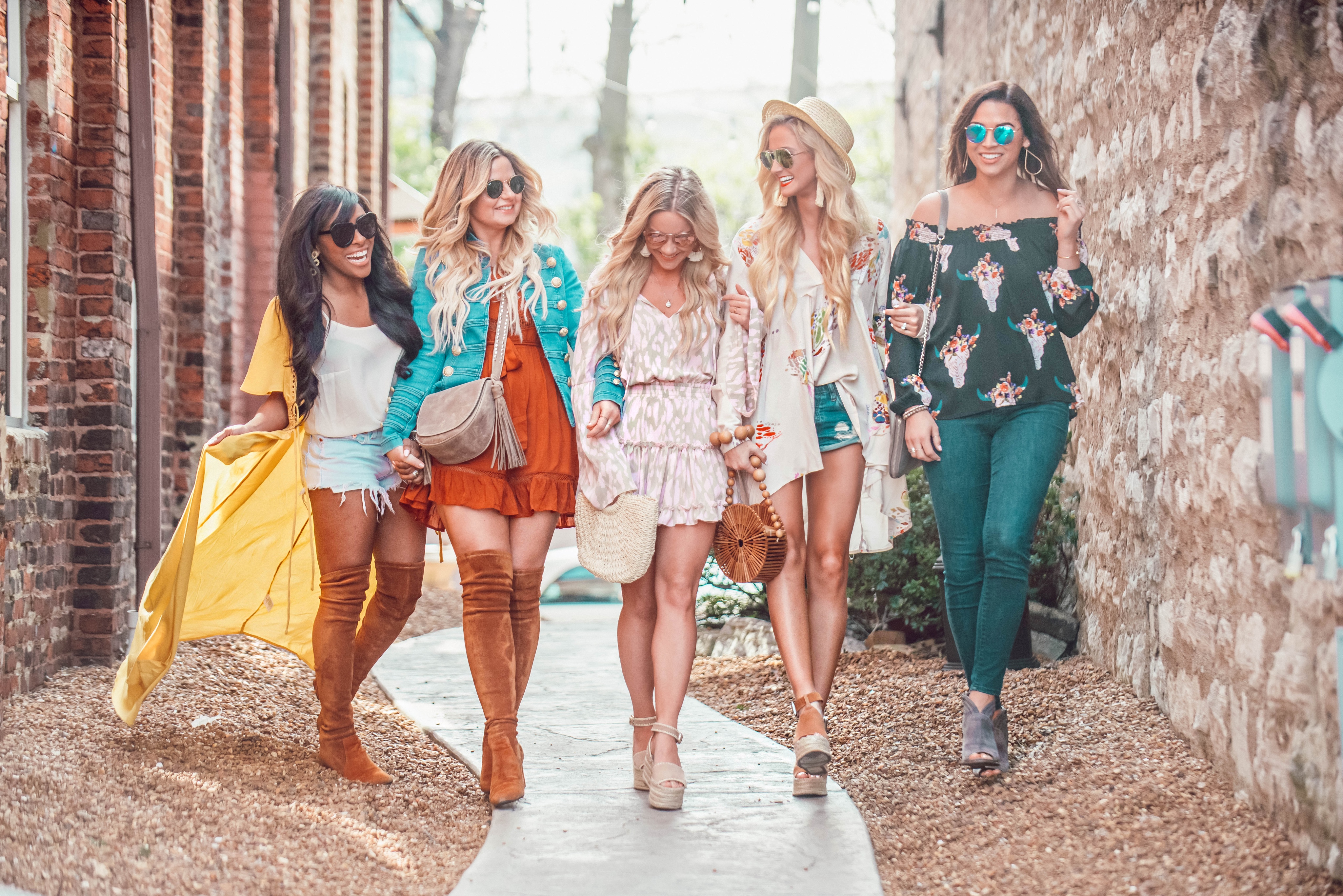 Meet my girls: @chelseaolivia13 | @thefashionablybroketeacher | @hunterpremo | @cookie_kendall
Now, time to chat about what everyone has been waiting for 😉 … how to grow an authentic, REAL, & engaged audience on social media (specifically Instagram). But first … I want to quickly tell you what not to do. Some of these things I've learned from personal experience, so learn from my mistakes. And others I've learned from seeing people I know make these kinds of mistakes. Y'all surely know by now that I try my best to be super transparent with you all, so I'm not ashamed to share my past hiccups to help you learn from them and go a different route for your blogging career. I'm a huge believer in paying it forward (because I've had a lot of mentors help me on my own journey), and I'm also a huge believer in knowing that there's enough success to go around for everyone. I've got your back, sista and I want to encourage you to always have others' backs too. If someone asks for your help or advice, be willing to share it. Don't keep all the "secrets" to yourself. I've been lucky enough to meet so many incredible women in this industry who are more than willing to share their wealth of knowledge with me and vice versa. But, I've also met some who hold everything in and would roll over in their grave before they would even think twice about helping me (or you) with something blog-related. Be the girl who is confident enough in her brand (and her own identity) that she willingly shares her knowledge and past mistakes with others to help shine God's light, assist others and pay it forward to those who have helped her along the way!
A candle doesn't lose it's light by lighting another candle. You don't lose your knowledge by sharing … you only gain more.
All that to say … here's what not to do when trying to grow your social media platforms:
Don't participate in comment pods. Comment pods are DM groups on Instagram or on the app called Telegram, where large groups of influencers rally together to comment on each other's latest photos on Instagram each day, aka increasing their engagement. Some groups will even make rules about needing the comments to be 4 words or more, must add an emoji, must LIKE the photo, etc. Sounds exhausting, right? It is. Been there, done that! And actually, most of the bloggers out there have done this at one point or another. When I first started blogging, EVERYONE was doing it, so of course as a new blogger, I thought I should be doing that too to increase my engagement on Insta. I participated in a few groups for a few months, until I just couldn't keep up any longer. I spent hours engaging with the SAME people everyday instead of engaging with my audience or new accounts that I found (and actually enjoyed following) on IG. Once I left all of those "pods", I started focusing a couple hours of my time each day to engage with my own audience, and I immediately saw a much quicker growth. To this day, it was one of the best decisions I ever made in my blogging career, and I highly recommend you try it out for yourself if you're in the same boat. If you've never heard of comment pods or you're on the fence about ever joining one, just don't do it. I promise that you will find much more success if you just focus the time and energy you would spend in that group, engaging with your own audience and people you truly enjoy following.
Don't agree to international giveaways. Yep, made this mistake too. But ehh, ya live and ya learn! International giveaways can be really tempting because you typically receive thousands of followers after it has ended (with some of the sponsors on the giveaway being celebrities with 1M+ followers). Since I've been following the OG, megabloggers for over 6 years now, I remember seeing some of the biggest influencers (whom I look up to very much) participate in these types of giveaways a couple years back (I only remember this because it was before I started my blog & I would enter their huge giveaways). So, when I got asked to join one as a blogger, I was like "umm, yes please!" Sounded like an incredible opportunity at the time … until I realized what was actually happening here. The first one I participated in was when I hadn't even been blogging for 6 months yet (clearly, still had a lot to learn). It was a great turnout, and I was pumped. I was ready to try another one if I got asked again. However, on my second one, I realized quickly after the giveaway had ended that I was losing nearly all of the new accounts who had just followed me as one of the 'guidelines' for the giveaway. Hmm … why? Well, after analyzing and doing some more research with some of my blogger friends, I realized that some of the big-name sponsors for these types of giveaways were foreign celebs, meaning they had a mix of foreign followers — who didn't speak English. Now, I'd more than LOVE if those friends could understand my southern accent, but heck, I don't blame them for unfollowing me. They couldn't even read my content or understand what I was saying on IG stories. It made a lot of sense to me after that. Long story short, these will just damage your overall brand in the long run, and it'll be a constant battle of trying to find out who your ideal follower really is. Today, I've honestly never felt more confident in knowing who my audience is and the community that we share. You can do that too if you steer clear of these types of mistakes from the beginning.
Don't follow/unfollow! If you don't know what this is, you can skip this paragraph, but if you have been doing this, I encourage you to stop. When I first started my blog, this was really popular. I did this

one

time (*rolling my eyes at myself*) when I first started because, again, everyone was doing it so I thought it was needed (

almost

every blogger you know has probably done this at one point in their career & to be frank, some probably still do). I have friends who did it for a long time, and they've told me just how badly it damaged their engagement on Instagram in the long run, simply because the algorithm tracks all of the follows/unfollows. If you go follow 1000 random people one day (waiting a couple days for them to hopefully follow you back) and then you unfollow those same 1000 people 3 days later, it's going to raise a red flag to the algorithm (and more importantly, to the brands). Not to mention, it's just a lot of wasted time that you could be putting in elsewhere to make your blog/brand a huge success.
DON'T BUY FOLLOWERS, LIKES, COMMENTS, VIEWS, ETC!!! Now, before I start on this topic, I want you to (mentally) separate this bullet point from the ones above because I have never and will never buy a following or an engagement rate. It's wrong. It's damaging to the industry. It's cheating. It's lying. It's something I do not agree with whatsoever. That being said, if you are reading this and you are buying followers/likes/etc. or you have in the past, I don't want you to feel ashamed or like I am bashing you. That is the LAST thing that I want, and it's never too late to start fresh! #JudgeFreeZone However, I do want everyone who is reading this (especially if you have a blog or plan to start one) to know that buying a following truly damages the blogging/influencer industry, your own brand and your reputation in the industry (people will find out & word travels fast). Think about it … if you have bought 50% of your 100K followers and a brand wants to pay you for a collaboration, they're going to expect to receive results from the partnership based off of that 100K follower number — not your 50K real follower number. At that point you are lying to the brand (& most likely stealing from them since you're probably charging them for the 100K number), when they could be putting their time, effort and money into a different influencer who truly has those 100K real followers. Plus, let's get real for a minute … do you know how EASY it is these days to see who is buying followers, likes, comments, etc? I've seen it happen literally before my own eyes on Instagram when some accounts have 50K followers one day and shoot up to 70K the next, then drop back down to 60K a week later (since those followers weren't real people). I've also seen (for example) people with 20K followers post a photo and within ONE MINUTE of posting, they already have over 1,000 likes and 100 comments. Like, I never want to say anything is impossible, but c'mon now!! It is so discouraging for me to see, and I'm sure I'm not the only influencer who has bitter feelings come up when they find out about certain bloggers (whom they've even looked up to at one point) buying their audience. All that to say, just don't do it! Brands are cracking down and getting smarter about this too (thank goodness!). They know when people are buying, and so will your peers. Don't be that person.
Patience is a virtue in this industry — you will get there. (ORGANIC, authentic) growth will come. Stay determined. Stay consistent. Stay patient. Rome Chanel wasn't built in a day either!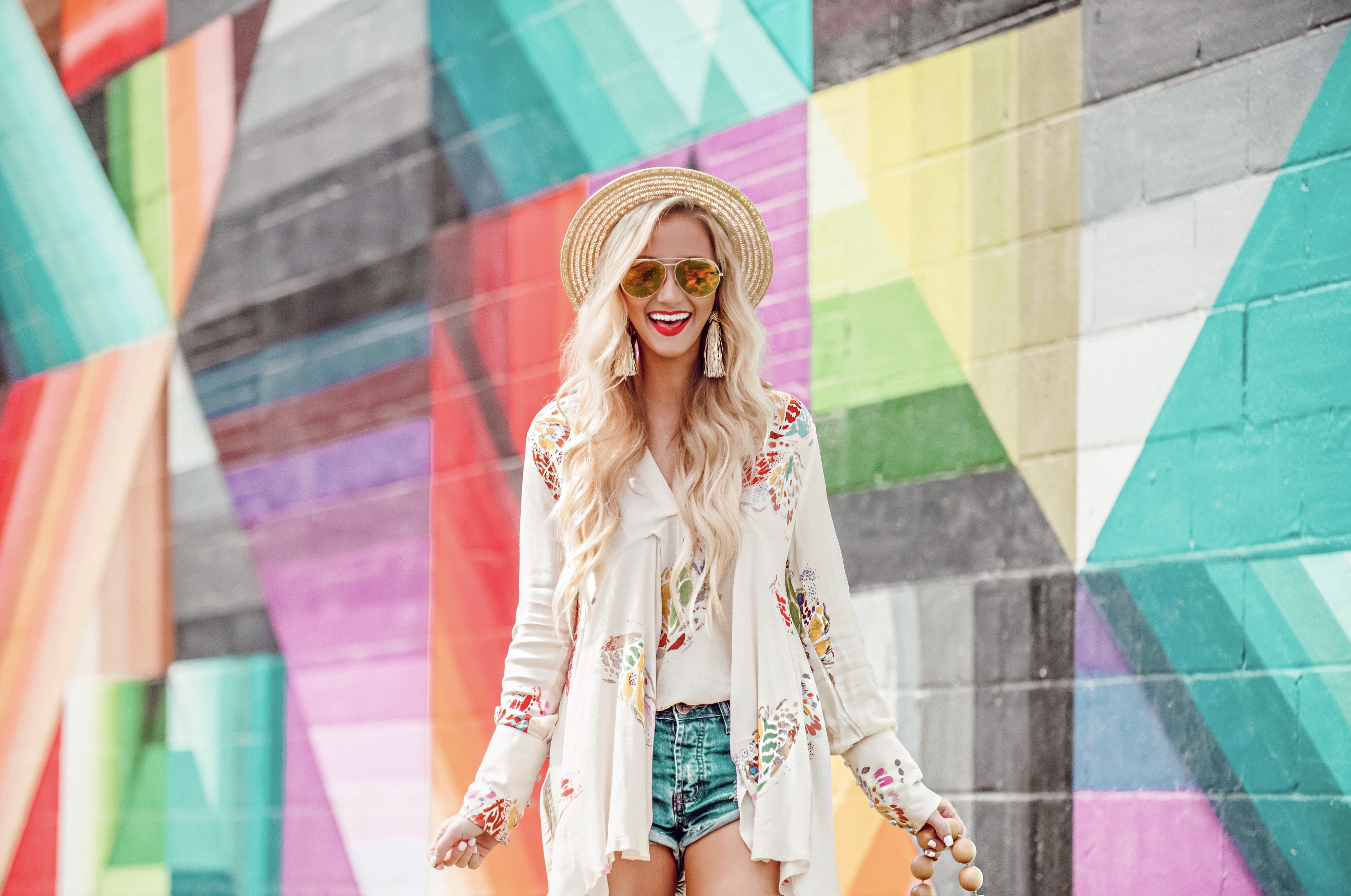 Now, on a lighter note … 🙂 Below, I've made some bullet points that will help guide you when you are growing a brand, a blog, a career, an influence, etc. on social media. I've personally used these strategies in my own blogging/social media journey to get me to where I am today and have seen pretty steady growth. These practices, of course, are what have helped me the most — what works best for me and my audience may be different than what works best for you and your audience (& that's okay!). Either way, here's to hoping that you all find some benefit from these specific strategies:
ENGAGE! Hands down the most important thing to do on social media. It's called social media for a reason, y'all! You have to engage with your audience. Reply to as many comments as you can, like other people's pictures, leave genuine comments on people's photos (something more than just "cute girl!"), reply to your DMs (!!), etc. If I had a dime for every time I got a message from a follower saying how much they appreciate me taking the time to actually respond back to them through DMs, comments, etc., I'd be able to buy a pair of Louboutins to give away to y'all every week LOL! No joke. Engaging with your audience is

everything

! It keeps them around, they become loyal followers, and they pass your name on to their friends so that they can follow you too. Just be social!

My engagement strategy: I want to include a specific example regarding engagement. This is a personal practice that works for me, so maybe it'll help you as well! Everyday, I spend at least 1 hour (usually 2) engaging on Instagram. It's typically at night right before and right after I post an IG photo of my own. Beforehand, I start going through my feed and I'll simply like and/or comment on pictures that catch my eye or accounts that I love. I do this for about 30 minutes and then I'll post my photo on my feed and upload an IG story. Right after, I continue engaging with accounts on my feed, as well as, the comments on the photo I just posted. I try to reply to all relative comments on my photo for at least 1-1.5 hours after I post. During this time, I also try to catch up on answering DMs. Yeahhhh, lots of engagement going on during those 1.5-2 hours. But, it's been so worth it for me, and honestly, I love it because I feel like I have so much more of a deeper connection with my audience since I started taking the time to really connect with them.
Engaging on your previous posts. Sometimes, while I'm doing my 2 hours of engagement, I'll return back to the post(s) from the day(s) before and reply back to some of the comments or answer any questions that I missed. I really try to respond back to as many comments as possible and always answer any questions that people have commented. It's definitely important to look back at previous (recent) posts to make sure you're not missing anything.

Be consistent. Some people question if consistency really matters anymore with the new Instagram algorithm, however, I do think it's still somewhat important. I personally try to post one photo per day (around the same time) on Instagram and 3+ times per week on my Facebook, Twitter & Pinterest. I try to be consistent with that each week, however, there are of course weeks that I get off schedule. I don't ever see a huge drop in engagement if I miss a post, but in the past (when I've skipped posting on IG for a day, for instance) I'll either notice a small drop in followers or I'll just stay stagnant. However, when I'm posting pretty consistently, I tend to have a steady growth in numbers each day. Now, your "consistent" may not be 1 daily post like mine. It may be 2 posts a day or it may be 1 post every 3 days. Whatever schedule you find that works best for you, just try to stick to it as much as possible. With this type of consistency, your audience will start to look for your posts around that specific day/time each week.
Hashtags –> get creative! I like to use a mix of my own hashtags (#lovenlabels), hashtags that are relevant to the photo/more specific (#freepeopledress), and then the trending/popular hashtags (#styleblogger, #ootd, etc). Mix up your group of hashtags on each photo, and try to use all 30 that Instagram allows you to use in your captions. Don't use all of the same ones on every single photo — get creative with it and always make sure they are relevant to the post and to your brand.
Interact with other bloggers, influencers, and brands. Helloooo networking! Yes, via social media. It's a real thing, and it's ahh-mazing! I can't even begin to tell you how many friends I've met, how many connections I've made with brands, or how many doors have opened, all because of an Instagram DM/comment. Not to mention, the more you connect with other bloggers/brands via IG, the more chance you have to collaborate/meet/travel with them in the future.
Write captivating, storytelling or relatable captions. This is huge!! After lots of time analyzing, I've noticed that on my posts where I have a funny, witty or relatable caption, I get much higher engagement. Or if I'm telling an interesting story about something that happened during my day or something I've gone through in my past, it always performs well too.
Create your own imagery style. This will catch the eye of your followers, and they'll be able to quickly spot your posts amongst the other 1000s they see because you consistently post your own photography style.
Incorporate a call to action in your captions. There are many ways to do this but for example, you can include a relative question and ask your audience to leave their answers in the comments section. Voila! Comments = engagement. (Now, don't forget to reply back to as many as possible!)
Geotag your location. In your posts, on your Instagram stories, etc. Especially if you are traveling to a city that's different from the one that you are normally tagging. This helps way more than you would think that it would!
Reposts are your best friends! As long as you're tagged in the photo and in the caption, of course. NEVER let anyone use your photo(s) without giving you credit — whether it's on a website, social media, print article, etc. At times, you may even want to charge the brand/account for rights to use your photo(s). You put a lot of work, time and money into content creation, and no one should ever work for free. (There are many different outlooks on this, so I'll be covering it in an upcoming Blogging 101 post.) I typically like for my Instagram username (@peyton.baxter) and/or my blog URL (www.lovenlabels.com) to be included wherever my photos are being used. Reposts on any social media platform automatically allows all of the followers — from the account who reposted you — to see your face/brand/product/name/etc. and ideally, you'll receive some new audience members from that exposure!
Host SMALL, occasional giveaways. Small as in like 12-15 or less people hosting it. Or you can even host one on your own (even better, at times!). I've found that the smaller the giveaway (meaning the smaller the number of people who are hosting it), the better the outcome … plus you don't have to ask your audience to go follow 40+ other accounts just to enter a giveaway! Along with this, try not to agree to too many giveaways, and don't oversaturate your feed with them (your audience will get annoyed). Always try to spread them out! It's also important to keep in mind that yes, giveaways like this are a great opportunity for growth, but MORE importantly, you should only agree to them if you know your followers would be interested in winning and simply because you want to present a way to give back to them.
Cross-promote. I briefly touched on this earlier in the post, but there are so many ways to cross-promote on social media. You can collaborate with brands, partner up with other bloggers or similar accounts to share each other or take over each other's accounts, take over a brand's IG story for the day, share your Instagram link on your Facebook/Twitter/Pinterest, share your blog URL in Facebook groups you may be in, etc etc etc. Options are endless here — get creative with it!
Attend industry events & host your own events. This probably should have been at the top of the list! Attending industry events and networking face to face with others, handing out business cards, and exchanging contact information (aka exchanging IG names in the blogger world) are possibly some of the most helpful ways to grow your brand on social media organically. I've always found that once I meet someone in person, I feel a deeper connection with them and vice versa. Not only do I follow that person on socials and they follow me, but they've also become one of my loyal followers because they authentically engage with all of my posts and are genuinely interested in my life/content/etc in the same way that I'm interested in theirs.
Okay, I'll end here for now. I'm sure in the coming days, I'll think of 50 more things I'll be wishing I had added into this post (because social media is a never ending strategy game, ahhh), but this should help lead you in the right direction. Keep in mind that ALL social media platforms are forever changing … an algorithm could change again tomorrow and then this novel of a blog post could be completely irrelevant (goodness, let's hope not! lol). All that to say, I'll constantly be sharing new updates/strategies that I find either here on LNL or over on my Instagram stories, so be sure to follow along with me there!
---
Shop the post:

Thank you so much for taking the time to read this long post, and I hope that you found it very helpful. I always want you all to leave here with some valuable takeaways! If you have any questions at all or you have suggestions for topics you would like covered in the upcoming Blogging 101 posts, just leave me a comment below. 🙂
xo, P
Photos by: Cameron Premo