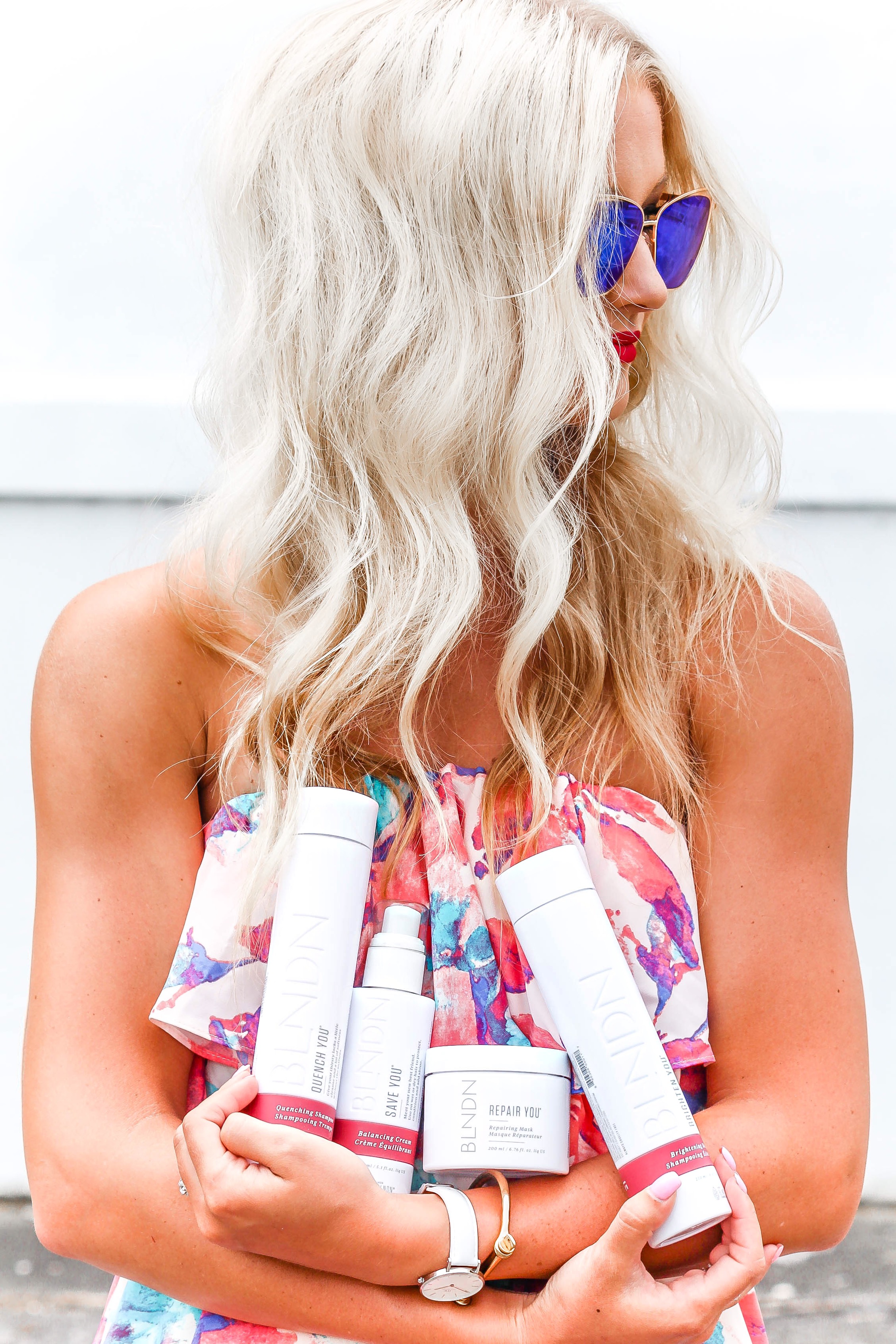 One of the most popular questions that I always get asked is, "Are you a natural blonde?" … And my answer is yes, I am – however, my natural color is more of a dirty blonde (like the color in my underneath layers) versus this bright, platinum color on top. A few years ago while I was in college, I started getting some lighter blonde highlights put throughout the top layers of my hair and around my face to just brighten it up and create some depth. I love the color now and totally don't regret coloring my hair, but if you are a blonde that has to make some frequent trips to the salon like I do .. well then you know the struggle on trying to PROTECT and REPAIR your color-treated hair. It's not easy, but if you're like me, being blonde is a part of your identity & you'll continue to unapologetically highlight (aka fry) your hair for the rest of your days. Thankfully though ladies, I've found the BEST shampoo, conditioner and treatment for your blonde, color-treated hair that will protect, quench, brighten and repair your pretty locks for years to come!
I am often asked what my favorite shampoo/conditioner combo is, and I couldn't be more excited to finally share it with you ladies because trust me, I know the struggle on finding hair products and treatments that actually work. I'm obsessed with the products from BLNDN, which is an amazing company owned by two beautiful blondes who have felt the same struggle that all of us have. They just decided to do something about it so that we can all benefit from these products and sport some healthy-looking, bright blonde locks!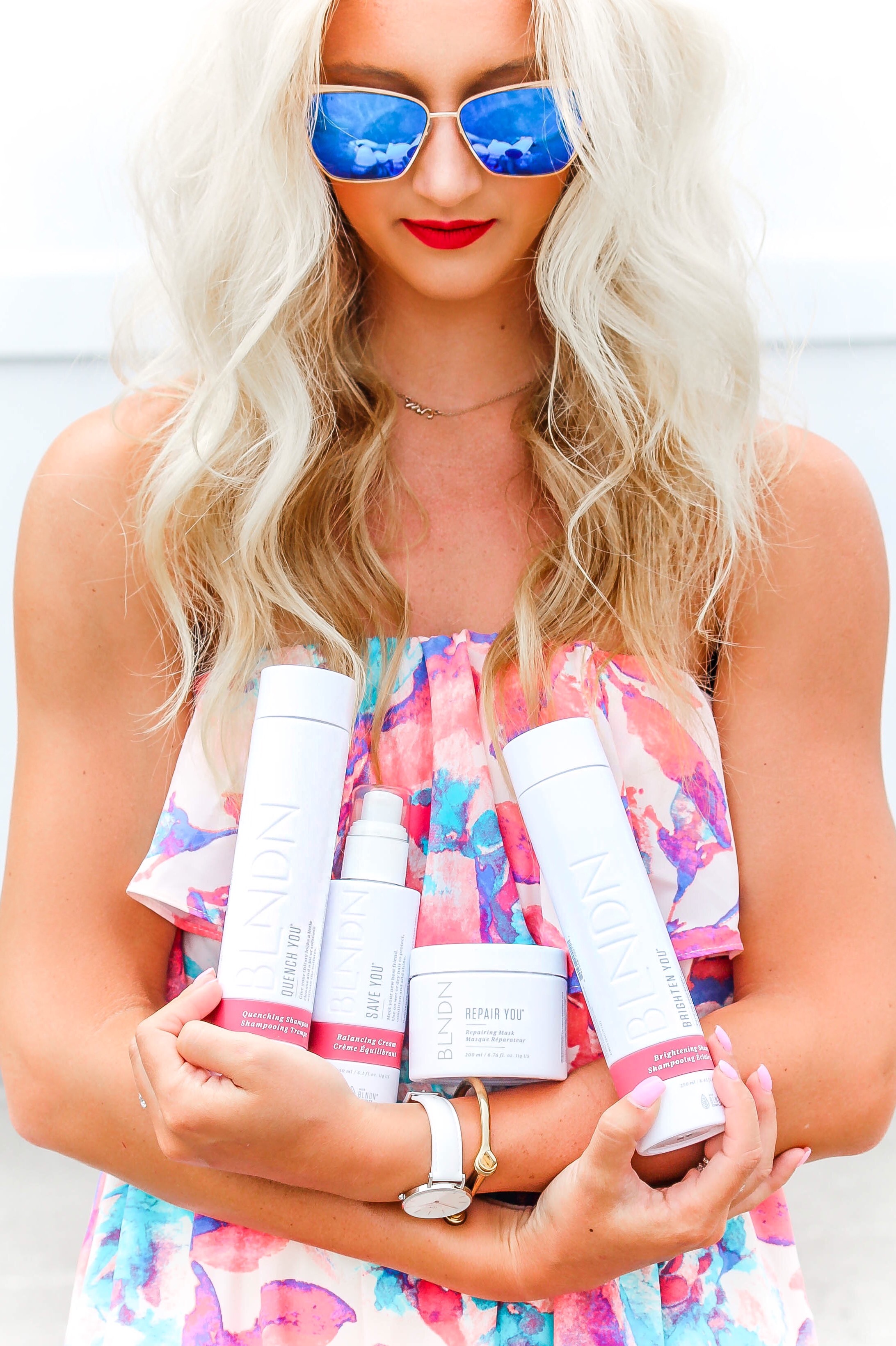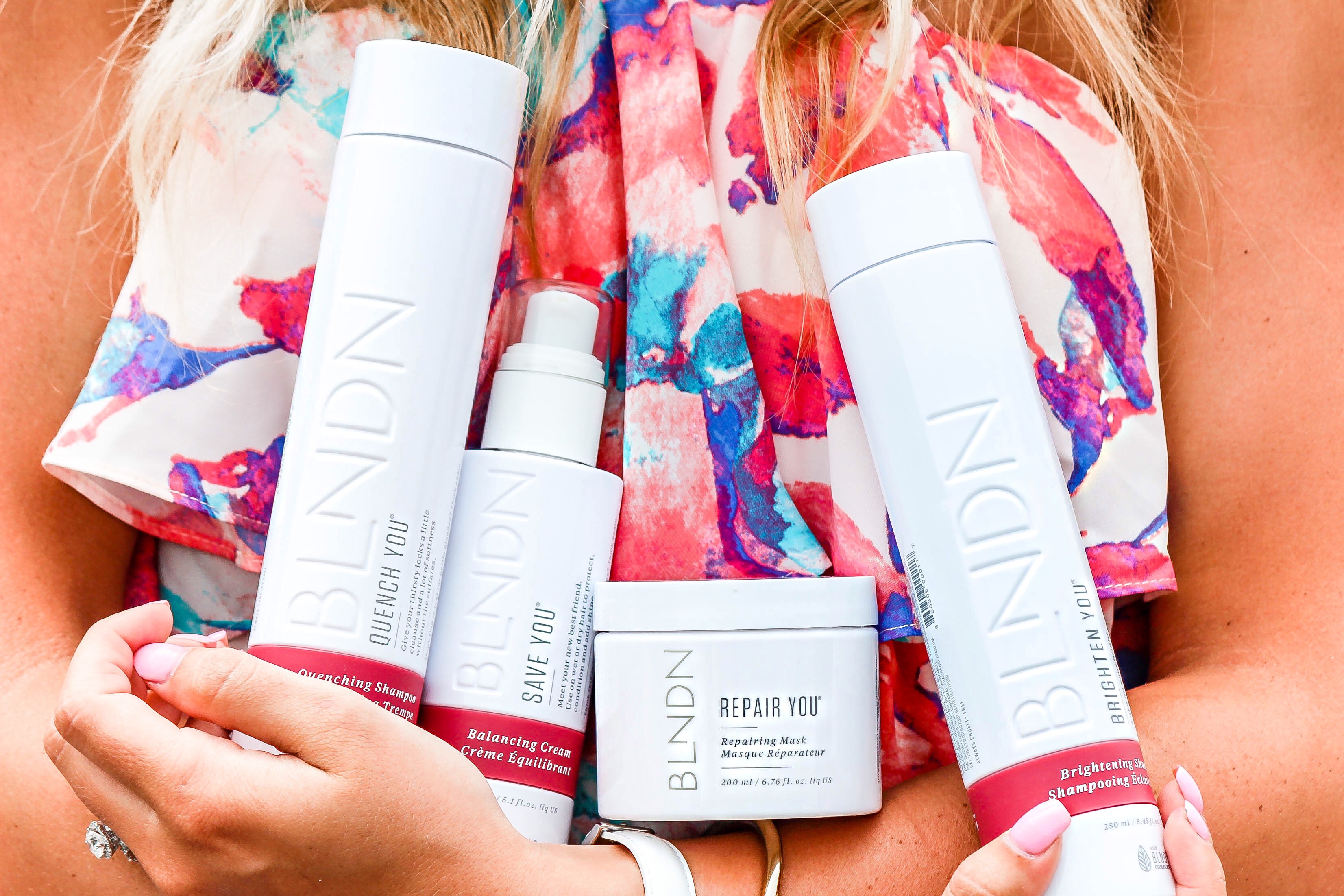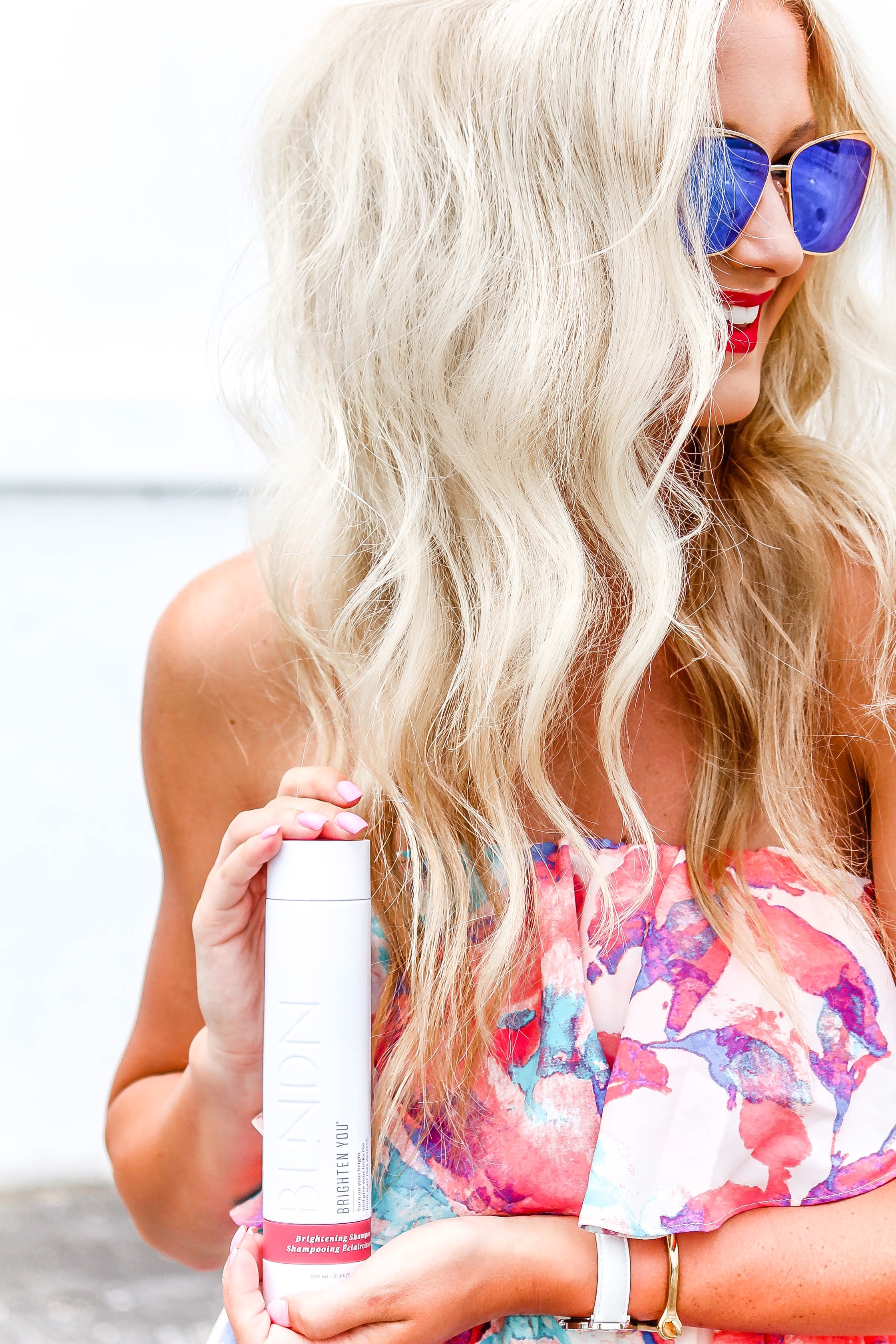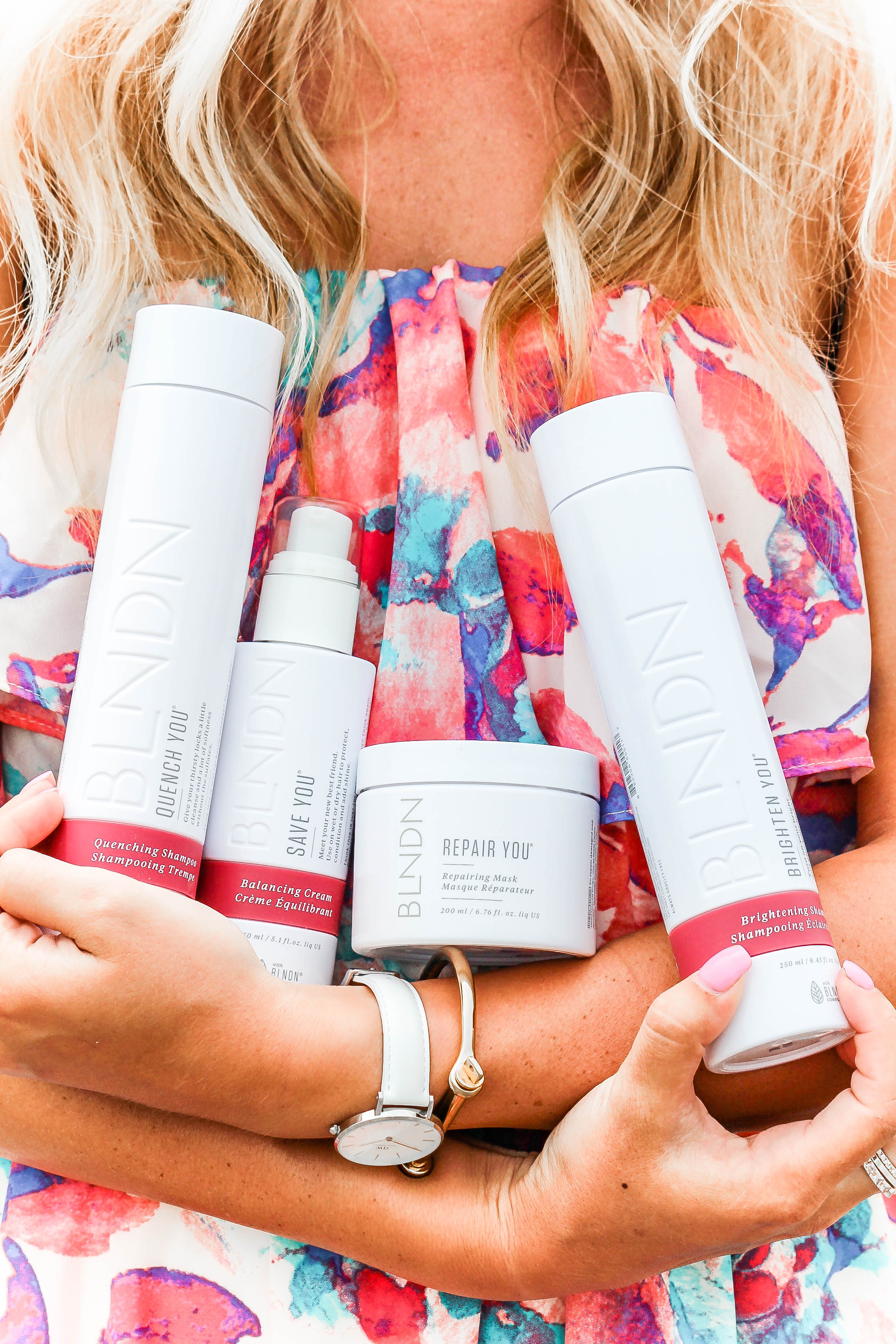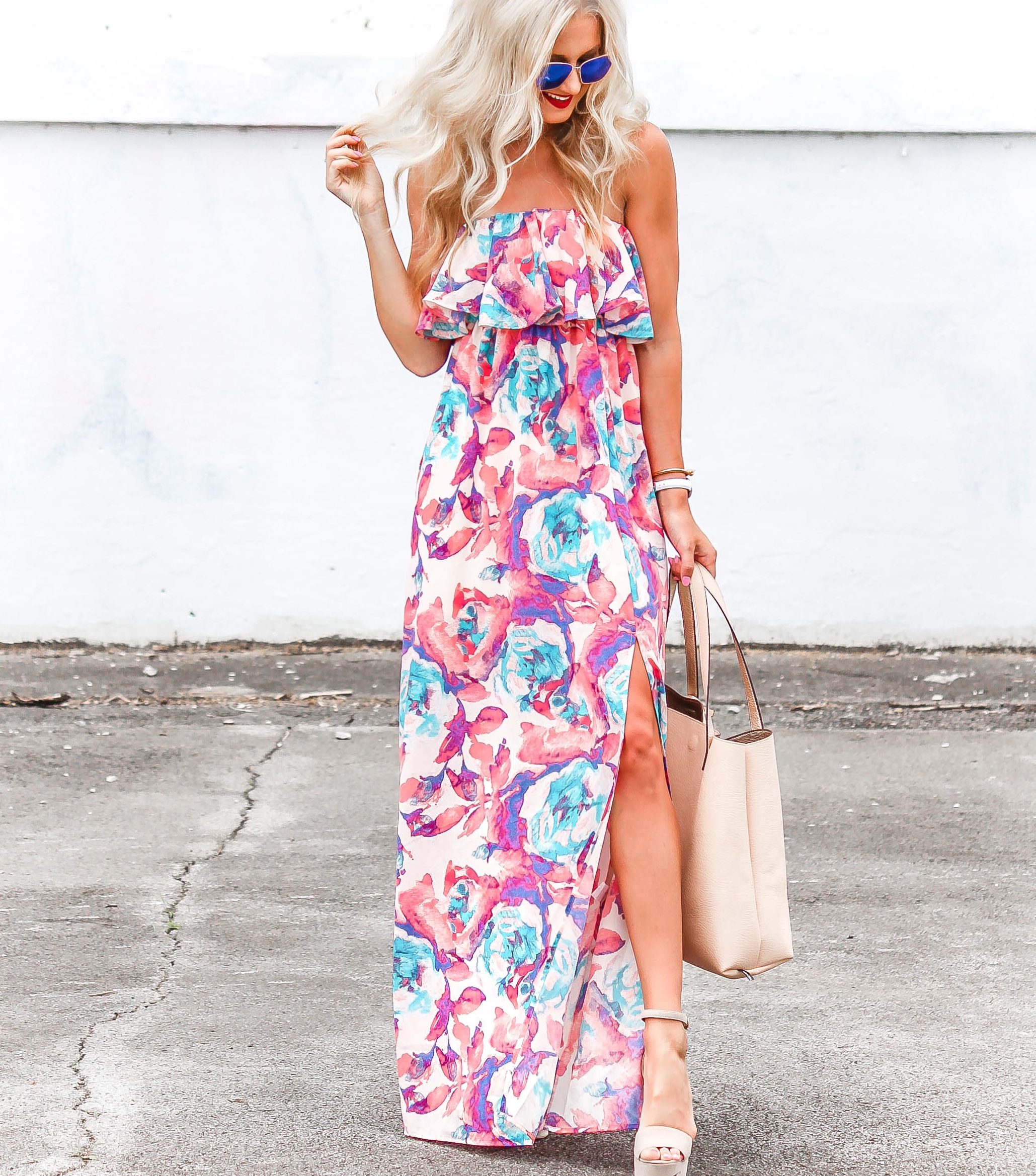 Shop the post:
'Quench You' Quenching Shampoo | 'Save You' Balancing Cream | 'Repair You' Hair Mask | 'Brighten You' Brightening Shampoo | floral maxi dress (wearing a small) | nude heels (similar) | white watch (get 15% OFF w/ my code PBAXTER15) | blue lens sunnies | purse is from Spoiled Rotten
I've been using this BLNDN shampoo/mask combo for over a couple of weeks now and it's totally changed my hair for the better. Actually, the first time that I ever even used it, my mom complimented me on how healthy and shiny my hair looked! And that was just the FIRST time I used it!! The 'Brighten You' shampoo is a really dark purple shampoo but it doesn't dry out your hair at all (unlike most other purple shampoos I've tried). It brings out all the shine in your blonde color & takes away ALL ashy & brassy tones that the blonde hair color may attract over time. I primarily use the brightening shampoo to keep my color looking fresh, but I also LOVE the 'Quench You' as well because it really helps to treat and condition your color-treated hair without weighing it down. Both shampoos always leave me with a bright & bouncy style, and I cannot recommend them enough!
To really help repair your hair though, you all HAVE to try BLNDN's Hair Mask. This stuff is magic and will instantly repair years of damage! I also really love their leave-in cream that acts as a leave-in conditioner and hair treatment. I apply it from my roots to my ends every single time I style my hair – wet or dry. What I love most is that it doesn't weigh down your hair at all and doesn't make your hair look greasy.
I am so picky when it comes to my haircare, but I seriously cannot say enough good things about these BLNDN products! I don't ever recommend any products that I don't actually use on a day to day basis and love, so I really hope that you'll try some of these out and I hope you all love them just as much as I do!
The ladies at BLNDN were so kind to give me a coupon code to share with you all to get 20% OFF, so be sure to type in LOVENLABELS at checkout!
xo, P
*Thanks to BLNDN for sponsoring today's post!