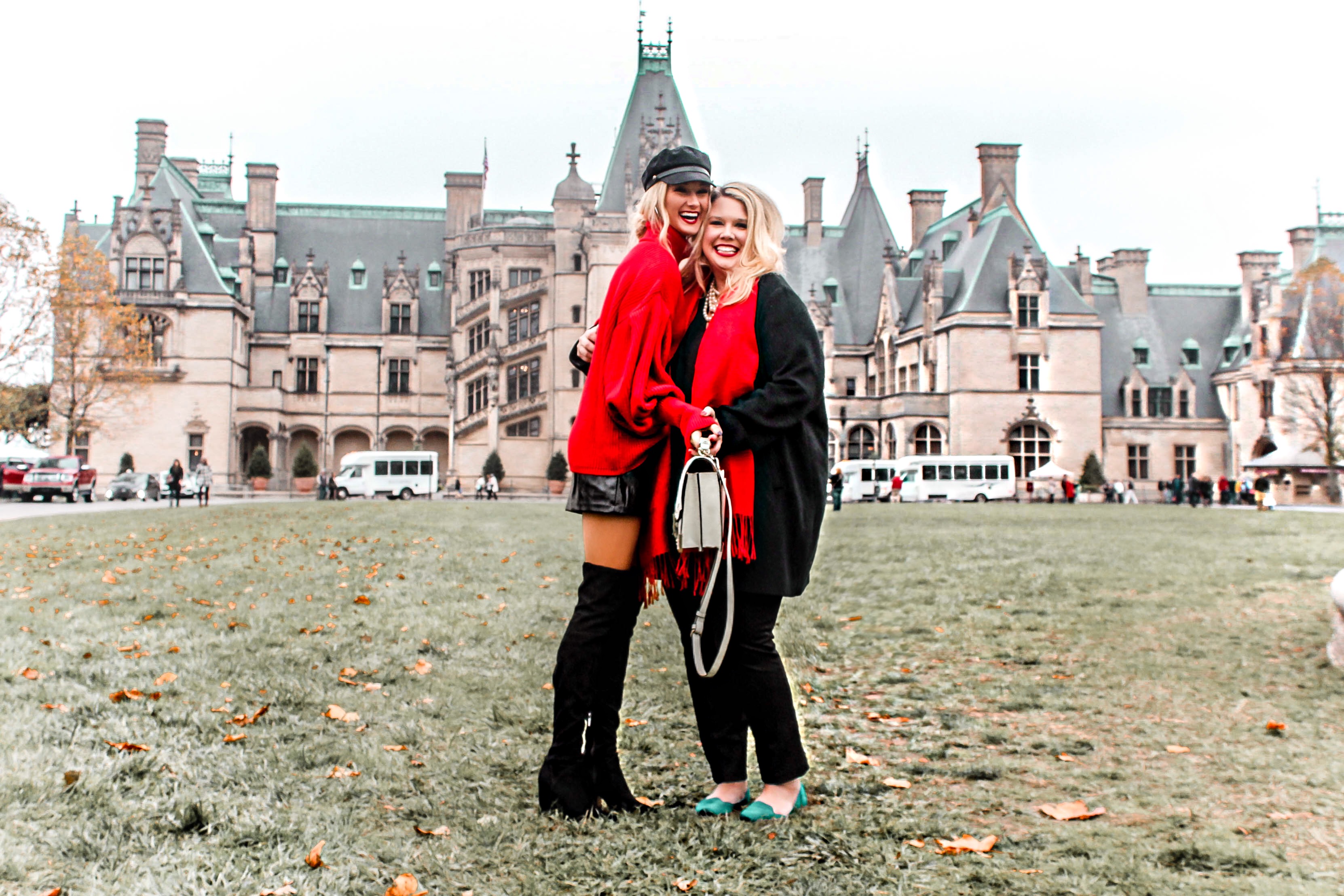 Christmas is such a special time of year – whether you are surrounded by loved ones or not – because we get to celebrate the life of our Savior, Jesus Christ. As much as I love being with family this time of year, I have to say that the most special part is getting to celebrate the birth of Jesus!
Since it's almost December, I thought it would be the perfect time for me to share 8 ways to get in the Christmas spirit this holiday season! Let's be real … I've had my Christmas tree up & decorated since November 1. But, I know that all people are not like me & that's okay! But I hope that you all are getting into the spirit now, and if you're not quite there yet, I hope that this post inspires you in some way to get that holiday sparkle in your eye. 🙂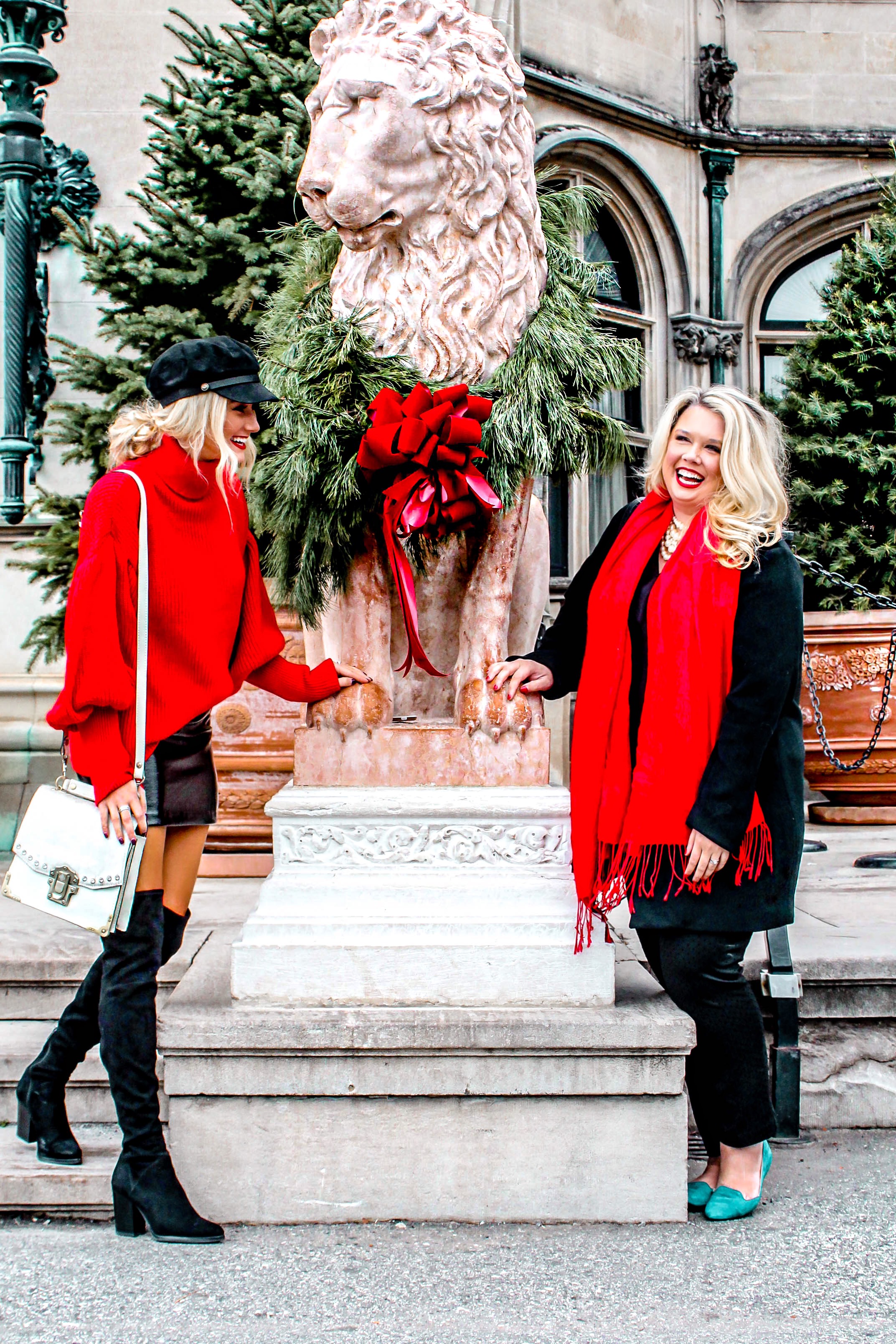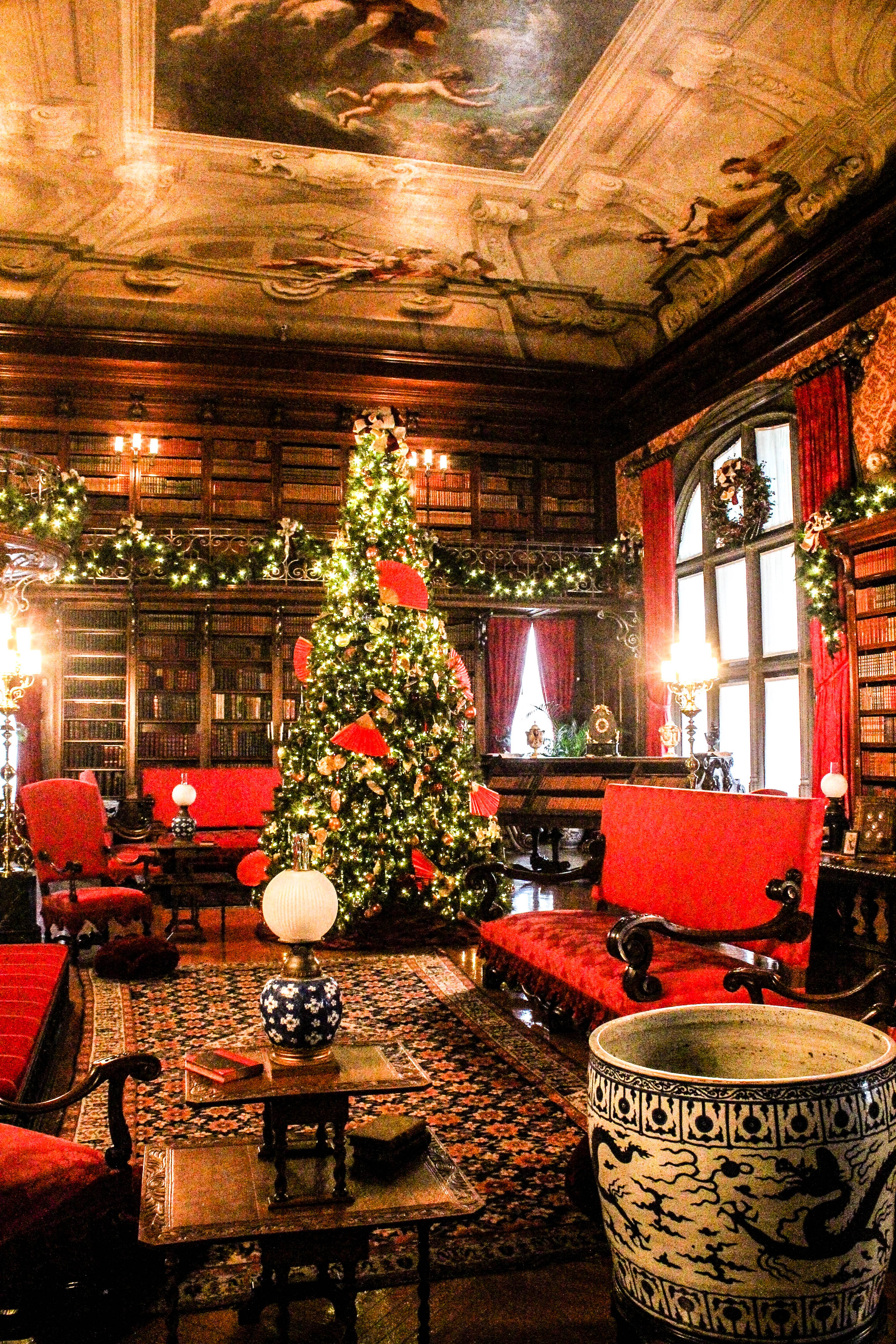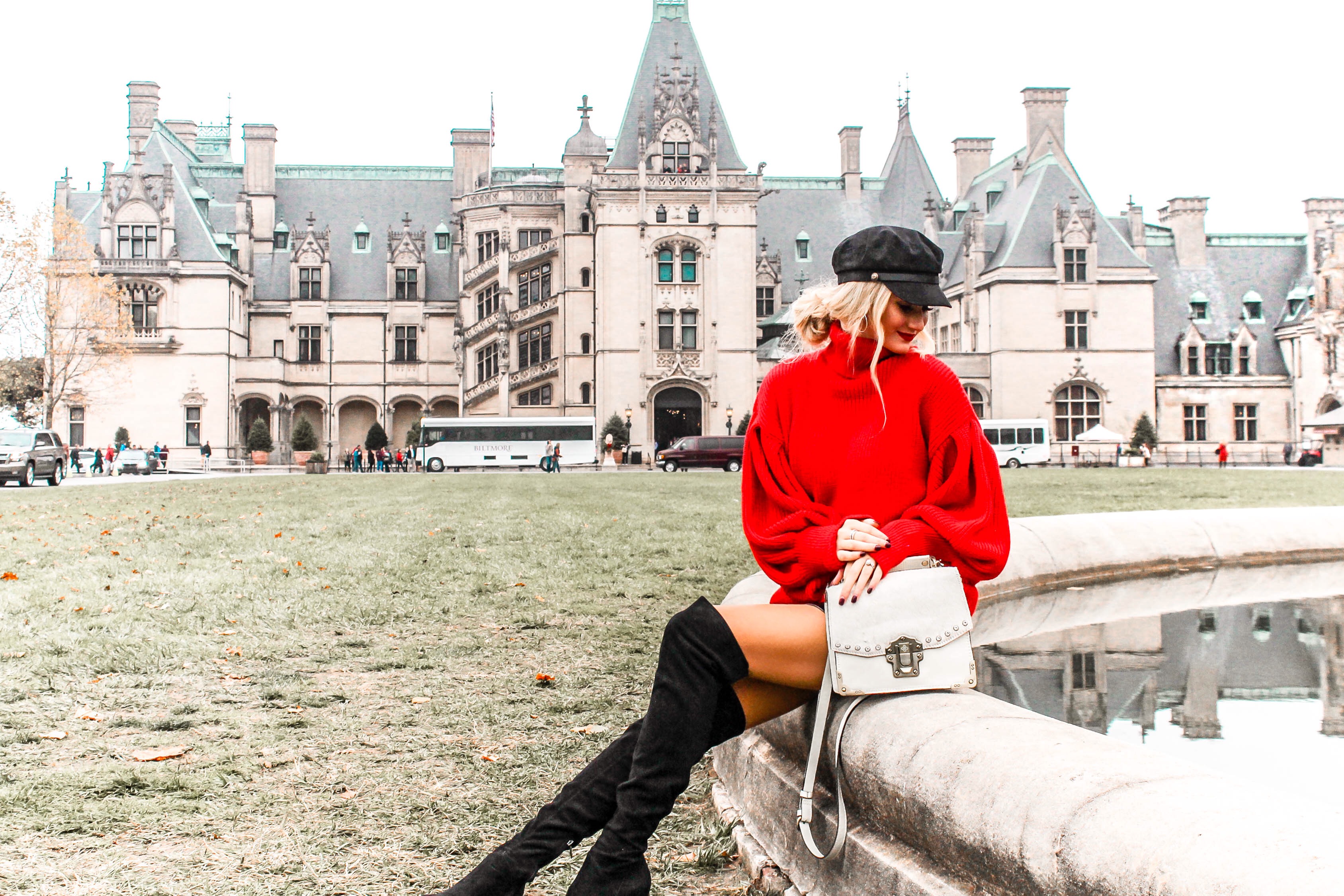 1. Visit somewhere that is full of Christmas decor.
A couple weeks ago, my mom, sister and I took a girls' trip to Biltmore in Asheville, NC. If you've never been, it's surely a sight to be seen!! Biltmore is such a historic, classic property where you can tour the old (massive) home where the Vanderbilts lived many years ago, and it's a really neat place to learn the history of. I especially love it during Christmas time because the holiday decor is literally out of this world. I mean, I HIGHLY recommend that you take a trip here as soon as possible!
During our visit, we also did a wine tasting at the winery & ate lunch at a restaurant right across from the house – the Stable Cafe. It was all so perfect and so special to kick off the holiday season with my two very best friends. If you live near there, you can easily make a day trip out of the experience, however, if not, the property has a few beautiful hotels where you can spend a whole weekend with loved ones during the holidays!
2. Turn on some Christmas music & decorate your home with holiday decor.
Just a few weeks ago (yes, before Thanksgiving because I'm that girl), Teej & I blasted some of our favorite Christmas tunes & decorated our entire house for the holidays over a cup of hot apple cider. It was so special & really got us in the holiday spirit! It's something I look forward to every year around this time!
3. Bake / decorate Christmas cookies.
I mean, is it really the holidays without some baking?? My sweet Papaw would agree with me when I say that 'it's not Christmas time without lots of homemade goodies around the house'! I got a KitchenAid mixer for one of our wedding presents, so y'all best believe that I'll be making some homemade Christmas cookies this year — just wish me luck!!
4. Go 'Griswolding'.
If you've ever seen Christmas Vacation, you know the Griswolds. (It's hard not to!). And if you haven't seen it, I highly recommend you see it this year!! It's hilarious.
My family and I swear that we are the 'real-life' Griswolds. We even have Christmas tees that have the same Station Wagon (with a tree tied on top, of course) that say "Cooper Family Christmas" — Cooper is my grandparents' last name so we're all tied to it! We wear the tees every Christmas Eve & on the back, our tees share all of our family Christmas traditions (I'd love to share these traditions with y'all if you're interested — just let me know!).
So, what is 'Griswolding'?? It's going to scout out the best Christmas & holiday decor on people's houses. AKA – who has the most lights on their home? I remember growing up as a little girl (so if you have a little one, I'm sure they'll love this) looking forward to the one night each year when our whole fam would go 'Griswolding' – as we called it. I loooooved seeing all the Christmas decor & colorful (maybe even tacky) lights & blown up figures in our neighbors yards – my parents always said that my eyes would light up like never before! It was always a highlight of my Christmas season when I was little, and I fully intend to take my kiddos Griswolding when they are here some day! It's a family-friendly, super fun & festive adventure!
5. Give back!
My family and I always sponsor a few Angel Tree participants with our church each year – and it's so rewarding to give back to people in need. If you know me, you know I have a heavy heart for people who are less fortunate, so this is a biggy for me. No matter the situation, EVERYONE deserves a present and/or a stocking to open on Christmas!!!
Another great way to give back is to 'ring the bell' at your local businesses that support the Salvation Army. My sweet sister and her husband, Josh, do this every single year, and it's a great way to volunteer your time to give back to the community!
6. See (or be in) a Christmas parade.
There's nothing like heading downtown to your local holiday parade to kick off the Christmas season! When I was still cheering, we even had to opportunity to be in a few of the parades & that was so fun too!
7. Light Christmas scented candles & watch holiday movies.
Teej and I are huge moviegoers, but we love nothing more than lighting our holiday-scented candles & having a Christmas movie marathon — it's so relaxing and is sure to get you in the Christmas spirit!
8. Help loved ones decorate their trees!
I saved the best for last 🙂 Every year a few weeks before Christmas, I go with my sweet Papaw to cut down a real cedar tree that he has planted in a field next to his house. (He replants them every year.) It's so special because he grew up with a real cedar Christmas tree in his home as a young boy, and he has carried this tradition into his own home. I've grown up all my life getting to help him cut down his cedar tree and then getting to help decorate it with all of our family members. Everyone gathers in the basement of our Gran & Pap's house, and we decorate the 'Cooper Family Christmas Tree' with big, colored light bulbs that were used back when my Papaw was a young boy, and we hang ornaments that are strung with frail yarn that he also used back when he was young. On Christmas morning, we all gather around that special family Christmas tree to spend time together & open our presents from Santa! If there's one tradition I would never budge on, it's our family's Christmas morning tradition. As long as my sweet grandparents are here on Earth with us, you'll know exactly where to find me on Christmas morning!! *cue the tears* Family traditions are special beyond words.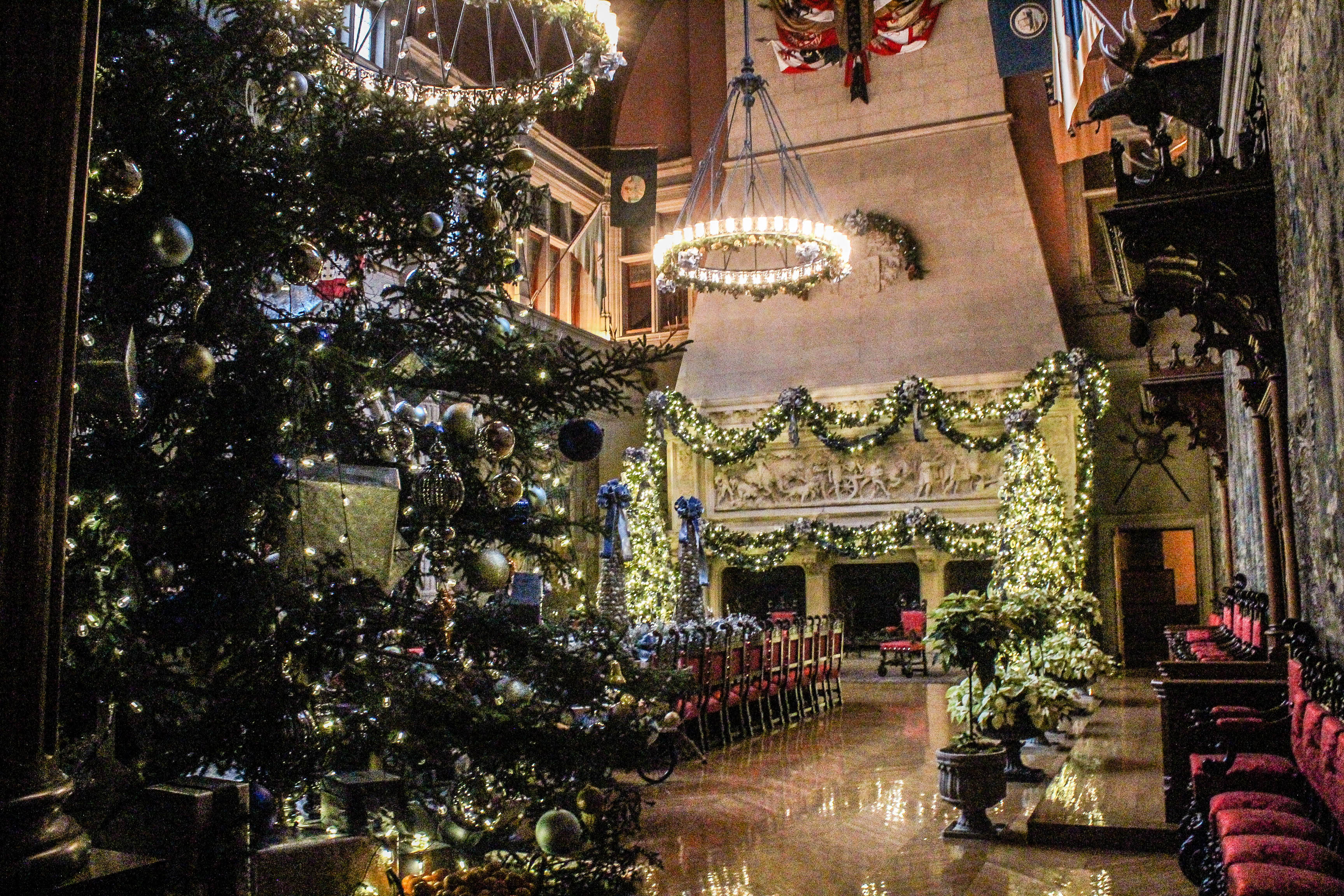 Shop my look:
red sweater (wearing sz US 4) | patent leather skirt | otk boots (TTS) | cabby hat | crossbody bag

---
If you weren't quite in the Christmas spirit beforehand, I hope that now you have some ideas on how to get festive this holiday season, while spending special time with the ones you love most!
I'd love to know how you get in the Christmas spirit each year!! Comment below if you have any other options that I didn't mention above!
xo, P