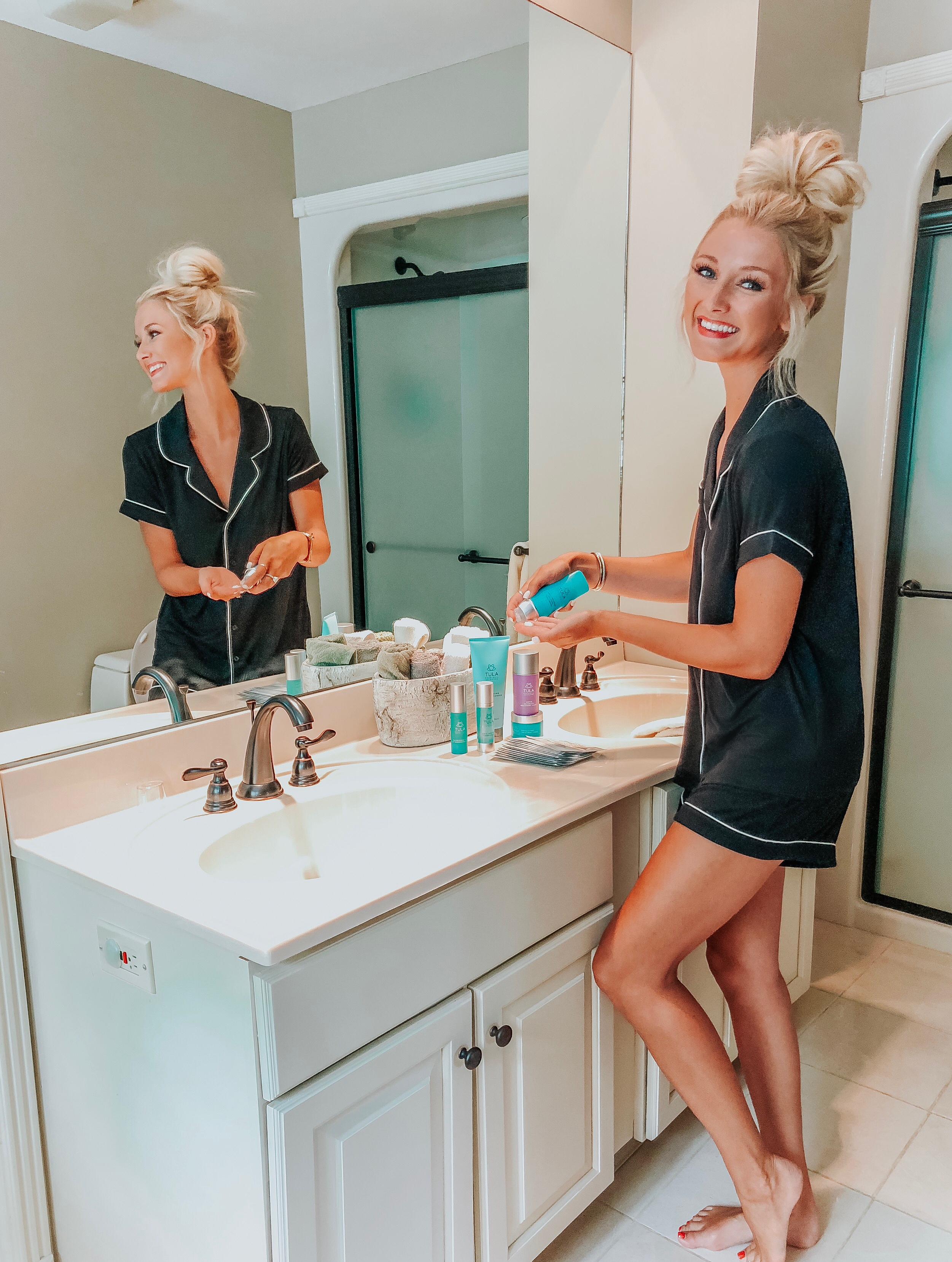 I get questions from you all daily about my skincare routine and the products that I use, so I thought I would round them all up in a blog post for you to have all of this information in one place! I used to use Rodan + Fields (and I still use some of their products occasionally — definitely still recommend them!), but I recently switched it up and I've been using Tula products for about 4 months now. I'm completely hooked!! There are so many things to love about this product line, so keep reading to find out what all I use and why I love it so much!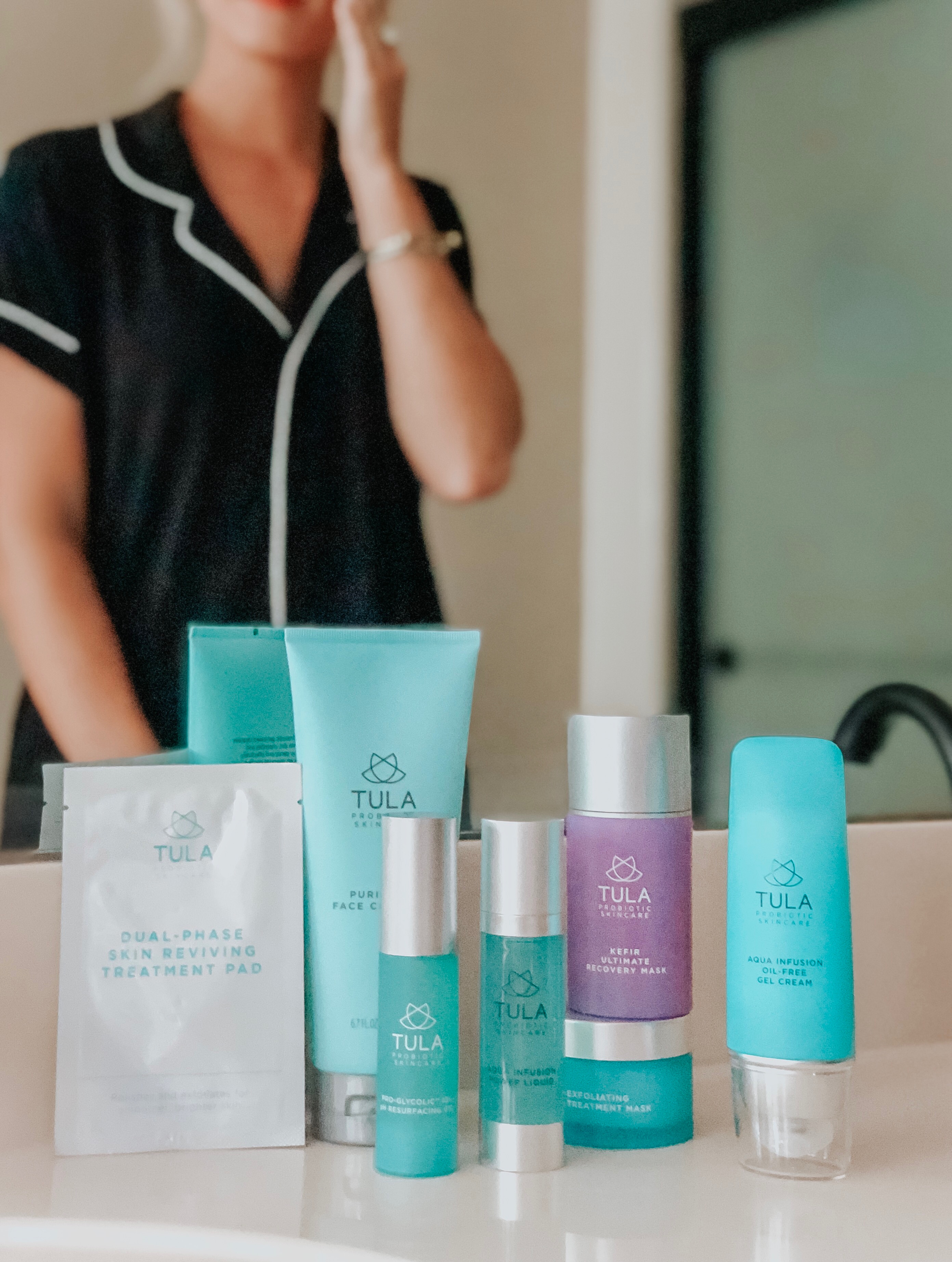 WHY I love Tula products:
Tula uses probiotics as the foundation of EVERY single product. Probiotics are essentially 'good bacteria' that work to improve your health (both inside & out), and they are clinically proven to help promote the look of your skin's natural balance. These probiotics help lock in moisture and leave my skin looking less inflamed / more hydrated (which has really saved me throughout these hot summer months). Learn more about probiotics + the ingredients used here!
All Tula products are ideal for all skin types and skin tones in both men and women. I will say that Tula helps prevent breakouts; however, if you have bad acne or previous scars / sun spots, you may want to try Rodan + Fields (Unblemish or Reverse regimens) to clear up those problem areas first. Then once your skin is mostly clear, Tula would be a fantastic line of products to try to keep your skin looking healthy, vibrant and hydrated. This is the exact order of business that I did for myself, and now ever since I switched to Tula for my skincare routine, I honestly haven't even had ONE breakout.
Tula products are designed to be gentle to your skin, and no harmful chemicals/ingredients are used. All ingredients are clean & pure! Your skin will LOVE you for using this line.
There are many products to choose from to take care of all your skincare needs (even travel size containers and face masks).
It's so easy … I am one of those people who doesn't have the patience to spend an entire hour on my skin every morning and every night. I'm always on the go, so I need something that is quick, simple and gets the job done. I only have about 4-5 steps in my daily Tula regimen, and it is so effective! Plus, it only takes me about 10 minutes max from start to finish.
Skincare quiz!! I also love this brand because they offer a skincare quiz that quickly allows them to hand-pick the products that your skin type needs. There's no more guessing and trying out random products until you find the 'right' ones. Simply take the quiz and your new skincare routine will be chosen for you, based off of your quiz results!
---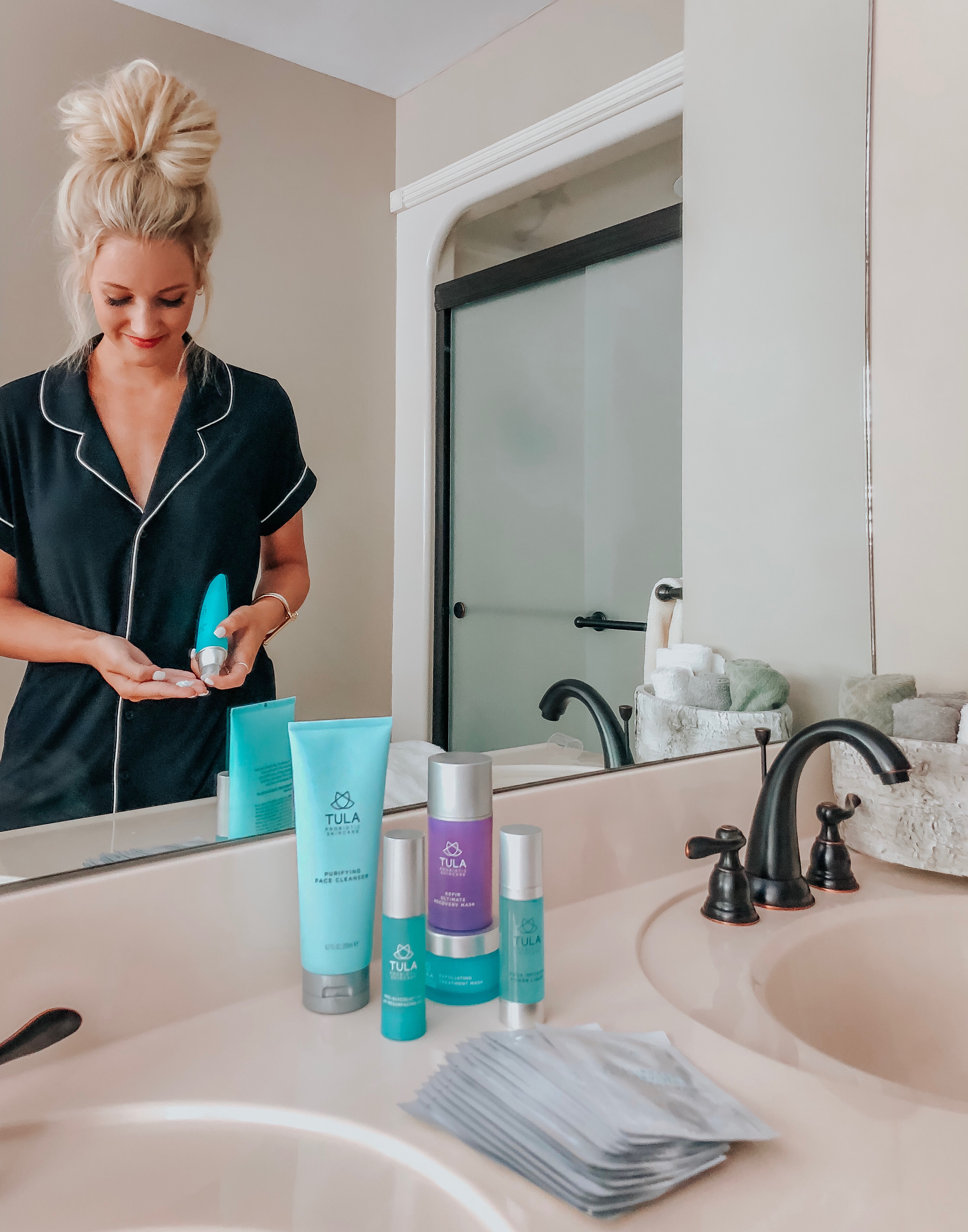 My Tula Skincare Routine:
First, I start off with the Purifying Cleanser. I love this product because not only does it clean your face well, but it can even take off your makeup! This is always my first step morning and night.
About 1-2 times per week, I'll then use the Exfoliating Mask. (Unless I just got back from traveling, then I'll use this Recovery Mask instead.) This is not a daily use for me! I typically do this at night when I incorporate this into the routine. It really helps get rid of dry, dead skin and leaves your face feeling so smooth.
Next, I use the Pro-Glycolic 10% PH Resurfacing Gel — I LOVE THIS STUFF! You only have to use this as needed, but I almost always use this at night after I cleanse my face to help remove any excess dirt / oil. My skin loves me for it the next morning. 🙂
Then, I move on to the Aqua-Infusion Power Liquid. This product is still somewhat new, but I've been loving the results because it really helps to keep my face moisturized since I've been out in the sun and on the lake so much this summer. I incorporate this into my routine daily (AM & PM) because it's so soothing! (This Aqua Infusion Gel Cream is another great alternative to the Power Liquid — I have both so sometimes I'll switch the Power Liquid out for the Gel Cream.)
At night, I then use the Eye Renewal Serum, and it works wonders for dark circles. I'll also put it on some mornings to reduce puffy bags under my eyes!
Lastly, I lather up my face with the Hydrating Day & Night Cream, and OMG you guys, it's the best moisturizer. EVER! I use this product morning and night. I've already reordered it because I love it that much, and it leaves your skin feeling so incredibly soft and smooth! This last step is my favorite part of my entire skincare routine!

---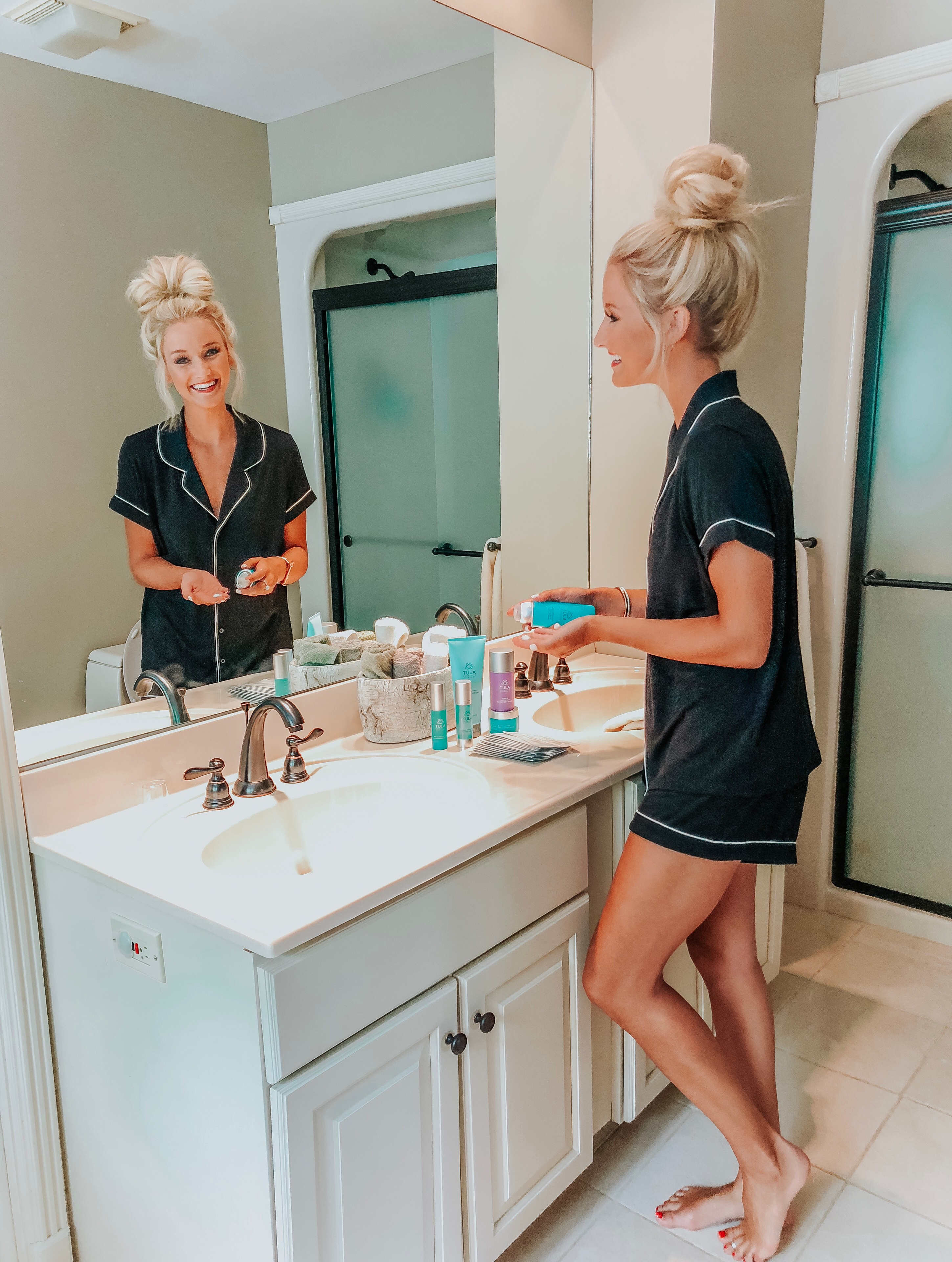 And that's all! It's pretty straightforward and easy. I also have a few, new Tula products to test out, so I'll let you all know how they are — stay tuned!
I also wanted to mention that Tula has the perfect travel kits … I have this one, and I take it with me on all of my trips! These also make the best starter kits if you want to try out a few of the products before purchasing the full-size containers.
I didn't realize until just a few years ago as I got older just how important it is to take care of your skin. It's the ONLY thing that you wear every single day, and if you start taking care of your skin while before too many problem areas pop up, then you will stay looking youthful and keep a healthy glow even as you age. If there's one thing I'm willing to spend my money on, it's good skincare.
---
Tula has been kind enough to give me a discount code to share with all of you, so if you decide to order anything from Tula, use my code: PEYTON each time you checkout to get 20% OFF your entire order on their site!
If you have any questions or concerns regarding Tula or skincare in general, don't hesitate to reach out to me directly or comment below this post. Thanks so much for stopping by!
xo, P
*Thanks to Tula for sponsoring today's post. As always, all thoughts & opinions are my own.