If you read my last blog post, you know that the Nordstrom Anniversary Sale is going on right now, and I've rounded up all of my TOP picks for you all to shop each of the main categories without having to sift through thousands of items on the website. I've done the shopping for you! 🙂
The NSALE is one of the biggest sale events of the year with a ton of discounted inventory, so it can be a little overwhelming at first. But that's where I come in! I've looked through every single page of the sale and rounded up the BEST of the best deals on some of the most popular items, brands that I know you all will love, and my personal favorites from each category.
Keep reading to find all of the best deals & simply click on the image(s) below the collage if you want to shop any of the items shown! If you missed my last blog post, I suggest skimming through it first to answer any questions you may have regarding the NSALE, early access or public access. All Nordstrom sale details that you'll need to know can be found here!
Alright ladies, let's get to shopping!!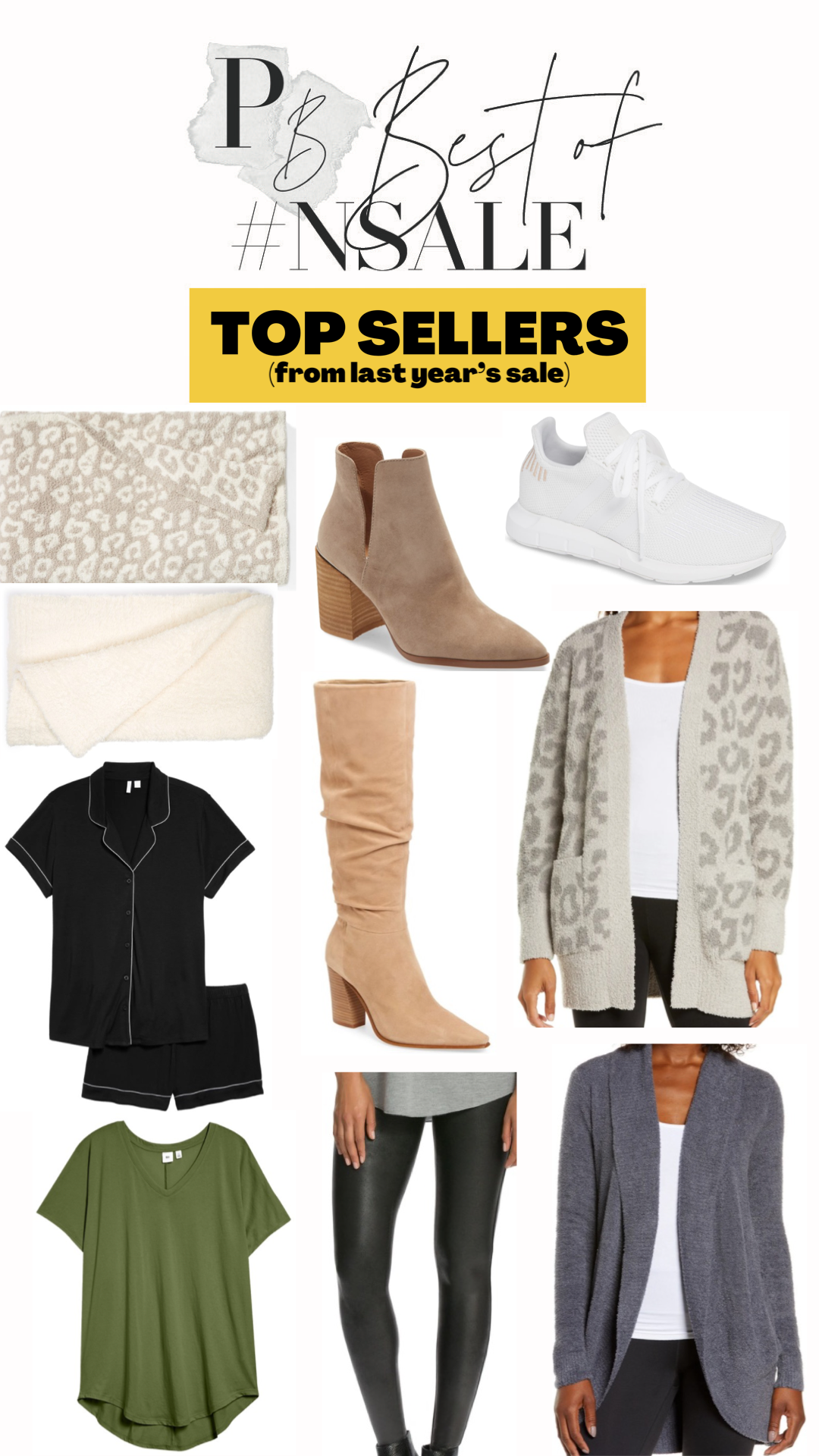 These are the TOP SELLERS from last year's NSALE, and all of these are on sale right now during this year's event as well. Since these usually are the best sellers and most popular items, they do tend to sell out first, so if you have been eyeing any of the items above, I'd grab them first. Linking the top sellers below (just click on any of the images below to shop):

---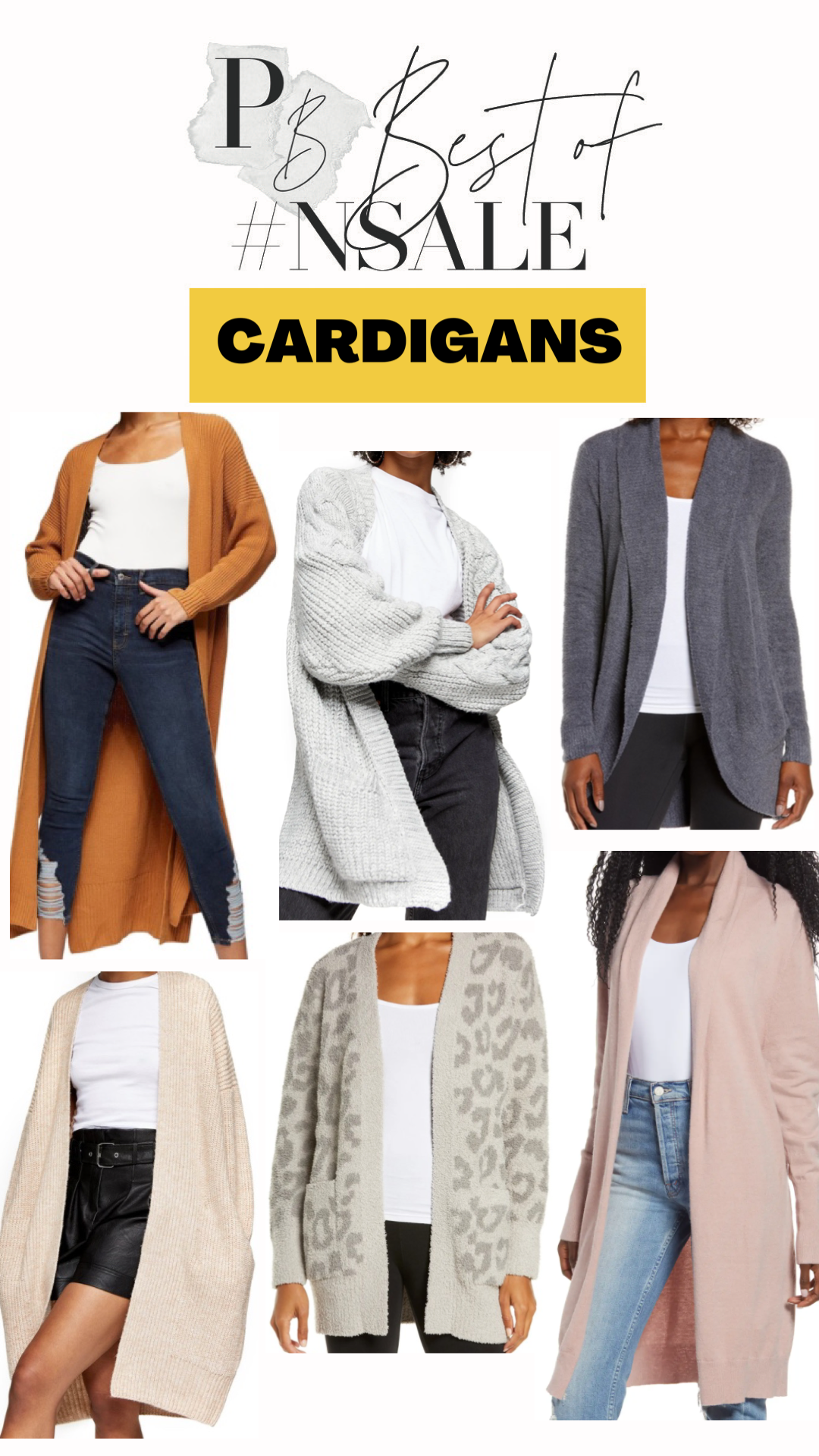 The NSALE is always known for having the BEST cardigans to stock up on for fall/winter. These are by far the best deals out of them all. OH! And if you don't already own a Barefoot Dreams cardigan, take advantage of getting one on a massive discount during this sale. I have 3 of them that I wear ALL the time — in the house to keep warm/cozy, when traveling, styled up nice for the fall & winter, etc. In my opinion, they are worth EVERY penny and you'll literally want to LIVE in it! There are a few in the sale this year, so linking them below, along with a few others I have my eyes on:

---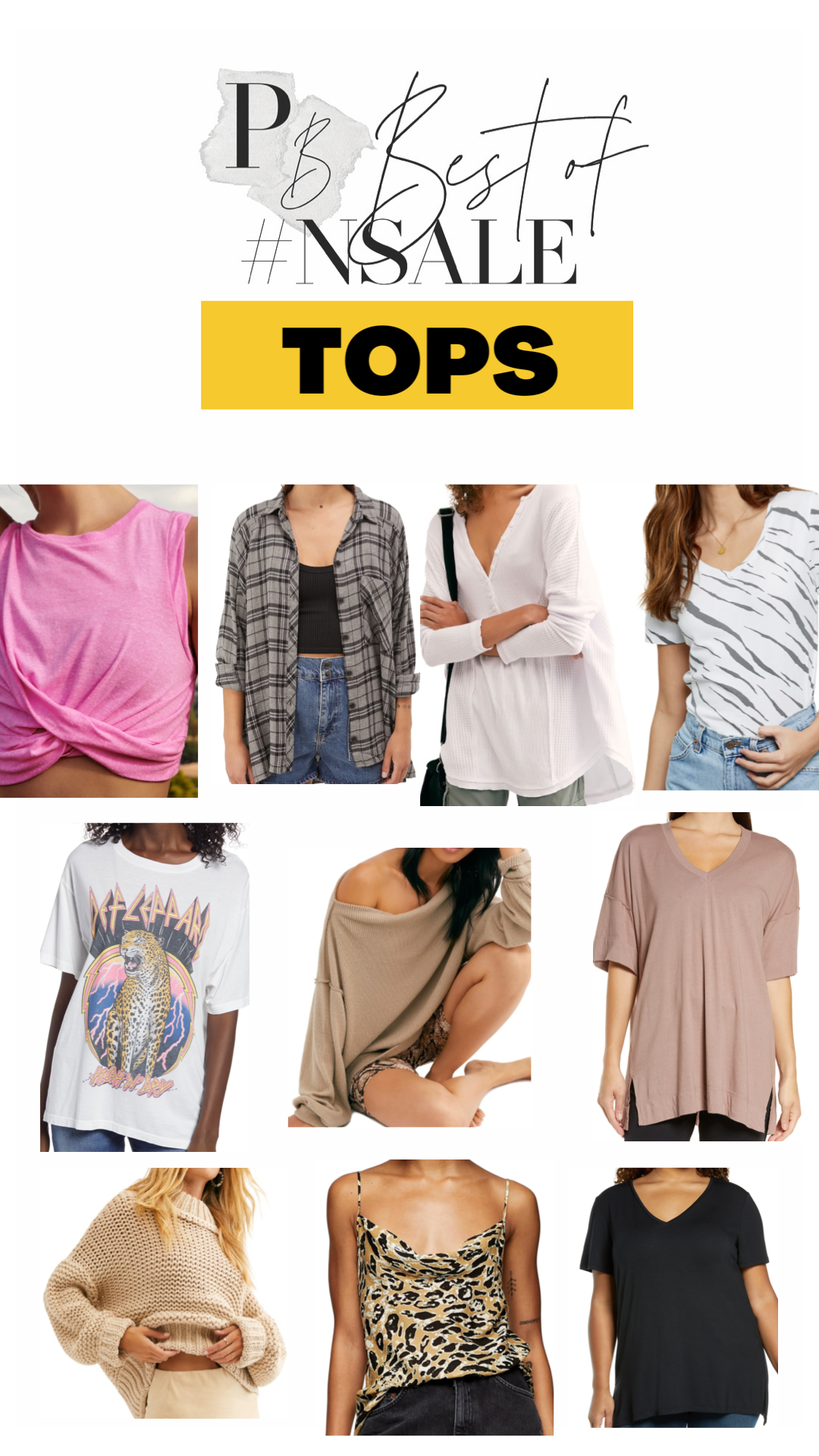 The women's tops category in the NSALE is huuuge, so I went through every page to find the best of the best for y'all. There are lots of Free People styles included this year, which I was so excited about (one of my favorite brands)!
I own a few of the styles picture above, so I'm linking my favorites for y'all:

---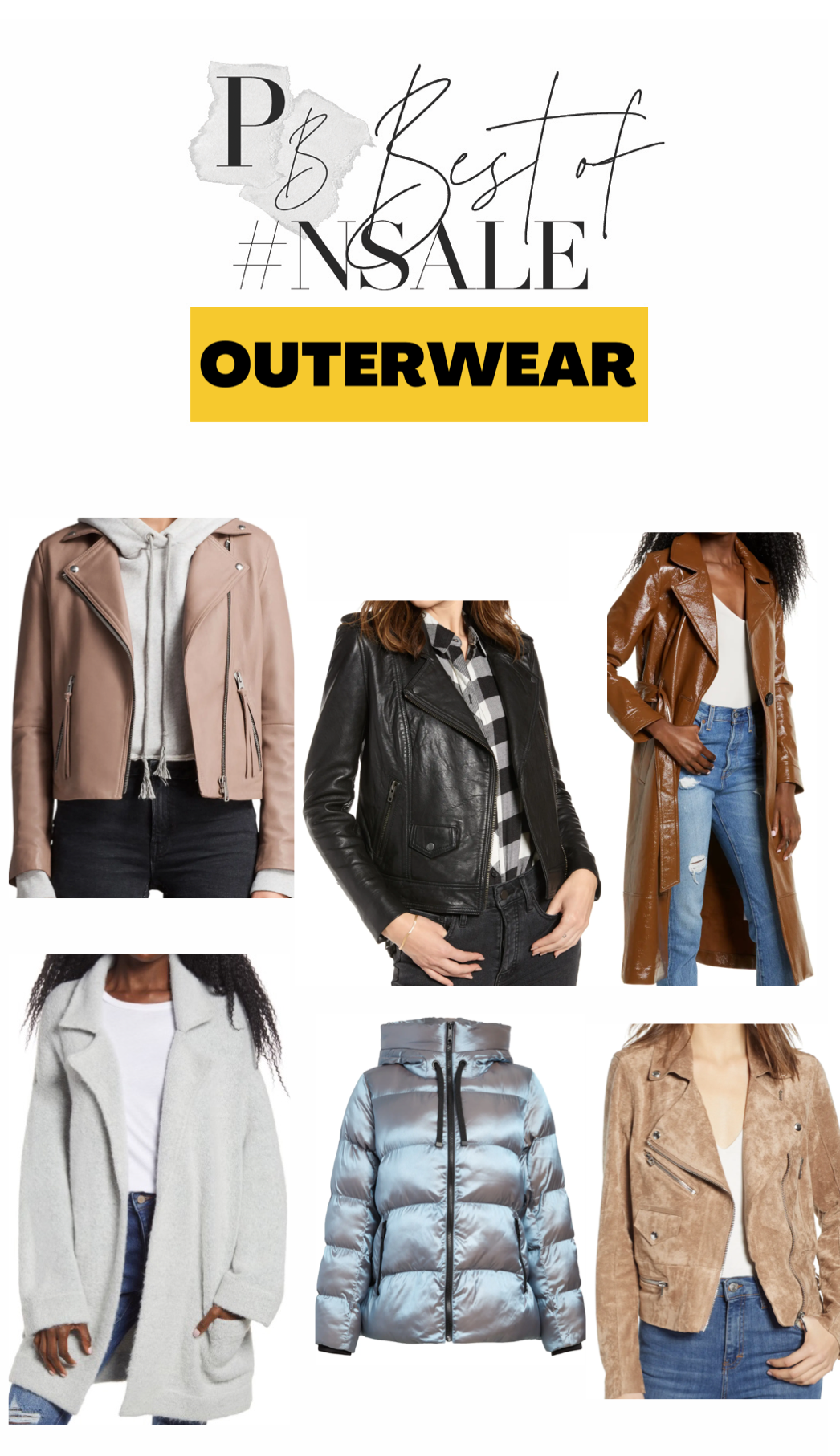 The NSALE is the best time to stock up on good jackets and outerwear. Usually this sale event has TONS of great coats, however, this year, I only found a small handful that I thought were stylish, practical, and worth the $$. Linking my suggestions below … I'm secretly eyeing ALL of these so I'm going to have to narrow it down — yikes.

---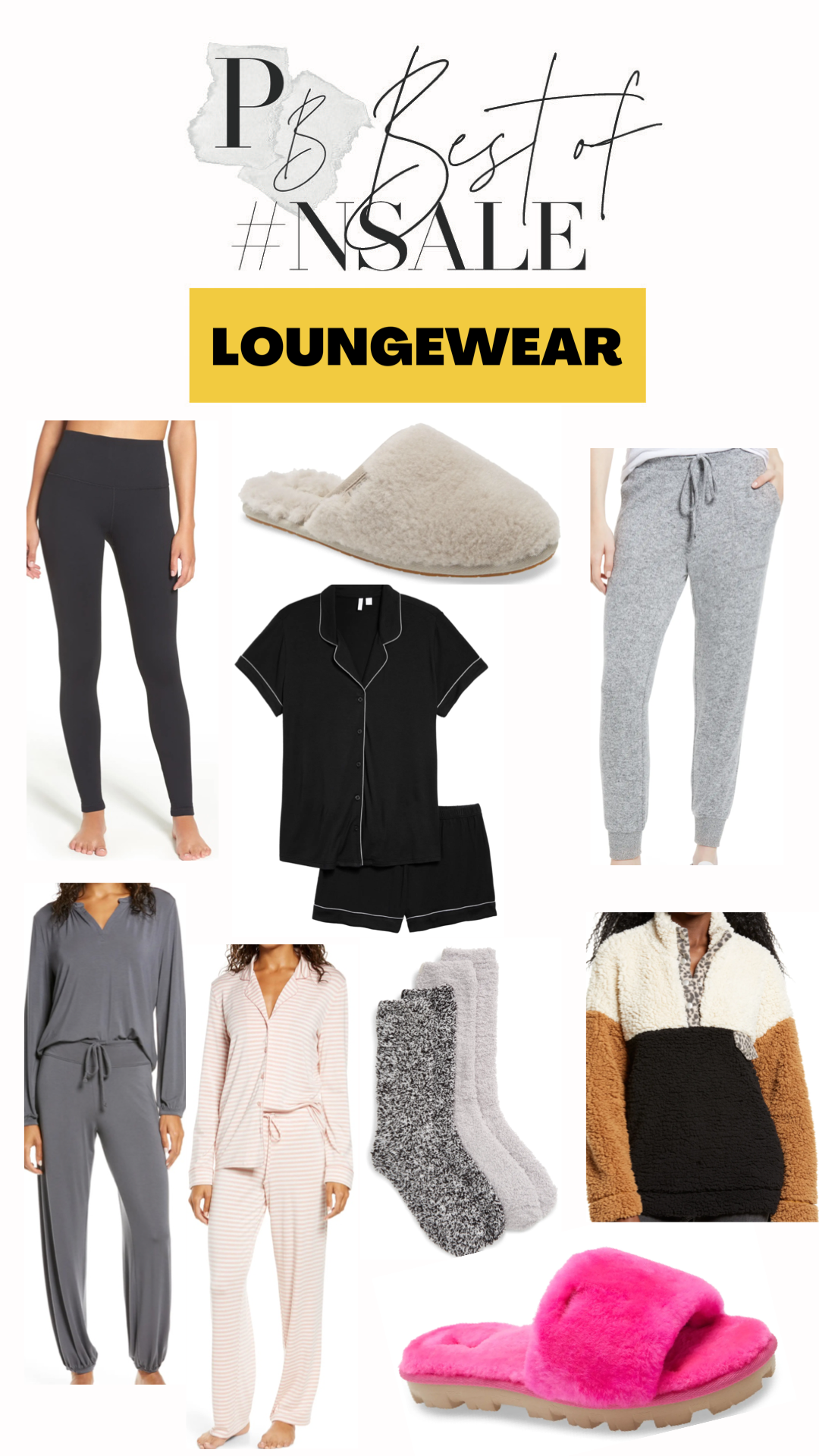 Loungewear … aka, QUARANTINE-wear 😉 Aren't we all pretty much living in comfies lately? (Not complaining lol).
I included my favorite grey joggers in my top picks (I wear mine ALL the time), and I also wanted to include my favorite pajama sets … they come in a shorts version, a pant/long-sleeve version, and a nightgown version. Over the years, I've collected each of the styles in multiple prints and colors (totaling about 10 pairs now, #oops lol) because they are just THAT good. They are my favorite pjs ever and are so buttery soft. I also love that I can wash/dry them without them shrinking on me. They hold up so well and are great for any breastfeeding mamas since they button up & down. I took the pants version and nightgown version to the hospital with me when I had Britton. Linking them all below, along with some other favorite cozies of mine:

---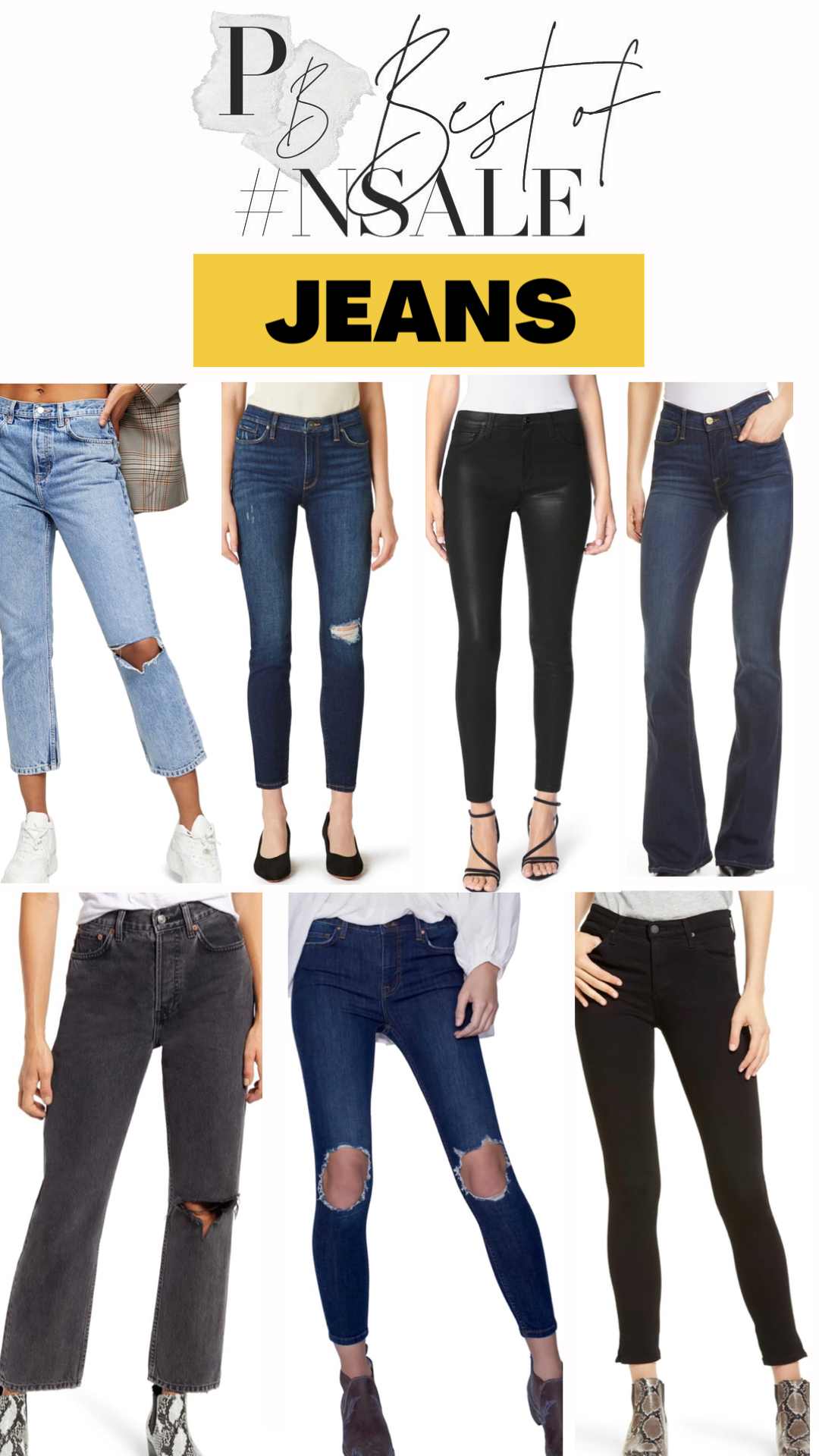 I'll be honest … I usually get SO excited about stocking up on jeans during this sale, however, this year, I haven't found as many as I have in past years. I usually take the opportunity during this event to save some money on my favorite designer denim (AG, Hudson and Paige are my go-tos!), however, I didn't see a ton this year that stood out to me. I saw one pair of AG black denim jeans that I already own (& love), so I included that pair in my round up. I also found a few other styles that are different than the typical "skinny jean", and those unique pieces really stood out to me the most. Sharing my top picks below:

---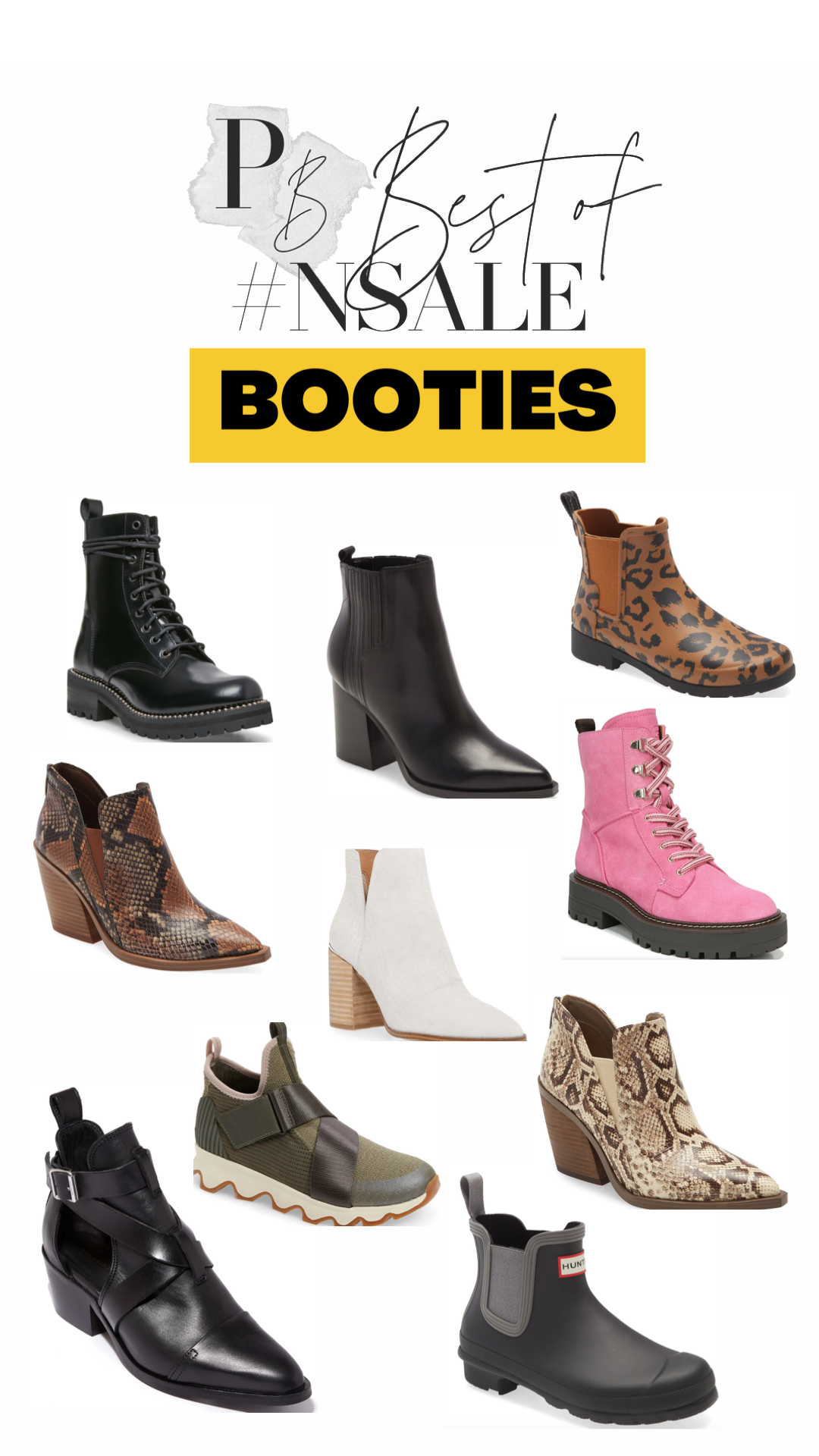 Onto my favorite section of the sale: SHOES (duh 😉 ). As usual, I was pretty impressed with the selection of booties in the NSALE this year (that's why there are so many styles included in my round up, haha — hard to narrow it down). But, I wanted to include my favorite brands/many different styles that I know will last you all for years to come. From combat boots, animal print, cutouts, fun colors, and even rainboots, you're sure to find a good steal.
Ps, I've definitely got my eye on those pink combat boots — those babies have my name all over them, and I'm probably more excited than I should be, ha!

---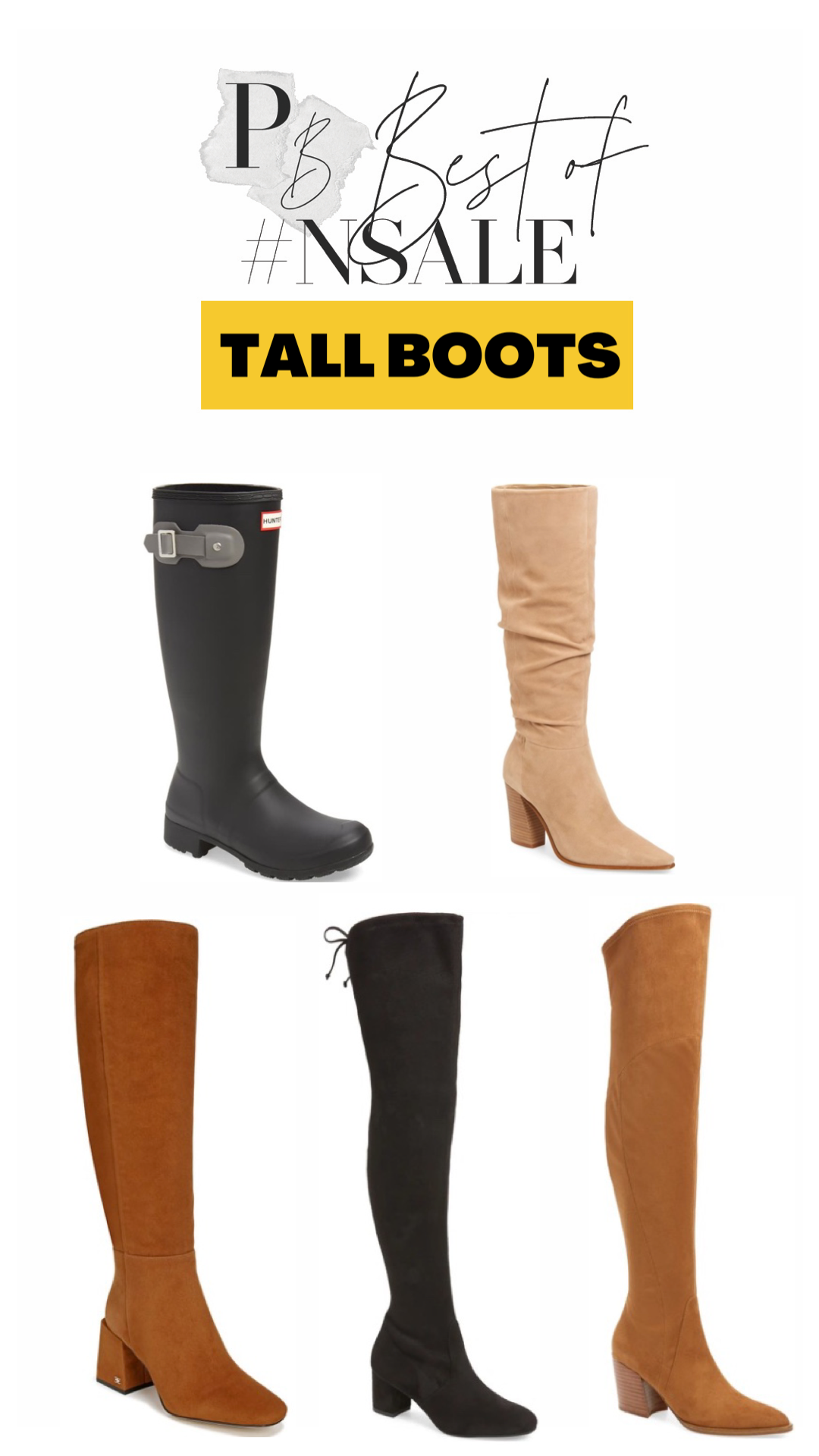 There aren't too many 'to die for' tall boots this year in the NSALE, however, the 5 that I found and love are SO GOOD y'all. I own three of the five already and plan to purchase at least one of the others. I can't say enough good things about both of the over-the-knee pairs I linked, because I've had them both for awhile now (and wear each of them a ton), yet they still look like they are brand spankin' new! The two OTK pairs I included have stood the test of time AND pass the comfort test. One pair (the Stuart Weitzmans) is a splurge, but still on major discount. The Marc Fishers are basically a similar look for less, so I wanted to include both in my round up:

---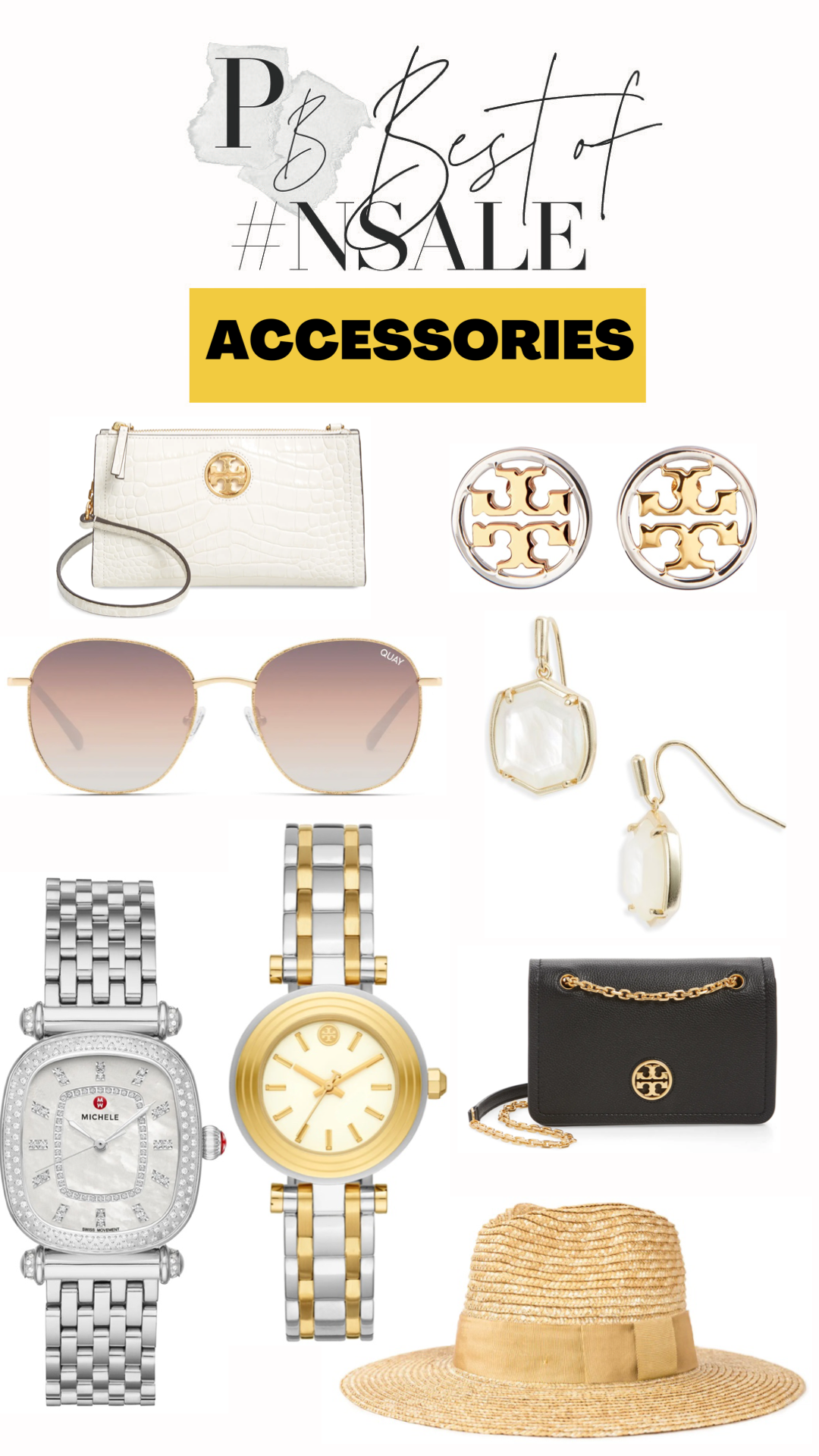 Y'all, I'm so excited that my Quay sunglasses are included in the sale this year — Quay makes the best shades! I'm also pumped about there being a lot of Tory Burch accessories included this year — I am eyeing those simple gold/silver stud earrings. I think they would be a great "everyday" pair to wear. Also (speaking of earrings), there are a few Kendra Scott pieces included in the sale and y'all know I love Kendra Scott, so I included my favorite dainty earrings from them.
On a totally different note, if you are into high quality, designer jewelry, then now would be the time to take advantage of a MAJOR discount on Michele watches. They are never discounted this much! I had actually been eyeing them for years and finally bought one on sale, and guys, I can't even begin to tell you how amazing the quality is!! If you're looking to *treat yourself* (or a special someone in your life), I can highly recommend those Michele watches. I also found a similar Tory Burch one that gives the same look for much less investment, so I'll link them below:

---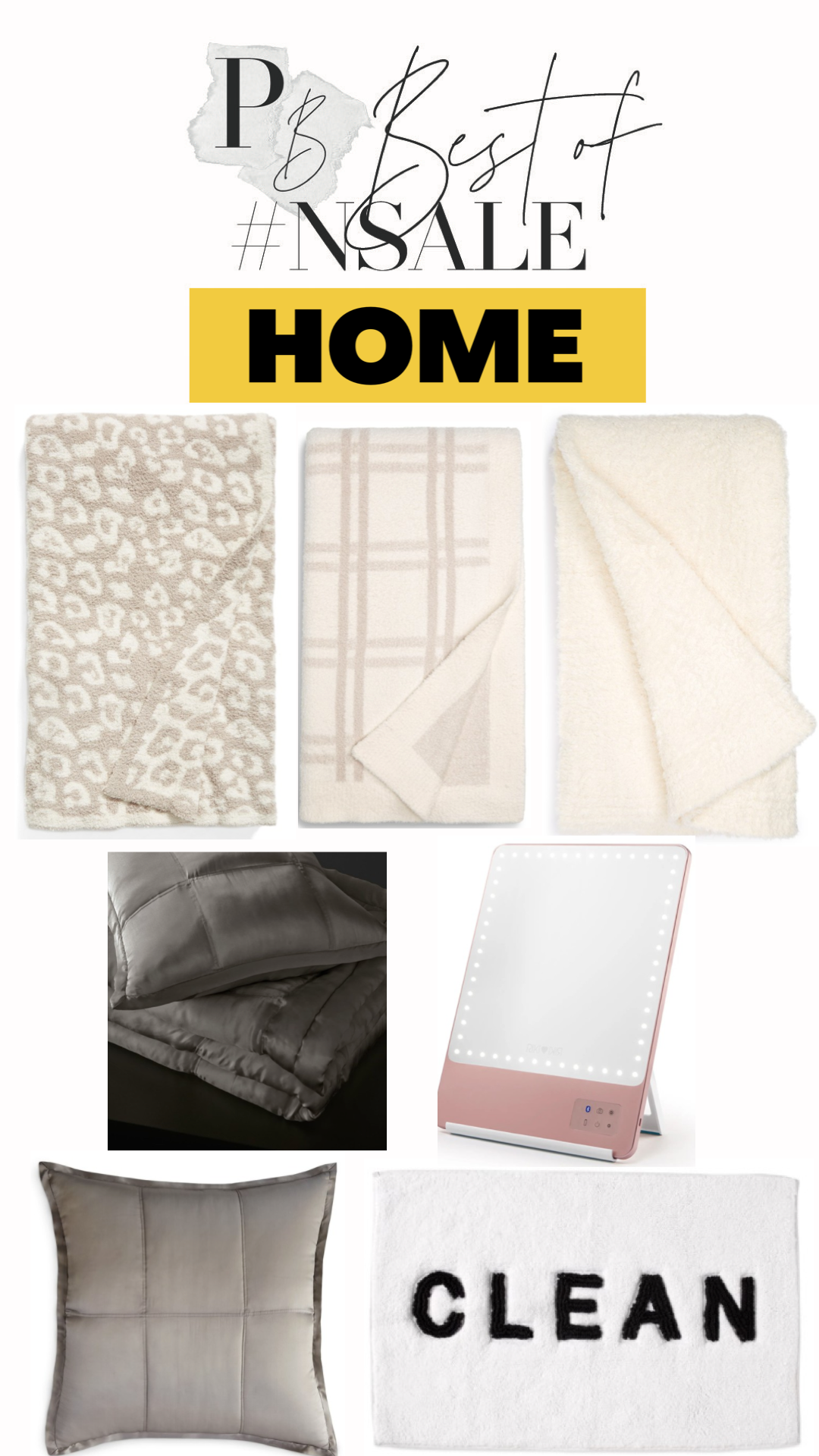 Top recommendation I have for you in this category (well actually in the entire sale) … Barefoot Dreams blanket (currently cuddled up in mine)! I know it sounds absolutely insane to spend more than 20 bucks on a BLANKET, but y'all, trust me on this! After you try one out for yourself, you'll know what I mean when I say that it's worth every penny, and you may never want to cuddle with any other blanket ever again. Oh! And be prepared for your husband, kids, pets, everyone to try to steal it from you. Never fails, that happens to me everytime haha but I basically live with mine right beside me 24/7 when I'm at home. Clearly, I looove these blankets! They also make the best gifts too, so now would be a great time to grab one or two for holiday gifts.
Aside from the blankets, I can also recommend the Riki makeup mirror. It's amazing to travel with (so you can get ready literally anywhere). It has BOMB lighting on it too so that you can see really well while doing your makeup. Also, our grey bedding is on sale & we absolutely love it!! Linking the pieces we have below:

---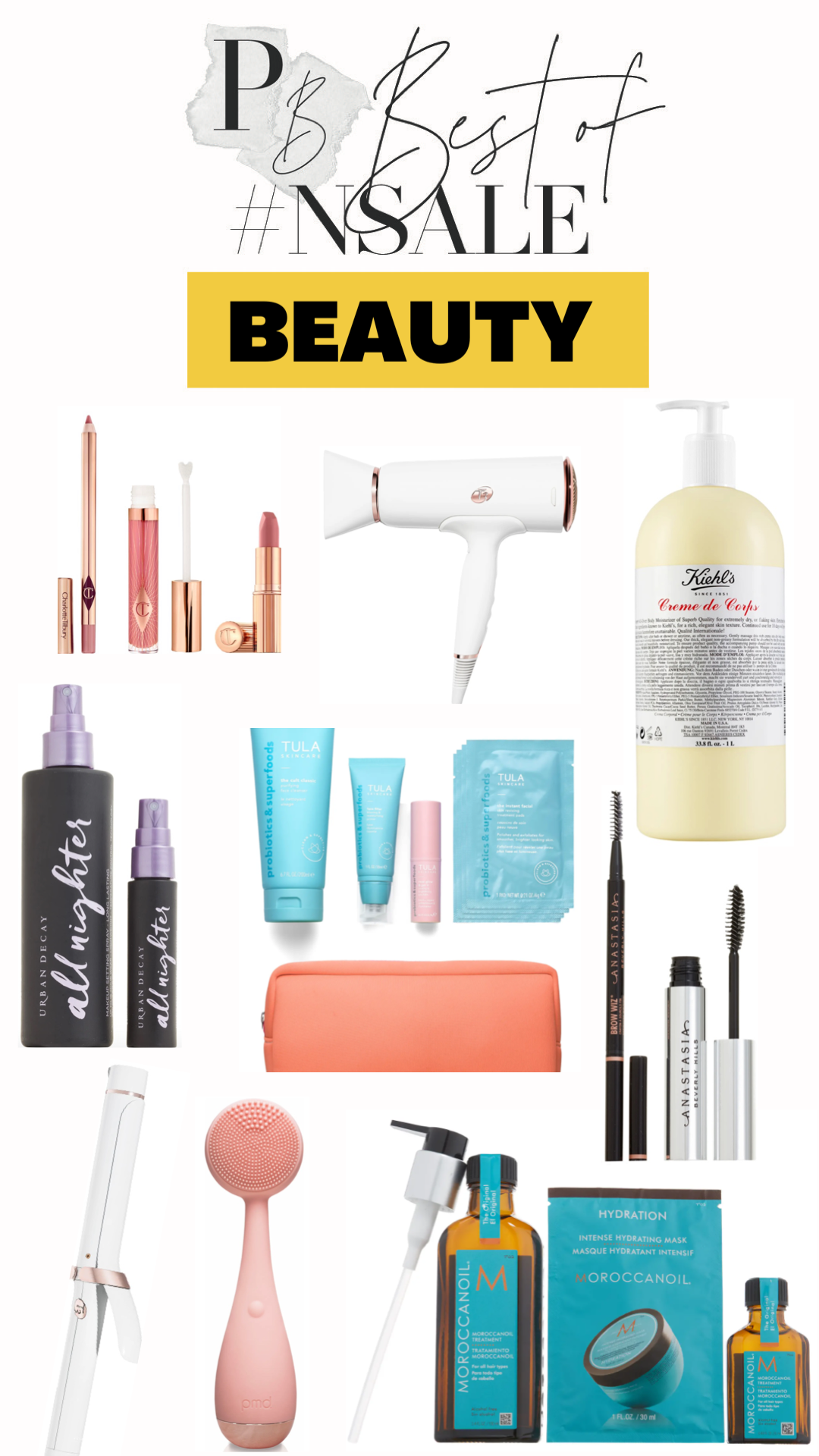 I am very impressed with the BEAUTY selection of the sale this year! Clearly, a lot of my favorite brands and products are majorly discounted, and most of these I've shared with you all before so I wanted to be sure to let you know which of my favorites are on sale right now!
My exact facial brush, body lotion, hair oils, setting spray, T3 products, Tula and more are all heavily discounted at this time so I don't want y'all to miss out. I've been using most of these products for years now — they're tried and true!

---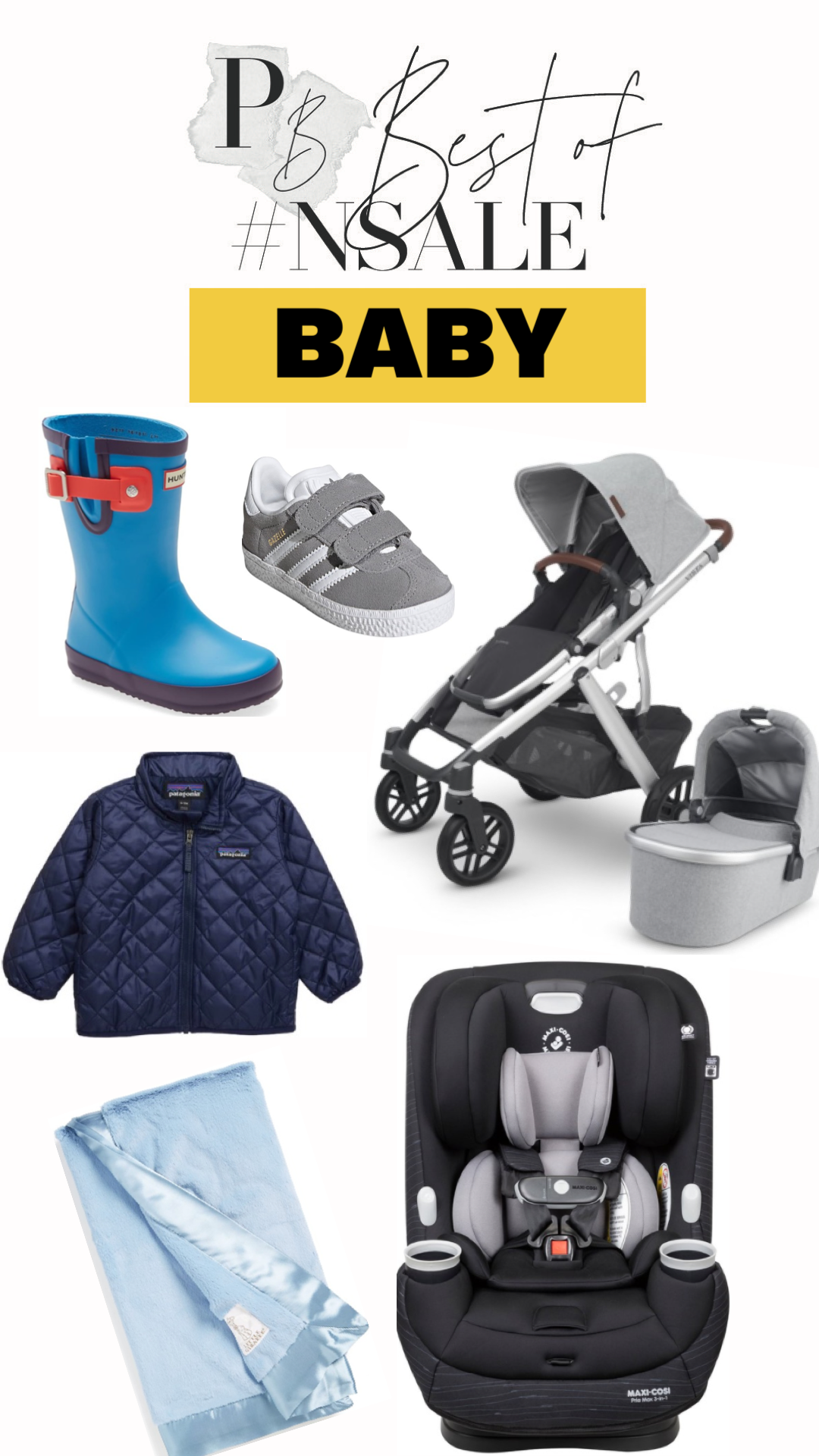 Unfortunately, I didn't find a TON of baby items (or baby boy clothes) that I thought was anything super special, however, I did find just a few worth looking into if you are in the market for any of these items. As a new mom, I was very picky about this category.
I'd say that the BEST deal of the entire sale for any new or recent mamas out there would be the UppaBaby Vista stroller system. I'm amazed at the discount on it!! We own this stroller and love it SO MUCH. I literally have no complaints on it whatsoever — highly recommend taking advantage of the discounted price! Also, Sis has the Maxi-Cosi toddler carseat for my nephew, Macrae, and they speak VERY highly of it. Macrae loves the cup holders on it, and Sis did all kinds of research before deciding to move forward with that one. She has been very pleased and most importantly, feels like her baby boy is safe … and that sense of peace is priceless.
Besides those two big ticket items, I included just a few staple pieces to add to your baby's closet that will help prepare him for fall/winter:

---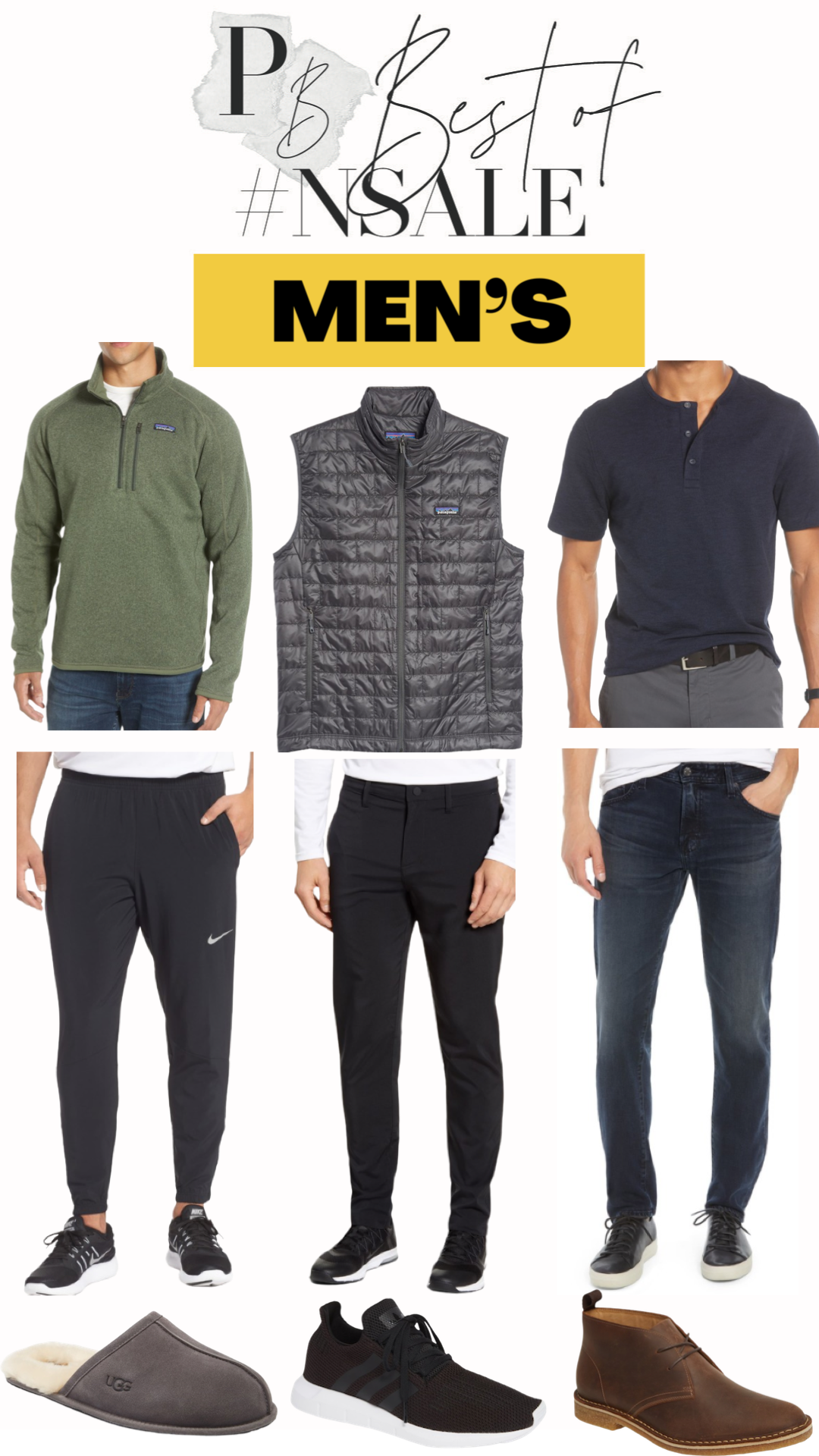 Last category (for now) that I wanted to cover is men's fashion. Let's face it … dudes are flat out hard to shop for! So, I had TJ help me by sharing his top picks from the sale and hopefully, this will help y'all find some good deals for the guys in your life. Some of these could make great Christmas presents too if you wanted to purchase now and save for later.
Teej owns the Ugg houseshoes & loves them so much that he now has two colors in them. And I'm still shocked about this because he is the pickiest person alive when it comes to houseshoes or his feet getting "too hot". They must be reeeally good for him to like them that much! He also has the Patagonia items & wears them a ton throughout the cooler seasons — they hold up so well.
I plan on getting him a couple of the short sleeve henley styles because I love the way they look and they can easily be styled multiple different ways! Linking our top men's picks below:

---
 Alright sisters … I know that's a LOT of info all at once so I'm going to stop there for now. I hope you find this post helpful if you are shopping the Nordstrom Anniversary Sale this year!
I plan on sharing all the items that I purchased from the sale in the next few days, so stay tuned for that, and then of course, I will continue updating you all on all restocks throughout this event. If you are shopping PUBLIC ACCESS, don't fret! I promise that there will still be bomb items left (there always is!) and I am going to share all of them with y'all. I got you, girlfriend. 😉
Check back here on the blog and on my Instagram stories often for more sale updates! Also, don't forget to follow along in the free LIKETOKNOW.IT APP since I share all sale content on that page.
If y'all have any questions at all or need any specific links, feel free to comment below or email me at peyton@lovenlabels.com.
xo, Peyton