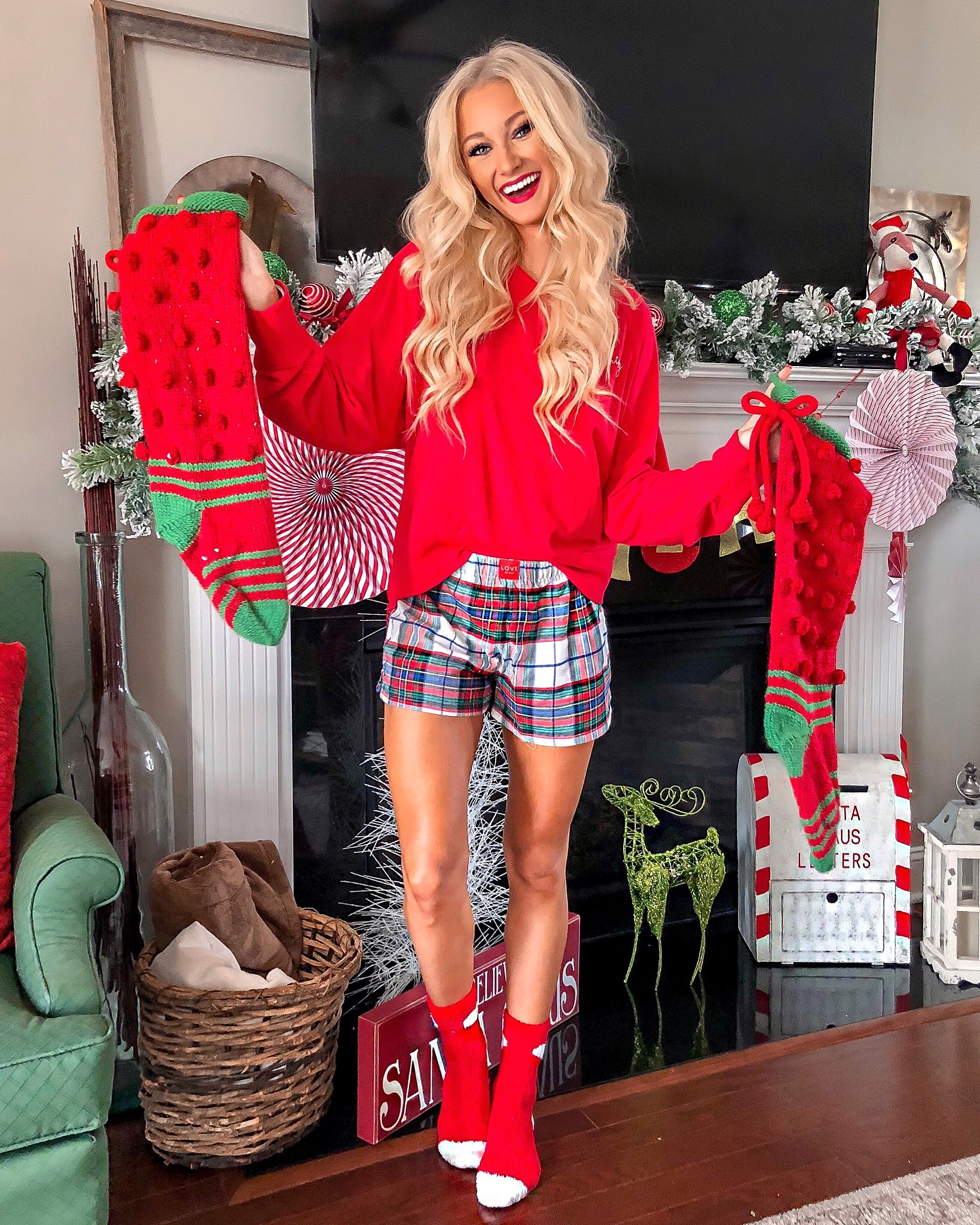 red pajama top | plaid pajama shorts | red lipstick

For as long as I can remember (actually, I guess since before I was even born), my family has always had matching Christmas pajamas to wear on Christmas Eve. It's a tradition of ours that I love so much, and I don't ever want to let it die. It started with my sister and I matching when we were younger. We would open our jammies on Christmas Eve night and wear them over to our grandparents' house on Christmas morning. The tradition still stands strong, and now that we're married, our hubbies get to join in on the fun! (They're good sports. 😉 ) Okay, who am I kidding? TJ and Josh love the tradition, and we all plan to carry it on into our own families as well once we have children of our own!
Since I know that many other families take part in this fun tradition as well, I decided to round up some of the cutest, most affordable, and comfy holiday PJs that could work for the entire family! Whether it's just for you and your husband or for your kiddos and grandparents too, you're sure to find many great options in the roundup below! Even if you don't want to make this a yearly tradition within your family, it would be so fun to host a pajama party FRIENDSmas with your closest girlfriends, where everyone would wear Christmas pajamas and exchange gifts! If there's any time when you have a good excuse to wear pajamas out of the house, now is the time y'all!
Below, I've rounded up the best selection of affordable, cozy PJs this holiday season. Simply click on the image you want to shop and you'll be directed to the retailer to purchase! As for shipping, just know that if you order by Monday (morning) Dec. 17, you can still expect your purchases to arrive on time — yay!

---
Merry Christmas, y'all and thank you so much for all your support this holiday season! You mean the world to me!
xo, P