Ahhh … Isn't it so nice to just getaway for a few days? Especially when you can escape to a beautiful, warm paradise!
If you followed along with me on Instagram & Snapchat (@peyton.baxter) this past weekend, then you've probably already gotten a sneak peek into my little weekend getaway with some of my favorite ladies. It was one of those random, "we need a vacay" kind of trips, so my best friend, Elizabeth, her mom and my mom all packed up and headed to one of our favorite beaches. We flew to Destin, FL on St. Patrick's Day (so of course that was fun!) and got home late on Monday. It was a quick trip (but when are you ever ready to leave the beach, right?!), and Destin has always been one of our favorite beaches to visit. I mean, just look at that clear water and soft, white sand …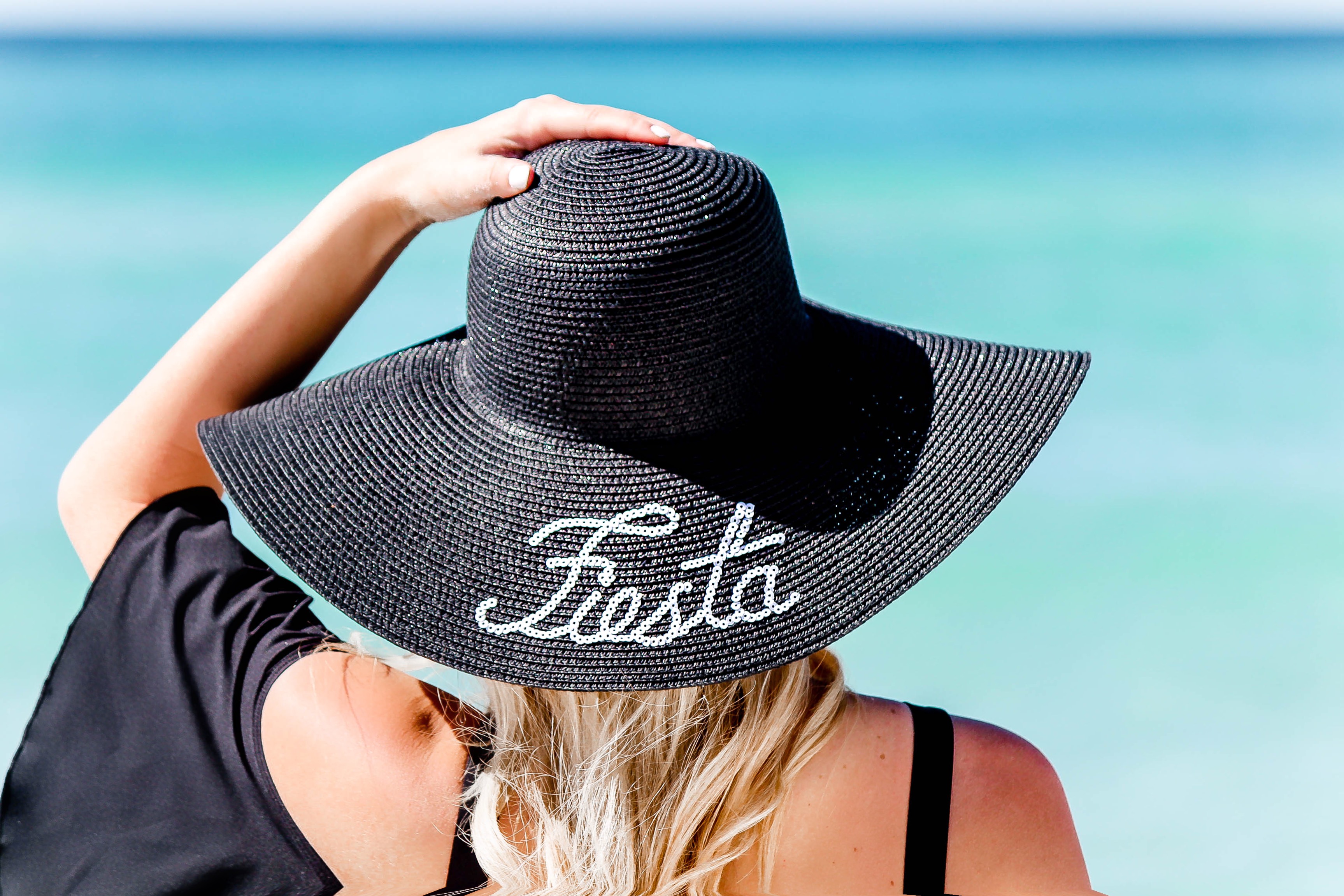 I mean, you guys!! Isn't this beach style so much fun?! The tassels and pom poms were in last summer as well, and I am so pumped that they are making another comeback this season. I love love love all of the bright colors with the mix of black – it's like the best of both worlds for me!
Shop my look:
Asos bright tassel one-piece swim (also available in this 2-piece style!) | similar kimono cover-up & here | embellished wedges (on sale!!) | similar beach hats here, here, here, here | Baublebar earrings | similar beach bags here, here, here, here | Henri Bendel sunnies (my favorites at the moment!) | bracelet combo here, here, here, here

I want to introduce you guys to Elizabeth because she is one of my oldest (and best) friends. Our friendship has some of the funniest (and craziest) stories … ohhh I wish I could share some of them (maybe one day)! We first met when we were very young. We both cheered for the same competitive team growing up, and our moms quickly became best friends through that journey as well! When we got older and stopped cheering competitively on the same team, we cheered for our rival middle and high schools (Go Panthers! 😉 ). We kind of lost touch during that time, but as we approached our junior and senior years, we both were focused on trying out to be a University of Tennessee Cheerleader – a dream that both of us had for a long time. Needless to say, it didn't take long for us to be spending every second together, yet again (and it's like we didn't skip a beat). We both made the team and got to travel all over the country together. After cheering together at UT throughout our college years, our friendship continued to grow even stronger as we went through some of our best and worst times together – graduations, break-ups, weddings, funerals and everything in between. So, with all of that said, when the opportunity of a girls trip presents itself, we both give an automatic HECK YES – we're in!
(I posted this photo on my Instagram yesterday, but stay tuned for the full blog post coming soon!)
Our moms (who are also best friends) joined us on the trip, and we loved it! We are both super close to our moms, and really, the relationships that the four of us share are more like sisters!
I don't know about the other girls, but I know that after a few tough weeks of nonstop work, I was in need of a vacay more than ever! I don't even think I was even this stressed & busy when I was planning my wedding this time last year, haha! One thing about me is that I am a perfectionist at times (which can be challenging), and I really love what I do. I really do enjoy my work, buuuut since I work from home, I tend to never 'stop'. It's so hard for me to cut it off and transition that work mode to off mode. However, after this trip, I feel so refreshed and ready to get things done so that I can focus on my 'at-home' time just as much as my 'work-time'. You know what they say … there's no better therapy than beach therapy right? Ha 🙂
The first night that we arrived in Destin, we drove down to the Seaside/Alys Beach area to eat at a restaurant called Goatfeathers. I don't know if you all have ever been there, but OH MY GOSH … if you like crab legs (king & snow), then this is where you have to visit. It actually looks like one of those little hole-in-the-wall joints, but their food is amazing (and a decent price for good seafood).
The next day was our first full day on the beach, and it was around 70-75 degrees all day (which felt great … actually I had a few chills at one point, lol). However, I literally got so burnt without even knowing it that day. I'm sure you can tell in the pics above because of my red-skin tan lines haha! I used to be a huge tanning bed person, but this past year, I've stopped going and have just focused on self tanner when I need a boost of color. So, I wasn't planning on getting burnt at all while I was at the beach because I want to really try to start taking better care of my skin. But, of course, since it wasn't super hot outside, I let it fool me and ended up getting too much sun … ugh. That night, we went out for apps and drinks and listened to some live music (my fave!).
The next day was so beautiful (we had some great weather while we were there)! My mom and I got out semi-early, so we could get a few pics of this cute look for you guys, and then we hung out on the beach for the rest of the day with the girls! The sun wore us out all day (and of course, I already looked like a lobster haha), so we stayed pretty low-key that night. The next day, we packed up and got ready for our flight, but it didn't leave until later that night. So, we went to eat at The Back Porch (which you may have heard of), and we literally pigged out on seafood one last time before heading home. We did a little bit of shopping (of course!) and then it was time to make our way back to Tennessee. For those who live in East Tennessee, we flew one way to Destin and back on Allegiant Airlines for an amazing deal. If you are interested in hearing more details, just message me here! I'd love to help you out!
Of course, the beach is ahhh-mazing and I never want to leave. But let's face it, I don't ever want to leave any vacation haha. Teej and I are huuuge travel lovers! But it is always nice to come back home too – especially when you have a hot hubs there waiting on ya! 🙂
I have a few more trips planned over the next 3 or so months, so I can't wait to take you along with me on the journey! If you don't follow me on Instagram yet, check it out because I mostly use InstaStories to show the adventures that I go on. I love that with Snaps and Insta, I get to share so many of my #LNLtravels with you guys! It's like you are there with me on the trip! If you all like seeing that too, let me know and I will try to show you even more on the next trip I go on (and just everyday life, of course). Thanks so much for following along and for all of your support for LNL. YOU make my heart so happy!
xo, P