Women come to New York for the two L's: labels & love.

-Carrie Bradshaw

---
Hello beautiful, welcome to love 'n' labels! I'm Peyton, and I am so happy that you stopped by! I discovered a true love for all things fashion at a young age when I began playing 'dress up' and even took that love to the next level as I pursued a college degree in Fashion Merchandising & Business. I started this blog as a way for me to connect with other everyday women who adore 'big-city' style and to showcase current trends in the fashion and beauty industries. I aim to inspire others daily with my outfits, styling tips and tricks, beauty secrets, love and my personal journey throughout life. I hope to be a positive role model for all young ladies and to shine the Good Lord's light through this platform. I invite you to sit back, turn on your fave jams and stay awhile! Enjoy – xo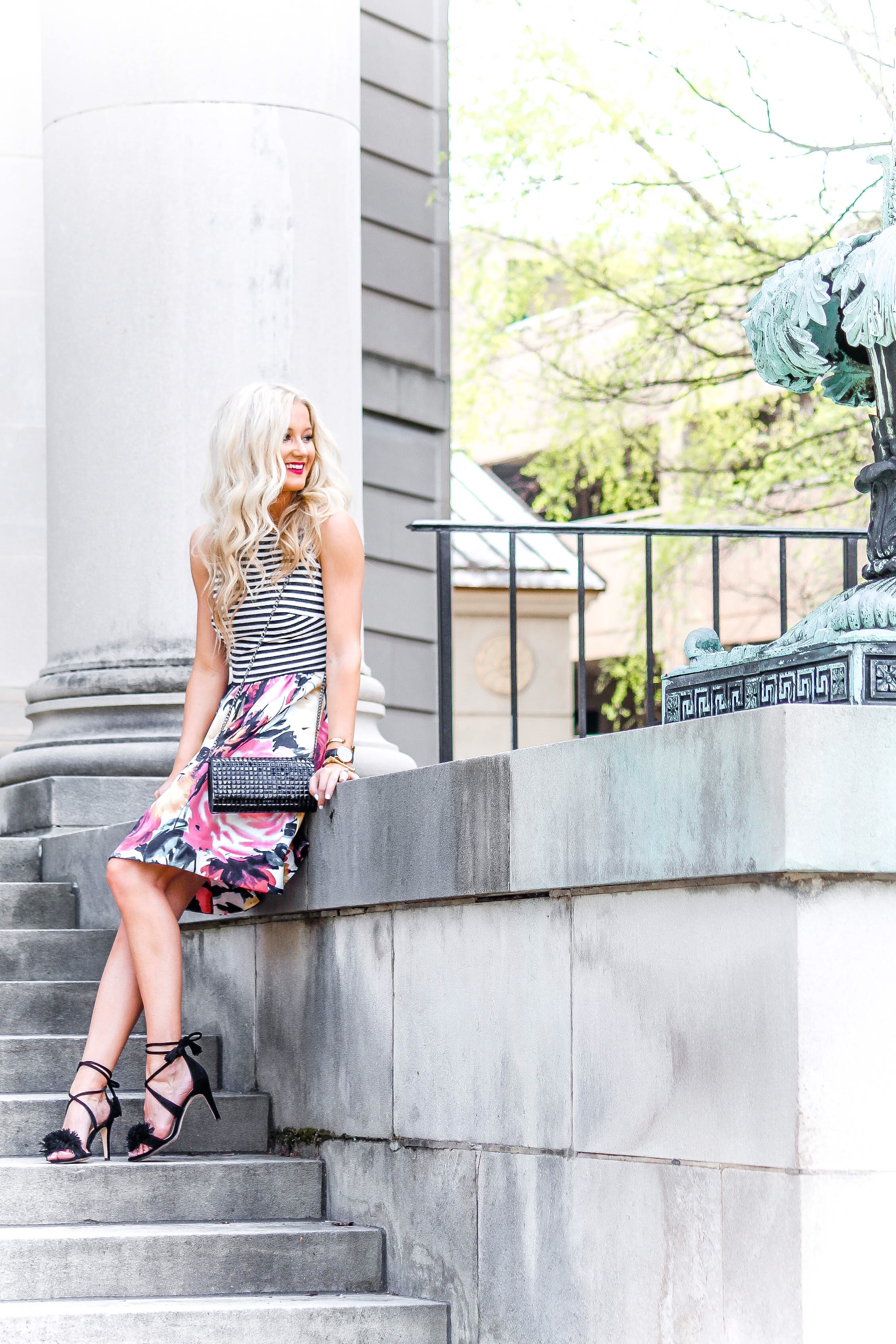 Frequently Asked Questions:
Why did you choose the name love 'n' labels for your blog?
If you'll refer back to the top of the page, I have a quote by the ever-so-chic and stylish, Carrie Bradshaw. I am a huge SATC/Carrie fan, and this quote happens to be one of my favorites of all time.
I'm a small town girl with a big city heart (actually, I'm overly obsessed with NYC) and two things that I am most passionate about in life are fashion and love. So … it only seemed fitting to name my blog after some of my favorite things. Through this blog, I want to share with my readers how to get those 'New Yorker street styles' anywhere in the world! CB was definitely one of the biggest inspirations when it came to choosing a name for my blog, but I like to think that I am taking my own spin on her quote by relating it to the everyday, fashionable, lovable woman  – the one who can join me in mixing both high and low fashions & spread love to every person we meet.
What is your favorite thing about fashion?
There are so many things about style and fashion that I love – waaaay too many to list. However, my favorite parts of the fashion industry are styling and designing. My passion is wardrobe styling, and I love to do anything in the industry that lets me be creative. Through this blog, I aim to relate to all sides of the industry and get others' creative juices flowing as well.
I firmly believe that the world's sidewalks are, in fact, our 'catwalks', and all women should feel totally confident and rock their looks every single day on the runways that God has placed here for us.
If I had to narrow it down to just one thing I absolutely love about fashion & style: It makes us bold, it makes us who we are, it speaks for itself.   (…okay so that's kinda 3 things in one but you get the point!)
Who is Teej?
TJ – my handsome, INCREDIBLE husband. And when I was asking him what questions I get asked a lot that I should include on this page, he said that I should put, "Who is that stud that you scored?" … So, to answer this question accurately, TJ is the stud that I scored 🙂 My goodness, y'all. (insert heart eyes emoji here!)
How did you all meet?
TJ actually cheered at UT as well (before I did), and we met at a college cheer camp where he was working the camp. I was attending it to get some extra tips before trying out for the first time. After the camp was over, I went up to TJ and asked for his number so that I could get him to help me with coed stunting – however, we had no intentions of ever dating at the time. Then, we began stunting together and were just friends for an ENTIRE year, and over time, we became more than that. September of 2012, we went on our first date and have been totally inseparable ever since! To read our full love story go HERE!
When did you and TJ get married?
June 25, 2016. The BEST DAY EVER. Truly the most incredible day of our lives. Marriage is the best thing that we have ever embarked upon, and we fall more in love every single day. I honestly couldn't have picked a better life partner. He's my person. Go HERE to see our wedding video highlight film by Milestone Pictures to see a small glimpse of our oh so very special day. (Disclaimer – you may want to grab the Kleenex before watching.) 
Is your hair naturally curly?
Yes! I don't wear it curly every day, but I love having the option to wear my natural curls every now and then – it's easy and has a mind of its own. Anytime I'm having one of those "carefree" kinda days, I promise my locks will be natural!
What was it like being a University of Tennessee Cheerleader?
Challenging, rewarding, dream-fulfilling, hard, eye-opening, fun, exciting, tough, etc, etc, etc …
Overall, it was a great learning experience that led me to my very best friends, my amazing husband & some really AWESOME memories around the entire SEC. I learned so much about myself (and others) more than ever, during those 4 years of cheering. Growing up in east Tennessee, seeing THE Tennessee cheerleaders around town and at games, and competitively cheering since the age of 5, made 'becoming a UT cheerleader' my ultimate dream growing up.
Being a 5′ 7″ girl when most of the D1 colleges have 5-foot even (or below) cheerleaders was a little intimidating at first, but I knew if I wanted it bad enough that I would have to work harder than ever so that I could make the team. Long story short, I prepared for years to make the team, ended up getting so sick with mono the week right before tryouts my freshman year (cried in my mama's arms afraid of not being able to even go to tryouts), but in the end, went to tryout with mono and made this lifelong dream finally come true. I had never been more excited at the time, and I couldn't have done it without the massive amount of support I had from so many family members, friends and coaches. My four years of being a Tennessee cheerleader were some of the most challenging, yet fun years of my life for many different reasons. If you are looking to cheer in college and want to know more, head over to my contact page & I would love to chat with you. (Oh yeah, and GO VOLS Y'ALL!)
Being from Knoxville, Tennessee, are you named after Peyton Manning?
I've been asked this question COUNTLESS times, and it hurts me a little bit every time (since I'm such a huge Peyton Manning fan) but … no, I'm not. I was born in August of 1993 right before Peyton Manning began playing football at UT. When I was born, he wasn't as popular yet (but clearly, he was well on his way), and my mom actually heard the name 'Peyton' off of a movie and loved it.
However, I did get the privilege to meet Peyton while cheering at UT and the first thing he asked when I told him we shared the same name … "Peyton with an E or with an A?" My answer, "With an E, of course!" He was awesome, and I predict that he will be back home to Neyland in the future to coach some Vol football. (fingers crossed – a girl can dream right?) This town would go crazy!